Vultee Vengeance
Fuselage Correction
+ Cockpit, Bomb Bay and Engine Detail Set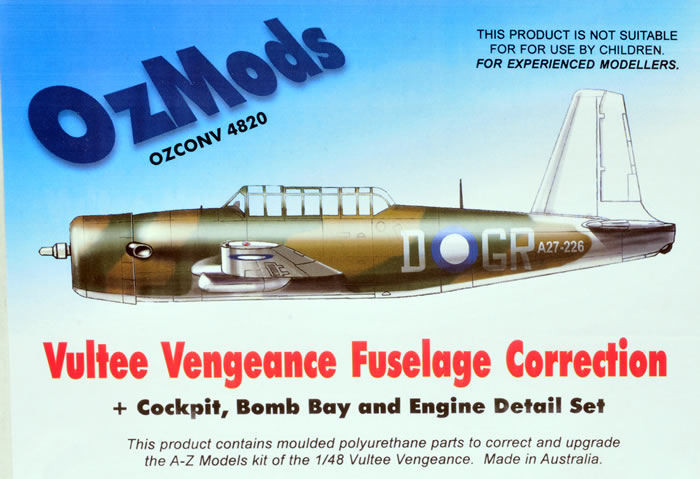 OzMods, 1/48 scale
S u m m a r y

Catalogue Number:
OzMods Item No. OZCONV4820 - Vultee Vengeance Fuselage Correction + Cockpit, Bomb Bay and Engine Detail Set
Scale:
1/48
Contents and Media:
42 parts in grey coloured resin; two parts in clear vacuum formed plastic; PDF instructions on disk.
Price:

AUD$66.00 plus shipping available online from OzMods' website



Review Type:
FirstLook
Advantages:
Accurate; high level of detail; addresses all the accuracy and detail problems of the AZ Model Vengeance fuselage, cockpit, engine, tailplanes, propellers and wheels.
Disadvantages:
All that is missing is the wings!
Conclusion:
OzMods' correction set will transform AZ Model's kit from a vaguely Veangance-ish lump into a well-detailed and far more accurate replica. If you are a Vengeance fan, and if you have AZ Model's kit, OzMods' correction set will be essential. Highly Recommended to experienced modellers.

Reviewed by Brett Green

Eduard's 1/72 scale Bf 110 G-4 is available online from Squadron.com

AZ Model is a bit of a paradox.*
By all reports, their 1/72 scale kits are very good.
This view is endorsed by HyperScale's small scale guru, Mark Davies, who has reviewed many of A.Z. Models' recent releases including their Hurricanes, P-40s and Spitfires. He has concluded that these (and others) are the best available injection-moulded kits of their type in 1/72 scale.
Unfortunately, AZ Model's 1/48 scale releases are another matter entirely.
Their first 1/48 scale kit, the Ki-48 Lily, suffered from a noticeably inaccurate nose. Worst amongst a myriad of shortcomings, the glazed nature of this area made the problem almost impossible to correct.
Their 1/48 scale Tunnan also drew much criticism. Those in the know advise that the shape of the fuselage is seriously flawed. The kit also has soft surface detail and the quality of the plastic is poor.
AZ's Heinkel He 70 in 1/48 was expensive, had only very basic detail, rough plastic, poor instructions and a thick one-piece canopy.
And so we come to the 1/48 scale AZ Model Vultee Vengeance.
To say that the AZ Model Vengeance was a disappointment would be a colossal understatement. It is awful.
For a start, I have rarely seen an injection moulded model with such poor moulding and gritty surfaces since limited run kits of the 1980s.
Worse, the shape of the fuselage is very poor, compounded by errors in the engine cowling. Also, the canopy is far too wide, is incorrect in section, and the rake of the windscreen clearly wrong. This would be obvious to anyone who has seen a photograph of a real Vengeance. The canopy is one-piece too, so there is no easy way to represent the overlapping sliding sections and rear clamshell in the open positions, not that there is much to show off inside the cockpit. Half-hearted at best, but at least it is better that the blob of an engine.
I could forgive some of this in a limited run model, but what really annoyed me was that it looked like whoever was in charge of the project just did not care. For example, viewed from the front, the engine cowl is skewed – it is nowhere near symmetrical. The kit is full of really lazy stuff like this.
If AZ Model's "A" team are responsible for their 1/72 scale models; then 1/48 scale projects are clearly in the hands of the "Z" squad.
I was so looking forward to finally having a Vengeance in my scale of choice. It has been near the top of my wish list, along with a Bristol Beaufort for years (but please, A.Z. Model, oh please don't even think about attempting a Beaufort).
After initially deciding not to build the kit, I eventually gritted my teeth and resolved to start gathering replacement and detail parts with the intention of adding these to some significant scratch built corrections for the fuselage, cockpit and engine cowl.
Australian cottage industry manufacturer OzMods has now made my plan redundant – thank goodness!
OzMods has come to the rescue of Vengeance fanciers everywhere with a very comprehensive resin fuselage correction set for the 1/48 scale AZ Model kit.
In fact, the label "Fuselage Correction" sells this set well short, as it also includes a new cockpit interior, all-new vacform canopy, a detailed bomb bay with separate doors, a replacement engine, propeller blades, twin Browning machine guns and main wheels. Full replacement tailplanes are included too.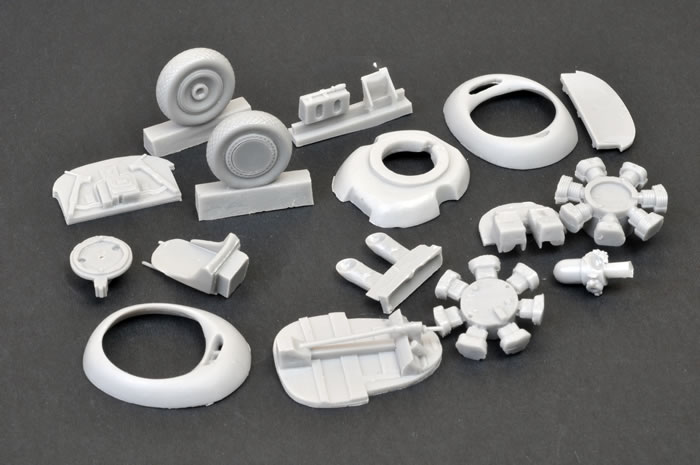 In total, the correction set supplies 42 parts in grey coloured resin plus two vacform canopies. Instructions are provided in PDF format on a disk.
In effect, all you will be using from the AZ kit are the wings, the undercarriage legs and the tail wheel.
The resin parts are lovingly packaged in bubblewrap, with the essential fuselage halves taped together and stuffed with more bubblewrap to ensure safe delivery.
Casting quality is excellent, and surface detail is by way of crisp, finely recessed panel lines. Handholds, foot holds, hatches and selected rows of rivets are represented too.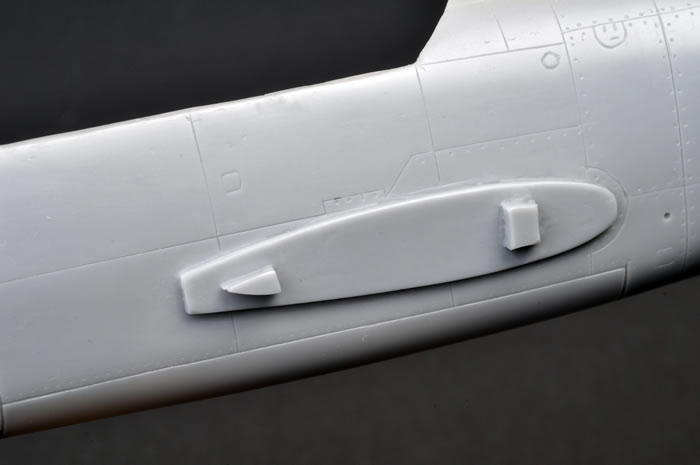 The fuselage interior is cast with deep sidewall detail including boxes, quadrants and cases already in place. This looks good.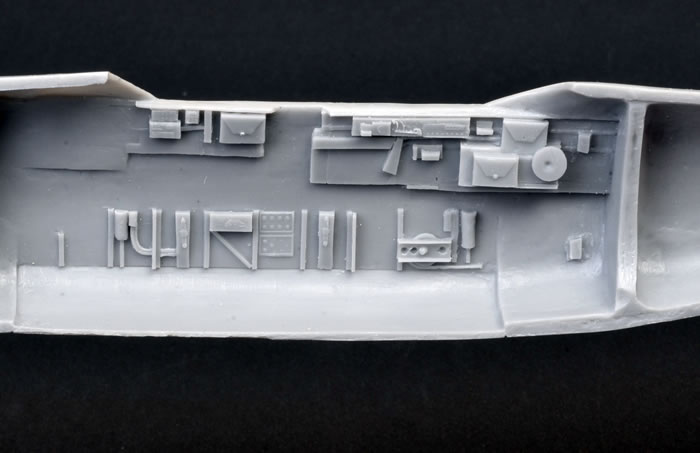 The bomb bay doors are cast shut on the fuselage halves, but a separate pair of folded doors are included if you wish to display the bomb bay open. In this case, you will need to carefully cut the bomb bay doors out of the fuselage halves, but this should not be a serious challenge to any modeller with a reasonable number of kits under their belts.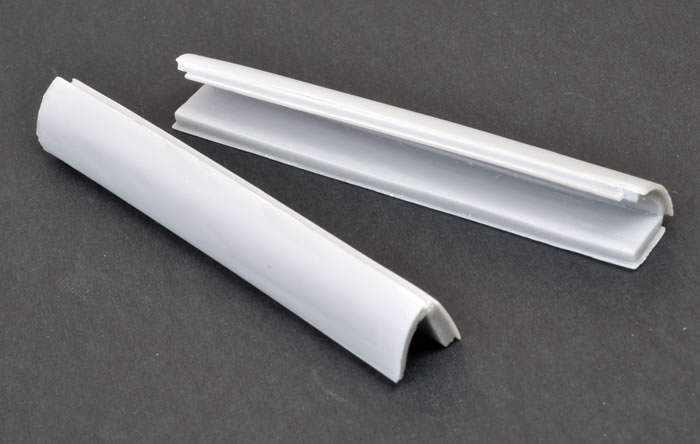 The cockpit interior parts are a vast improvement over the kit in terms of both accuracy and detail.
The engine looks great too, and two styles of engine cowl face are included.
The vacform canopy is accurate in shape. In particular, the rake of the windscreen looks good and the sectional profile of the top of the canopy is a nice smooth curve, not flat, wide and slab-like as provided in the kit. The vacform medium also means that it will be much easier to separate the canopy to display the sliding sections open.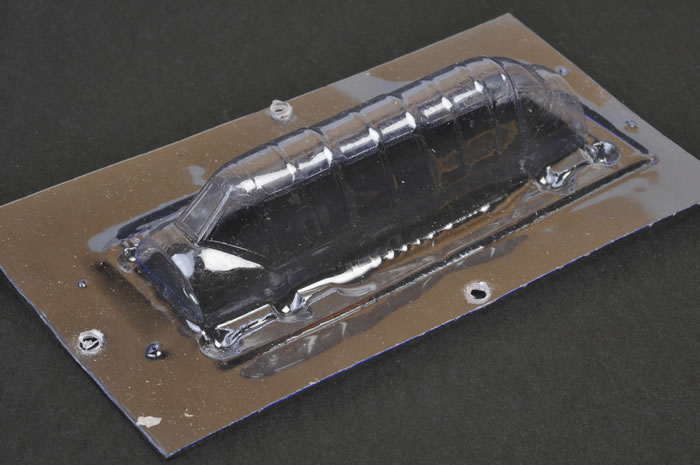 With two canopies provided, you can afford one slip-up too!
The instructions are well illustrated and easy to follow.
Oz Mods have obviously applied a great deal of care, attention to detail and pride to this project.
Such a comprehensive undertaking for a subject as specialised (dare I even say obscure) as the Vultee Vengeance suggests that this is a very much a labour of love.
OzMods' correction set will transform AZ Model's kit from a vaguely Veangance-ish lump into a well-detailed and far more accurate replica.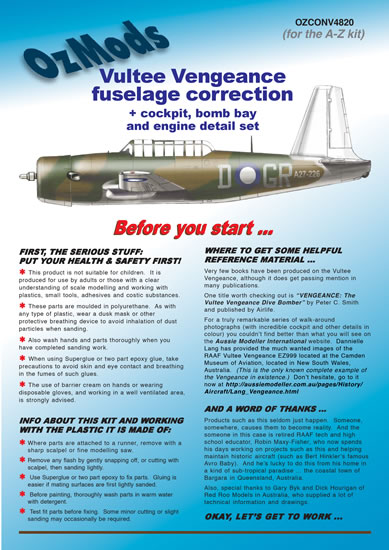 If you are a Vengeance fan, and if you have AZ Model's kit, OzMods' correction set will be essential. Granted, it is more than a shame that such a correction is necessary, but OzMods deserve our gratitude for making the effort.
Get 'em while you can folks!
Highly Recommended to experienced modellers.
Thanks to OzMods for the sample
* Please note that AZ Model is not related in any way to A2Zee Models!
---
Review Text Copyright © 2013 by Brett Green
Page Created 24 May, 2013
Last updated 24 May, 2013
Back to HyperScale Main Page
Back to Reviews Page