British Type 23 Frigate
Helideck Detail & Diorama Sets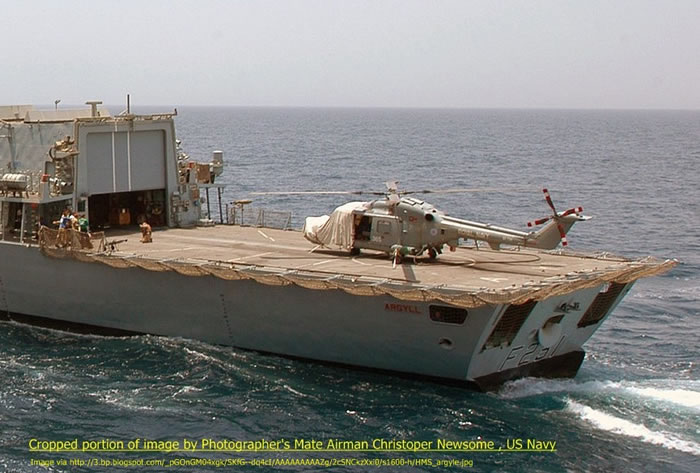 Scale Warship Limited, 1/72 scale
S u m m a r y :

Catalogue Number & Item Name:

HelideckDioramaSet72 - Helideck Diorama Netting

HelideckGrill72 - Helideck Grill & Tie Downs

HelideckPaintMask72 - Helideck Paint Mask

HelideckSideNetting72 - Helideck Side Netting & Supports

HelideckSternNetting72 - Helideck Stern Netting & Supports

Not provided for review, but related:

Helideck72 - Helideck

Scale:

1/72 (Also available in 1/96-scale, whilst 1/48 & 1/32-scale versions are coming soon.)

Contents & Media

Diorama Netting Set consisting of one each of the items listed below.

Grill & Tie Downs – One PE Fret of 106 pieces.

Paint Mask – One A4-sized vinyl paint mask

Side Netting & Supports – One PE fret of 62 pieces.

Stern Netting & Supports – One PE fret of 77 pieces.

To complete a full flight deck requires the contents of a diorama netting set plus an additional five side nets. These are not available separately, but come with the Helideck Set 72nd, which consists of:

Price:

Available on-line from Scale Warship Ltd:

(Please click on price to link to Scale Warship catalogue listing)

Diorama Netting Set –

£30.00

Grill & Tie Downs –

£6.00

Paint Mask –

£3.00

Side Netting & Supports –

£12.00

Stern Netting & Supports –

£12.00

Complete Helideck –

£75.00

Review Type:

First Look.

Advantages:

Good quality components.

Disadvantages:

The instructions are basic and mediocre; they lack the arrangement drawings and illustrations required by modellers who are not already familiar with the anatomy of a Type 23 frigate's helideck.

Heli-diorama builders will need to adapt the nets and scratch-build net supports to get the results most will want.

Conclusions:

Great for scale ship modellers who already have good reference information on Type 23 frigate helidecks. The rather mediocre instructions should not cause undue bother for this group. However, helicopter modellers seeking to create a helideck diorama may be less familiar with the Type 23, in which case the instructions fall well short what they might reasonably expect for the price. The instructions would be far better if they had some arrangement drawings and illustrations of a helideck, rather than just text to guide assembly.

Heli-diorama builders will need to adapt the nets and scratch-build net supports to get the realistic results most will want to achieve.

If these helideck sets tempt you, first make sure you either already know enough to work around the shortcomings, or be prepared to do some research until you do.
Reviewed by Mark Davies

HyperScale is proudly sponsored by Squadron.com
I was unaware of Scale Warship Ltd until receiving their helideck set to review via Brett Green. I should think that it will be new to many HyperScalers too; so I have included the company's own introduction from their website.
Scale Warship Ltd was formed to produce and bring to the market finely detailed parts for Scale Warships predominantly in 72nd and 96th scales. The photo etch parts will be produced from various thicknesses of brass or other metals that may be preferred, such as nickel or stainless steel. Moulded parts will generally be formed by casting resin with some additional parts cast in white metal. Larger parts such as the hulls or superstructure may be laid in Polyester or Epoxy Resin.
The present aim of the company is to fill the gap in the market that exists with particular reference to the lack of detail parts, and in addition is keen to produce full kits for the discerning modeller. Naturally full kits will take longer to develop and produce.
The company will always be pleased to discuss any specific requirements you may have with regard to your own modelling scales and preferences.
Take the time to check out their website, it is not all devoted to ship modelling. For example, there are blade-fold sets for Italeris' 1/48 Wessex and Revell's 1/32 Lynx.
ust so as to be clear, this it is not a helideck kit that we are dealing with; the use of this set is obviously premised on you either having a 1/72-scale Type 23 Duke Class frigate that needs to have it helideck detailed, or you plan to scratch-build a helideck diorama base; which you will then detail using the sets described here.
The diorama netting set is made up of the one piece of each of the four separate sets. The advantage of buying it compared to four individual sets if a £3.00 saving (the cost of the paint mask). The grill and two netting sets each consist of a fairly large PE fret that also serves as a template for drilling mounting holes. The paint mask is an A4-sizd sheet that provides masks for the landing ring that encircles the grill deck area, as well as various lines and letters. The quality of these components looks to be very good.
Whilst the set as supplied as supplied has sufficient stern netting, deck grill, tie downs, and markings mask for a complete helideck; there is only sufficient side netting for one sixth of a complete deck's worth. Scale Warship Ltd assumes that most diorama modellers will wish to model just a portion of the Type 23's helideck; especially if a small Lynx helicopter is the main subject and positioned parked to the side of the helideck. In this scenario, the modeller is unlikely to use the full stern netting set, or paint a full landing circle; and so can get by with just a portion of the side netting used by a full helideck.
Therefore, supplying a partially complete helideck makes sense; as additional side net sets can be bought if a larger diorama is planned. It also keeps the basic diorama set at a more affordable price-point, because a full helideck would need five more side netting sets. A full helideck's worth of PE frets and mask is sold as a complete set for £75.00. This is quite a saving on the £93.00 it would cost if the items were purchased individually. Scale Warship Ltd anticipates that the full set will appeal more to scale ship modellers than to diorama builders.
I have Robin Carpenter of Scale Warship to thank for explaining the intention behind the diorama set to me. I sought clarification from him because I was puzzled as to why the diorama set came with only 1/6th of full helideck's side netting; which of course is sufficient for a 1/3rd helideck diorama if only one side is modelled. The reason is not readily apparent on the packaging or Scale Warship's website, which simply lists the set's contents; but I feel that the limitations of the set could do with being made clear. I do not think for a moment that there is any intention to mislead customers; I just think that the company assumes modellers will be as familiar with the subject as the developers of the sets are. This is an issue that is reflected in the instructions as well.
Each PE set has an A4 sheet of instructions with an illustration of the PE fret's layout and a legend identifying the parts. The illustrations are about half actual-size, and the legend numbers are difficult to make out clearly. This is because each number is printed in very fine red script against a shaded yellow and green circle. This may be a case of something that looks good on a computer screen not transferring well to printed paper.
Other than the fret illustrations and part names, all that the instructions provide are some written guidance in the style of "fold this, align that, then bend one of these, but being careful to, etc". Of course, the actual instructions make a more sense, but I think that it will take many readings and an awful lot of relating to the frets before they do. (See accompanying image of instructional text.)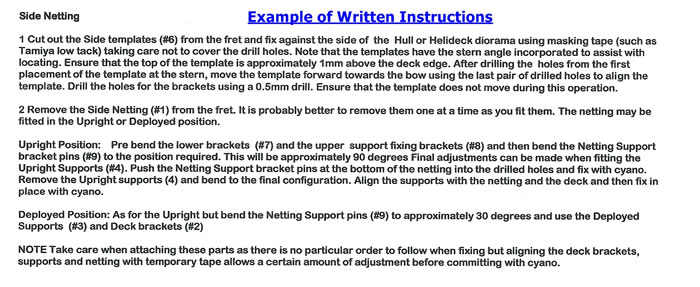 What the instructions lack are illustrations of the real thing; be they decent diagrams, sketches, or photo images. It seems as if set designers were so familiar with their subject that the four or five paragraphs of small text seemed quite adequate; rather than considering how somebody who is not intimate with the helidecks of Type 23 frigates might cope. Many readers will be familiar with the general appearance of ship helidecks, as am I; but I would like more insight to the Type 23's exact layout. I Googled Type 23 Frigate and found a variety of images of the helideck, but naturally most are taken from a distance, and not of a "walk-around nature".
I suppose that these sets are aimed mainly at the scale warship fraternity; with spin-off appeal to 1/72-scale heli-modellers. Maybe most ship modellers are well versed in "Frigate Anatomy 101" and can cope with the instructions as they stand. However, I think that heli-modellers wishing to make nice helideck diorama will find themselves much more challenged. I would expect to get better instructions for the price being asked. Production costs would be basically the same, as it is simply a case of printing on some office paper. All that is needed is bit more time and thought from the set designers. Some arrangement drawings; and a clearer fret illustration with legible keys to the parts legend, would be a minimum. A colour guide would be helpful, especially for non-ship modellers; as would photo images of the real thing, deck dimensions, and some suggestions concerning the best way to make your own deck.
Instructions aside, I feel that some real care and skill will be needed to make the netting appear realistic. Having Googled some images I noted that the netting is not uniform in appearance but, as would be expected, it has sags and twists, and the holes are not exactly square as a result. Annealing the PE will make it more pliable, but even so, real care will be needed to gently bend and twist the nets without distorting their supports. As to the supports; these of course are supplied as two-dimensional PE, whereas the real things appear to be circular tubing. As such the PE may be a compromise. I am inclined to think that different media like white metal or resin should have been used for the supports, and just the nets and tie downs etc should be supplied as PE items.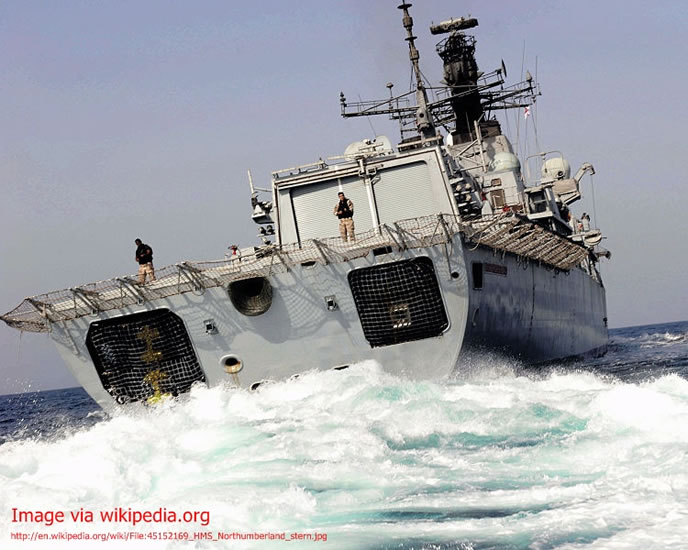 Despite the above criticisms, I am sure that any competent modeller could create a most interesting diorama using the set reviewed here; with enough research, forethought, and repeated reading of the instructions, that is. However, heli-diorama builders will need to adapt the nets and scratch-build net supports to achieve the degree of realism most will want.
The same helideck set is available in 1/96-scale, whilst 1/48 and 1/32-scale versions are in development, and are to be released soon. A 1/32-scale grill and tie-down set has already been produced. Modellers of helicopters in these larger scales may well welcome the chance to model a helideck. However, I would suggest that the ratio of plastic heli-kit modellers to scale ship modellers would be quite a lot higher for these larger scales than is the case for 1/72-scale as ships built to these scales are probably fewer than for 1/72 and 1/96-scales . 1/48 and 1/32-scale PE sets will naturally be quite a bit more expensive than those for the smaller scales will be. Therefore, I think that Sale Warship Ltd should revise and improve their instructions to meet the needs and expectations of heli-modellers as a target group.
These sets are clearly aimed primarily at scale ship modellers who, as a matter of course, will be familiar with layout and dimensions of a Type 23 Frigate helideck; after all, they would need to be if they plan to build a 1/72-scale replica of this class of ship. Talented and well-informed modellers such as these can get by with mediocre and basic instructions, and still make the most of good quality components.
Without denigrating the abilities of 1/72-scale heli-modellers, I think most would want instructions that are clearer and more illustrative than they currently are. As after all, their knowledge is usually of the aircraft rather than the ship from which it operates. They are far less likely to be familiar with the dimensions, colour and layout of a Frigate's helideck; and I think that they will expect better when spending more money on diorama details than they did for the helicopter kit. The instructions would be far better if they had some arrangement drawings and illustrations of a helideck, rather than just text to guide assembly.
The nets as presented for use are too pristine and uniform in appearance to look authentic. Careful stretching, sagging and bending of the net matrix are needed. The two-dimensional appearance of the PE net supports is probably OK for a scale warship viewed from a distance on a pond, but heli-modellers expect their dioramas to be viewed from sometimes just a few inches away. Diorama builders will need to adapt the nets and scratch-build net supports to get the best results. As such, I think the netting sets are better suited to scale ship modelling than the close-up demands of heli-model dioramas.
I shall make a qualified recommendation in respect of these helideck sets. They have the potential to make a most interesting diorama base, or add some fine detail to a 1/72-scale model of a Type 23 frigate. Make sure that you already know enough to work with the shortcomings, or be prepared to do some research until you do.
Thanks to Scale Warship Ltd for the review samples.
.
---
Review Text & Images Copyright © 2013 by Mark Davies
Page Created 19 April, 2013
Last updated 19 April, 2013
Back to HyperScale Main Page