Spoked Wheels for German WWI Aircraft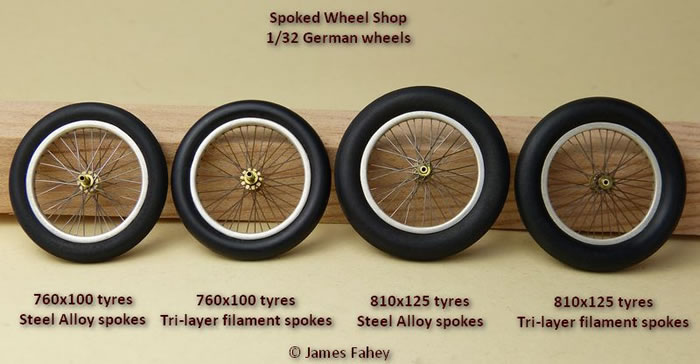 The Spoked Wheel Shop, 1/32 scale
Summary

Catalogue No & Price:

Spoked Wheels for German WWI Aircraft
The Spoked Wheel Shop, 1/32 scale
Two sizes: 760x100 and 810x125

AUD $100 per pair

Contents and Media:

One piece rims cast in sterling silver, brass hubs & flanges, choice of spoke material, rubber tyres

Ordering,

Post & Packing, Payment:

Available only direct from The Spoked Wheel Shop by personal message at this WWI modelling forum:

http://forum.ww1aircraftmodels.com/index.php

Post & packing charged at cost. Payment by Paypal

Review Type:

First Look

Advantages:

Outstanding representation of spoked wheels - exquisite detail, craftsmanship and accuracy

Disadvantages:

Painting & finishing guidelines not included, valve stems must be added by the modeller

Conclusion:

The price is pitched at the end of the WWI modelling market that is prepared to pay for the finest quality and who are not constrained by budget. Absolutely brilliant little jewels.

Reviewed by James Fahey


Eduard's 1/32 scale F-117 Wheels are available online from Squadron.com
Every now and then a new product comes along that raises the bar to a whole new level. For WWI modellers think Master MG gun barrels, Doug Craner's wooden props, Costas' turnbuckles. Now we have brilliant spoked wheels from Steven Robson aka 'The Spoked Wheel Shop'.
While researching for this review I came across this telling quote from a modeller expressing his frustration with [then available] spoked wheels:
"For many the spoked wheel has been and still is the nemesis of World War I aircraft modelling"
Yes there are various spoked wheels available, photo-etched are the most common but their likeness to the real thing is only passable at best (in this reviewer's humble opinion). A very few modellers have mastered the art of weaving their own but on a scale of difficulty this is probably close to "build a model that doesn't need spoked wheels". It is exciting, therefore, to see these new products come to market and reproduced so accurately.
About the Manufacturer
Steven Robson is from Adelaide, South Australia, and he has been researching and developing his product for the last four years. He quoted the document "Normalien Der lnspektion Der Flieqertruppen" Feb 1918 as one of his primary references as well as a myriad of period photos.
The Wheels
There are currently two sizes of German wheels available: 760x100 and 810x125 (outer diameter x tyre width) both with 40 spokes. Both types have the same sized rim, only the tyre is differently sized.
Generally speaking, the smaller size was used by fighters: Albatros D.II, D.III, D.V, D.Va; Fokker D.VII, Pfalz D.III, D.IIIa, D.XII; but also the Hannover CLII and Halberstadt CL.II; and the larger size by two-seaters: Albatros B.II, C.III, C.V, C.X, C.XII, D.III(OAW); Gotha G.IV, G.V; Roland C.II; Rumpler C.I, C.III, C.IV, C.VII; DFW C.V to name a few.
Some German aircraft used an even smaller size: 710x85 (Fokker E.I to E.III, DII, Dr.I, E.V/D.VIII, Halberstadt CL.II, Siemens Schuckert). A larger 965x150 wheel was used by German G type bombers.
Two options for spoke material are offered: a specialist 0.14mm tri-layer filament from Japan which is a graphite colour and 0.15mm steel alloy wires which are a natural steel colour (a little more shiny than tri-layer filament).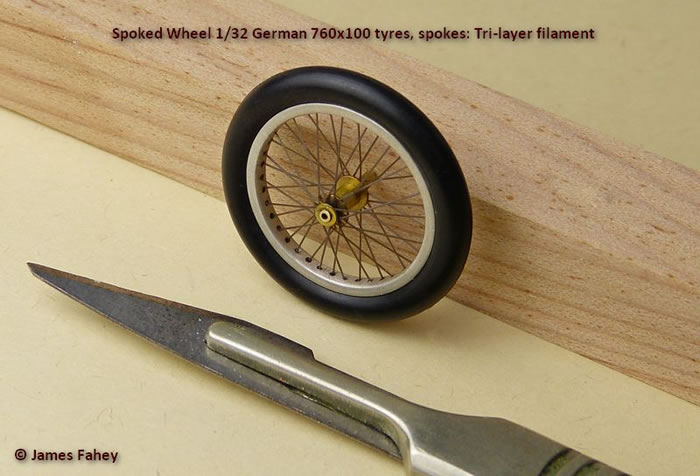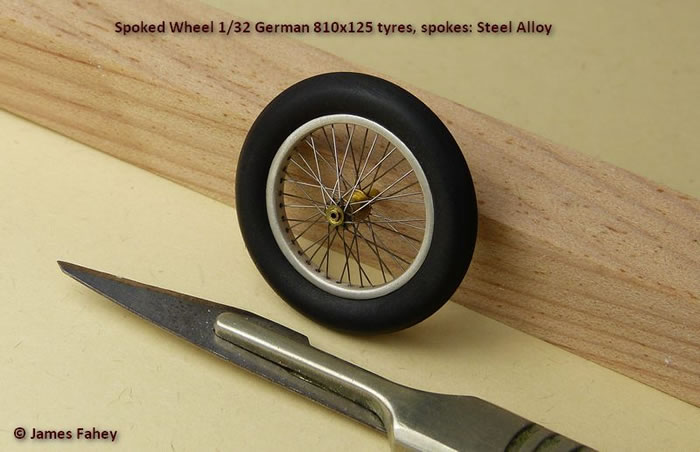 A sterling silver variant was also sent for review, which are more of a whimsy with 'bling' value than an authentic historical look.
The wheel rims have been CAD designed and lost-wax cast as a single piece in sterling silver. Outside diameter is 17mm and the rim is 2mm wide. Hubs are brass with 2mm outside diameter, flanges are 3mm OD. The spokes are virtually flat on one side with a moderate cone on the outer side (although sometimes wheels were reversed to widen the wheel track and reduce the risk of ground loops).The wheels are spoked under very high tension to maximise strength.
The wheels come with in-scale black rubber ring tyres. Specifications: 17mm inside diameter, round cross-section, 3mm width which makes the wheel 23mm in outside diameter. The wheels are quite strong enough for the tyres to be removed if needed. It is quite feasible to use the kit tyres instead, after carefully cutting way the wheel covers and hubs. In this way the modeller can preserve the gorgeous finely detailed manufacturers' mouldings that Wingnut Wings have included.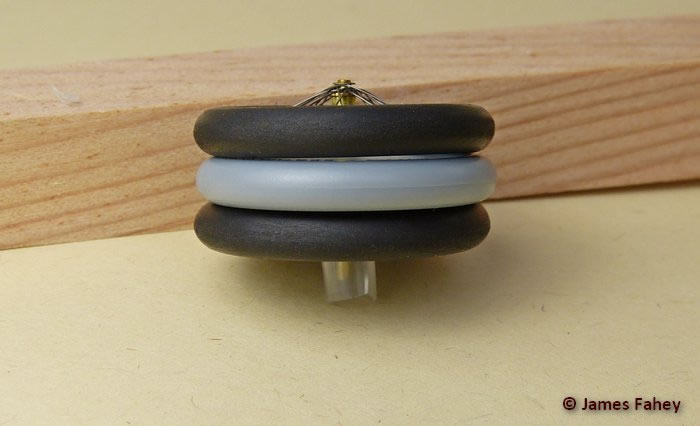 A comparison with the Wingnut Wings wheels shows they are exactly the same size as The Spoked Wheel Shop items.
No valve stem is included, but this small detail is easily added.
It should be pointed out that uncovered wheels were relatively rare in the mid-late war period. My search through photo references uncovered very few. Probably the most well documented is Ltn. Alois Heldman's Fokker D.VII (Fok) from Jasta 10, the markings for which are included in Wingnut Wings decal set #30006 Fighting Fokkers Part 1.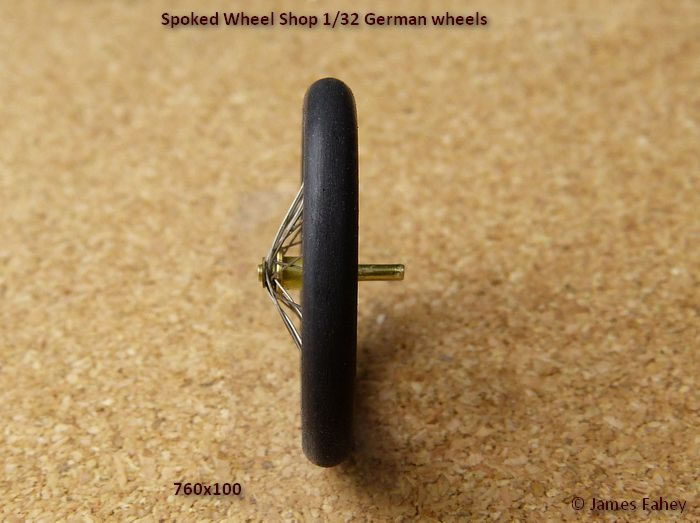 There is also a well-known Fokker D.VII (Alb) 817/18 'Nickchen' flown by Fritz Blumenthal of Jasta 53, which is one of the kit options in Wingnut Wings kit #32027. Pfalz D.IIIa 8304/17 appears in Wingnut Wings decal set 30019 Flying Circus Part 1 in a post-war graveyard sans wheel covers (would make a great diorama as it is in heavily worn and sans engine, wings and tailplane as well). An LVG 7715/18 is shown without wheel covers in Albatros Productions' LVG at War on p9. War-prize aircraft, trainers and post war aircraft seem to more commonly have had uncovered wheels. Polish modellers will probably be very interested.
Are the wheels suitable for other aircraft? Probably not, depending on your need for historical accuracy. Wheel sizes, cone depth, spoke numbers and patterns varied between manufacturers and countries e.g SE5a & RE8 used a 700x100 Palmer Cord Aero Tyre; DH9 700x125; FE2b, Bristol F2B & DH4 used 750 x 125; Sopwith Pup, Camel, Triplane, Snipe, Dolphin, DH2 & DH5 used 700x75 with 60 spokes.
Instructions
The following notes come with the wheels:
"Restore scratched rim patina with 1200 grain Wet & Dry sand paper.
Remove the tyre seam by weathering with 240 grain Wet & Dry prior to fitting.
Trim and hand drill the kit axle to fit wheels or just replace the kit part with 2mm OD (1 .1mm ID) brass tube.
Use the kit tyres by making a donut to fit your wheels.
Weather the rim and hub with Liver of Sulphur [Potassium Polysulfide] or oil paint wash to darken"
Painting and Finishing
The wheels did not come with any colouring guide but I understand Steven will be providing some suggestions on the website.
Some finishing will be required to the tyres as WWI-era aircraft tires were almost never black – a fact which is clear after looking at lots of period photos. German tyres often looked quite pale due to the various fillers that were added to the natural rubber (zinc oxide, calcium carbonate, china clay, talc etc) to improve the mechanical properties, especially durability. Black tyres came about with the addition of carbon black but this only became widespread post-WWI. A light buff or grey is usual, perhaps with pinkish tones.
In correspondence with Steven he said used Conte powders (greys, whites & dirt browns) applied in layers after roughing up the tyres with sandpaper. This takes the hard black edge off the rubber and makes them look quite grey and weathered. He fixes the Conte powder between layers and for finishing with a mist of matt varnish. He noted that painting the rubber tyre may not be successful without some sort of stiffening finish (thin CA which is then sanded).
Availability
The Spoked Wheel Shop has a web presence here at http://forum.ww1aircraftmodels.com/index.php?board=53.0
At the present time orders may be placed by sending Steven a Personal Message on that forum.
Price
The wheels are offered for sale at Australian $100 per set plus postage. The price is pitched at the end of the WWI modelling market that is prepared to pay for the finest quality and who are not constrained by budget. Value for money? This is a very subjective question and will vary considerably between modellers, depending on finances, modelling ability and the value put on convenience. These wheels are clearly not a mass market product.
Shipping
Orders will be posted by registered airmail and charged at cost. Payment is by PayPal only. The review items came beautifully packaged with each wheel in a protective pocket and each pair placed inside a lidded plastic box.
Future Plans
Different types of spoked wheels are likely to follow, with the next probably the 710x85 for the Fokker Eindecker and Dr.1.
References
WW1 Aero #163 Peter Grosz published some original Idflieg documents (Feb-18) about German wheels (pp. 44-46). WW1Aero #145 also has wheel information.
These wheels are exquisite little jewels. They are a labour of love from a skilled craftsman who is passionate about quality. They will add that super-detailed touch that gives the 'Wow' factor. Yes they are expensive and relatively few modellers will want to afford them. The choice is yours.
Thanks to Steve Robson for providing these samples for review.
Highly Recommended.
Thanks to Brian Fawcettfor the samples.
---
Review Text Copyright © 2013 by James Fahey
Page Created 28 May, 2013
Last updated 19 June, 2013
Back to HyperScale Main Page
Back to Reviews Page