The Blue Max Airmen – German Airmen Awarded the Pour le Mérite
by Lance J. Bronnenkant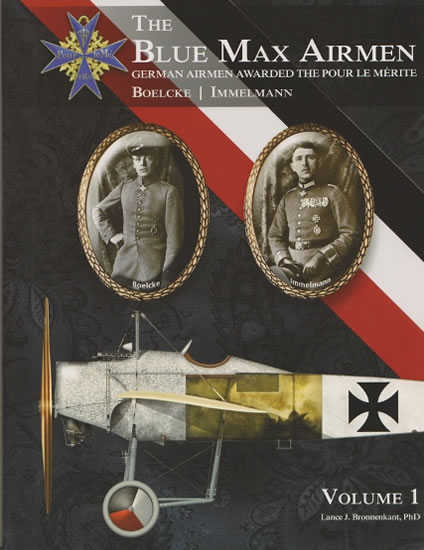 Aeronaut Books
S u m m a r y

Publisher and Title:
The Blue Max Airmen – German Airmen awarded the Pour le Mérite
by Lance J. Bronnenkant
Aeronaut Books
Media:
See details below
Price:
Volume 1: USD$26.95 plus shipping
Volume 2: USD$26 plus shipping
both available online from Aeronaut Books
Review Type:
First Read
Advantages:

Impressive collection of photographs; entertaining and well researched text; inclusion of competent aircraft profiles with detailed analysis.

Disadvantages:
Conclusion:

Many Pour le Mérite winners have only potted histories for the enthusiast to pore over. These books address this issue, with more planned for the future. The author has done a commendable job of researching his subjects and placing all of the information in a single place. Importantly for the aficionado it's not only the biographies of the men, but also their aircraft that are covered in detail.

Reviewed by Rob Baumgartner


HyperScale is proudly supported by Squadron.com

This is the start of an exciting new series from Aeronaut Books.
Lance Bronnenkant has taken up the challenge to chronologically cover the airman that received the "Blue Max" during World War One. Known as the Orden Pour le Mérite (Order of Merit), it was created by Friedrich the Great in 1740 and was the highest decoration Prussia could award to an officer for bravery in combat.
Much has been written about these recipients in the past. Sadly a lot of the information is either incomplete or scattered in publications that are no longer in print. The author's aim is to gather as much material as possible and combine it in a single convenient reference.
In this he has succeeded admirably.
Each chapter focuses on an individual aviator and begins with a comprehensive account of their background and subsequent career. The aircraft associated with each airman is also showcased and comes with a selection of colour profiles to illustrate them.
A table at the end of each chapter lists key events in the lives of each subject. Topics such as awards, military service record, units served in, and victories gained, are all catered for.
---
Volume 1 – Boelcke / Immelmann
Between the soft card covers are 112 pages, equally divided between Oswald Boelcke and Max Immelmann. These initial Pour le Mérite recipients were both granted their awards on 12 January 1916 after having secured 8 aerial victories, a benchmark that was to rise as the war went on.
They were great rivals in the air and their intertwining stories make for fascinating reading. There are plenty of "first hand" accounts scattered throughout the narrative which provides an interesting insight into the character of each individual.
Over 140 period photographs can be found within the publication. Naturally most will be familiar to the diehard enthusiast but it's great to have them all together in a single volume. They come from a variety of sources and blow-ups are provided to confirm obscure serial numbers and other such pertinent detail.
The featured artwork depicts a total of 7 aircraft flown by these aviators, all competently done by Jim Miller. The captions accompanying these profiles are very detailed, informative, and well researched.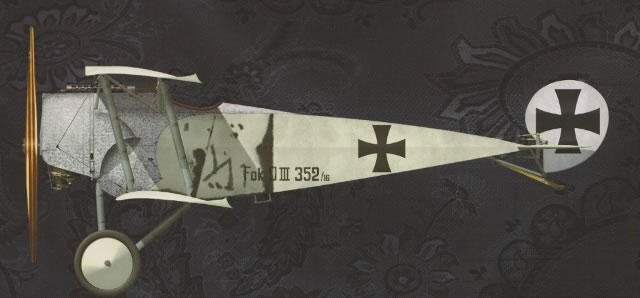 A bibliography rounds out each book and a quick perusal thought the entries reassures the reader of the author's thoroughness.
---
Volume 2 – Buddecke / Wintgens / Mulzer
Just as lavish as the first volume comes this second instalment in the "Blue Max Airmen" series.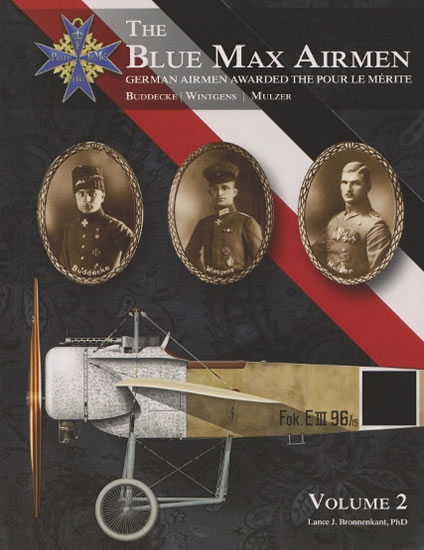 It covers the 3rd, 4th, and 5th recipients of this coveted award and once again there are 112 pages for the author to work with. Not a lot has been written about these airmen so it's refreshing to finally have a biography that puts their lives into context.
Hans-Joachin Buddecke entered the war after having taught himself to fly with an aircraft he bought in the spring of 1914. He went on to score 13 victories before meeting his death on 10 March 1918.
Like many of the pioneering fighter pilots, Kurt Wintgens also did not survive the war. He was successful in 19 aerial battles before he was bested in the air by French ace Alfred Heurtaux on 25th September 1916.
Max Ritter von Mulzer adopted an almost fatalistic attitude when he learned of Wintgen's death. He told his comrades that he would be next to meet his fate. Ironically he was to prove himself right later that day. On 26th September 1916, he crashed in a flying accident at the controls of a new Albatros D.I he was ferrying. His victory score stood at 10.
There are plenty of fascinating anecdotes contained in each of these volumes. One of which is Buddecke describing his first victory. He talks of the observer in the ill-fated Be2c climbing onto the dying pilot's shoulders to operate the rudder pedal. He did this by using his heels to press on the flyer's knees, while simultaneously leaning forward to work the control column. And yes, the observer did survive, both he and Buddecke discussing the incident over lunch later that day!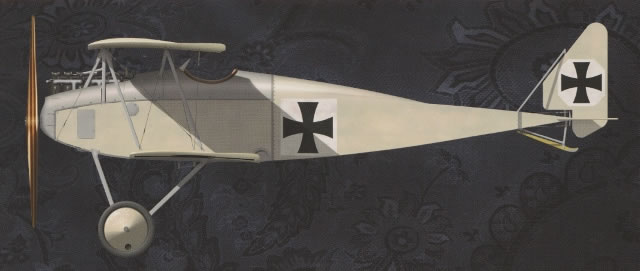 This time there are at least 160 period photographs (some not previously published) to compliment the text. The artwork profiles 5 aircraft flown by Buddecke, 2 by Mulzer, and 3 from Wintgens.
In the world of aviation, a total of 81 individuals received the Pour le Mérite.
It would be a wonderful achievement if the author was able to complete the series and include them all in his work. The decoration was not awarded posthumously, so a select few missed out on their medal despite being nominated. It is the intention of the author to cover these people as well.
The research is top-notch and the author's passion for the subject is clear for all to see.
It's a book by an enthusiast, for enthusiasts, and deserves to be in the library of anyone interested in the exploits of these pilots during World War One.
Thanks to Aeronaut Books for the review sample
---

Review Copyright © 2013 by Rob Baumgartner
This Page Created on 2 April, 2013
Last updated 2 April, 2013
Back to HyperScale Main Page
Back to Reviews Page