Knights in Canvas – the Aviation Art of Jim Dietz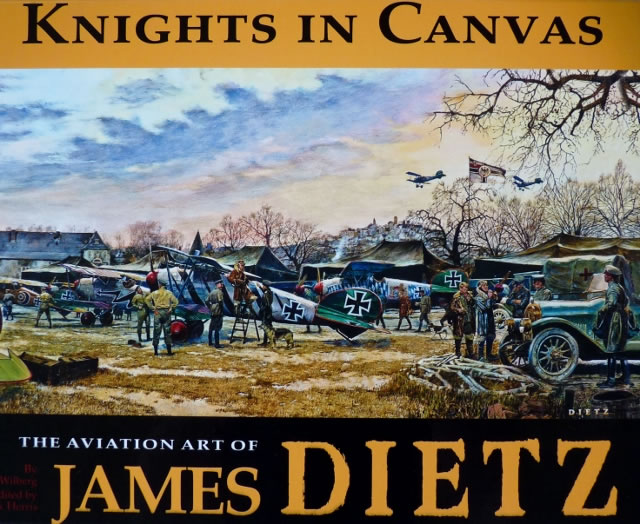 Aeronaut Books
S u m m a r y

Publisher and Title:

Knights in Canvas – the Aviation Art of Jim Dietz
Published by Aeronaut Books

ISBN: 978-1-935881-04-9

Media:

Hard cover; 8.5" by 11" landscape format; 176 pages; 74 Full colour paintings by Jim Dietz; 27 colour photos of museum and reproduction aircraft; 169 WWI-era black & white photos

Price:
USD$49.95 plus shipping available online from Aeronaut Books
Review Type:
First Read
Advantages:
Excellent format; a narrative supporting the paintings; text supplied by a knowledgeable range of contributors; inspiring artwork; complimenting period photographs.
Disadvantages:
Conclusion:

This is an ideal way to present the collective works of an artist. Instead of "just" a collection of prints, the reader is presented with historical information as well. This puts the subject of each painting into context and turns the book into an interesting and readable reference source.

Reviewed by Rob Baumgartner


HyperScale is proudly supported by Squadron.com

Jim Dietz is an award winning artist.
He has been a member of the World War I Aviation Historical Hall of Fame, an Artist Fellow of the American Society of Aviation Artists and a board member of the Automotive Fine Artists of America. His works have found a permanent home in many museums across America, with one piece having the honour of occupying the Pentagon.
While many enthusiasts would like to have such paintings adorning their own living space, cost and practicality usually prevents this. There is another way that voluminous pieces of artwork can be enjoyed. It can be collated and presented in book form which also allows it to be made available to a much larger audience.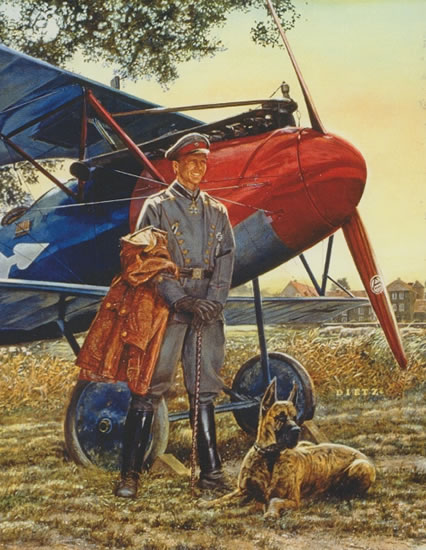 This publication however, does more than that. There is a story behind the subject of each painting and it's told by a fellow aficionado or researcher. Many of these people will be familiar to the pundit with such luminaries as Jon Guttman, Greg VanWyngarden, Lance Bronnenkant, Paolo Varriale, and Colin Owers being just a sampling of the combined talent.
WWI aviation artists tend to use the aircraft as the focal point of their paintings. Jim Dietz likes to do things a little differently. He focuses on an event that's captured in time and creates "atmosphere" on the canvas. This is done by introducing a sense of humanity into his snapshot, with the result that some aircraft in his work can be regarded as secondary!
Nearly 70 pieces of artwork are presented within the 176 pages with many being printed over a single A4 page.
The imagination of the painter ensures that the viewer is not confronted with the same style of composition over and over again. This is also helped by the constant variety of subject matter and the settings in which the central theme is placed.
As with all the paintings in this publication, there follows an appropriate narrative to describe the occasion, and background the lives of those involved. Additional period photographs support the text and of these there are over 160 black and white images. Also included are a further dozen or so colour pics of reproduction and museum aircraft as well as a few of the author's own sketches.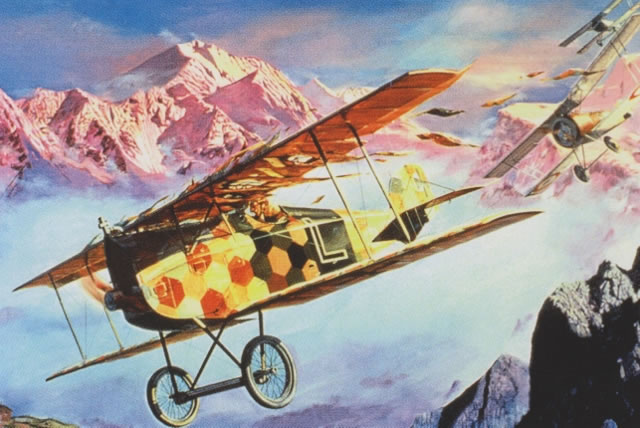 These latter illustrations form a chapter on their own as the author explains his methodology for creating "Jasta 5". With this diptych, Dietz takes us through the various stages of crafting a painting. These being the aforementioned sketches, final line drawings, tonal under-painting, colour washes, and of course, the final over-painting.
It's an interesting dissection of how the author produces his work from inception to the finished product. It is a lot more complicated that most people think and these enlightening few pages gives us a better appreciation of the process.
A large variety of subject matter is covered inside this book. The reader visits the Italian, Eastern and Western Fronts as well as taking an excursion to the North Sea stations and the Middle East. There are portraits of Aces, discussions regarding night operations, and a section on "Balloon Busting" as well.
The book finishes with a biography of the contributors, which in itself is an illuminating read.
This is an excellent way to enjoy the collective works of an aviation artist.
Not only is it a book that displays the author's talent, it's also a valuable reference source as well.
The text is written by a range of knowledgeable contributors that centre on the paintings and put the artwork into context.
This is the second title in a series that aims to cover a number of WWI artists. The format is ideal for this type of publication and will be of interest to all enthusiasts of WWI aviation.
Thanks to Aeronaut Books for the review sample
---

Review Copyright © 2013 by Rob Baumgartner
This Page Created on 18 April, 2013
Last updated 18 April, 2013
Back to HyperScale Main Page
Back to Reviews Page