S u m m a r y

Publisher and Catalogue Details:
JaPo – Luftwaffe Over Czech Territory 1945 Series Vol. 4
Messerschmitt Me 262 Production & Arado Ar 234 Final Operations
Media and Contents:
Soft cover, 180 pages plus decals in either 1/72 or 1/48 scales.
Price:
Around USD$47.50 - see website for local distributor details
Review Type:
FirstRead
Advantages:

Outstanding research using a variety of primary sources; excellent format that presents the material in a logical and easy to read manner; pertinent data is divided into large organised tables; competent artwork with inspirational colour profiles.

Disadvantages:
Recommendation:

This is a continuation of the meticulous study of Luftwaffe operations over Czech territory. It lives up to the very high standards of previous volumes and provides a valuable reference source for all late war aviation enthusiasts.

Reviewed by Rob Baumgartner

HyperScale is proudly supported by Sq
uadron.com
This volume is a bit of a departure from previous books in the series.
Obviously the discussion still revolves around Luftwaffe operations in Czech territory but it's not the units that come under the spotlight this time. It's the turn of the assembly and repair plants.
At this late stage of the war, there was no main manufacturing plant as such. Various assemblies were done by contractors at different locations scattered around the country. From these decentralised factories and workshops, the components were brought together for final assembly.
In Bohemia there were two sites that participated in this process. They were Flugzeugwerk Eger in Cheb (FWE) and Leichtbau Budweis in Ceske Budejovice (LBB). It's these plants that are examined in the first part of the book.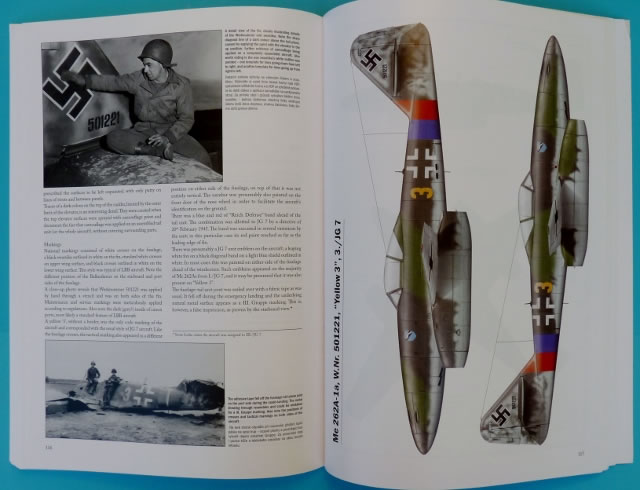 There's plenty of new information in this publication, and it's been gathered from a wide variety of sources. The data was forensically analysed to try and identify as accurately as possible the number of aircraft produced from each factory, what version they were, and also their operational use.
Of the two, a great deal more information is known about the exploits of FWE. They were responsible for the Me 262A-1a/U3, so it's the reconnaissance variant that takes up the bulk of the book.
A number of major contractors were involved with the Me 262 program in Bohemia. Those discussed here contributed to the manufacturing of tail units, nose sections, cockpit tubs, engines, and rear fuselages.
Between the soft card covers are 158 pages of text, tabulated data, and period photographs. Of the latter, there are nearly 220, including a few in colour. Aficionados are guaranteed to find something new amongst them and their reproduction throughout the book is excellent.
The second half of the volume focuses on specific aircraft that are known to have been manufactured by the FWE and LBB plants. This is done with detailed descriptions of each subject, and some superb artwork courtesy of Tomáš Poruba and Jaroslav Farkaš.
There are 15 aircraft covered and importantly, each is backed up by accompanying reference photos. Also included is an Ar 234C-3 which is part of the authors' discussion on the final operations of Ar 234Bs and Cs by 1.(F)/100 and III./EKG 1. They also speculate that the Me 163 and He 162 could have been present in the area.
Rounding out the publication is an addendum to the previous volume in the series "Messerschmitt Me 262s of KG and KG(J) units". This culminates in the description and artwork of a colourful Bf 109K-4 from 10./JG27.
This volume lives up to the high standards of its predecessors.
It combines thorough research with first-class artwork, and presents it in a format that is both logical and easy read. The text is informative, with the translation being very good for such a technical publication.
This is a fine addition to the study of Luftwaffe operations on Czech territory. Students of the subject will be using this book as reference material for a long time to come, and as such, comes highly recommended.
Thanks to JaPo for the review sample
---
Review Copyright © 2013 by Rob Baumgartner
Page Created 9 April, 2013
Last updated 9 April, 2013
Back to HyperScale Main Page