S u m m a r y :

Catalogue Number, Description and ISBN:

Kagero Publishing
Mini Topcolors 30
Luftwaffe's Baptism of Fire Part I
ISBN: 978-83-62878-29-1

Contents & Media:

Soft cover, 18 pages, A4 format; 2 x waterslide decal sheets; English and Polish text.

Price:

Review Type:

First Look

Advantages:

Thoroughly researched; high quality illustrations; 1/32, 1/48 and 1/72 decals cater for modelers working in all three main scales.

Disadvantages:

Conclusion:

Highly recommended for anyone interested in late 1930s Luftwaffe aircraft, and who wants different marking options to those usually provided in kits.

Reviewed by Brad Fallen


HyperScale is proudly supported by Squadron.com


Kagero's Topcolors series now runs to nearly 40 titles, focusing exclusively on World War 2 aviation and armour subjects. This volume, Luftwaffe's Baptism of Fire Part I, comes in at number 30 and features eight German military aircraft from the pre- and very early war period.
These aircraft are as follows:
Junkers Ju 87 B-1, '29-8' of 5. K/88 based at Sanjurjo airfield, Zaragoza, Spain, late 1938. This Ju 87 was finished in an RLM 70 Black Green/RLM 71 Dark Green splinter over RLM 65 Light Blue, with standard Condor Legion identification markings and a 'Jolanthe Kette' pig emblem on at least the port gear fairing, and possibly both. I was able to find one photograph of '29?8', which suggests that Kagero's painting and marking suggestions are accurate.
Messerschmitt Bf 109 E-1, '6-119', flown by Hauptmann Siebelt Reents, Staffelkapitan of 1. J/88 based at Leon, Spain, Spring 1939. '6?119' was painted in (most likely) RLM 63 Light Grey over RLM 65, again with typical Condor Legion identification markings. (There remains some debate over the exact upper surface colour of Spanish Emils – anyone wanting further information on this subject should read Lynn Ritger's first SAM Datafile on the Bf 109, 'Prototype to 'E' Variants'.) Photographs of this aircraft show it as clean and highly polished.
Messerschmitt Bf 109 E-1, 'Black 14' of 2.(J)/LG 2, Poland, mid-September 1939. 'Black 14' and the next aircraft were both camouflaged in 70/71 over 65. 'Black 14' carried on its port engine cowling a parodic cartoon entitled 'Der Giftzwerg' (an 'insidious, hateful man'), which Kagero suggests probably referred to the then Polish Minister of Foreign Affairs.
Messerschmitt Bf 109 E-1, W.Nr.4048/'Yellow 7' of 3./JGr. 101, Hoya, Germany, 18 November 1939. 'Black 7''s distinguishing features were a running fox emblem on both sides of the engine cowling, yellow outlined identification numbers and upper and lower wing Balkenkreuz painted in line with the inboard end of the ailerons.
Messerschmitt Bf 109 D-1, W.Nr.630/'Black N+7', flown by Oberleutnant Johannes 'Macki' Steinhoff, Staffelkapitan of 11.(N)/JG 2, Hage, Germany April 1940. The slightly unusual sight of a Bf 109 D in high-demarcation RLM 02 Gray/RLM 71 over RLM 65 camouflage make this scheme an attractive one. It is no surprise that this unit's aircraft are popular modeling subjects – for a good example, see Brett Green's Classic Airframe's 1/48 Bf 109 D in 12.(N)/JG 2 markings that he completed back in 2006 (http://hsfeatures.com/features04/bf109dbg_1.htm).
Messerschmitt Bf 109 E-3 flown by Oberleutnant Wilfried Pufahl of Stab II./JG 53, Mannheim-Sandhofen, Germany, April 1940. This aircraft was originally finished in a high-demarcation 02/71/65 scheme, with the blue fuselage sides subsequently toned down with additional mottling of 02 and 71.
Messerschmitt Bf 110 C-2, 'L1+KK', flown by Unteroffizier Hans Bechthold of 14./LG 1, Mannheim-Sandhofen, Germany, late Spring 1940. Photographs of this aircraft taken after a landing accident indicate it was camouflaged in 70/71 over 65, with the individual code letter 'K' painted in (most likely) red and white on the fuselage sides and upper wings outboard of the Balkenkreuz, and in black in the same position on the lower wings.
Heinkel He 111 P-2, '1G+HL', flown by Unteroffizier Otto Keiser of 3./KG 27, Neukuhren, East Prussia, Germany, 15 September 1939. Also finished in 70/71/65 and with its individual code letter 'H' repeated on the upper and lower wingtips, this He 111 P was damaged by flak over Poland, repaired in the Soviet Union and then escorted back to Germany by Soviet fighters.
Each aircraft is illustrated via full colour overhead, port and starboard views. Scrap drawings are used to show the location of underwing Balkenkreuz, and to provide detailed pictures of unit insignia and other individual aircraft markings.
Text is in both English and Polish; descriptions are succinct, focusing on key identifying features of each aircraft. For example, in relation to 'Yellow 7', the author notes that 'the Staffel's running fox emblem was applied on both sides of the engine cowling in simplified form of white outline only, the gun througs [troughs] coated with light grey paint and yellow spinner's front are all worth notice'. The grammar isn't perfect but it doesn't matter – in conjunction with the illustrations, you have a detailed description of the aircraft's main features.
For anyone wanting to conduct further research, a comprehensive list of references is also provided.
One of the great attractions of Topcolors publications is Kagero's inclusion of decals for the featured machines. This book is no exception, with 1/32, 1/48 and 1/72 markings supplied for each aircraft. This translates into a lot of decals – two full A4 sheets' worth – even without Balkenkreuz and Hakenkreuz for the German aircraft. Kagero expects you to use kit-supplied decals for these markings, with the exception of 1/72 and 1/32 swastikas for the He 111 P.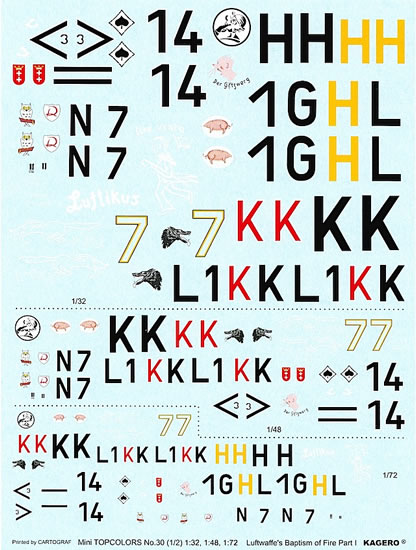 The decals have been printed by Cartograf, and not surprisingly quality appears to be excellent, with perfect registration and excellent colour tone and density; the 'Jolanthe Kette' emblems for the Ju 87 B look particularly good.
'Luftwaffe's Baptism of Fire Part I' is a welcome publication for anyone who is interested in modeling late 1930s Luftwaffe aircraft, and wants some different marking options to those usually provided in kits. Kagero's high publication standards, and the provision of decals in all three major scales, only add to the selling points. While I can't imagine using all of the decals that come with this book (that would mean 24 different models!) I can see myself sharing them with friends who build in different scales, which would be a good way to get extra value from this package.
Highly recommended.
Thanks to Kagero for this review sample.
---
Review Copyright © 2013 by Brad Fallen
This Page Created on 2 May, 2013
Last updated 2 May, 2013
Back to HyperScale Main Page
Back to Reviews Page