S u m m a r y :

Catalogue Number, Description and ISBN:

Kagero Publishing
Mini Topcolors 28
Luftwaffe Over the Far North
ISBN: 978-83-62878-29-1

Contents & Media:

Soft cover, 18 pages, A4 format; 1 x waterslide decal sheets; English and Polish text.

Price:

Review Type:

First Look

Advantages:

Thoroughly researched; high quality illustrations; 1/32, 1/48 and 1/72 decals cater for modelers working in all three main scales.

Disadvantages:

Conclusion:

Provides some interesting variations to standard RLM 70/71/65 and 74/75/76 Luftwaffe fighter schemes – highly recommended..

Reviewed by Brad Fallen


Luftwaffe Over the Far North is available online from Squadron.com for only $15.74


"Luftwaffe over the Far North" is another recent addition to Kagero's Mini Topcolors range, and as its name suggests focuses on German aircraft which operated in Norway and Finland between 1941 and 1945.
Seven of the eight aircraft featured are Messerschmitt Bf 109s, while the other is a Messerschmitt Bf 110. Details are as follows:
Messerschmitt Bf 109 E-7, 'Yellow 7', flown by Oberleutnant Horst Carganico, Staffelkapitan of 1./JG 77 (JGr. Z.b.V.), Petsamo, Finland, 25 September 1941. This aircraft was camouflaged in either RLM 71 Dark Green/RLM 02 Grey over RLM 65 Light Blue or RLM 74 Grey Green/RLM 75 Grey Violet over RLM 76 Light Blue. Either way, the three camouflage colours were applied in distinct horizontal bands along the fuselage. Combined with the polished metal spinner, large areas of RLM 04 Yellow on the cowlings and lower wing tips, and early style 'rounded' canopy, this makes 'Yellow 7' an attractive option for anyone wanting to model a slightly out-of-the-ordinary Luftwaffe Emil.
Messerschmitt Bf 109 E-7, W.Nr.6274/'Red 19', flown by Feldwebel Josef Wirtz of 5./JG 5, Kirkenes-Hoeybuktmoen, Norway, April 1942. Also sporting an early style canopy, 'Red 19' was a converted Bf 109 E-1, with faired-over MG 17 wing ports clearly visible in photographs. 'Red 19' was finished in a reasonably standard 74/75/76 scheme, with heavy mottling on the RLM 76 fuselage sides and with RLM 04 cowlings, lower wing tips and fuselage band.
Messerschmitt Bf 109 F-4, 'Yellow 10', flown by Feldwebel Hans Dobrich of 6./JG 5, Petsamo, Finland, 30 June 1942. 'Yellow 10' is another interestingly finished albeit reasonably well known Bf 109. A de-tropicalised F-4, this aircraft carried an original mid-demarcation desert scheme of RLM 79 Sand Yellow over RLM 78 Blue, overpainted with patches of RLM 70 Black Green, RLM 75 and RLM 76. Both upper and lower wing tips were painted RLM 04, along with the lower engine cowling.
Messerschmitt Bf 109 E-7, 'Black Double Chevron', flown by Hauptman Gunther Scholz, Gruppenkommandeur of III./JG 5, Petsamo, Finland, August 1942. This aircraft's 74/75/76 scheme was heavily oversprayed with RLM 71. The spinner featured a curved black-and-white demarcation, while the rudder and lower cowling, wing tips and central fuselage were painted RLM 04.
Messerschmitt Bf 109 G-2, 'Black Chevron and Bar', flown by Oberleutnant Gunther Schwanecke of Stab II./JG 5, Salmijarvi, Finland, August-September 1943. This G-2 also featured a modified 74/75/76 scheme, with the original finish oversprayed with large patches of RLM 75 and RLM 70. Application of RLM 04 was limited to the upper and lower wing tips and the lower cowling.
Messerschmitt Bf 109 G-14, 'Blue 11', flown by Unteroffizier Karl-Heinz Erler of 16./JG 5, Rygge, Norway, April 1945. Carrying yet another hybrid 74/75/76 scheme, 'Blue 11' featured heavy fuselage mottling and light coloured patches on the upper wings, which the author suggests could be RLM 76.
Messerschmitt Bf 109 G-6, W.Nr.411960/'Black Double Chevron', flown by Hauptman Franz Dorr, Gruppenkommandeur of III./JG 5, Gossen, Norway, May 1945. This aircraft was painted in a more standard 74/75/76 finish, with a relatively clean, high colour demarcation along the fuselage sides and a more dense mottling on the upper engine cowling.
Messerschmitt Bf 110 C-4, possibly W.Nr.3271/'2N+DR', flown by Oberleutnant Hans Kriegel, Staffelkapitan of 7./ZG 76, Stavanger-Sola, Norway, February 1941. '2N+DR' carried modified 70/71/65 camouflage, with the original 70/71 on the fuselage sides overpainted with RLM 65 to produce a very high demarcation finish.
Each aircraft is illustrated via full colour overhead, port and starboard views. Scrap drawings are used to show the location of underwing Balkenkreuz and RLM 04 application, and to provide detailed pictures of unit insignia and other individual aircraft markings.
The English and Polish text focuses entirely on describing the aircraft, without straying into operational histories. Combined with the illustrations, the text provides the key information needed to complete accurate models of the book's subjects. While I couldn't find photographs of all of the featured aircraft, those I did find matched closely with the illustrations and decals. For example, Gunther Scholz's personal insignia of a little girl has been captured perfectly, as has the paint demarcation on the rear fuselage of 'Yellow 10' (I couldn't find photos of the entire aircraft, although I'm sure they are out there).
For anyone wanting to conduct further research, a comprehensive list of references is also provided.
As is the norm for a Topcolors publication, 1/32, 1/48 and 1/72 markings are supplied for each aircraft.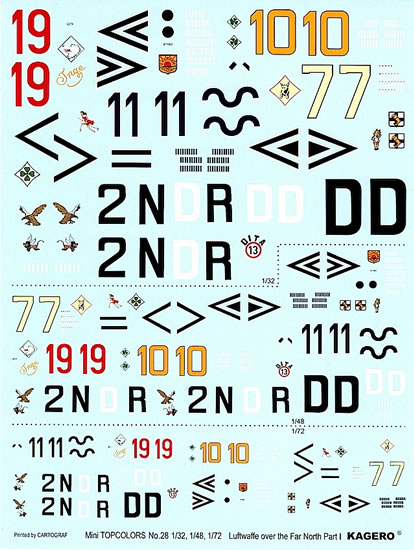 Only unit and individual aircraft markings are provided; Kagero expects you to use kit decals for the Balkenkreuz and Hakenkreuz. The decals have been printed by Cartograf and look very good, with perfect registration and excellent colour tone and density.
This addition to the Topcolors range gives modelers some intriguing variations to standard Luftwaffe fighter schemes. In most if not all cases, these reflect innovative unit-level responses to the harsh climate in which these machines operated. It's also refreshing to see a selection of Luftwaffe Bf 109 decals that doesn't include aircraft flown by Galland, Priller or the other major aces favoured by kit and some decal manufacturers. For these reasons, along with Kagero's high production standards, I thoroughly recommend this book as a starting point for some interesting Luftwaffe modeling.
Highly recommended.
Thanks to Kagero for this review sample.
---
Review Copyright © 2013 by Brad Fallen
This Page Created on 7 May, 2013
Last updated 7 May, 2013
Back to HyperScale Main Page
Back to Reviews Page