Stratus / MMP Books
Swedish Fighter Colours
1925-1954
Piston Engined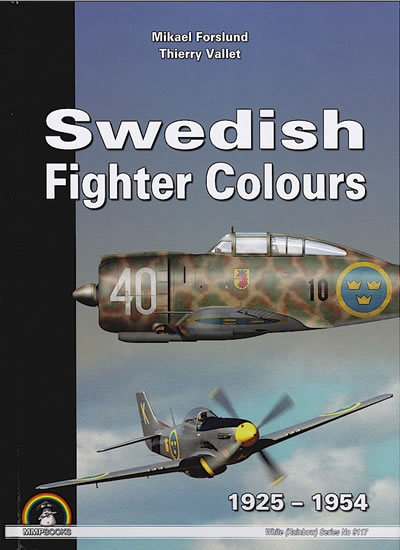 S u m m a r y

Publication Details:

Stratus/Mushroom Model Publications
Swedish Fighter Colours 1925-1954:
Piston Engined


ISBN:

978-83-61421-72-6

Media and Contents:

Hard cover, 264 pages, A4 format; English text; black-and-white and colour photographs; colour profiles and three view illustrations.

Price:

Review Type:

FirstRead

Advantages:

Interesting subject matter; highly readable text; superb photos and other illustrations.

Disadvantages:

Conclusion:

A detailed overview of the fighter aircraft operated by Sweden before, during and immediately after World War 2 – Highly Recommended.
Reviewed by Brad Fallen

HyperScale is proudly supported by Squadron
This volume covers the fighter aircraft used by the Flygvapnet – the Swedish Air Force –– in the 30 years after its creation in 1926. Sweden's success in distancing itself from most European conflicts of this period saw these aircraft obtained from a wide range of sources, including countries such as Italy and Great Britain that would soon be at war with one another. Indigenous designs such as the striking Saab J21A were also operated with some success. The result was an eclectic mix of types that, adorned with colourful Swedish livery, offer considerable modeling inspiration.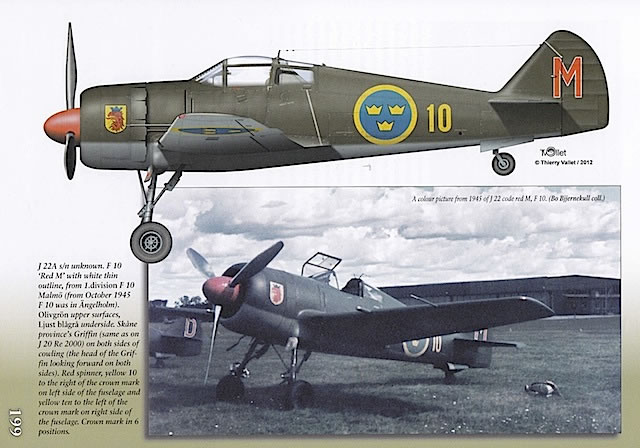 The authors, Mikael Forslund and Thierry Vallet, have approached their subject chronologically, beginning with the first Austrian and French biplanes operated by the fledgling air force and concluding with Sweden's late and post-war use of the P-51 Mustang and de Havilland Mosquito. Aircraft covered are as follows:
J 2 Nieuport-Delage Ni-D 29
J 5 Svenska Aero SA 11 Jakfalken
J 6 SA 14 (ASJA) Jakfalken
J 7 Bristol Bulldog II, IIa
J 8, J 8A Gloster Gladiator
J 26 North American P-51 Mustang
Each aircraft is assigned an individual chapter, where the authors use a combination of text, illustrations and statistics to provide a comprehensive overview of the type. The text, which has been translated by Jan Forsgren from the original Swedish, is highly readable and includes numerous first-hand recollections by Flygvapnet of their flying experiences. Typical is the following, rather dry, description by SAAB test pilot Claes Smith of what happened when landing the prototype J21A at the end of its maiden flight:
"The landing procedure was normal until I applied brakes, which resulted in no braking action at all. I anticipated careening into the woods at the far side of the airfield. I recalled that a spin parachute had been installed in one of the tail booms for emergency use in the future spin test program. I released it, so I probably became the inventor of the brake chute….At the same time, the undercarriage began to collapse, but only to the point where the propeller tips touched the ground which resulted in a very efficient braking action."
These anecdotes are scattered throughout the volume and make for enjoyable and informative reading.
Without doubt, however, the stars of this book are its photographs. The authors have selected a marvelous range of images, mainly period but some contemporary, of Swedish fighters in the air and on the ground; the overall quality of these photos is superb. While most of the period photographs are black and white, a surprising number are also in colour.
Backing up the photos are numerous large, well-executed colour side and top view illustrations. Most of these are based on photographs included in the book, meaning that you don't have to rely on the illustrator's interpretations of what the subject aircraft looked like – although from what I can see, these interpretations are accurate.
Each chapter ends with a table of individual aircraft histories for that particular type. This includes serial numbers, dates of delivery and striking off charge, and a few brief remarks usually describing the aircraft's fate.
Concluding the book is a chapter entitled 'Swedish insignia' that includes the following appendices:
Crowns

Numbers and letters

Paint colours and codes (including Federal Standard equivalents)

Flygvapnet unit structure

Swedish aviation ranks
There is also a short bibliography for those wishing to conduct further research.
Before I picked up this book my knowledge of fighter aircraft used by Sweden in the period before, during and immediately after World War 2 was patchy, at best. Now I feel very well informed, and inclined to investigate what kits are available of some of the featured aircraft.
I suspect this is a volume I will be dipping into regularly, not just for the photos and illustrations but also for the excellent text. Highly recommended if you have any interest in Scandinavian military aircraft, or like me are fascinated by familiar aircraft types in less familiar camouflage and markings.
Thanks to MMP Books for the sample.
---
All MMP Publications books are available direct from the publishers, who now accept credit cards (Visa, MC, Amex, Switch)
North American distributors are MMD, Australian distributors are Platypus Publications. In Europe, the books are available from any good bookshop (via our UK distributors, Orca). Contact MMP direct in case of difficulties.
Thanks to Roger at MMP Books for the sample.
---
Review Copyright 2013 by Brad Fallen
This Page Created on 28 July, 2013
Last updated 28 July, 2013
Back to HyperScale Main Page
Back to Reviews Page