Allied Wings 15
Grumman SF
by Phil H. Listemann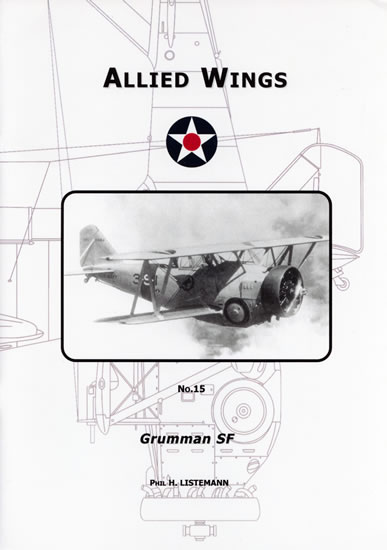 Philedition
Summary:


Publisher, Title and ISBN:

Philedition
Allied Wings 15
Grumman SF
by Phil Listemann

Media:

A4 soft-cover format; 22 pages

Price

Available online from www.raf-in-combat.com and selected retailers

Review Type

First Read

Advantages

Interesting and useful summary of the Grumman SF-1.

Disadvantages

Conclusion

Recommended for anyone with an interest in the Grumman SF-1
Reviewed by Rodger Kelly


HyperScale is proudly supported by Squadron.com
Allied Wings s a series of books produced by Phil Listemann and printed in France.
The series basically provides a thumbnail illustration of specific aircraft types that were manufactured in either Britain or the United States and operated by the Royal Air Force and other air forces allied to them.
To date, there are 16 titles in the series:
AW 01: Supermarine Spitfire XII
AW02: Martin Marauder Mk.I
AW04: Westland Whirlwind Mk.I
AW05: Douglas Dauntless in RNZAF service
AW07: Boeing Fortress Mk.I
AW08: Boulton Paul Defiant - Pt.1
AW09: North American B-25 Mitchell in RAAF service
AW11: Curtiss F11C/BFC & BF2C
AW12: Curtiss SB2C Helldiver in French service
AW14: Douglas Skyraider in French service
AW16: Short Singapore Mk.III
Allied Wings Number 15 features the Grumman SF-1. The SF-1 (Scout-Grumman – 1) was a portly two-seat radial engine powered biplane with a retractable undercarriage and an enclosed cockpit. In total, 43 of them were produced by the Grumman Aircraft Engineering Corporation in 1932.
Its role was that of "scout" which was the term used at the time by the United States Navy to describe the reconnaissance and patrol role. The SF-1 was a derivative of Grumman's FF (Fighter-Grumman) and had a short lived operational life being operated by a single squadron - VS-3B aboard the USS Lexington between June 1934 and December 1935.
It was also operated by reserve units of the United States Navy and the United States Marine Corps with the last one being struck from charge in June 1943. Layout is as follows:
Deliveries and Strength (SF-1)
The Register – this section is comprehensive and details the complete history of each airframe.
The book is softbound, comprises 22 pages, and is 210mm x 297 mm in size with 36 black and white images of varying quality. It also features fourteen colour profiles spread over two centre pages as well as the rear cover. These profiles show it wearing the bright and colourful markings of the United States Navy's yellow wing era.
As stated above, a thumbnail portrait only but it does tell you the story of the machine succinctly and provide information on its usage as well as the colour schemes worn by it.
Thanks to Philedition for the review sample
---
Review Copyright © 2013 by Rodger Kelly
This Page Created on 10 April, 2013
Last updated 10 April, 2013
Back to HyperScale Main Page