The Hawker Tempest
A Complete Guide to the RAF's
Last Piston Engine Fighter
by Richard Franks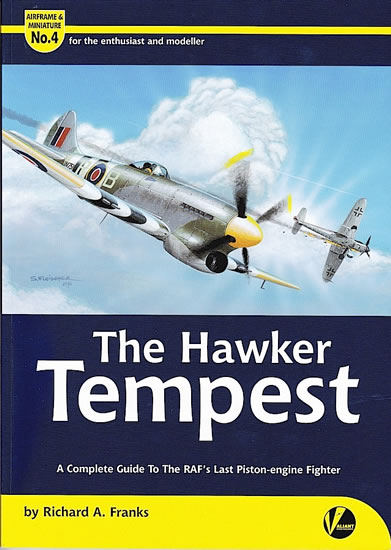 Valiant Wings Publishing
Airframe and Miniature No. 4
S u m m a r y

Publisher and Title:
Valiant Wings Publications – Airframe and Miniature No.4
The Hawker Tempest: A Complete Guide to the RAF's Last Piston Engine Fighter
by Richard Franks
ISBN:
978-0-9567198-3-6
Media:
Soft cover; A4 format; 144 pages; black and white and colour drawings and photographs; 8 fold-out pages of 1/48 Tempest plans.
Price:
£17.95 plus postage available online from Valiant Wings
Review Type:
First Read
Advantages:

Comprehensive examination of the Tempest airframe and its evolution; superb illustrations; excellent step-by-step builds of Tempest kits in 1/72 and 1/48

Disadvantages:
Conclusion:

An essential reference for anyone with an interest in this late war RAF fighter, or contemplating a Tempest modelling project.

Reviewed by Brad Fallen


HyperScale is proudly supported by Squadron.com

The Hawker Tempest was the interceptor its predecessor, the Typhoon, had struggled and failed to become. While the family resemblance between the two types was unmistakable, there were also major differences. These included a thinner, semi-elliptical, laminar flow wing; a lengthened forward fuselage to accommodate fuel relocated from the wing; and a larger rudder and vertical fin. These refinements gave the Tempest Mk.V better flight characteristics and overall performance compared to the Typhoon, although the same Napier Sabre liquid-cooled engine powered both aircraft. The later, Centaurus-powered Tempests were even better – pushing the limits of what piston-engined aircraft could achieve, and clear ancestors of the near-perfect Sea Fury.
Tempest Mk.Vs reached RAF squadrons from early 1944, and quickly established themselves as Britain's best medium to low-level fighter. At these altitudes, Tempest pilots could outfly anything put up by the Luftwaffe, except arguably the Me 262 and the Ta 152. Even then, Tempests accounted for at least 20 Me 262s. Where they really excelled, however, was in V-1 interceptions, with the Tempest's top speed of 435 mph enabling them to account for more than one-third of all V-1s destroyed by the Allies in the air. Finally – like the Typhoon – the Tempest was an excellent ground-attack aircraft, and during the last months of the war played an important role in harassing the retreating Wehrmacht.
The attributes that made the Tempest such a formidable warplane are well covered in this fourth volume of Valiant Wings' now well-established Airframe and Miniature series.
The book is a logical successor to volume 2, which covered the Typhoon and Tornado, and is laid out in nearly identical fashion as follows:
Evolution – The Sabre Tempest
Traces the development of the Sabre-engined Tempest variants, including the wing-mounted radiator prototypes and the more familiar chin-mounted radiator versions, before concluding with an examination of NV768 – a Mk.V Tempest used to test several dramatic-looking annular cowl layouts.
Evolution – The Centaurus Tempest
A similar examination of Centaurus-powered Tempest evolution.
Projects
A brief survey of Tempest experimental and drawing board projects.
Camouflage and markings
This 18-page chapter is almost worth the purchase price alone. As well as describing the finishes applied to all Tempest variants (more varied than you might think) there is a comprehensive explanation of post-1942 RAF national markings, and six pages of full colour profiles.
Survivors
Outlines the state and, where known, careers of surviving Tempest airframes.
Hawker Tempest kits
Comprehensive reviews of four 1/144, nine 1/72, and two 1/48 Tempest kits.
Building a selection
Libor Jekl builds 1/72 Academy, Aeromaster and Special Hobby Tempest kits, while Steve A. Evans tackles Eduard's 1/48 kit. All builds are of very high quality, and will be invaluable to anyone planning a Tempest project in either scale.
Building a collection
19 black-and-white three-quarter view drawings that clearly illustrate the differences between each Tempest variant.
In detail: the Hawker Tempest
Also worth the price of admission, this 38-page chapter is an absolutely superb collection of information, and packed with enough drawings and photographs to satisfy the most persnickety superdetailer.
There are also five appendices, which address the following subjects:
Tempest kit list

Tempest accessory list

Tempest decal list

Tempest production

Bibliography
The book concludes with a fold out section containing full 1/48 plans for the Tempest Mk.V, Mk.VI and Mk.II.
Illustrations throughout are very good, with an excellent mix of period images, technical drawings, modern walkaround photographs and colour profiles. Image reproduction is very clear, and the text is well written and highly readable.
I highly recommend this publication to anyone with an interest in the Hawker Tempest – it will tell you almost everything you want to know about the type (except for its operational history, but that's what the bibliography is for). For anyone contemplating a Tempest build, whether one of the many 1/72 choices available or Pacific Coast Models' new 1/32 kit, I think the book is an almost mandatory purchase; I can't see it leaving your desk before the model is complete.
Thanks to Valiant Wings Publishing for the sample.
---
Review Copyright © 2013 by Brad Fallen
This Page Created on 8 July, 2013
Last updated 8 July, 2013
Back to HyperScale Main Page
Back to Reviews Page