Aviaeology Decal Preview
RCAF Fighter Recce Spitfire Mk.IXC / Mk.XIVE decal set
1/48 scale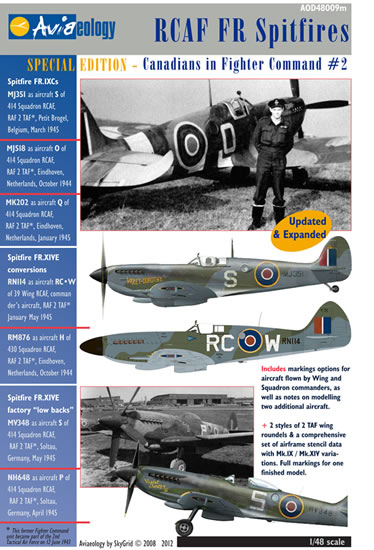 Aviaeology has provided information on their next releases:
RCAF Fighter Recce Spitfire Mk.IXC / Mk.XIVE decal set
One Set, Three Types, Seven+ Examples…
The Fighter Recce Spitfires of 39 Wing
Our RCAF Fighter Recce (FR) Spitfires "Decals 'n Docs" sets are now in stock and shipping. Modelers looking to add a few truly rare, and well-storied birds to an existing Spitfire flock, or who have a thing for Second World War tactical recce types in general, will enjoy this set. It covers three distinct variants of Spitfire including the FR.IXC (FRU converted), the FR.XIVE (FRU converted "high-backed"), and the "factory-direct" FR.XIVE with the all-around vision canopy (or so-called "low-backed" fuselage).
This revamped and expanded (as compared to our previous release on the subject) set features 7 thoroughly-covered subject options, and 2 additional bonus subjects (1 each of the FR.IXC and FR.XIVE conversions). The two stragglers were squeezed into the Docs as a result of research completed too late for the decal artwork phase.
The Individual Subject Aircraft
Within the final year of the Second World War, the RCAF's 39 (Reconnaissance) Wing operated not one, but two of the more rare Spitfire variants to see action during that conflict; the FR.IXC and FR.XIVE FR conversions created by 511 Field Repair Unit (FRU).
Responding to the Wing's requirement for a fast, armed, and sometimes camera-equipped tactical aircraft to replace aging Mustang Mk.I's, the initial FRU (they dropped the number in late 1944) adaptation involved a rearranged rear fuselage radio compartment which featured unique camera window fairings on either side of the fuselage. The initial effort involved existing LF.IXC donor airframes, most of which were combat veterans being cycled through the FRU for heavy maintenance or major repairs. Commencing in August of 1944, the new type, now designated FR.IXC, began replacing the veteran Mustangs of the Wing's 414 Squadron.

Here are the three examples (and one bonus subject) covered in our set:

MJ518 "O", F/L M. Carr (sometimes wingman to Squadron Commander G. Wonnacott)

MK202 "Q", S/L G. Wonnacott DFC & Bar - later aircraft

MJ351 "S", F/L K. Lawson

MK374 "R" (BONUS OPTION 1), flown by S/L G. Wonnacott DFC & Bar, during a 3 victory sortie against Bodenplatte participants, 1 Jan. 1945
---
Next the FRU applied its talents and resources to a small fleet of standard-fuselage Griffon-engined F.XIVE's. By all appearances the same conversion "kit" was used on these higher-powered machines: Mk.IX fuselage radio hatch on the lefthand side, camera fairings and all. All of the converted F.XIVE's, now known as FR.XIVE's, entered service with 430 Squadron with the first examples arriving through November.
Here's the line-up:

RN114 "RC•W", W/C R.C.A Waddell DFC, 39 Wing OC - personalized aircraft

RM876 "H", F/L W. Middleton (Fw190 victory action aircraft) - 2 schemes, early (shown) and late

RM818 "C" (BONUS OPTION 2), flown by W/C R.C.A Waddell DFC,
and F/O J.N. McLeod (KIA 31 Dec. 1945)
The FRU conversions were the rare birds of the bunch. Each of the above types were envisioned as interim equipment while the Service awaited Supermarine's purpose-built Fighter Recce thoroughbred, the FR.XIVE. These late-war "low-backed" Spitfires began to replace 414 Squadron's well-used FR.IXC's through April of 1944. Although the war in Europe was nearly over, these sleek machines nonetheless exhibited all of the characteristic evidence of busy operational careers within a very short time. And they featured nose art (of the inscription sort) to boot. Both phenomena are perennial points of interest for scale model candidates.
And the subjects are:

MV348 "S", F/L K. Lawson

NH648 "P", S/L J.B. Prendergast DFC, 414 Squadron Commander
---
Aviaeology Documentation
The Aviaeology approach to decal sets has evolved over the years to include, as one repeat customer likes to call it, "a magazine article in a bag". This one should prove to be a fine example of the marque with its 8 chock-full pages of text and illustration.
Sections include:
Fighter Recce Spitfires one and two
A quick-up-to-speed background piece on each of the three FR sub-types used by two of 39 Wing's three squadrons.
Fighter Recce Spitfire (FRU conversion) Camera Fairings
A compact 3/4 page guide to some simple sheet-plastic scratch-building, complete with scale drawings that you can zoom in on (if using the included PDF file on you computer, tablet, or smartphone).
Spitfire FR.IXC airframe stencil / data & national markings
A comprehensive spread showing placement and variations in four views. Also loaded up with configuration & equipment notes just for good measure.

There's a similar separate page on FR.XIVE's... they were quite different after all...
39 Wing (RCAF)'s Fighter Recce Spitfires: finish and markings
A summary text covering the finish scheme and baseline markings used on these Spitfires, including Fighter Command's Day Fighter Scheme and its slight evolution towards a less conspicuous scheme in the hands of the 2nd Tactical Air Force. Both Merlin and Griffon-powered types are given the treatment...
---
What's Left?
What's left are three pages covering the individual aircraft themselves. Clear decal placement profile illustrations accompanied by snippets of history, where applicable and known, on each machine and the men who flew them. Photos and captions to help keep the modelling juices flowing.
As is our usual practice, black & white laser-printed documentation is supplied in the package and a home-printable colour PDF version is made available via email after purchase (sent once we ship your order if you buy direct from our site, or by email request if purchased from an Aviaeology vendor). The PDF can be magnified on your computer screen, tablet, or smart phone for easy reference viewing while modelling.
Now shipping – available in three scales (though the 1/48 scale stock is thinning out pretty fast!). Please visit the FR Spitfires section of our website for a little more subject detail, or to place an order.
Thanks to Aviaeology for the information and images
---
Preview Text Copyright © 2013 by Aviaeology
This Page Created on 17 June, 2013
Last updated 17 June, 2013
Back to HyperScale Main Page