F/A-18E Super Hornet
VFA-137 Kestrels CAG 2011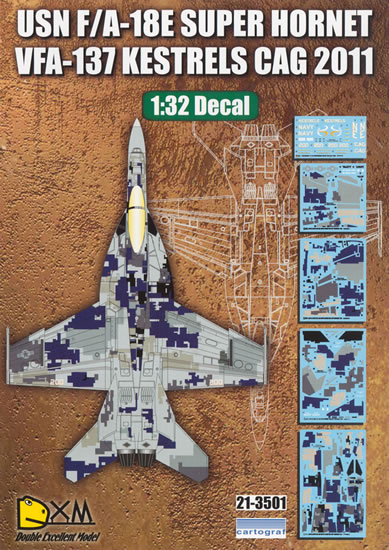 DXM, 1/32 scale
(also available in 1/144, 1/72 & 1/48)

Reviewed by Rodger Kelly

HyperScale is proudly sponsored by Squadron.com
Another of the recent releases from Double Excellent Model or DXM as they are also known.
The second sheet in their series of United States Naval Aviation CAG birds, this time it is for another Pacific Fleet squadron the VFA-137 "Kestrels".
VFA-137 is a part of Air Wing 2 and home based at Naval Air Station Leemore in California. The decals depict it from the time when the Air Wing was aboard the USS Abraham Lincoln, now in re-fit.
The decals are for F/A-18E Bureau number 165897 in the Kestrels "digicam" CAG bird scheme. The aircraft is in the Standard Tactical Paint Scheme (TPS) worn by the Super Hornet comprising FS36320 dark ghost grey over FS36375 light ghost grey. The sheet provides the complete markings for the complicated scheme. Simply paint the airframe and apply the decals!
Unlike their VFA-195 sheet, there is very, very little stencil data. All you get are a pair of intake warnings, a pair of ejection seat warnings, a couple or two "do not paint" stencils and a set of slime lights. You also get a set of national insignia but these look a little funky to my liking. Don't get too stressed with the lack of stencil data though as very little of it is visible on the one-to-one-scale machine. Google images of the real machine and you will see what I mean.
The decals themselves have been printed by Cartograf.
The placement guide is an A-4 sheet with full colour printing on both sides of the sheet that shows good quality plan views and side profiles.
The decal sheets (5 of them in the 1/32 scale pack) come packed with a sheet of grease proof between each of them. They and the placement guide come packed in a cellophane baggie with a gummed edge that you always seem to stick to the decals when you are inserting them back into the baggie!
This sheet also comes in 1/144, 1/72, and 1/48 scale.
A good sheet from DXM that will result in a striking mode, especially in 1/32 scale.
Thanks to DXM Decals for the sample
---

Review Copyright © 2013 by Rodger Kelly
Page Created 4 March, 2013
Last updated 6 March, 2013
Back to HyperScale Main Page
Back to Reviews Page