The Rook: Global Su-25s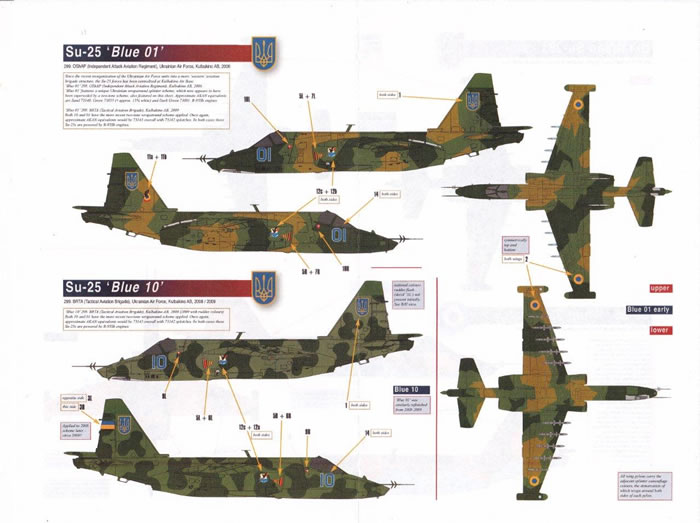 Linden Hill Decals, 1/48 scale
Reviewed by Phil Parsons

HyperScale is proudly sponsored by Squadron.com
Tonight we look at Parts 2 and 3 of Linden Hill decals great range of Su-25 decals. Part 1 has been well covered by Ken Bowes on Hyperscale here. Linden Hill has continued to look at some of the more unusual operators of the Su-25. As many Su-25 aircraft have gone through the Ukrainian Zaporozhe Aviation Repair (ZARZ) centre, these aircraft have gone on to a second career with other countries.
Each three view diagram covers painting guides, if there are any external differences and the colours provided in both FS and AKAN numbers with information on weathering where applicable.
My only comment about the instructions is the small size of the font. Even with my new glasses I find that scanned copies are easier over the originals. Minor issue only.
As always from Linden Hill Decals, the colours look crisp and in register. Rather than rabbit on, I feel that a picture tells 1000 words. Have a look at all the options available, these decals are available in 1/72. 1/48 and 1/32 scale.
The Decals cover the following countries:
Part 2
Chad Su-25 TT-9AO or QAO

AAT (Armee de L'Air Tchadienne), N'Djamena International Airport, Chad, 2010

Equatorial Guinea Su-25 white 029

FAGE (Fuerza Aerea de Guinea Ecuatorial), Malabo International Airport, Equatorial Guinea, 2009.

Iran Su-25K Black 54

IRCG AF (Iranian Revolutionary Guard Corps Air Force), Tehran Mehrabad AB, 2008

Russia Su-25 Blue 22

18. GvShAP 'Normandie-Niemen', Galyonki AB, Russia, 2005

USSR Su 25 Red 59

378. OShAP, VVS, USSR when attached to air forces of the 40th Army, Bagram AB, Afghanistan. 1986

Macedonia Su-25 Gray 122

101st Aviation Squadron, Macedonian Air Force and Air Defence Forces, Petrovec AB, 2001

Ukraine Su-25 Blue 01 and Blue 10

299, BRTA (Tactical Aviation Brigade), Ukrainian Air Force, Kulbakino AB, 2008/2009.
299, OShAP (independent Attack Aviation Regt), Ukrainian Air Force, Kulbakino AB, 2006

Uzbekistan Su-25 White 35

59 APIB(?) Uzbekistab Air Force and Air Defence Forces, Chirchik AB 2009
---
Part 3
Armenia Su-25K Red 18

121st Air Base, Armenian Air Force, Gyumri AB, 2007

Azerbaijan Su-25K Blue 23

Fighter Bomber Regiment, Azerbaijani Air and Air Defence Force, Kyurdamir AB, 2009

Congo (DRC) Su-25 FG-501

Force Aerienne Congolaise (FAC), Democratic Republic of Congo, N'Djili International Airport, 2000 and later at Goma Airport, 2007

Ivory Coast Su-25 Red 02 ('Red 06 '[SIC] on three view page)

Force Aerienne de la Cote d'lvoire (FACI), ivory Coast, Abidjan International Airport, 2004

Gambia Su-25 Blue 81 ('Red 59' [SIC] on three view page)

Gambian Armed Forces (GAF), Gambia, Banjul-Yundum International Airport, 2004

Iraq Su-25K 25616

114 Squadron, Iraqi Air Force, Tammuz AB, Iraq, c.2001

Kazakhstan Su-25 Yellow 04

602nd Air Base, Kazakh Air Force, Shimkent International Airport, Kazakhstan, 2011.

Russia (Tajikistan) Su-25 Red 32

899, GvShAP, 670th Air Group, VVS of Russia, Dushanbe International Airport, Tajikistan, 2004.

Sudan Su-25 Black 203

Sudanese Air Force, El Fashir Airport, Darfur, Sudan, 2009
Again another lovely researched set from Linden Hill Decals, I eagerly await the follow on reference material that these decals are based upon, Aviaeology's forthcoming book 'Griffons over Afghanistan'."
Great decals, painting guides, and information make this a must have, allowing you to build some lovely MiG-23MLD aircraft with combat loadouts.
Thanks to Linden Hill Imports for the review samples.
---
Text and Images Copyright © 2013 by Phil Parsons
Page Created 15 March, 2013
Last updated 18 March, 2013
Back to HyperScale Main Page
Back to Reviews Page