Fokker D.VII
Pts. 1 and 2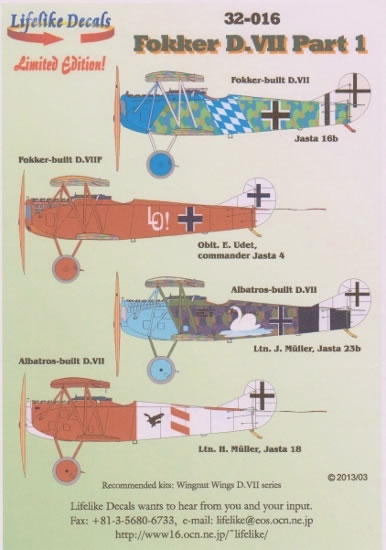 LifeLike Decals, 1/32 scale
S u m m a r y :

Catalogue Number:

LifeLike Decals
Fokker D.VII Part 1 #32-016
Fokker D.VII Part 2 #32-017

Scale:

1/32

Contents & Media:

4 x sheets of waterslide decals with full markings and stencils for four aircraft; full colour four page A5 instruction booklet.

Price:

Available on-line from these stockists:

Stockist

Price

Lifelike Decals

Hannants

Review Type:

First Look.

Advantages:

Informative instruction sheet with copious research notes; avoidance of clichéd subjects; decals that are sharply printed with perfect registration and thin, minimal carrier film..

Disadvantages:

Conclusions:

A refreshing pair of releases that supply quality markings of less traditional subjects. The included research for each aircraft is testimony to the high level of presentation and accuracy that Lifelike strive for in their products. A must for modellers wanting alternative schemes for their Wingnut Wings Fokker D.VIIs.
Reviewed by Rob Baumgartner

HyperScale is proudly sponsored by Squadron.com
Taking advantage of the superb range of Fokker D.VIIs from Wingnut Wings, Lifelike decals have released 2 new decals sheets for the avid 1:32nd scale modeller.
Each package contains markings for 4 aircraft, with more than one manufacturer being represented in each release. The instructions are in full colour and leave no doubt as to how your chosen subject should look.
A commentary on the research leading to these profiles is most enlightening and shows the level of detail put into the product.
The printing of each decal is exceptional. Everything was sharp with no colour registration problems at all on any of the sheets. Potential problems are eliminated by printing tricky items in two parts to allow the modeller to line things up for themselves.
Fokker D.VII Part 1 #32-016
Fokker D.VII (early Fokker built), flown by an unknown pilot of Jasta 16b, June/July 1918.

The distinctive black and white tail markings attribute this aircraft to Jasta 16b but unfortunately the pilot's details are unknown.

The checked fuselage band is in the Bavarian colours of blue and white and do not appear to extend to the bottom of the fuselage. Hence this area is not supplied on the decal sheet.

Eagle eyed modellers will note that this machine can be seen fitted with a telescopic sight above the machine guns.

Fokker D.VII F, serial 4253/18, Jasta 4, flown by Oblt. Ernst Udet, August/September 1918

Udet flew many D.VII aircraft with this one being the last he flew operationally. It is described in two of his combat reports as having a red fuselage and the letters "LO!" marked on each side. The latter being a reference to his girlfriend.

This interpretation does not include the Jasta 4 black nose as no mention of it is made in the aforementioned report and the known photographs of this aircraft appear to bear this out.

The lower wing wears 4-colour "lozenge" on both surfaces however the upper wing is a replacement O.A.W. item. Its top surface is assumed to be painted red as one photograph seems to show a constant shade with no visibility of the rib tapes around the leading edges.

As far as German aces are concerned, Udet was second only to Richthofen with a score of 62 confirmed claims.

Fokker D.VII (Alb.) s/n unknown, Jasta 23b, flown by Lt. Josef Müller, July/August 1918

By necessity this aircraft is conjectural thanks to the single indistinct photograph available. It features the buried exhaust of early Albatros-built machines and has additional louvers located on the upper cowling.

Black and white unit markings cover the tail with the wings and fuselage finished in either 4 or 5 colour lozenge. The nose is painted in a light colour that has the same tonal value as the water under the swan and as such is rendered a light blue.

Müller was born in Hohenschwangau (hence the swan as his personal insignia) and joined Jasta 23b on 28 June 1918. He is credited with a single victory, that being a Sopwith Camel on 31 July 1918.

Fokker D.VII (Alb.) s/n unknown, Jasta 18, flown by Lt. Hans Müller, Summer 1918

The aircraft of another "Müller" is featured and this time it's Hans from Jasta 18. He scored at least 12 confirmed victories, three being with Jasta 15.

As with other Jasta "Raben" aircraft the forward fuselage and wings were painted in a vermillion red. The rear section and radiator were finished in white and the pilots added their own personal marking in either black or red. Here we see the latter being employed, with this colour also extending to the striped tailplane.

The addition of a telescopic sight should be noted as well as a starboard mounted flare rack and leader's pennants on the elevators.
---
Fokker D.VII Part 2 #32-017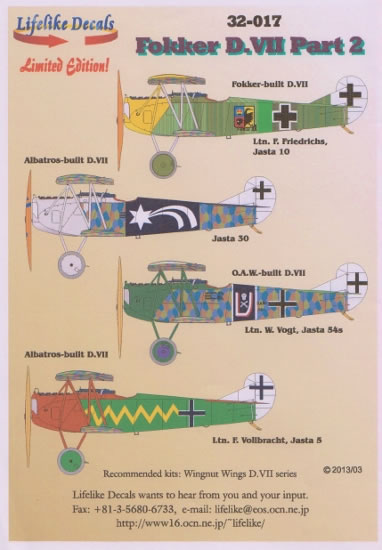 Fokker D.VII, 258/18, Jasta 10, flown by Lt. Friedrich "Fritz" Friedrichs, May 1918

This aircraft is typical of early production D.VIIs in that the fuselage was camouflaged in streaks of "olive green" over the linen fabric. It represents one of at least 3 of "Fritz's" machines, in this case 258/18. Interestingly one esteemed researcher attributes 258/18 to Jasta 19.

The crest on the fuselage side is a personal marking apparently referring to Nordfriesland where he grew up. The wings are covered in "lozenge" fabric, with yellow representing the unit colour on the nose. Lifelike's previous interpretation depicted this aircraft in an earlier state with an all lozenge top wing and national crosses on broad white backgrounds. This incarnation show the machine with the later reduced white outlines surrounding the crosses and the addition of yellow to the top of the upper wing.

Friedrichs ended up with 21 confirmed victories of which 11 were balloons. He died on 15th July 1918 when the D.VII he was flying (309/18) unexpectedly burst into flames. This was thought to be from the incendiary ammunition overheating. When seeking safety via his parachute, it failed to open and he fell to his death.

Fokker D.VII (Alb), serial unknown, Jasta 30, pilot unknown, Summer, 1918

Jasta 30 is best known for their Pfalz fighters that were adorned with large orange diamonds on various parts of the airframe. This Fokker has also been linked to that unit but appears with a more modest orange tailplane outlined in black to identify its origin.

The personal marking on the fuselage side is yet to be linked with a pilot and when viewed on the "lozenge" fuselage, makes for a visually striking aircraft. Another point of interest is the "Astra" band and star logo that appears on the airscrew, both of which are present on the decal sheet.

Fokker D.VII (OAW) s/n unknown, Jasta 54s, flown by Lt. Walter Vogt, Summer, 1918

Previously this aircraft was thought to be the mount of Erich Mix as he is seen photographed in front of this machine with one of his mechanics. New research has revealed that the aircraft was usually flown by Lt. Walter Vogt, a pilot who scored a single victory on 16 June 1918 over a SE5a.

Pre-printed lozenge fabric covered the wings and fuselage with O.A.W.'s unique "giraffe" style of camouflage decorating the nose. The personal emblem is thought to be a styled "V" which associates itself well with the pilot's surname. The skull and crossbones are separate items so the registration of these small items is not a problem.

Fokker D.VII (Alb.) s/n unknown, Jasta 5, flown by Lt. Friedrich Vollbracht, October, 1918

Vollbracht scored two victories with Jasta 5 after joining them in July 1918. Both were over Bristol fighters, one coming on 29th August, and the other on September 3.

His personal marking of a yellow zigzag adds extra colour to the green fuselage and red nose. The green tail is outlined in red to produce the characteristic unit décor and the lozenge wings complete the attractiveness of this scheme.
These sheets cover a very interesting selection of subjects and Lifelike have steered away from the more commonly produced schemes. They were first seen on their smaller scale releases from a few years back, and are as welcome now as they were then.
The research is first class and a list of references allows the buyer to check out many of the conclusions for themselves.
If you thought you had already decided on a scheme for your Fokker D.VII, these sheets will make you think again. Very highly recommended.
Thanks to Lifelike Decals for these samples.
---
Text and Images Copyright © 2013 by Rob Baumgartner
Page Created 21 June, 2013
Last updated 21 June, 2013
Back to HyperScale Main Page
Back to Reviews Page