Focke-Wulf Fw 190 A-8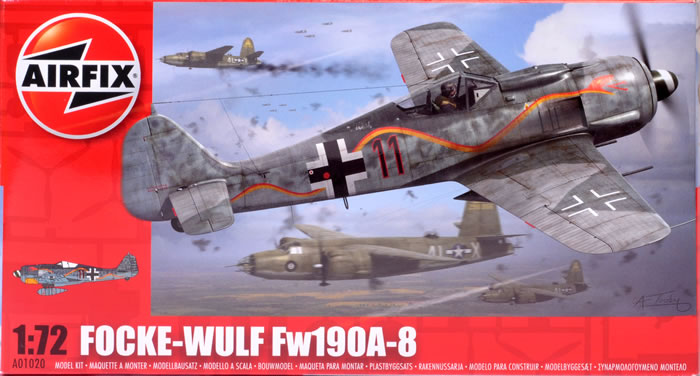 Airfix, 1/72 scale
S u m m a r y :

Catalogue Number:

Airfix Kit No. A01020 - Focke-Wulf Fw 190 A-8

Scale:

1/72

Contents & Media

49 grey and four clear styrene parts, with decals for one colour scheme. .

Price:

£4.99 plus shipping available on-line from Hannants,
and soon from stockists worldwide.

Review Type:

First Look

Advantages:

Very accurate, good detail, very attractively priced.

Disadvantages:

Exaggerated fabric effect on control surfaces and very thick wing trailing edges. Undercarriage legs are moulded at full un-weighted extension. Main wheels look out of round and have overly heavy nuts. No 3D detail on instrument panel. The Decal sheet lacks a spinner spiral and swastikas.

Conclusions:

This is a very good effort form Airfix. If Arthur Bentley's plans are to be trusted, then it is also extremely accurate. There are some nice touches to the way the kit is engineered, with good detail evident. Although still not equaling the best, the panel lines are at least quite acceptable.

The exaggerated fabric effect on the control surfaces and wing trailing leading edges need refinement. The undercarriage legs are moulded with the oleos fully extended, and may need to be shortened. The main wheels are below the standard of the rest of the kit. The decal sheet lacks a spinner spiral required for the scheme and fails to provide swastikas, which I feel is inexcusable these days. However, none of these criticisms are deal breakers in my view.

Airfix is the clear winner when compared to the Hasegawa or Revell alternatives, unless you insist on the having Hasegawa's finer panel lines regardless of cost.

Despite some gripes, I still recommend this kit highly.
Reviewed by Mark Davies

Valom's 1/48 scale An-2 Colt is available online from Squadron.com
No Introduction Necessary
The Fw 190 represented a watershed in fighter design; in particular it showed how a radial engine could be installed to rival in-line engine streamlining. The design was rugged, fast, very manoeuvrable, and had a powerful armament; added to which were good pilot visibility and an ergonomic cockpit layout. It was unmatched as a fighter when first encountered by the RAF in 1941. Readily adaptable to many roles, it had a wide range of weapon and equipment fits; whilst further development led to in-line engined versions and the Ta 152 series of fighters. The A-8 was the most produced version of this superlative design.
---
Previous 1/72 scale Fw 190 A-8 Kits
There have been many Fw 190 kits in The One True Scale over the years. Kits of the A-8 version have been released by Heller in 1963 (re-boxed by Hobbycraft), Hasegawa in 1970, Airfix in 1982, and Hasegawa again in 1985 with a new tooling; then Academy around 1994, Italeri in 1995, Monogram/Revell Germany in 1997, and Hobby Boss just recently.
The 1982 Airfix kit is well regarded for accuracy, but has raised detail. Hasegawa's 1985 release is widely regarded as excellent in terms accuracy and surface detail. Based on my reading it has remained the best Fw 190A-8 kit overall since its release. It has since been offered in many permutations over the past 28 years. The Monogram Pro-Modeler/Revell Germany kit of 1997 is also a good kit; almost rivalling Hasegawa's kit for accuracy and general quality. The Revell boxing is very attractively priced, and is considerably cheaper than Hasegawa's kit when store-bought. At a glance, the Hobby Boss kit seems to have a quite reasonable outline appearance and surface detail; it is attractively priced and engineered for quick building, but I cannot comment on its accuracy. The track record of many Hobby Boss quick-build kits raises the spectre of glaring faults as a distinct possibility.
It seems fair to say that Hasegawa sets the benchmark for accuracy and Revell for value, with Hobby Boss an unknown quantity (to me at least). So what is Airfix's new tool Fw 190A-8 like? And how will it rate against the competition?
Contents
The kit comes in a side-opening box with attractive artwork. The sprues are enclosed in a single heat-sealed plastic bag, with the clear parts further protected in their own smaller bag.
The decals and their cover-paper are loose within the box. The multi-lingual instructions do not have a parts map, and have well-drawn diagrams that are easy to follow. The painting and markings guide is in colour with four views on the rear of the box.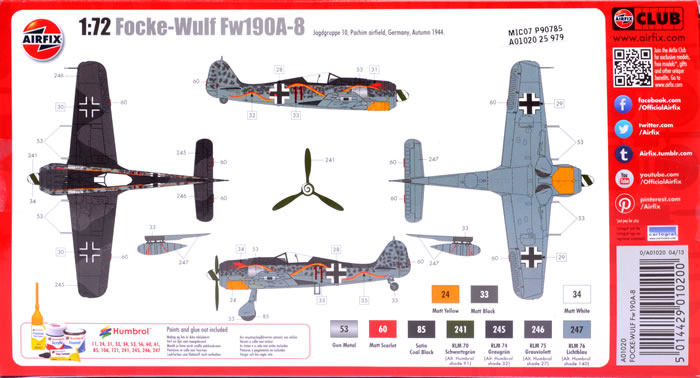 Colours are described using generic or RLM names where applicable, with paint codes that correspond to the Humbrol range. The main parts are on three light grey sprues with a single small clear sprue. The parts are cleanly moulded and the sprue gates fine enough, other than one notable exception.
---
The Kit
The first thing I check with each new Airfix release is the panel lines. Either I am becoming accustomed to what Airfix is offering, or they are genuinely improving, as they are quite acceptable on this issue. I still prefer the finer rendition offered by the likes of Hasegawa, Tamiya or various Czech Brands, but I can see most people accepting these as there is not a lot in it.
Whilst on the subject of surface detail, I may as well comment on the control surfaces. For some reason, the control surfaces of many Fw 190 kits seem to display their underlying structure in an exaggerated manner; and I wonder if this is sometimes carried over from plans that also often show this. Suffice to say, Airfix has followed this trend with hollows of varying depths spoiling the appearance of what should be drum-tight surfaces with only rib tapes evident. The effect is at its worst on the elevators and rudder; being slightly more understated on the ailerons.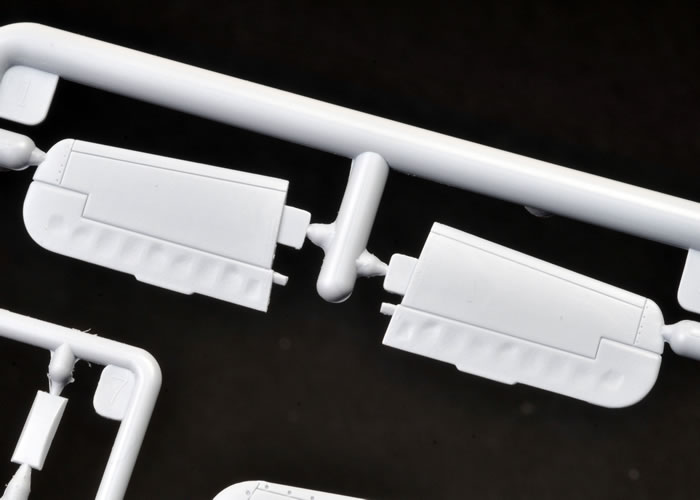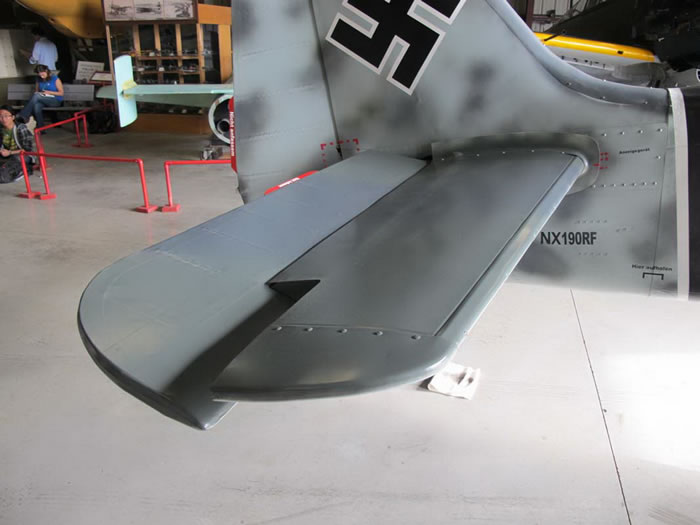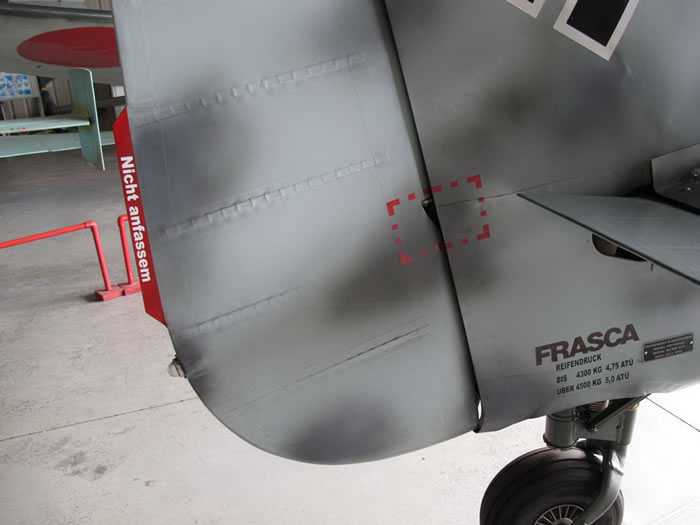 Remaining surface detail is limited to a few rivets or fasteners, which all appear fine enough. I should just mention that Airfix have moulded the outline of the tail-wheel retraction inspection hatch on both sides of the fin, whereas it should only appear on the port side. Filling in the extra starboard panel is easy enough to do.
There is not a lot of room in a Fw 190's cockpit in this scale, but Airfix has done quite a nice job of the tub and seat, along with separate rudder pedals and control column. The instrument panel has no 3-D detail, relying instead on a decal for instruments. I would prefer to have a 3-D option, but at least the small size and its position under the coaming mean that the limitations of Airfix's approach will be less obvious than on a larger subject like their Lancaster. A gun-sight in clear styrene tops of the instrument panel, whilst the head armour and its brace fit to the decking behind the pilot's seat.
The canopies are nice and clear with separate windscreen enabling them to be modeled open if wished. There is a choice of the common flat or common blown canopy (there being a rare variation of each as well). The blown canopy was first associated with the Fw 190F-8 and ground attack-configured A-8s, but could be found fitted to almost any Fw 190 version from late 1944. The blown canopy and some other tooling features are linked to an already announced Fw 190A-8/F-8 Jabo boxing by Airfix. This is to be a series 2 and slightly more expensive release, no doubt due to two decals options and a weapons sprue being provided.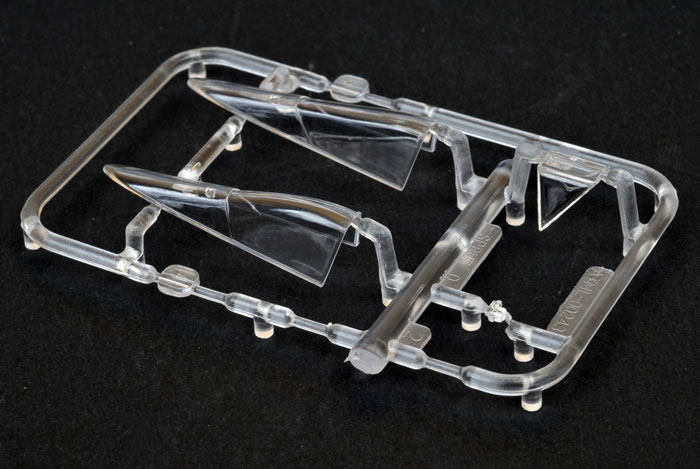 The fuselage halves enclose the cockpit tub and the exhaust ejector stubs which come moulded on a collar that projects into the fuselage side openings. The underside exhausts stubs are provided as a separate insert. Once the fuselage is closed up the panel over the fuselage gun breeches can be added, along with the upper cowl panel with its two blast troughs. A nice touch is the way the humped gun-bay panel incorporates the muzzles of the two MG 131's, thus ensuring they appear separate from the blast troughs. The rudder is provided as a separate item.
The front portion of the cowl is moulded with the fuselage halves, with a deep dished insert to represent the engine, fan housing and armoured cowl ring around the oil-cooler. A separate fan inserts into this. It is here that three very heavy sprue gates can be found, and they attach directly onto the curved face of the oil-cooler's armoured ring. Some care with cutting will be needed here, along with some unavoidable cleanup. This is a non-issue for experienced modellers, but may serve to spoil the results from younger modellers. All in all, however, Airfix can be commended on the way they have tackled this area of the kit, as they provide some real depth and detail behind the cooling fan. The prop and its spinner look nicely done to me.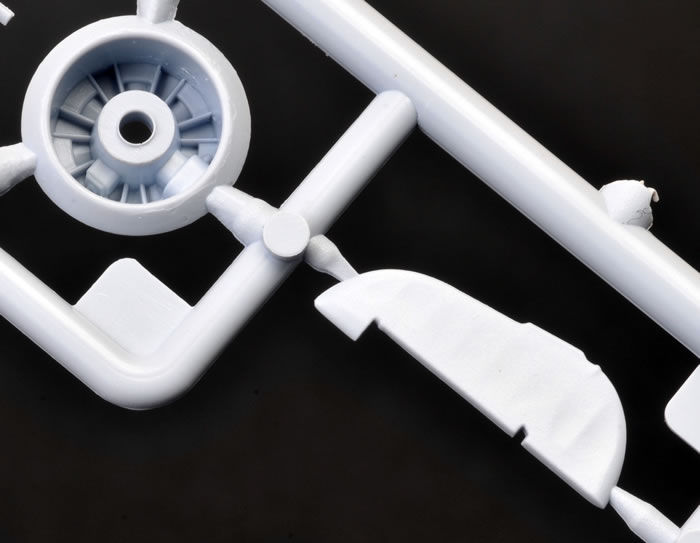 Many of the new Airfix releases have featured at least one innovative or quirky deign feature, and in this case it is the way the upper wing halves are joined by the main wheel well's internal structure. The result is a very good one, with some nice detail and a see-through effect between the two wheel bays. The inboard MG 151's are separate items that run through each wheel well. There is however a rectangular opening in the floor of the wheel well where the bottom of the bottom of the inboard cannon ammo boxes would be. I suggest blanking this off with some card from the inside to make it appear the ammo-box is in place, and to prevent a see-through hole into the fuselage's interior. The upper and lower breech bulges for the outboard MG 151 are separate items; no doubt due to the other versions being offered.
The trailing edges of the wings are very thick, especially along the flaps. This is surprising as the both the flaps and ailerons are moulded as a single piece; a tooling approach often used to provide thinner trailing edges than is possible when the trailing edges are split top and bottom with the wing halves. You may as well sand down the flaps at the same time as you sand out the filler used to hide the dents in the aileron "fabric", if you follow my earlier advice regarding this.
A nice touch is that separate parts are provided for a retracted undercarriage, thus ensuring a trouble-free fit of parts for in-flight models.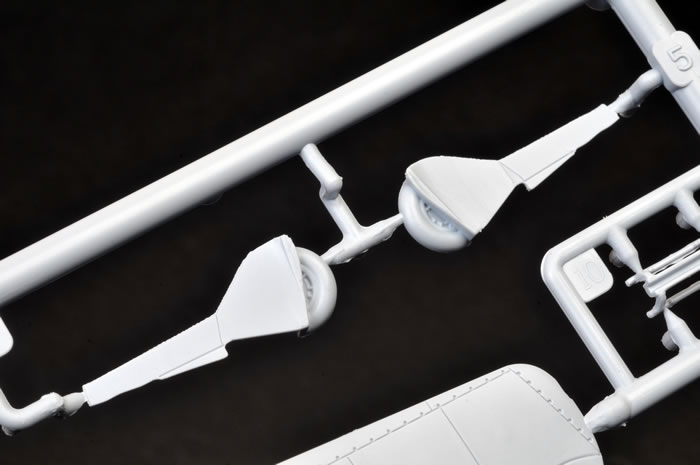 For extended wheels the undercarriage legs and doors are nicely done, although the oleos appear over-extended for a weight-bearing leg. This is confirmed according to Arthur Bentley's excellent 1/72-scale plans, which show the leg drawn on its own at maximum extension and compression. The range of oleo compression equates to one-half wheel diameter (including tyre), or 4.9-mm in 1/72-scale. Therefore, the correct sit probably lies at about the halfway point of the oleo's range, which can be achieved by shortening the oleo as moulded by about 2.4-mm. This will be tricky to do as the undercarriage legs are very fine, but will need to be done if the finished model is to have the right ground stance. Before following this advice however, I suggest dry fitting the undercarriage and determine how things look; it may be that Airfix have compensated what appears to me to be extra oleo length elsewhere in the legs. The tail-wheel looks good, and is designed to be fitted after painting.
As to the main wheels, you could be forgiven for thinking some 1980 limited run items somehow got in the box at first glance. The tyres are weighted but appear out of round away from the flattened area, whilst the rims have over-sized nuts around their circumference. It will be a race between Quickboost and Pavla to offer the first resin fix for these no doubt. These parts appear a bit sub-standard compared to the rest of the kit.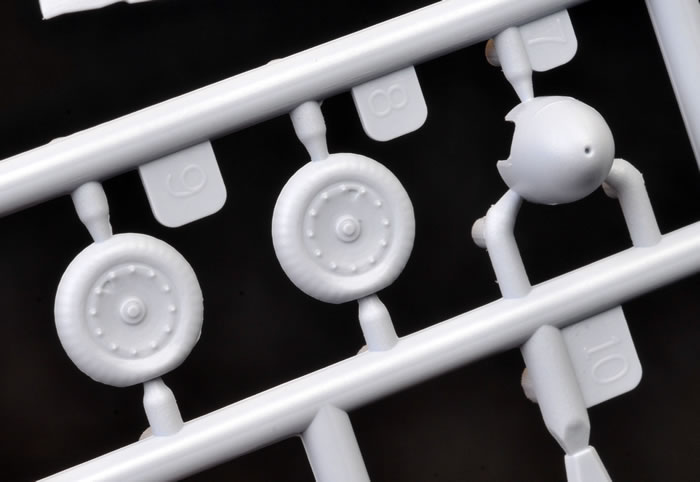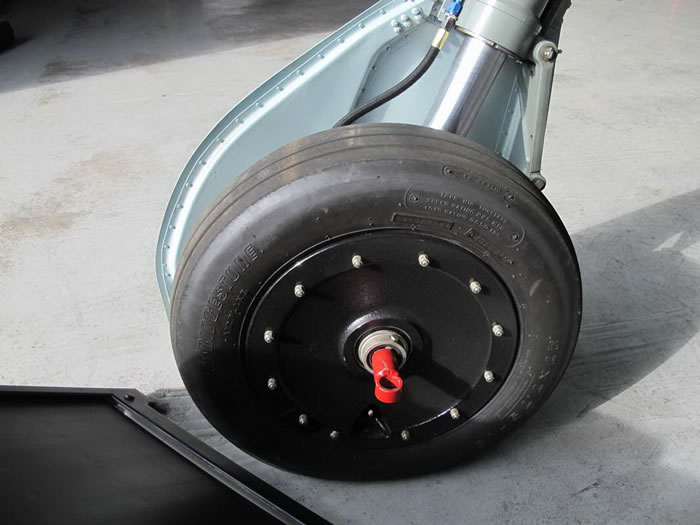 Whilst we are still in the vicinity of the undercarriage I should mention the ETC-501 centreline rack with drop-tank and its mounting rails. These all look nicely done. The engineering of the ETC-501 is clearly designed for other attachments like bombs. There is also a small retractable pilot's boarding step to attach to the fuselage, although this is possibly a little thick due to limitations of injected moulding.
Overall, this appears to be a very well engineered kit. I think that it should be generally trouble-free to build, other than perhaps the upper cowl panels, which may need extra care when fitting. Correcting the undercarriage length, if this proves necessary, will of course be an added nuisance.
---
Colours & Markings
Only one decal option is provided, and no doubt this helps Airfix strike its attractive price-point. The markings are for a Fw 190A-8 of Jagdgruppoe 10, Pachim Airfield, Germany, in the autumn of 1944. Personally, I do not like the scheme chosen, but the snake motif running the length of the fuselage may well attract younger modellers (I know it would have when I was a kid).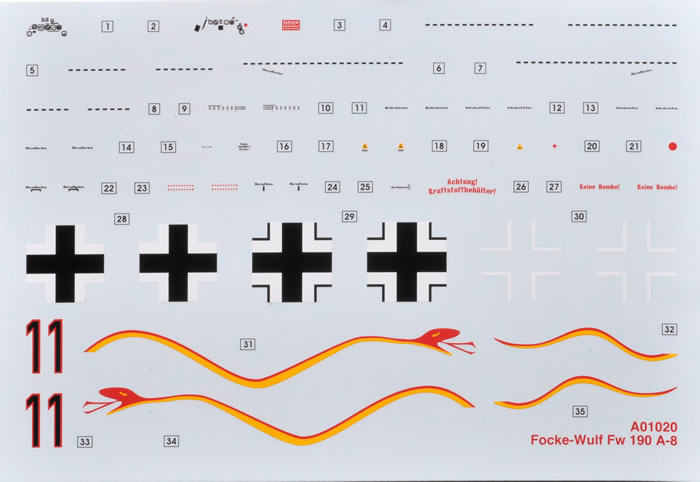 The decals appear to be very well printed and of good quality, and include a fair number of stencils. However, they do not include the spinner spiral required for the scheme chosen, nor do they include a swastika for the fin (or split decal images that combined can produce a swastika to get around laws barring its reproduction and use). These are both inexcusable omissions in my view.
---
Accuracy
I am among the first to be skeptical when accuracy is judged by how well a kit complies with any given set of plans, as the plans themselves may well not have any guarantee of accuracy. However, in the case of the Fw 190 in 1/72-scale we have access to some truly excellent plans by Arthur Bentley. These appear to be superbly researched, are incredibly well drawn, and I have not read any criticism of their accuracy. My copies are spread across the May, June and July 1978 issues of Scale Models magazine. It seems likely that Airfix have used these plans as the basis of their kit as the parts are an exact match for the plans as far as I can tell; and not just the major outlines, as many of the smaller details and items such as the prop blades all match them too.
---

Hasegawa & Revell Comparison
Regrettably, I no longer have Fw 190A-8 kits by Hasegawa and Revell. I do however have access to a finished Hasegawa kit and quite good recollection of the Revell kit. Added to this are several reviews from other sources that I have re-read to refresh my memory.
The Hasegawa kit is regarded as being very accurate in outline, with refined recessed panel lines and by far the best fabric control surfaces. It has basic cockpit detail, simplified and shallow wheel wells, no engine, and no exhaust stubs represented. This still excellent kit is grossly over-priced in many retail markets in my opinion, but well worth buying second hand at the right price. Hasegawa has a slightly nicer panel detail than Airfix, and far better control surface detail with finer trailing edges to the wings, and nicer wheels. Equal in accuracy, Airfix beats Hasegawa with better wheel well, cockpit, and engine detail; and it slaughters it on price.
The Revell kit is also well regarded for accuracy, although I have read some opinions that its aileron and cowl shapes may not be quite right. Personally, I think the teardrop cowl bulges do not quite look right. The kit has nice recessed panel lines, although not as good as Hasegawa's, but also the odd bit of raised detail that seems over-prominent to me. It has good cockpit detail, and whilst wing trailing edges are better than Airfix's, its wheels are not. The fabric control surfaces have the underlying structure represented in an overstated fashion; this is as exaggerated and unrealistic as Airfix's, but manages to be better looking. The wheel wells are simplified in comparison. The canopy cannot be modelled open as only the clear areas are moulded in clear styrene, rather than the entre sliding hood. Moreover, the clear parts are of an inferior standard to the rest of the kit The Revell kit is very attractively priced, but the moulds have not stood the test of time well, with more recent issues having a lot of flash and very poor clear parts. Possibly less accurate than Airfix's kit, Revell's surface detail is really no better. It has inferior wheel wells, canopy and engine detail. It costs just slightly more than the Series-1boxing reviewed here, and slightly less than the forthcoming series-2 Jabo boxing.
Airfix's Fw 190A-8 is a very accurate and nicely detailed kit with acceptable surface detail. It is readily available and very competitively priced. Revell's kit is inferior for basically the same money. If I wanted (or was able) to build a just one show stopper, I would use Hasegawa's kit as a basis because of its finer surface detail, and add after-market fruity bits to dress it up. But for most OOB requirements I would opt for Airfix every time, especially if paying retail prices.
This is a very good effort form Airfix. If Arthur Bentley's plans are to be trusted, then it is also extremely accurate. There are some nice touches to the way the kit is engineered, with good wheel well detail, nice cockpit detail, albeit lacking 3D instrument panels, a commendably deep fan shroud and representation of the engine, nicely done exhausts, and in-flight undercarriage options. Although still not equaling the best, the panel lines are at least quite acceptable.
The exaggerated fabric effect on the control surfaces needs to be filled, and the wing trailing edges thinned down considerably, but this is easy enough to do. Also, the tail-wheel mechanism inspection hatch on the starboard fin needs to be filled in. The undercarriage legs are moulded with the oleos fully extended, and I think that they need to be shortened about 2.5-mm for the correct stance to be achieved. This will be fiddly as the parts to be cut are very fine but must support the model's weight. The main wheels are below the standard of the rest of the kit. Perhaps not as bad as they appear at first glance, some will still want to replace them. The decal sheet lacks a spinner spiral required for the scheme and fails to provide swastikas, which I feel is inexcusable these days. But none of these criticisms are deal breakers in my view. Most can be fixed with a little skill, and many modellers will have spare swastika decals and be able to mask and paint a spinner spiral if needed.
Hasegawa's Fw 190A-8 kit has slightly finer surface detail, but cannot match Airfix's wheel wells, engine or cockpit. It equals Airfix in outline accuracy, but its retail price these days is ridiculous in most markets (although second hand kit can still be worth buying). The Revell kit's surface finesse is really no better than Airfix's, and it is let down by inferior wheel wells and a poor canopy. It may also be less accurate. Recent mouldings are showing evidence of tool wear, and the price difference is negligible. On this basis Airfix is the winner, unless you insist on the having finest available panel lines; and have a good bank balance to pay for a Hasegawa kit and the detail sets it needs to better Airfix.
Despite some gripes, I still recommend this new-tool Airfix Wurger highly.
Thanks to Airfix for the review sample
---
Review Text and Reference Images Copyright © 2013 by Mark Davies
Sprue Images Copyright © 2013 by Brett Green
Page Created 23 August, 2013
Last updated 23 August, 2013
Back to HyperScale Main Page
Back to Reviews Page