Avro Lancaster B.Mk.II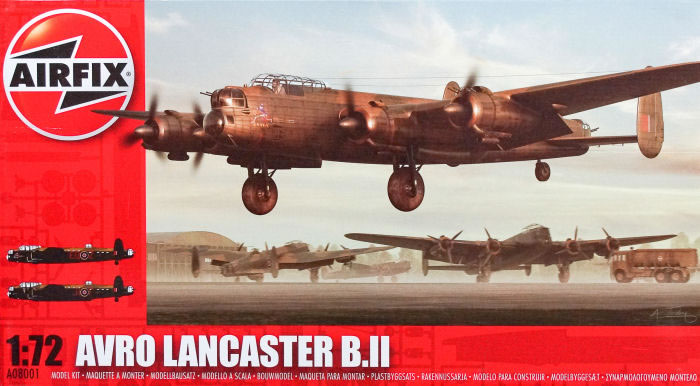 Airfix, 1/72 scale
S u m m a r y :

Catalogue Number:

Airfix Kit No. A08001 Avro Lancaster B.II

Scale:

1/72

Contents & Media

Six grey and one clear sprues; well over a hundred parts, with decals for two machines.

Price:

£20.83 plus shipping available online from Hannants for and stockists worldwide.

Review Type:

First Look

Advantages:

The only complete kit of a Lancaster B.II. Accurately shaped, with good interior detail, and good value.

Disadvantages:

Nothing serious - No parts map with the instructions; fuselage side windows are too large, and no chamfer on elevator outer edge (both easily fixed); exaggerated fabric effect on ailerons, and decaled rather than 3-D instrument panels.

Conclusions:

Derived from what is already the best overall Lancaster kit in 1/72-scale, this was always going to be a winner; unless Airfix had a Revell-Halifax moment and got the engines horribly wrong. All is well however, and they did a nice job of the radial engines and their associated features, as well as providing the bulged bomb-doors and FN64 turret so often associated with the B.II.
Reviewed by Mark Davies

Valom's 1/48 scale An-2 Colt is available online from Squadron.com
Background
Derived from the problem-ridden Manchester, the ubiquitous Avro Lancaster really needs no introduction. It went on to be developed into the York, Lincoln, and Lancastrian, and influenced the design of the Shackleton.
It is usually a Merlin-engined B MK I or III that springs to mind as the classic image of the Lancaster, rather than the radial Hercules-engined B.II. The B.II was developed in case a shortage of Merlin engines occurred.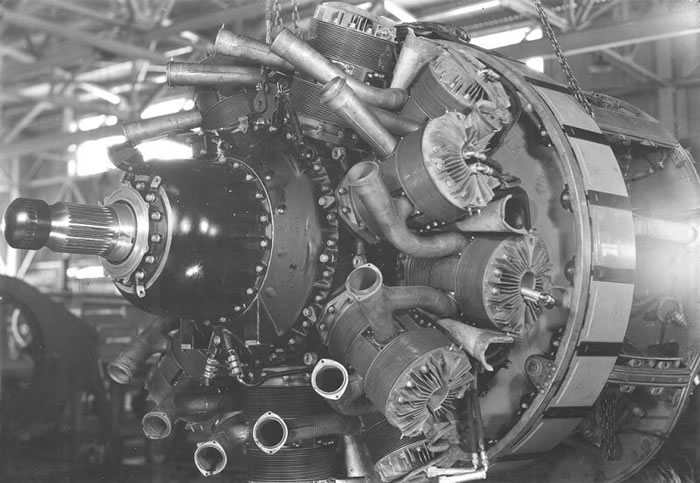 Compared to the Merlin-engined B MK I/III, its operational ceiling was inferior and it had lower maximum bombload, both disadvantages. However the radial engines were less susceptible to battle damage than the in-line engines of the Mk I/III, and this led some crews to favour the B.II over the MK I/III. In the end only 301 B.IIs, including the prototype, were produced.
Avro developed the prototype, but Armstrong-Whitworth manufactured all production B.IIs. The first 26 B.IIs had Bristol Hercules VI engines, whereas the remainder used Hercules XVI's (and some early aircraft were retrofitted with these). There were also changes to the carburettor air intakes, with shorter ones being adopted in 1943, along with slightly longer oil-coolers. All but the first few B.IIs had bulged bomb-bay doors to accommodate 8,000 lb bombs, and these often had a periscope-sighted FN64 gun turret aft of the doors, although this turret was largely ineffectual due to sighting limitations. It was often deleted saving 122 lbs in weight and he need for an eighth crewmember. The bulged doors and turret meant that H2S radar was not fitted to B.IIs. However G-H, a refinement of the GEE blind bombing and navigation system, was used with B.IIs. Initially fitted with an FN20 rear turret, many B.IIs were converted to use the similar but lighter FN120 which also had better sights. B.IIs seem to have the early shallow-style of bomb-aimer's nose-blister, and early-style pitot mast.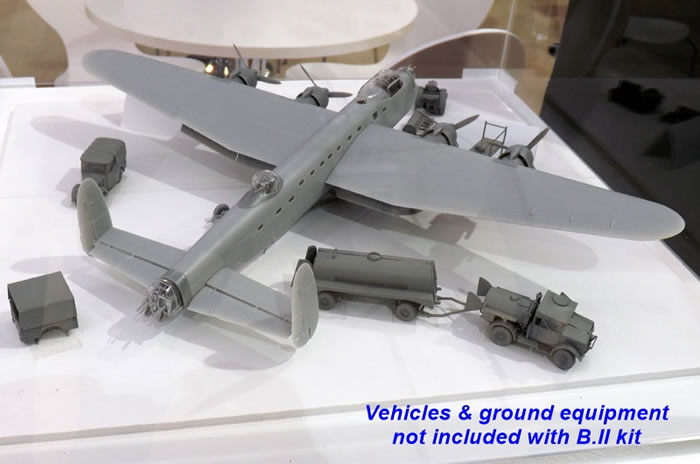 Sixty percent of B.IIs were lost on operations, and towards the end of WW2 most remaining examples were serving in heavy conversion units. Declared obsolete at the war's end, a few B.II's served as special test airframes for a while, the last serving until 1950 with a Metrovick F2/4 jet engine fitted in its tail.
I am aware of two previous Lancaster B.II conversions, both in resin. The first by Paragon Designs provided engines, cowls, exhausts, props and nacelles as one set, and the bulged bomb-bay doors and FN64 turret were offered in another set. No decals or early shallow-style bomb-aimer's blister were provided. They also offered resin flaps, but again as a separate set. CMR offered a comprehensive and highly detailed resin conversion set that included complete wings with detailed wheel bays and separate flaps, closed bomb doors and FN.64 turret, and of course the Hercules engines and their props. The set included several decal choices, and was available in three versions, each optimised for the Hasegawa, Revell, or Airfix (1981 tooling) Lancaster kits. The concept behind providing the B.II's wings was to enable those who had bought CMR's Avro York conversion set to use the fuselage, tail and other remaining parts from the donor Lancaster kit to complete a B.II. I reviewed CMR's B.II conversion set here on HyperScale in December 2010.
The CMR conversion still makes sense for those with left-overs from a York conversion, and those who wish to have a Lancaster B.II model with finely recessed panel lines as offered by both Hasegawa and Revell donor kits. However, the vast majority of modellers are sure to welcome the first ever Lancaster B.II kit just released by Airfix.
I recently reviewed the new-tool Airfix Lancaster Dambuster kit here on HyperScale, and compared it to the Hasegawa and Revell kits. I concluded that Airfix's was the best Lancaster in The One True Scale in terms of accuracy and value for money. There seems little point repeating my original comments and images, as the quality of instructions and the vast majority of parts are unchanged for this kit. Therefore, this review will focus on the parts and decals related to the B.II option.
One large sprue caters for the Bristol Hercules radials, their propellers, cowlings and nacelles. Also included are the bulged bomb-bay doors often associated with the B.II and the FN64 ventral turret carried by some aircraft. The parts are produced to the same standard as the rest of the kit.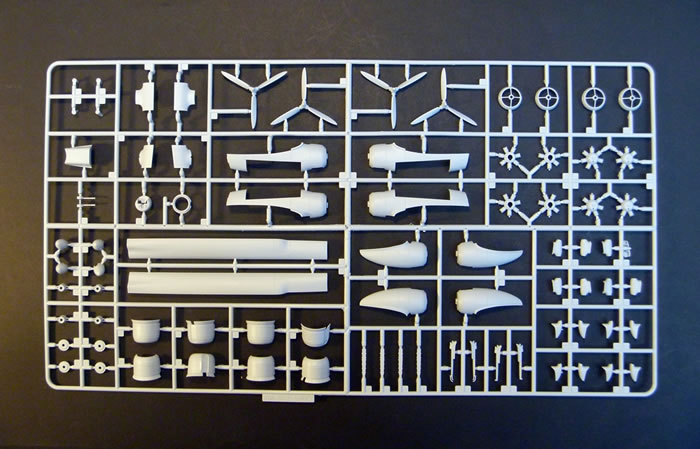 The Hercules was an uncluttered and simple design externally (although far from so internally with its sleeve-valves!), and Airfix have captured the engine's appearance well. There are no forward facing exhaust pipes between the cylinders and collector ring (click here see an image of these on a Beaufighter), but these would be fairly hard to see anyway I think . There is an internal portion of the collector ring that includes the four bracing struts that run between the engine reduction-gear housing and the collector ring, but I feel these are a little thick and would best be replaced with finer items made from scratch. I struggled to see these supports in any images of Lancaster B.IIs, but did find images of the very similar Hercules power egg from a Beaufighter that does show them clearly here and here.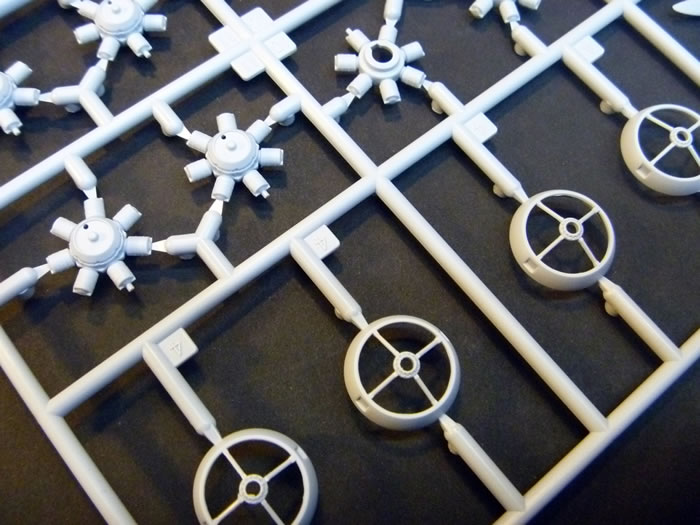 Overall, the cowlings are nicely done, and the carburettor and oil-cooler air intakes look fine to me. The hedgehog exhausts are cleverly moulded as three parts, and combine to look quite convincing, and better than I have seen previously for injection moulded examples. The air intakes and exhausts are the standard later pattern, rather than style fitted to the early B.II Lancasters. The props and spinners also look good.
The kit includes the option of bulged bomb doors fitted to most B.II's (see here), and these can be displayed open if wished. The NN64 ventral turret is nicely done, and is an option as many B.II's did away with it as essentially useless excess weight. A blanking cover provides for those options that do not require it. Airfix provide the early style shallow bomb-aimer's transparency suited to this version and identify this to be fitted in the instructions.
Overall, I would expect the Mk/II to build just as easily as the Merlin-powered Mk.I/III kit; which based on on-line B.I/III builds I have read, should mean a trouble-free and good-fitting kit.
---
Colours & Markings
The colours and markings are the standard Bomber Command night heavy bomber scheme of dark green and dark earth disruptive camouflage over black sides and undersides.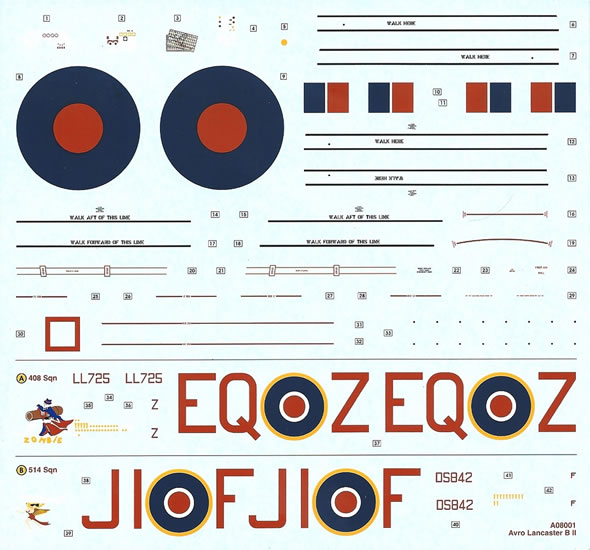 The decals look very well registered and appear to have good opacity. They include wing walk markings. Two aircraft are covered by the decal sheet, these being:
"Fanny Ferkin II", JI-F, No 514 Sqadron, 3 Group, RAF Waterbeach Cambridgeshire, November 1944. (With bulged bomb-doors and FN64 turret).

"Z-Zombie", EQ-Z, No 408 (Goose) Squadron, 6 Group RCAF, RAF Linton-on-Ouse, Yorkshire, July 1944. (With regular bomb-dooors and no FN64 turret).
If these do not appeal you can take a look at some aftermarket B.II options from Xtradecal here.
Derived from what is already the best overall Lancaster kit in 1/72-scale, this was always going to be a winner; unless Airfix had a Revell-Halifax moment and got the engines horribly wrong. All is well however, and they did a nice job of the radial engines and their associated features, as well as providing the bulged bomb-doors and FN64 turret so often associated with the B.II.
Airfix released the first 1/72 scale plastic kit of a Lancaster in 1958, and it seems hard to believe that we have had to wait over half a century for a kit of the radial-powered version. I think it is safe to say that the wait has been worth it now that Airfix has produced this very good kit.
I recommended this kit highly.
Thanks to Airfix for the review sample
---
Review Text and Images Copyright © 2013 by Mark Davies
Page Created 19 August, 2013
Last updated 20 August, 2013
Back to HyperScale Main Page
Back to Reviews Page