Pacific Lightnings
Limited Edition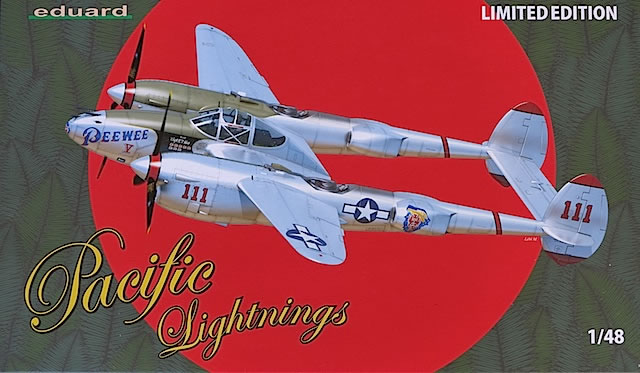 Eduard, 1/48 scale
S u m m a r y :

Catalogue Number:

Eduard Kit No.1175 – Pacific Lightnings Limited Edition

Scale:

1/48

Contents & Media:

Approximately 157 grey plastic parts (67 unused); 7 clear plastic parts (2 unused); 35 grey resin pieces; 2 frets of photo-etched parts (1 painted and 1 unpainted); pre-cut canopy and wheel hub masks; 3 rubber tyres (unused); 1 decal sheet containing markings for 6 aircraft; 12 page A4 full colour instruction booklet.

Price:

USD$63.71 plus shipping available online from Eduard's website

Review Type:

First Look

Advantages:

Good use of appropriate media (Academy plastic parts and Eduard Brassin and photo-etched details); interesting marking options; high-quality Cartograf decal sheet

Disadvantages:

At least one minor inaccuracy in the instructions

Conclusions:

Arguably one of the best 1/48 P-38 packages released by any company to date – highly recommended.

Reviewed by Brad Fallen


Eduard's 1/48 Pacific Lightnings Limited Edition is available online from Squadron.com

The Lockheed P-38 Lightning was used in all theatres of World War 2, in numerical terms almost exclusively by the USAAF. The P-38's greatest successes came in the Pacific, where it played a key role in destroying Japanese air power. While the Lightning couldn't dogfight with the more nimble Japanese fighters, it didn't need to because its range, speed, firepower and survivability allowed it to dictate the terms of battle.
The P-38 reached its design peak in the last two major production versions, the J and the L, which entered USAAF service in August 1943 and June 1944 respectively and together made up more than half of all Lightnings produced. With the P-38J, Lockheed successfully addressed a number of issues that had limited the performance of earlier versions. These included improved engine cooling, internal fuel capacity, and cockpit design and heating. Importantly, the last 200 P-38Js built were also fitted with compressibility flaps under each wing, to ensure the aircraft remained controllable during high-speed dives.
All of these features were carried over to the P-38L, which also received new engines and improved turbo-superchargers and fuel management systems.
The P-38 is a popular modeling subject, and has so far been kitted by three companies in 1/48 scale. The oldest is Monogram's 1960s kit, which contains options for several late series P-38 variants and which, despite its age, still builds into a respectable model. In the 1990s Academy and Hasegawa released 1/48 P-38 families that included both early and late series aircraft. These kits are accepted as generally accurate, but with different strengths and weaknesses. Hasegawa's Lightnings have better detail than Academy's, but can be tricky to build; Academy's P-38s go together easily and are cheaper, but need aftermarket help to look their best. Since both products can be turned into excellent models, it ultimately comes down to individual preference.
In 2012 Eduard used Academy's P-38 kits as the basis for two Limited Edition releases – "Early Lightnings" and "P-38J over Europe". Each boxing contained markings for six different aircraft, as well as extensive Brassin and photo-etched details to enhance the Academy parts.
Eduard has now released a third Academy-based Lightning kit, focusing on P-38s that operated in the Pacific theatre.
The kit's eye-catching box art shows P-38L-5 "Peewee V"/44-25863 (marking option A) superimposed on a Hinomaru and palm frond background.
The box itself is quite full and contains the following items:
The sprues for Academy's P-38J/L kit. Bert Kinzey's analysis of this kit in his second P-38 Detail and Scale book is that it contains a mix of features that, with mostly minor tweaking, "can actually be used to build any P-38J or P-38L". You will however need to consult your references (and Kinzey is an excellent place to start) because Eduard has included markings for P-38s from a range of production blocks, which means there are subtle differences between some aircraft. Modelers choosing the P-38J marking options (definitely E, and possibly D) will need to remove the under-wing compressibility flaps, which will require careful sanding and possibly rescribing. The Academy parts are well moulded, with no flash or deformities; a quick look at the instructions reveals almost half of the parts won't be needed because they will be replaced by Eduard details. The clear parts are very transparent, thin and have well defined framing.
35 Brassin parts for the cockpit, wheels, and turbo-superchargers. These parts are mostly direct replacements for their Academy counterparts, and provide an enormous lift in the level of detail. The quality of the resin parts is excellent; I could find no air bubbles and only one minor casting flaw (on one of the turbo-supercharger intake scoops). The turbo-superchargers themselves, along with the cockpit floor and rear decking, are attached to substantial casting blocks that will need to be removed with care. And as with all resin detailing parts, you should check their fit with each other and the base kit before committing to glue; I would especially recommend this with the Brassin cockpit.
Two frets of photo-etched brass – one painted and one unpainted. The painted fret is for adding further detail to the cockpit, above and beyond the Brassin parts; the complex multi-dialed instrument panel, particularly, looks very good and closely matches references. One item on this fret that Eduard has thankfully left unpainted is the armour plate for behind the pilot's seat, so modelers don't have to worry about colour matching this with the rest of the cockpit. The unpainted fret contains mostly larger parts for improving the gear bays, turbo-superchargers, and other external parts of the airframe. Photo-etched bomb fins are also provided to replace the overly thick Academy items.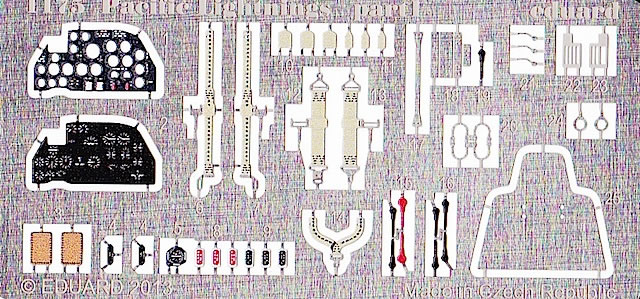 A sheet of pre-cut canopy and wheel hub masks.
Academy's original vinyl tyres, which have been superseded by the beautiful Brassin tyres and so won't be required.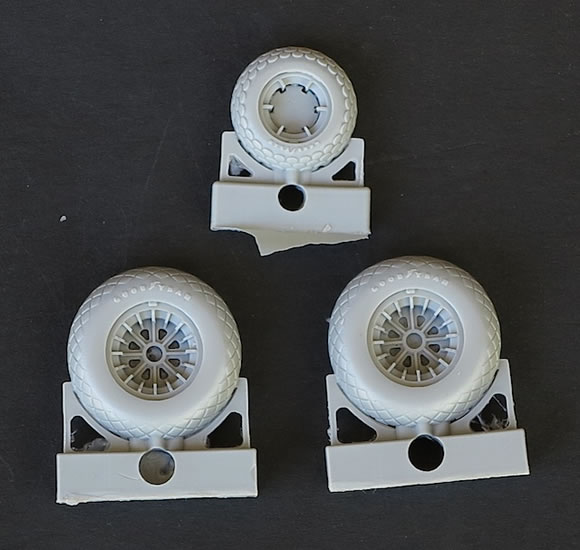 Step-by-step assembly instructions that clearly differentiate between the plastic, resin and photo-etched parts, and which highlight any modifications that need to be made to the Academy parts. I noticed one potential omission: while the instructions point out the need to remove the compressibility flaps if you are completing your model as option E, a P-38J-10-LO, I believe this may also apply to option D, a P-38J-15-LO, given that flaps weren't fitted until the P-38J-25-LO production block. I haven't been able to find any photographs to either prove or disprove this theory, and I don't know to what extent flaps may have been retrofitted to earlier P-38s, so check your references if you are building this aircraft. Also, the instructions don't mention the flashed-over landing/taxi light recess on the leading edge of the left wing, which should be opened up for the P-38L options (Academy provides a cover for the light on the clear sprue).
The instruction booklet also includes a full-colour painting and marking guide for the six featured P-38s. The latter is very comprehensive, and includes port, starboard, overhead, ventral, fuselage pod, inner vertical stabiliser and propeller front-view illustrations. The only aircraft that doesn't receive this treatment is marking option F, for which only port profile and fuselage pod illustrations are provided. A detailed stencil placement guide is also supplied.
---

Markings
The marking options are as follows:
P-38L-5, serial number 44-25863, flown by Captain Ken Hart of the 431st Fighter Squadron, 475th Fighter Group, Lingayen, Philippines, June 1945. This natural metal P-38 had Olive Drab anti-glare panels and a large number of colourful unit markings. The instructions point out that while there is some uncertainty surrounding the name on the starboard fuselage pod, one possibility – "Rosita" – has been supplied on the decal sheet.

P-38L-5, flown by Captain Bob DeHaven of the 7th FS, 49th FG, Tacloban, October 1944. Also finished in natural metal with Olive Drab anti-glare panels, DeHaven's P-38 had distinctively painted red, white and blue vertical stabilisers.

P-38L, flown by Lieutenant M. M. Jarboe of the 36th FS, 8th FG, le Shima, Okinawa, May 1945. Another natural metal P-38, Jarboe's aircraft is depicted with black anti-glare panels and black-and-white unit markings on the wings, booms and vertical tailplanes, as well as some attractive nose art on the port fuselage pod.

P-38J-15, serial number 42-103921, flown by Lieutenant Richard L. West of the 35th FS, 8th FG, Owi, July 1944. This natural metal/Olive Drab aircraft carried yellow vertical stabiliser and spinner tips.

P-38J-10, serial number 42-67590, flown by Captain Jay T. Robbins, CO of the 80th FS, 8th FG, Finschhafen, New Guinea, December 1943. The only camouflaged marking option, this reasonably early P-38J was finished in Olive Drab over Neutral Gray, with red, white and blue spinners and green-and-white vertical stabiliser tips.

P-38L "Rough and Dirty Jr." flown by the CO of the 70th FS, 18th FG, Moret Field, Samboango, Philippines, 1945. This final marking option, also in natural metal, carried red checkerboards on the glycol radiator housings and red bands further aft on the booms.
The large and colourful decal sheet has been produced by Cartograf, and looks close to perfect in terms of production quality.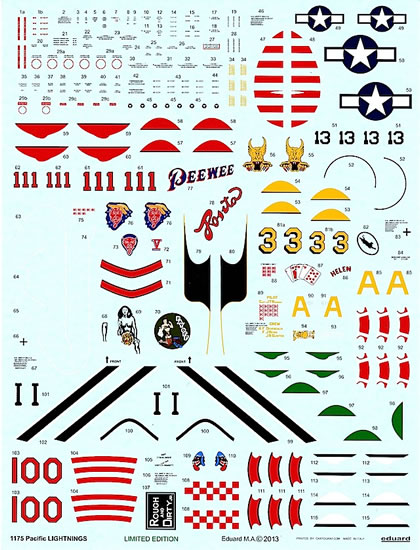 There are no obvious registration issues, the printing is crisp and colour density appears to be very good. Some of the markings that are supplied as decals – for example the stabiliser flashes of options D and E – I would probably paint instead, but acknowledge this is a personal choice. A complete set of stencils is supplied.
"Pacific Lightnings" is another excellent addition to Eduard's Limited Edition range of kits. By combining the accurate but bare-bones Academy plastic with a full suite of resin and photo-etched details and then topping this off with six colourful marking options, Eduard has created arguably one of the best 1/48 P-38 packages released by any company to date. It isn't a kit for beginners: getting the most out of the detailing parts will require some experience with the media provided. But if you're a P-38 fan and haven't already picked up one of Eduard's previous Limited Edition Lightning kits, then you should keep a look out for this release before it disappears of the shelves.
---
References
Bert Kinzey, 'P-38 Lightning in Detail and Scale, Part 2 – P-38J through P-38M' (Squadron/Signal Publications, 1998).
Thanks to Eduard for the sample and for the images.
---
Review Text Copyright © 2013 by Brad Fallen
Page Created 16 May, 2013
Last updated 16 May, 2013
Back to HyperScale Main Page
Back to Reviews Page