Messerschmitt Bf 110 G-4
ProfiPACK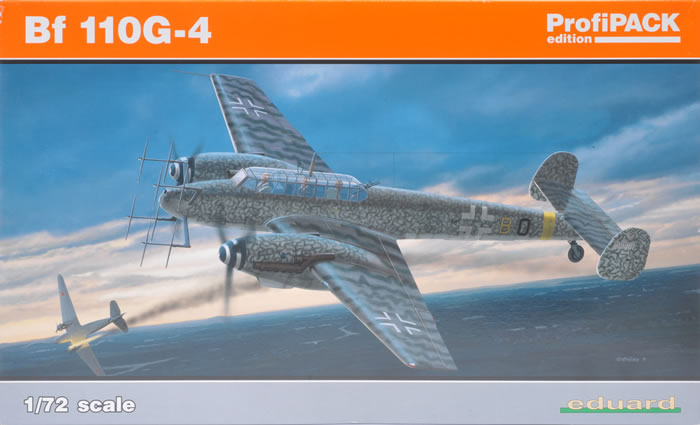 Eduard, 1/72 scale
S u m m a r y

Catalogue Number:
Eduard Kit No. 7086 - Messerschmitt Bf 110 G-4 ProfiPACK
Scale:
1/72
Contents and Media:
211 parts in grey coloured plastic; 13 parts in clear; colour and brass photo-etched frets; self-adhesive die-cut masking sheet; markings for four aircraft
Price:

Bf 110 G-4 Kit - USD$33.96 plus shipping, available online from Eduard

Also available:

Item No. 72 559 - Messerschmitt Bf 110 G-4 Photo-Etched Detail Set
USD$10.95 plus shipping

Item No. 72 561 - Photo-Etched Bf 110 G FuG 220/212 Set
USD$24.95 plus shipping



Review Type:
FirstLook
Advantages:
Outstanding detail; thoughtfully engineered for easy construction; fine surface features including crisply recessed panels and subtle rivet lines where appropriate; includes colour photo-etched parts; separate parts for closed/open pilot's and gunner's canopies; high quality plastic; narrow sprue attachments; includes two styles of nose.
Disadvantages:
Conclusion:
In common with Eduard's 1/72 scale Bf 110 C, D, E and G-2 kits, this new 1/72 scale Messerschmitt Bf 110 G-4 is beautifully detailed with class leading surface detail. Set aside any concerns about complexity. This should be a viceless build. I really like the grey plastic too!

Reviewed by Brett Green

Eduard's 1/72 scale Bf 110 G-4 is available online from Squadron.com

Hot on the heels of their 1/72 scale Messerschmitt Bf 110 G-2, Eduard has now released the night-fighter variant - the Bf 110 G-4.
We have only seen a handful of 1/72 scale Messerschmitt Bf 110 G releases over the decades.
Frog's attempt dates back to the 1960s. The box art was very nice, but otherwise the kit was a typical product of its era - simplified and inaccurate in key areas.
Italeri released their 1/72 scale Bf 110 G several decades later. This was a disappointing kit suffering from very poorly depicted shapes, incuding bulbous nacelles, short blunt spinners, undersized flame damper exhausts, incorrect canopy, inaccurate propeller blade profiles and more.
High Planes Models from Australia offers a limited run, low-pressure injection moulded Bf 110 G-4 kit in 1/72 scale. This 1990s kit was supplemented with white metal detail parts and a vacform canopy. The good news is that this is an accurate model. However, substantial work is required to clean up the parts prior to assembly; and scratchbuilding skills are necessary to fill in the blanks, including much of the cockpit interior and the wheel well detail.
Now at last we have a well-detailed and dimensionally accurate Bf 110 G-4 in 1/72 scale.

Similar to the real aircraft, Eduard's new 1/48 scale Bf 110 G-4 shares most parts in common with December's Bf 110 G-2 release but there are a number of important distiguishing characteristics. Let's take a closer look at what is new in this box.
---
What's New
Compared to the G-2, Eduard's 1/72 scale Messerschmitt Bf 110 G-4 provides two brand-new plastic sprues plus different and additional photo-etched parts.
Sprue L contains all-new fuselage halves with additional armour moulded onto the nose in front and beside the pilot's cockpit, two versions of the bulged 30mm nose, plus the large vertical flying surfaces with the big rudders and enlarged Flettner tabs. Fabric texture is beautifully subtle. Two styles of exhaust flame dampers are also supplied on this sprue - the more frequently seen curved variety, and the late-war simplified straight through pipes. The ends of the pipes are solid but photo-etched grilles are provided to cap all the ends.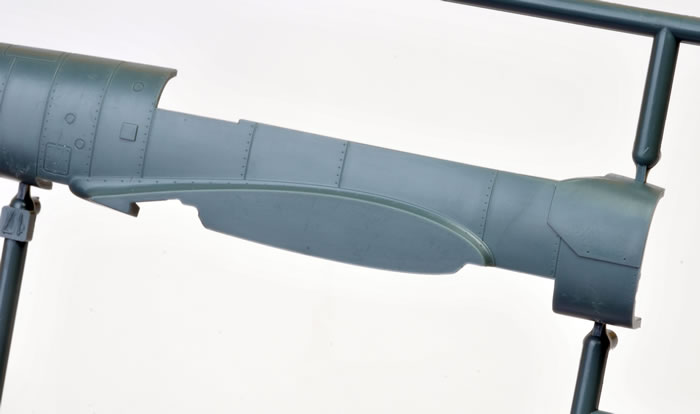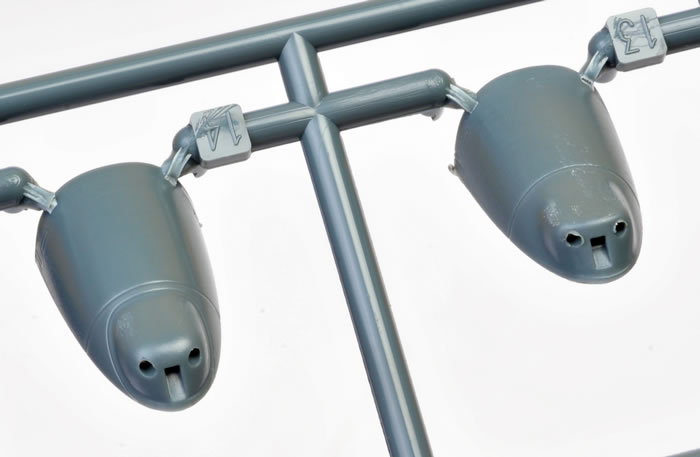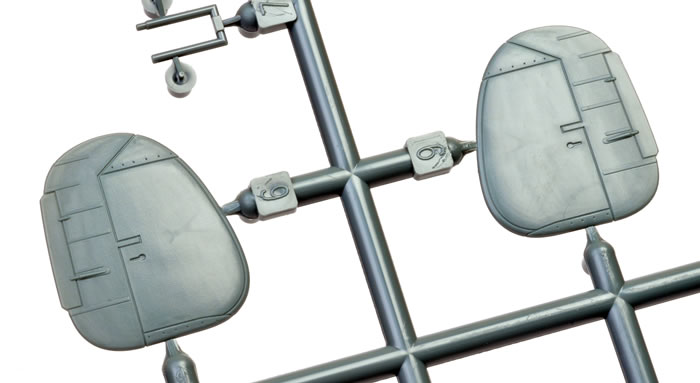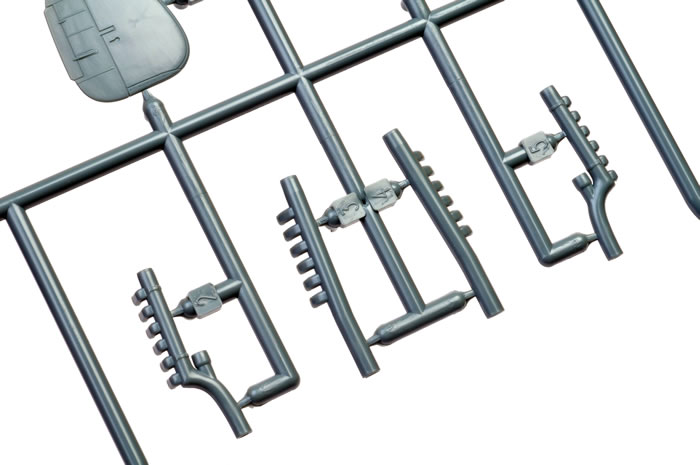 Sprue M provides three variations on the FuG 220 Sn2 radar mounts and plastic diploes. They are admirably thin yet retain the three-dimensional appearance of the original. Handle them with care though, as they will be very delicate.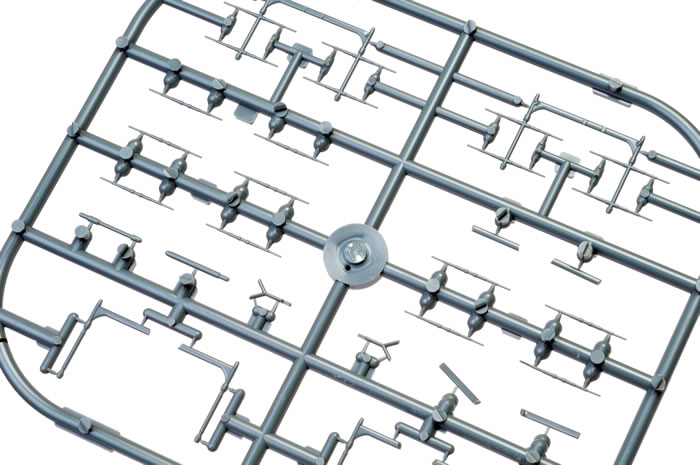 There are two photo-etched frets with this release. The first is a revised colour fret with specific details for the G-4 night fighter.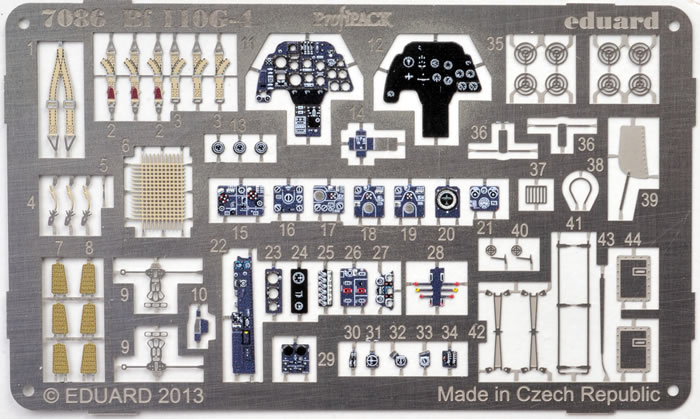 The second fret is in brass, and is a jig for assembly of the radar array - nice touch!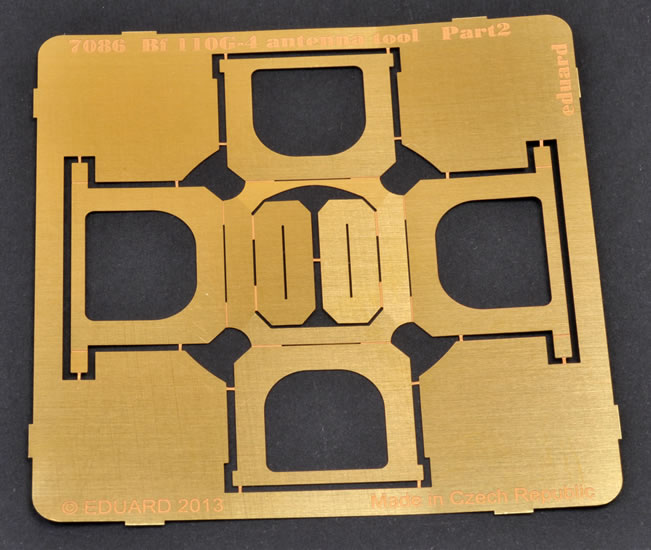 As with the G-2 kit, the clear sprue contains the revised rear canopy section with the side-opening navigator's hatch. An alternate rear section is provided with holes for the night fighter's upward-firing Schrage Musik cannon.
---
The Details
Images of the remaining sprues / parts may be found in my earlier review of Eduard's 1/72 scale Bf 110 G-2 release
Eduard has once again moulded the main kit parts in a medium grey plastic. I know that the colour should not really make a difference, but I always think that this shade of grey somehow looks classier. The excellent surface detail seems to be displayed to its best advantage under this colour too.
Eduard's 1/72 scale Bf 110 G kits share a number of sprues with its predecessors, including the wings; but two completely new sprues are also included.
The sprues for Eduard's Bf 110 G kits contain a new cockpit floor and other interior details, an MG 81Z Zwilling rear machine gun, the 30mm gun nose with optional blank or cannon lower noses, new wing tips, revised engine nacelles, propeller blades and spinners, twin 20mm gun trays, a 37mm gun pack, single and twin air-to-air rockets and a larger tail wheel unit. Tropical filters are included on the sprues too
Moulding quality is superb. I could not find a single sink mark or ejector pin in any area that will be visible on the finished model.
Crisply recessed panel lines are partnered with beautifully subtle rows of rivets.
I like the treatment of the fabric control surfaces too, with delicately raised rib tape and no sagging in between.
The fuselage is broken down into the main halves with a separate nose (upper and lower) plus an insert for the deck immediately aft of the cockpit.
The cockpit is comprehensively fitted out with a combination of fine plastic and colour photo etched parts.
Ailerons are provided as separate parts.
Wheel well detail is moulded to the bottom of the wing and the inside of the nacelle parts. If you want to add more detail, Eduard has released a photo-etched fret that supplies the individual ribs inside the wheels wells. The main undercarriage legs are quite stout, with two locating pins to ensure correct positioning. Optional plastic and photo-etched oelo scissors are offered.
The shape of the new nacelles and spinners look good.
The exhausts are moulded as six-stack units, making assembly quite simple.
Clear parts are thin and well moulded. The pilot's and the gunner/radio operator's canopy hatches are both separate and may be posed open. The rear canopy section offers the option of holes for the upward firing Schrage Musik cannon.
It is interesting to note that the Bf 110 C/D/E style canopies are still on the clear sprue.
Eduard masks are included to ease the pain of painting that maze of canopy frames.
Decals for four marking options are included. All are finished in mid-war RLM 774, 75, 76 greys. The specific subjects are as follows:
Bf 110G-4 1/72 - 6./NJG101, Fritzlar, Germany, 1945

Bf 110G-4 1/72 - Hptm. Wilhelm Johnen, 7./NJG6, Neubiberg, Germany, 1945

Bf 110G-4 1/72 - Stab II./NJG1, Bad Langensalza, Germany, 1945

Bf 110G-4 1/72 - Wr.Nr. 110087, 4./NJG3, Kjevik, Norway, 1945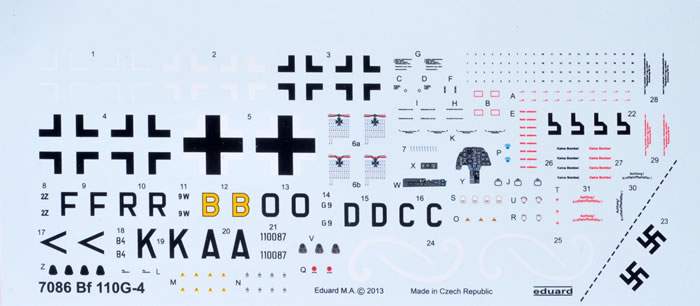 The decals are well-printed and in register. Stencil markings are included.
I was pleased to see this 1/72 scale kit once again packed in a box with a separate lid. These are much sturdier and give better access to parts than a side-opening box.
---
Related Photo-Etched Releases
Eduard has also released two photo-etched sets separately. Set No. 72 559 includes additional detailing parts for the wheel wells, radiators and more.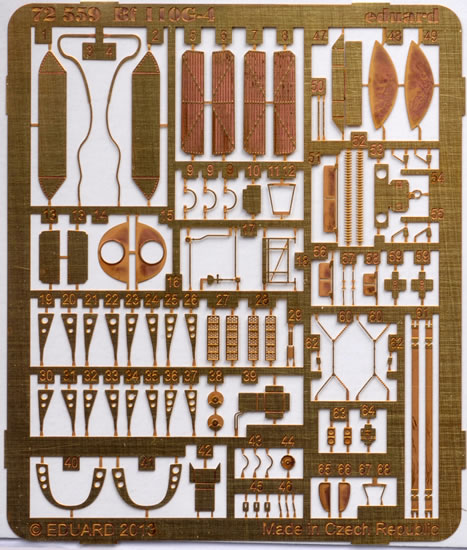 Set 72 561 offers the option of FuG 220/212 radar array for your model.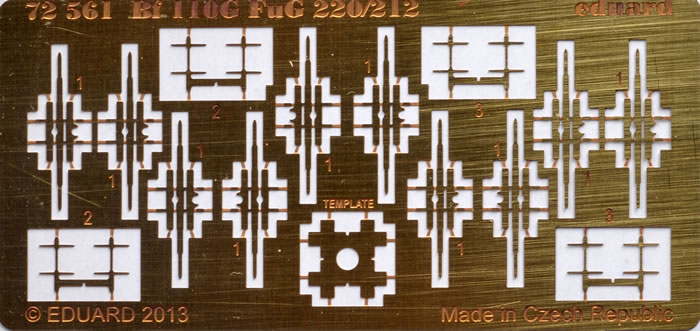 A template for the alignment of the tiny FuG 212 mounts and dipoles is included.
Until now, there has been no worthwhile mainstream Messerschmitt Bf 110 G kit in 1/72 scale. Eduard has dramatically changed that situation with their new Bf 110 G-2 and G-4 kits.
In my opinion, Eduard's Messerschmitt Bf 110s are some of the best mainstream 1/72 scale kits ever produced, alongside Tamiya's A6M Zeros and P-47D Thunderbolts. Their new 1/72 scale Bf 110 G-4 continues this tradition.
Surface detail is second to none, detail is excellent, and the colour photo-etched parts are the icing on the cake. There are some small parts in the cockpit, but the vast majority of modellers will be able to deal with these. The traditionally challenging areas such as the nacelles, the gun nose, the undercarriage legs and the wheel wells, have been engineered for ease of assembly. If the earlier releases are anything to go by, fit should be flawless.
Highly Recommended.
Thanks to Eduard for the sample
---
Review Text Copyright © 2013 by Brett Green
Page Created 21 May, 2013
Last updated 22 May, 2013
Back to HyperScale Main Page
Back to Reviews Page