Northrop P-61A Black Widow
Last Shoot Down 1945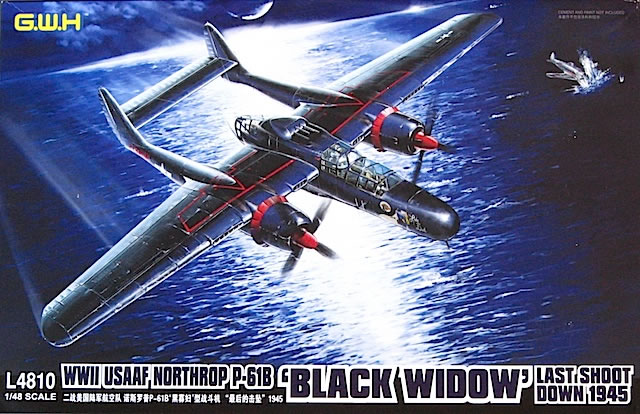 G.W.H., 1/48 scale
S u m m a r y

Description and Stock No.:

G.W.H. Kit No. L4810 – Northrop P-61B Black Widow 'Last Shoot Down 1945'

Contents and Media:

Approximately 180 grey plastic pieces; 15 clear plastic pieces; 2 decal sheets containing markings for two aircraft; 1 etched brass fret; 1 x 15 page A4 instruction leaflet; 1 sheet of die-cut canopy masks

Price:

Available from retailers worldwide, including:
$98.99 plus shipping from Squadron



Scale:

1/48

Review Type:

First Look

Advantages:

Interesting marking choices; excellent base kit that carries over the improvements made to G.W.H's P-61A 'glass nose' release; correct nose radome for P-61B

Disadvantages:

A few tricky ejector pin markings to remove from the cockpit sidewalls and gear bays

Recommendation:

A welcome addition to G.W.H's P-61 family that in my view is the pick of the three boxings released so far.
Reviewed by Brad Fallen


G.W.H's 1/48 scale P-61A Black Widow Last Shoot Down 1945 is available online from Squadron.com
Lt Robert W. Clyde and R/O Lt Bruce K. LeFord of the 7th Air Force's 548th Night Fighter Squadron achieved arguably the last aerial victory of World War 2 on the evening of 14/15 August 1945. Flying Northrop P-61B-2 Black Widow 42-39408, 'Lady in the Dark', Clyde and LeFord forced a Japanese aircraft (some sources say a Ki-43, others a Ki-44) to crash into the Pacific Ocean while it was attempting to evade the P-61. Japan surrendered on 15 August but Allied air patrols continued, and 24 hours after the first incident 'Lady in the Dark' – this time crewed by Capt Solie Solomon (later Lee Kendall) and R/O Lt John Scheerer – forced down a Ki-44 in almost identical fashion.
G.W.H has chosen these victories as the theme for the third boxing of its 1/48 P-61 kit, entitled 'Last Shoot Down 1945' (technically a misnomer, because 'Lady in the Dark' didn't fire its guns on either occasion).
The kit was first released in mid-2011 as a P-61A, and received generally positive reviews including from Brett Green here on Hyperscale. These good impressions were confirmed by Brett's subsequent build of this kit, which featured both here and in a detailed article in the November 2011 edition of Military Illustrated Modeler.
While noting the too-small cowl openings, one-piece propellers and some missing engine details, Brett concluded that G.W.H's P-61 was overall "an excellent kit that is a pleasure to build".
G.W.H's second boxing of the kit, a 'glass nose' P-61A, was released last year and addressed many of the problems identified by Brett and other reviewers. Brett's review of this kit may be found by following this link.
Now, after two P-61A releases, G.W.H has performed some further tweaks to produce a P-61B kit.
---
What's in the box?
This is the first G.W.H P-61 kit I have seen in the box, and my first thoughts on lifting the lid were how different it is to the Revell/Monogram kit. Unfortunately I sold my old Revell P-61 at a swap meet a few days before the G.W.H kit arrived, so haven't been able to look at the two side by side – and to a degree this would be unfair, given the age of the Revell tooling. Suffice to say that while I would occasionally drag the Revell kit out of the stash, look at it and then put it away again when I realised how much work was needed make an acceptable model, the G.W.H kit makes me want to start building immediately.
As previous reviewers have noted, and hopefully my photos will show, the plastic parts are superb. Moulding quality is close to flawless, with fine surface detail and no flash or sink marks that I could find. There are some ejector pin marks in the cockpit and wheel well interiors that will be tricky to clean up without damaging surrounding detail, but otherwise there is nothing to complain about.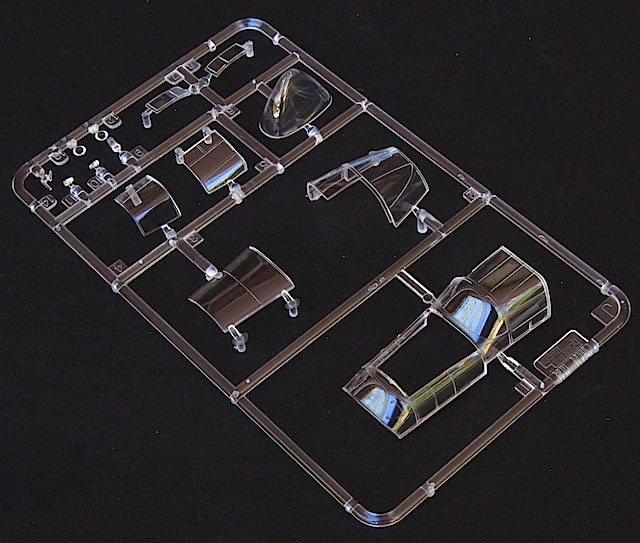 This release carries over all the improvements that G.W.H made to its second boxing of the kit, including refined cowling and propeller shapes. In fact a sprue-by-sprue comparison of the two boxings suggests the plastic parts are identical expect for the shape of the nose radome, which is clearly – and correctly – more elongated in the P-61B kit.
This similarity reflects that of the real aircraft: apart from radome length and the addition of an SCR-695 tail warning radar, the early production P-61Bs depicted in this boxing do not appear to have been very different from late production P-61As. B-1s lacked the underwing hardpoints that were fitted to A-11s and B-2s (and I have photographs of 'Lady in the Dark' with drop tanks installed – unfortunately, these are not included in the kit). Both kit marking options were fitted with dorsal turrets.
---
Marking Options
The kit contains markings for two 548th NFS Black Widows – 'Lady in the Dark', and P-61B-1 42-39405, '"Anonymous III"/The Spook', flown by Lt Melvin Bode and based at Iwo Jima in 1945. According to Osprey's P-61 Black Widow Units of World War 2, this aircraft was written off after a crash landing caused by ground fog obscuring the runway. Judging by the accompanying photograph, this must have been spectacular – although Bode still brought the machine down largely intact.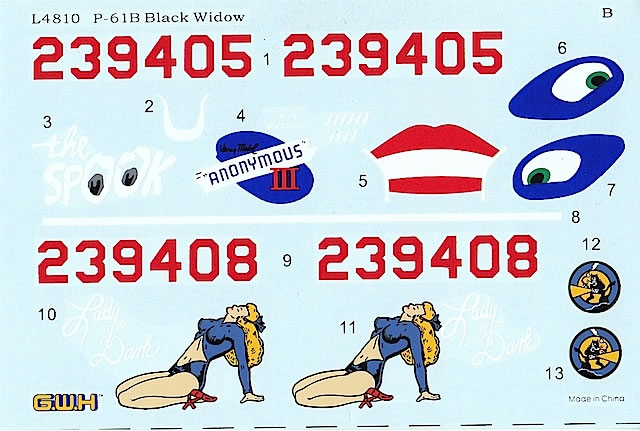 Both marking options are finished in overall jet black, with red serials, spinners and cowling flaps. Photographs of Pacific-based P-61s show that the black paint weathered quickly, with fading, leading edge chips and vertical rain streaking prominent. This is certainly the case with 'Lady in the Dark' and 'The Spook', although with the latter it's hard to tell how much weathering was due to the climate, and how much to the sudden stop on Iwo Jima's volcanic soil.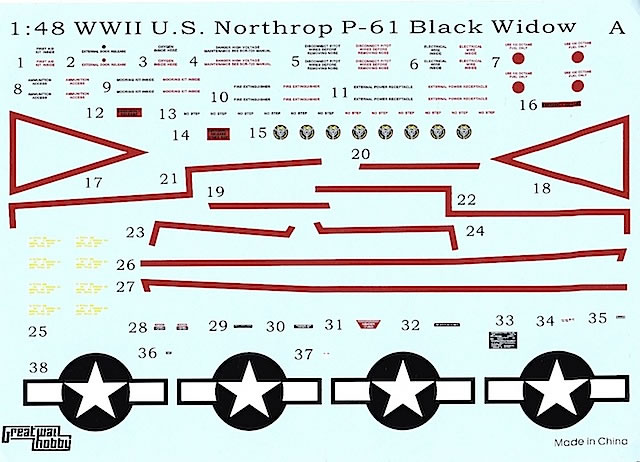 G.W.H provides four-view full colour illustrations of each aircraft, with further scrap drawings of the fuselage nacelle (both sides) and spinner and propeller blades (front view). Paint colours are called out in Gunze Sangyo and Vallejo, and decal placement is clearly marked.
The decals are provided on two smallish sheets, one containing aircraft specific serial numbers and nose art, and the other national markings and stencils. The latter look surprisingly good – not only are the words on the stencils legible, they are also subject-appropriate and spelled correctly (something that cannot always be taken for granted).
The aircraft specific markings are also well done. I've found a number of clear photographs of the nose art of 'Lady in the Dark', and G.W.H appears to have captured this nicely, down to the cursive script of the aircraft name. 'The Spook''s distinctive eyes and mouth also look good, although the shape and possibly colour of the eyes may be slightly off. Finally, the 548th unit emblem has been well reproduced.
If neither of these options appeal to you, there are a wide variety of other 1/48 P-61 decals available.
This kit is another welcome addition to G.W.H's 1/48 P-61 family. The combination of marking choices with an improved base kit makes this release, to my mind at least, the pick of the boxings so far. Build reports by Brett and others indicate that the kit holds few if any nasty surprises, and having seen one completed at a contest last year, I can vouch that it builds into an eye-catching model.
Highly recommended.
---
References
Brett Green, "Nocturnal Nemesis", Military Illustrated Modeller (November 2011).

Warren Thompson, P-61 Black Widow Units of World War 2 (Osprey, 1998).
Thanks to Great Wall Hobby for the sample
---
Review Text and Images Copyright © 2013 by Brad Fallen
Page Created 28 March, 2013
Last updated 28 March, 2013
Back to HyperScale Main Page
Back to Reviews Page