F-14D Super Tomcat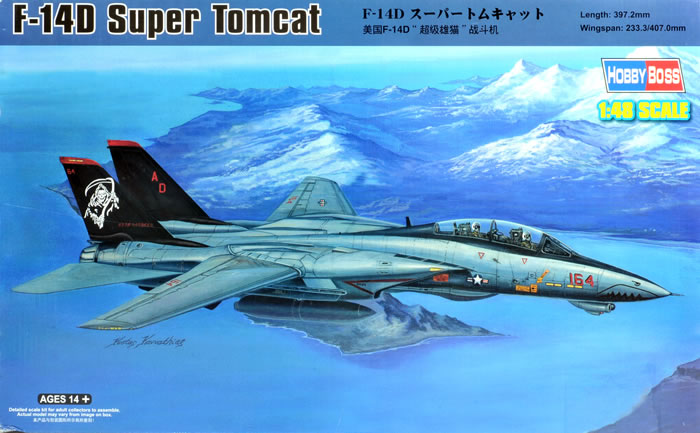 HobbyBoss, 1/48 scale
S u m m a r y :

Catalogue Number:

HobbyBoss Kit No. 80368 – F-4D Super Tomcat

Scale:

1/48

Contents & Media:

Approximately 494 grey plastic parts; 18 clear plastic parts; 4 vinyl parts; 25 photo-etched parts; 1 decal sheet containing markings for 2 aircraft.

Price:

£49.99 plus shipping available online from Creative Models Limited

Review Type:

First Look

Advantages:

Great decals; Clear transparencies; Crisp surface detail; Exceptional detail; Excellent Instruction sheet; Complete range of weapons.

Disadvantages:

Rivet detail may be overdone for some modellers but not for me.

Conclusions:

Highly Recommended.

Reviewed by Mick Evans


HobbyBoss' 1/48 scale F-14D Super Tomcat is available online from Squadron.com

This is a new and up to date kit from HobbyBoss and is a welcome addition to modellers interested in 1/48 scale United States Navy aircraft model kits. Previous to this release from HobbyBoss the standard was set by Hasegawa with their very accurate but slightly difficult to build F-14 series of kits. This new kit is looks very good and certainly challenges the benchmark Hasegawa kit.
On opening the box we are presented with a very beautifully engraved and detailed kit. There are approximately 494 finely engraved grey coloured injection moulded plastic parts, 18 clear injection moulded parts, 4 vinyl parts and 25 etched metal parts in this kit. The grey plastic parts are contained on 23 trees. The packaging for this kit is of a high standard with the upper and lower fuselage halves, intake tunnels, and radar packaged separately and in individual plastic bags. The kit contains all the required weaponry that can be fitted to all versions of the F-14 so my extensive spares box of spare weapons will continue to grow and save me purchasing weapons kits.
The plastic parts have absolutely no flash at all and the surface detail is crisply moulded displaying fine panel lines and rivet detail. The surface of the parts has no moulding imperfections and the moulding that this manufacturer is applying to their kits these days is nothing short of superb. I have read on some forums that the detail is overdone but for me it portrays the detail on the aircraft for some modellers overdone and for others exactly what they want.
Cockpit detail is sufficient for this scale and once totally painted is enhanced by application some instrument decals supplied. Each Mk14 NACES ejection seat has 5 plastic parts and 6 etched metal parts in its makeup while the cockpit has 37 parts used in its construction along with the ejection seats.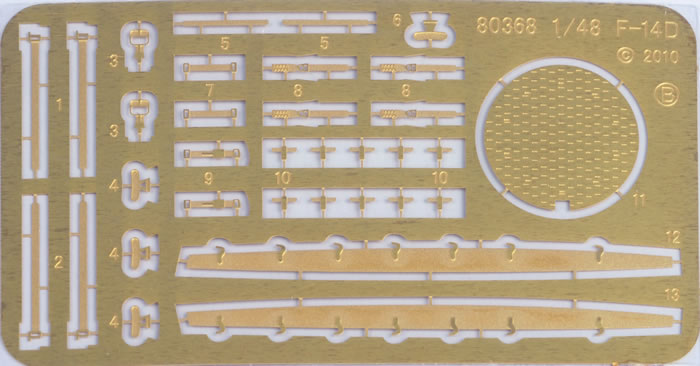 The fuselage is built as two major assemblies; the two main fuselage halves capture the nicely detailed main wheel wells, intake trunking and complete engine assemblies. The main wing attachment points are designed to pivot but have no synchronising mechanism. The kit has extended flaps and leading edge slats so the wings must be assembled fully swung to the forward position unless you cut the attachment points to assemble the flaps and slats to the streamline position. The Tomcat has inflatable bags to seal the wing sweep areas in the extended position and these are supplied as options in the kit for either a swept wing or extended wing and while the kit has the capacity for a gimmick of wing swing I believe they should be fixed in either the fully extended or swung position.
The General Electric F110 engines are nicely replicated, but why? They get completely buried in the fuselage and are not visible except for the compressor face through the intake and the afterburner nozzle and turbine disc. The engine exhaust nozzles are very nicely replicated through 11 parts with internal and external petals separately moulded.
Speed brakes are supplied to be position in the open or closed positions while the complex undercarriage system is accurately portrayed.
The key features and options of the kit are as follows:
Well detailed Mk 14 NACES ejection seats supplied with photo-etched harnesses

Fairly accurately detailed front and rear cockpit tubs

Well detailed Mk 14 NACES ejection seats supplied with photo-etched harnesses

Boarding steps and in built boarding ladder

Canopy can be positioned open or closed

Complete APG-71 radar assembly and position able radome

Detailed left and right avionics bays and M61 Vulcan gun bays with position able doors

Extended leading edge slats and trailing edge flaps

Speed brakes can be open or closed

Extended leading edge slats and trailing edge flaps

Position able wings

Air refuelling probe can be modelled in the extended position

Two complete General Electric F110 engines with engine afterburner nozzles can be modelled open or closed.

Nose gear can be modelled in the extended or catapult squat position

Vinyl tires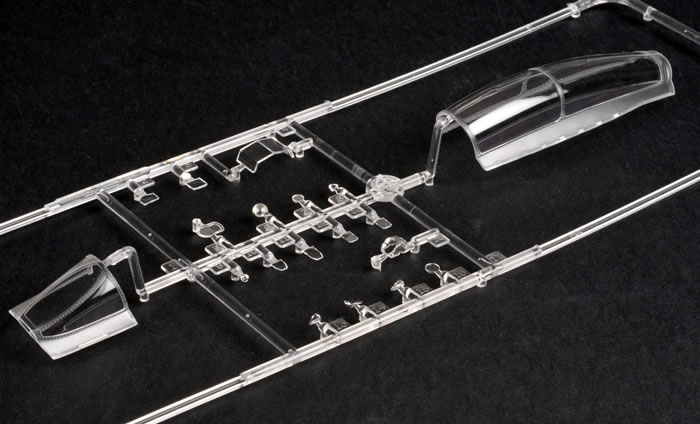 Finally this kit has a comprehensive selection of external weapons including:
LANTIRN pod

TARPS pod

2 x external fuel tanks

2 x AIM-9L Sidewinder Air to Air missiles

4 x AIM-7 Sparrow Air to Air missiles

6 x AIM-54 Phoenix Air to Air missiles

4 x Mk.82 slicks Air to Ground bombs

4 x GBU-31 JDAMs Air to Ground GPS guided bombs
The instruction sheet is made up of a detailed black and white explosive assembly view that details the assembly of the kit while the colour scheme is printed on a glossy colour sheet.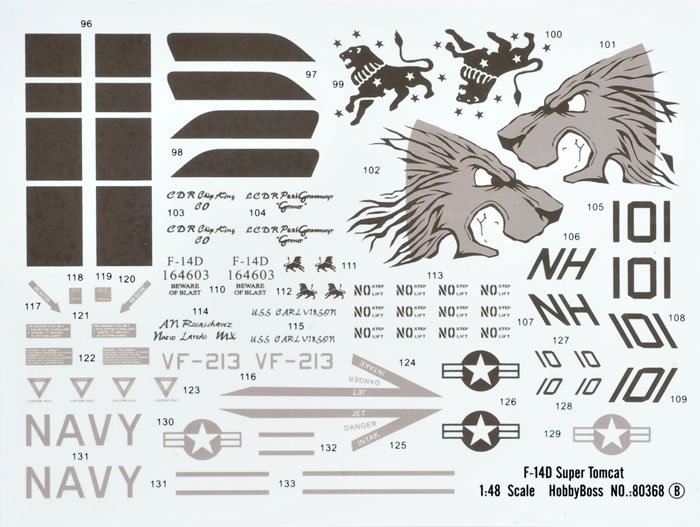 The two colour schemes are provided on a glossy colour sheet detailing the colours required for the provided scheme as follows:
F-14D, BuNo 164603 of VF-213 based on the USS Carl Vinson and BuNo 164342, of VF-101, based on the USS Enterprise in 2000.
The decals are supplied on 3 separate sheets and look thin and crisp.
I have built 3 Hasegawa F-14s and was impressed with the detail and build at the time of their release but the level of detail and the supplied weapons appears to put this kit in a slightly higher class, but the proof will be in the build and the ease of assembly. This kit looks to be one that can easily be built straight out of the box with no after-market details required except for those who want the perfectly detailed cockpit.
For me, Highly Recommended
Thanks to Creative Models Limited for the sample
---
Review Text Copyright © 2013 by Mick Evans
Page Created 25 April, 2013
Last updated 25 April, 2013
Back to HyperScale Main Page
Back to Reviews Page