C-46D
JASDF Transport Aircraft (Kit & PE Detail Set)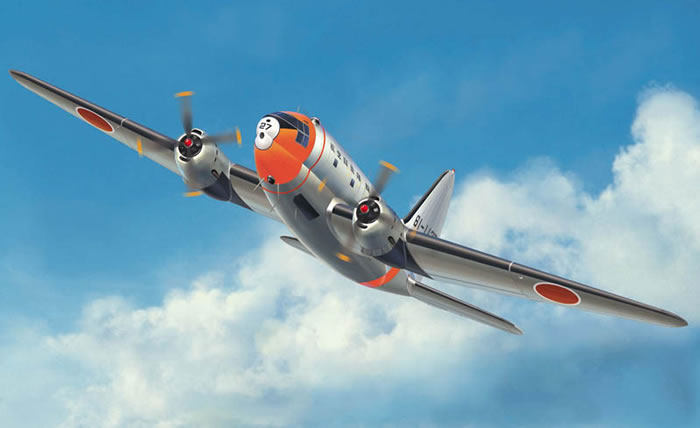 Platz, 1/144 scale
S u m m a r y :

Catalogue Number:

PD-21: C-46D JASDF Transport Aircraft (Kit)

M144-3: JASDF C-46D (PE Detail Set)

Scale:

1/144

Contents & Media

PD-21: Fifty-three grey and two clear styrene parts, and a decal sheet for one USAF and two JASDF schemes (with forty choices of serial number).

M144-3: One partially coloured PE fret of twelve pieces, and one plain PE fret of eighty-three pieces.

Price:

Review Type:

First Look.

Advantages:

C-46D Kit: Very good quality, high fine mouldings and comprehensive decal sheet. Two kits per box make them very good value.

C-46D PE Set: Very good quality that both refines and adds some missing detail to the basic kit.

Disadvantages:

The national insignia decals were slightly out of register in my sample.

Conclusions:

This is a very good quality kit with nice detail finesse given the limitations of moulding in this scale. It should be easy to build, and the most comprehensive decal sheet will help those who dislike masking. It should result a very eye-catching C-46D model if finished with care, and should satisfy most modellers as it comes OOB (other than perhaps the choice of markings that is).

The PE set can clearly guild the lily; but at half the price of the kit the cost-benefit may not convince the majority of C-46 builders of doing so.

This kit really warrants some after-market decals. It can be easily modified to a C-46A by filling in the starboard jump door, which opens up even more colour scheme possibilities.

I definitely recommend Platz's C-46D; and I happily endorse the PE set for those who seek some further refinement and enhanced detail without having too much concern about the price of doing so.
Reviewed by Mark Davies

HyperScale is proudly supported by Squadron.com
The C-46 originated from a private venture developed by Curtis in the late 1930's, and known as the CW-20. This was a large pressurised twin-engined and twin-tailed airliner. It was the World's largest twin-engined plane when it first flew in March 1940 (dimensionally bigger than a B-17 in fact).
The CW-20 used double-bubble or figure-eight fuselage construction to cope with pressurisation whilst maintaining a smaller cross section than a fully circular design would have required, and allowed the wing spar to pass under the passenger floor dividing the two bubbles. The dip between the two bubbles was skinned so that the fuselage appeared to be oval in section when viewed from the outside. The CW-20's twin tailfin layout was later changed to a larger single fin, as well as various detail changes including the removal of dihedral from the tail-plane. This single version was acquired by the USAAF and designated C-55. This aircraft was purchased by the British in late-1941 for use by British Overseas Airways Corporation, and was camouflaged with BOAC markings and had the civil registration of G-AGDI.
War clouds soon put an end to Curtis's airliner aspirations; but these were replaced by US military interest in the design's potential as a transport aircraft. The military version, known as the C-46, dispensed with the skinning between the bubbles, as this simplified construction and saved weight; all without any significant increase in drag. The number of cabin windows was reduced, an autopilot was fitted, and external strengthening strakes were added to the rear fuselage. The C-46 cabin was unpressurised, and it replaced the CW-20's R-2600 engines with more powerful R-2800's. The R-2800 delivered 2,000-hp, which was 300-hp more than the R-2600 in the CW-20. The C-46A followed the first 25 C-46's, and amongst other things, a cargo door was added to the port side, with two smaller doors within this. It also had a different version of the R-2800 engine fitted, and a strengthened floor. Later C-46A production blocks changed from three to four-bladed propellers.
The C-46A would be one of the two main variants produced; the other was essentially the same and designated the C-46D. The C-46D differed by having had a paratrooper door on the starboard side that enabled paratroops to jump from both sides simultaneously. It was produced in similar numbers; these being 1,492 for the C-46A and 1,410 for the C-46D.
The C-46 gave stalwart service during WW2, and is most associated with the China-Burma-India theatre where it flew perilous missions delivering supplies "over the hump" (Himalayas) into China. Post-war it served with numerous air forces and many civilian carriers; frequently as a freighter, but also as an airliner. The last C-46D's were produced in July 1945, but plenty remained by the time Japan was permitted to rearm in 1955, and so the C-46 became the basis of the JASDF's transport fleet. They were also used in a variety of specialist roles, and continued to serve into the 1970's.
Overview
I shall describe the kit and photo-etch (PE) detail set separately, beginning with the kit.
I have far less knowledge of kits in 1/144-scale than my personal adherence to the "One True Scale" of 1/72nd. However, I am aware of two previous Curtis C-46 1/144th releases; these being a resin kit by Miniwings, and a resin and vac-from kit by Welsh Models. I am unfamiliar with either kit, but I do know that the Welsh Model releases I have seen looked to be very nice. Regardless of their merits, I am sure that a modern long-run injected kit will be welcomed by our small-scale brethren.
---
The Kit
The kit comes packed in a good quality top opening box, with artwork on the front and a coloured painting and decaling guide for on the rear*. The decal options are also illustrated using monochrome shaded drawings within the instruction pages. The outside edge the box has four small coloured images of various airframe details. All parts are sealed in a cellophane bag, with the clear parts and decals each sealed in their own separate bags.
The instructions includes a parts map and easy to follow assembly diagrams. Some brief explanatory notes in English and Japanese text accompany some of the diagrams. It took me a while to find the fine print that explains the paint codes refer to the Mr Color and Modelmaster paint brands, but no English colour names are used. However, FS-595 numbers are included as well, so most people should be able to readily research paint colours if necessary.
The parts breakdown is conventional for this type of aircraft, and all are very crisply moulded with delicate recessed panel lines. The cockpit consists of a one-piece instrument panel and floor with two seats, and control columns with their yokes. A kind of rear cockpit semi-bulkhead is formed integrally with the fuselage halves, although this is unlike the real thing as it has a large circular opening. In this small scale it will barely be noticeable, but can easily be corrected with by blanking it off with a small piece of plastic-card. The basic level of interior detail will be satisfy most builders I think, but for those wanting more there is the PE detail set described later in this review.
The bulbous fuselage looks great, and captures the look of the original nicely. The only clear parts are the wrap-around windscreen and an astrodome. The side windows are moulded in slight relief, and can be represented by paint or the decals provided with the kit. There is also a windscreen decal included in case the modeller wishes to match the windscreen finish to that of the side windows. Personally, I would like to have the option of clear side windows provided to match the cockpit glazing; but it is no great hassle to drill and file open the side windows I suppose.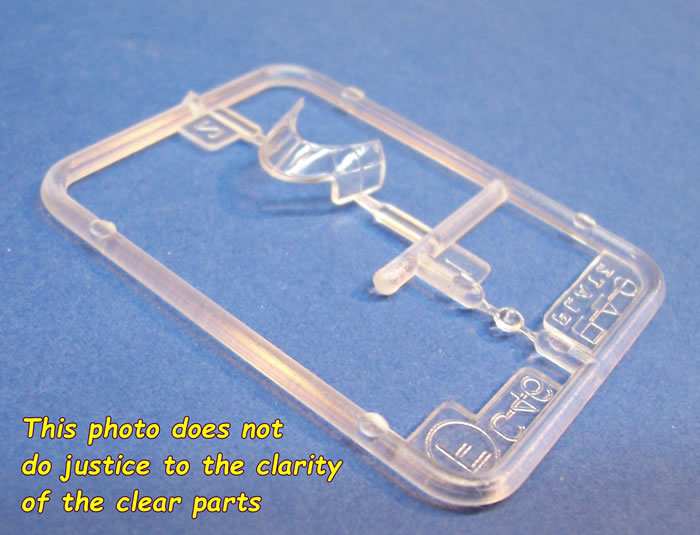 The wings and tail-plane offer no surprises. The engine cowls are nicely formed, and the separate single-piece engines look fine too. Overly thick propellers are unavoidable in this small scale, but Platz have done a good job of making theirs look as delicate as can be reasonably expected.

The undercarriage is nicely done for the scale, with some detail included on the inside of the undercarriage doors. The main wheels have separate tyres and hubs that feature nice detail. This two-part approach will ease painting considerably. This is another area that the PE set addresses thoroughly for those who want more.

The kit includes a plethora of antennae, DF bullets and small radar bulges. Some will prefer to refine the blade antennae, or make with scratch-built replacements, or use the items included with PE set.

Overall, this looks to be a very simple kit to construct, and will make a fair-sized model at just over 161-mm long, with a span of almost 230-mm (almost 6½" and over 9" respectively). Where this kit shines is in capturing the lines of the real aircraft, to my eye at least, and its moulding finesse. In theory panel lines in 1/144-scale are going to be overdone no matter how fine the moulding, but most would want something there to add interest to the model. Platz have done a very good job in this regard. The delicacy of the cowl air inlets and landing gear legs is nicely done, and the props are very good too considering injection moulding limitations. The windscreen is reasonably thin and very clear.
---
Colours and Markings

The decal sheet has markings for one USAF and two JASDF schemes, with forty choices of serial numbers for the latter. The individual subjects covered are:
USAF aircraft of an unidentified unit during the Korean War.

401st Squadron, Transport Command, Miho AB, Japan.

402nd Squadron, Transport Command, Kisarazu AB, Japan.
The USAF scheme is aluminium upper-surfaces over black undersides. The two JASDF aircraft are aluminium with Day-Glo orange fuselage bands; one option also features black engine nacelles. Black de-icer leading edges to all flying surfaces and prominent wing-walks serve to add further interest.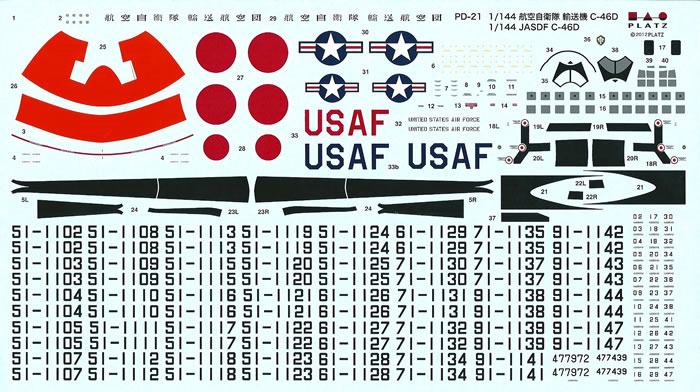 The decal sheet is most comprehensive; it obviously includes national insignia and serial numbers etc, but also provides wing walks, de-icer boots, Day-Glo bands, anti-glare panel, nacelle black-outs, window representations, and stencilling. I think that some may prefer painting to decals for some of these markings, but at least the choice is there. The decals look to be very good quality and are very crisply printed, but the national insignia red circles were slightly out of register with their white surrounds with my sample.
---
Other Versions
By filling in the starboard jump door you can easily create a C-46A, which will expand the finishing options considerably. In fact, I feel this kit really offers after-market decal makers a golden opportunity to do some stunning civil freighter schemes, and I see some after-market decals have already been released by Maestro Models. There are some conversion possibilities for companies like Oz-Mods to consider as well; the EC-46D, C-46E, C-46F, and Super 46 spring to mind as worthy subjects. No doubt Platz will also offer other boxings too, based around C-46A and D markings options.
---
The PE Detail Set
The photo-etch (PE) detail set is produced for Platz by Eduard, and comes sealed in cellophane with card backing and instructions. The instructions have no English text, but the diagrams and symbols are clear and self-explanatory. It costs just over half the price of the kit.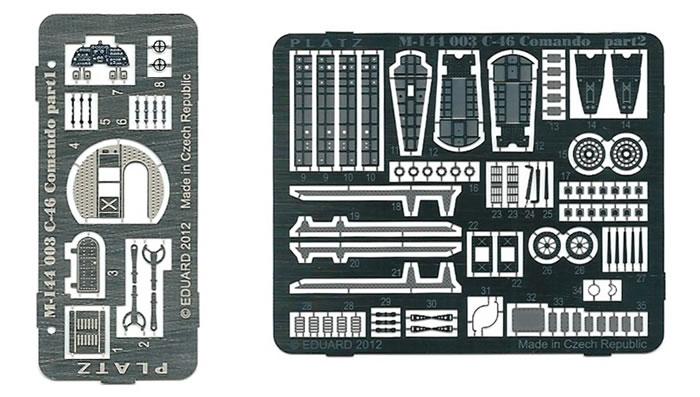 The set has two frets, one with some pre-coloured parts and the other larger one with all plain pieces. The quality of the PE is to the excellent standard we have come take for granted from Eduard.
The cockpit is enhanced by a pre-coloured instrument panel with rudder pedals; as well as in plain PE, seat belts, throttles, and trim wheels, a rear cockpit bulkhead with separate door. Control columns and yokes, and some kind of box that mounts to the rear face of the bulkhead where it cannot be seen at all.
Many of the plain PE pieces are devoted to dressing up the undercarriage. They include internal lining for all three wheel wells, scissors links and other small details to enhance the kit's main undercarriage legs, and wheel hub faces.
The remaining pieces cater for surface details and antennae. The additional surface detail is dominated by the reinforcing strips for the wing joint just outboard of the engine nacelles, but also includes several small plates, fuel filler caps, and a landing light.
Some will find the PE set challenging to use because some parts are very small indeed. I am not sure much of the cockpit PE will be visible, which is a pity as it is quite eye-catching unused on the fret. The undercarriage bay detail is very nice; but again, it will normally remains unseen unless the finished model is being handled. The refined antennae and wing joint reinforcing will definitely be noticeable, as will the various other additional small surface details.
The PE set, good as it is, only really makes sense to buy if you wish to build a class-winning model, or super-detailing 1/144-scale models is your passion. Scratch-building more refined antennae is easy enough to do, and will be sufficient for most build I think.
This kit is a great example of just how nicely 1/144-scale subjects can be rendered by good kit producers. Platz's moulding has so much finesse that I think the eye will be drawn away from any unavoidable slightly over-scale elements. The kit should be easy to build, and the most comprehensive decal sheet will please those who dislike masking. It should result a very eye-catching C-46D model if finished with care, and satisfy most modellers as it comes OOB (perhaps other than the choice markings that is).
The PE detail set is very nice, and it will undoubtedly enhance the finished model considerably. However, much of the detail will be almost unobservable behind the tiny cockpit windows; or unseen unless the model is inverted. The PE set can clearly guild the lily, but the cost-benefit of doing so may not convince the majority of C-46 builders. I think that it will mainly appeal to detail fanatics and model competitors.
This is a kit that opens up a wealth of finishing options; especially as changing it from a C-46D to an A model is so simple. Some very attractive liveries were worn by C-46's post-WW2, and this fact really warrants some after-market exploitation by decal makers. There is also good potential for conversion to other C-46 variants.
I definitely recommend Platz Hobby's C-46D, and I happily endorse the PE set for those who seek some real refinement and enhanced detail without having too much concern about the price of doing so.
Thanks to Platz Hobby for the review sample.
---
Review Text Copyright © 2013 by Mark Davies
Page Created 7 April, 2013
Last updated 7 April, 2013
Back to HyperScale Main Page
Back to Reviews Page