Nakajima Ki 44 / Ki 44-I Shoki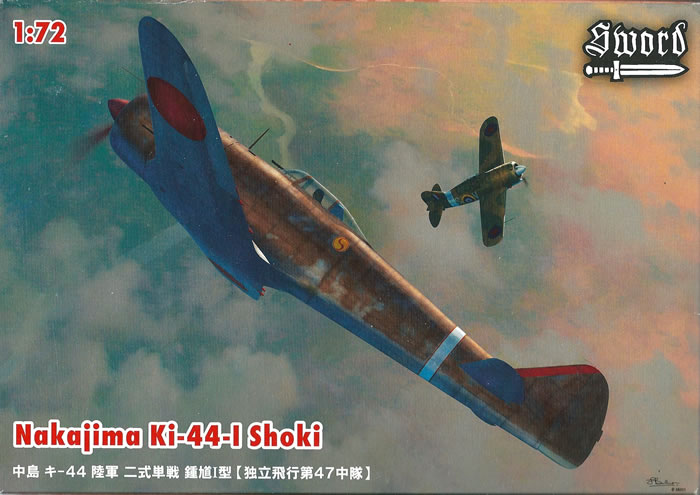 Sword, 1/72 scale
S u m m a r y :

Catalogue Number:

Sword Kit No. SW72071 - Nakajima Ki 44 / Ki 44-I Shoki

Scale:

1/72

Contents & Media

Seventy-one grey styrene, three clear styrene, two resin parts, and decals for four options.

Price:

Available online from these stockists:

Hannants for £11.66,
Squadron for US$29.69,
Modelimex for €14.58, and
Hobbylink Japan for ¥1840

Review Type:

First Look.

Advantages:

Good quality mouldings for a limited run kit, with fine panel lines and nice levels of detail. It looks to be a very straightforward build.

Disadvantages:

The instruction give inadequate camouflage colour guidance and are uncertain as to which wing underside to use for the Ki 44-I option.

Conclusions:

This nicely engineered kit is produced to high standards, but let down just a little by inadequate camouflage colour information. It looks to be a nice straightforward build with the potential to produce a very attractive model of a pre-production Ki 44 or Ki 44-I Shoki. I think it is a pity that sword did not to include the coloured PE set that comes with their Ki 44-II kit (#SW72047), as this provides some nice details.

It is good to have the option to build the early Shoki in addition to the later Ki 44-II. Both this kit, and Sword's other two Ki 44-II boxings, are quite a step up from Hasegawa's much older kit - Recommended.
Reviewed by

Mark Davies

Sword's 1/72 scale Ki 44 Shoki is available online from Squadron.com
The Ki 44 Shoki was a point defence fighter for the Imperial Japanese Army Air Force whose design focus was on rapid climb and speed. This new requirement was issued only a short time after that for the Nakajima Ki 43 Hayabusa. The Ki 43 was a typical Japanese fighter, being light and very manoeuvrable, and which despite early successes would suffer high losses against mid-war US fighter designs.
The prototype Ki 44 first flew in August 1940. Its speed and rate of climb were well below performance targets, due largely to exceeding its design weight, so Nakajima made several changes to the design. Seven pre-production aircraft followed on from this, and were available for testing by August 1941. Their best speed of 360 mph was still 13 mph below target, but was accepted none the less. The 47th Independent Air Company formed to evaluate these seven aircraft and two prototypes. The unit served in to the Canton region manned by pilots who were experienced and successful veterans from the fighting in China. The unit soon transferred to Indo-China to support the attack on Malaya.
Evaluation experience with the type led the army to order the Ki 44 into production with a 1,250-hp Nakajima Ha-41 engine as the Ki 44-1. After the first few Ki 44 I's were built the two 7.7mm guns in the nose were replaced with 12.7mm guns, giving the aircraft four in total as it already had two of this calibre in the wings. This version was known as the Ki 44-I-Ko. Another change moved the oil cooler matrix from in front of the engine cylinders to underneath the cowl, this version becoming the Ki 44-I-Otsu. Finally, the Ki 44-I-Hei removed the lower hinged portion of the single undercarriage door to the fuselage underside, resulting in separate large and small undercarriage doors.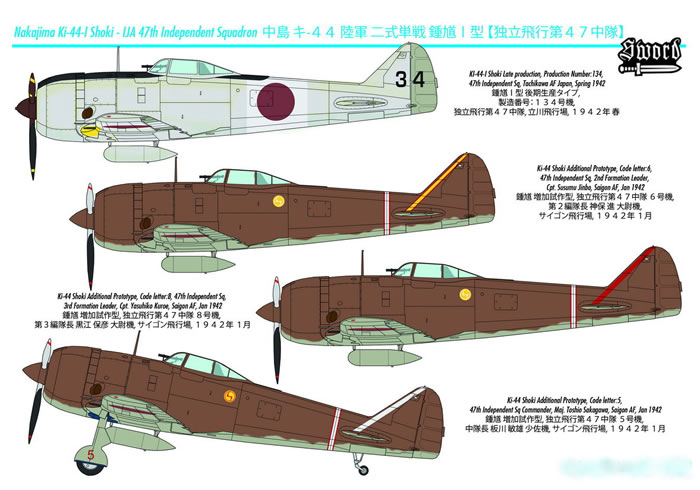 The next major version, the Ki 44-II, gained a more powerful Ha-109 1,520-hp engine, some armour and fuel tank protection, plus a stronger undercarriage. A variety of heavy cannon and machinegun combinations were used, and some late Ki 44-II's had ejector exhaust stubs to provide thrust augmentation.
A Ki 44-III with a 2,000-hp Ha-145 engine, larger wings was developed. It was armed with four cannon, either all 20-mm, or two each of 20-mm and 37-mm calibre. However, such was the promise of Nakajima's next fighter that production was not proceeded with the. This next design was the Ki 84 Hayate (Frank).
Despite high expectations, the Ki 44-II proved unable to deal effectively with the first B-29 raids mounted from China, and production ceased in December 1944. Small numbers of Ki 44's also saw service with Manchukuo, whilst captured examples were used by the Republic of China Air Force (Nationalist) and by the Red Army, later People's Liberation Army, Air Force (communist Chinese).
---
Previous 1/72 Scale Ki 44 Shoki Kits
Tamiya released a Ki 44 kit in the 1970's, although I think it may actually have been 1/75-scale, and Fujimi made one to 1/70-scale. Cuver and Mavi both released Shoki kits as well, but I have no more information than that. It is probably fair to say that all of these kits are of collector rather than buildable value.
A far more readily available kit is by Hasegawa that has been around since the 1980's (although I understand they also offered a vac-form Ki 44 at some point well before this!). Hasegawa's kit is like many of their earlier efforts with quite fine engraved panel lines, low parts count, basic interior detail and simple assembly. Typically, for Hasegawa, it has been re-boxed with different markings many times, and once even included a 40-mm cannon option.
Just on a year ago Sword released the first of their new Ki 44-II kits (one came with additional PE), and surpassed the Hasegawa releases in all respects.
Contents
The kit comes in a typically Czech end-opening box with digital artwork on the front. The plastic and resin parts come in a zip-lock bag, with the clear parts further enclosed in a small bag of their own.
The instructions provide a parts map and easy to follow diagrammatic assembly format. The diagrams are well drawn, and in fact far better than some mainstream brands. There is also a brief history of the aircraft. Generic paint colours are given in Czech and English, with all other text in English. The painting and decal guide uses adequate black & white shaded 4-view drawings in the instructions, and colour profiles on the rear of the box. However, I feel that a better guide to correct camouflage colours should have been provided. (Sword's Ki 44-II I reviewed previously at least gives cross-references to the Gunze Aqueous, Mr Colour and Humbrol paint ranges.)
---
The Kit
he kit reviewed here has essentially the same parts as Sword' other Ki 44-II kits (my my earlier first look for HyperScale can be found here), but with the addition of an extra sprue. This sprue has a new lower wing section, oil-cooler matrix, undercarriage doors and spinner. The new lower wing section incorporates a slightly different wheel well interior to the Ki 44-II kit, the undercarriage doors are the single type with foldout sections that sit at a right angle to the main door when the wheels are lowered. There is also a more pointed style spinner used by the pre-production machines. Unlike the other kit (SW72047), there is no pre-coloured PE fret with this boxing, although it costs about 7% less. I would have preferred to have the PE included. I think that the PE is also absent from Sword's other Ki 44-II boxing (SW72042.) If you plan to build a Ki 44-II using your own decals you can save a little by buying this boxing rather than Sword's Ki 44-II kits, as all the necessary parts are included.
It is a typical Sword kit in that the plastic has a more shiny finish than many other Czech limited run brands. The cleanly moulded parts have very fine surface detail, and the sprue gates are narrow. There is just a little flash in places, but this is easy to deal with. The resin parts are also well cast. Parts break down is largely conventional for the type.
Cockpit detail combines a plastic floor, front bulkhead with gun breeches, rudder pedals, control column, integral sidewall detail and instrument panel. The seat is resin but without a harness. A telescopic gun-sight rounds out the detail in the cockpit area.
The radial engine is resin, and in my earlier review of Sword's Shoki I criticised it as being a very lack-lustre representation of the Ha-109 fitted to the Ki 44-II. This was because of its uninspiring shape, lack of push-rods, and absence of the very prominent ignition harness. However, the Ki 44-I was powered by a different engine, the Ha-41, that had an annular oil cooler matrix located ahead of the engine cylinders. This means that the Ki 44's and Ki 44-I's engine is essentially hidden, and so the lack of detail matters little. It is a bit of a pity that Sword did not provide the oil-cooler matrix as a PE part, as this would have enable a finer representation than the injected plastic example. Like some other Sword kits this one has separate cowl flaps, although these are moulded closed. I think they may be engineered this way to offer a finer undercut trailing edge to the flaps than would be the case were they moulded with the fuselage.
There new wing underside is for the three pre-production machines, whereas the instructions advise that the Ki 44-I can share either the same wing underside as the Ki 44-II kit or that of the Ki 44; in other words Sword is unsure which applies in this case! If the Ki 44-II type wing underside (Part #50) is used it will be necessary to remove and fill the fairing that the later version's external oil-cooler mounts to,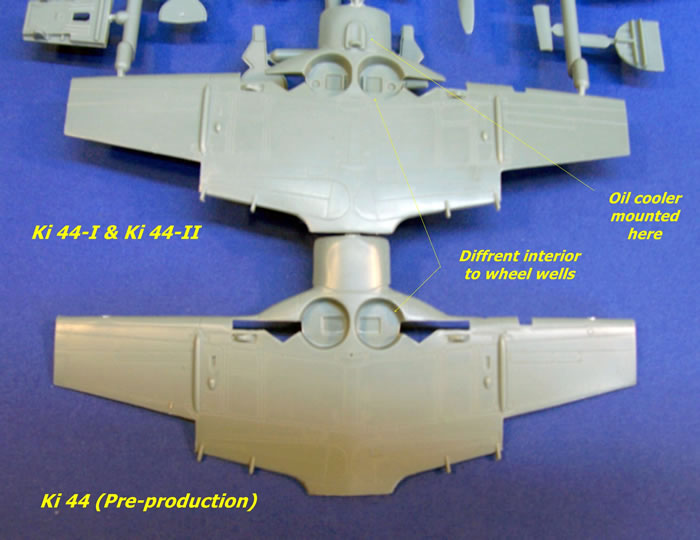 The wing underside common to the Ki 44-II (Part #50) may apply to a Ki 44-I Otsu as the oil cooler was moved to under the cowl, which would mean you would not use the oil cooler matrix (Part # 53). I am unsure if the external oil-cooler of the Ki 44-I Otsu was the same as the Ki 44-II, given that different engines were used and the chances are that they were different. I have been unable to find an image of a Ki 44-Otsu with this feature. Sword's colour-schemes drawings do not show their Ki 44-I with an external oil-cooler, so it seems safer to me to use the early wing underside (Part #53).

As an aside, modelling a Ki 44-I Hei would require both the later wing underside and deletion of the oil-cooler matrix, plus the undercarriage doors used by the Ki 44-II.
Regardless of wing underside choice, the wheel wells are nicely moulded in both cases and the undercarriage looks good too. The tail wheel well also includes fuselage structural members within and bracing etc. A pair of drop tanks with plumbing and fine separate sway braces completes the underside.
There is not much left to describe. The prop is acceptably fine, and has a choice of spinners; the pointed type for the pre-production machines and the blunter kind for the Ki 44-I proper. The wing machineguns are nicely detailed too. Two windscreens to suit different gun-sight options, but the one for the telescopic sight applies in this all cases here. The canopy can be modelled open and the clear parts looks very good.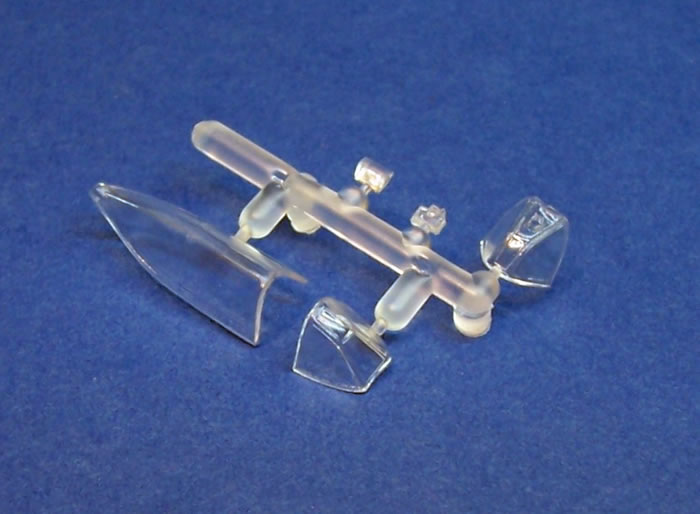 Overall, I should think that this kit should be a simple and enjoyable one to build.
---
Marking Options
Three of this kit's decal options are for pre-production machines. There is not much variety in these options as the three Ki 44's are all wear the same colour scheme. Sword illustrates these with khaki-coloured upper surfaces over light grey-green (although Sword describes the khaki as just green and the grey-green as light-grey). According to an Osprey's Ki 44 Tojo Aces of WW2, these pre-production Ki 44 's were delivered to the 47th Independent Air Company in overall IJAF grey-green, to which the unit sprayed the khaki-colour in a dense, almost solid mottle on the upper surfaces. The other kit option is for an aluminium machine with grey-green control surfaces and hinomarus over white bands.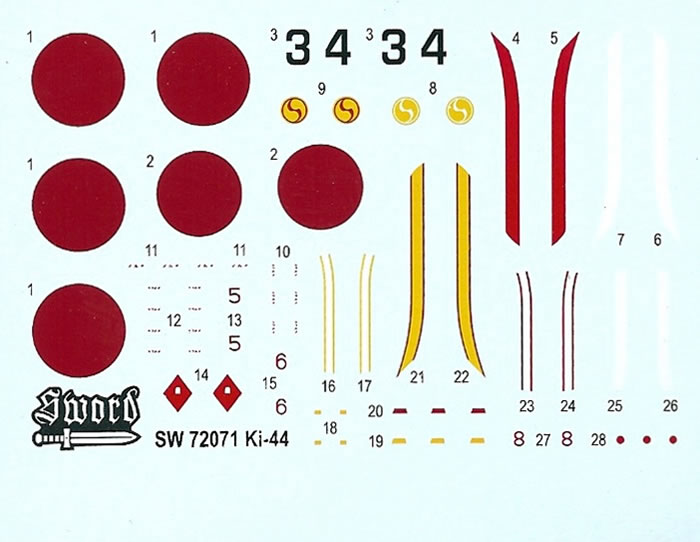 Ki 44 (Pre Production):
Code number 6, 47th Independent Air Company, 2nd Formation Leader, Captain Susumu Jimba, Saigon, Indo-China, January 1942.

Code number 8, 47th Independent Air Company, 3rd Formation Leader, Captain Yasuhiku Kuroe, Saigon, Indo-China, January 1942.

Code number 5, 47th Independent Air Company, Company Commander, Major Toshio Sakagawa, Saigon, Indo-China, January 1942.

Ki 44-I (Late Production): Production number 134, 47th Independent Air Company, Tachikawa, Japan, Spring 1942.
The decals are well registered, appear to have good opacity, and include some fine stencilling.
This nicely engineered kit is produced to high standards, but is let down just a little by inadequate camouflage colour information. It looks to be a nice straightforward build with the potential to produce a very attractive model of a pre-production Ki 44 or Ki 44-I Shoki. I think it is a pity that sword did not to include the coloured PE set that comes with their Ki 44-II kit (#SW72047), as this provides some nice details for just a little higher price.
It is good to have the option to build the early Shoki in addition to the later Ki 44-II. This boxing, and Sword's two Ki 44-II kits, are all quite a step up from Hasegawa's much older kit .
Recommended.
Thanks to Sword Models for this review sample.
---
Review Text & Blue Background Images Copyright © 2013 by Mark Davies
Page Created 19 February, 2013
Last updated 19 February, 2013
Back to HyperScale Main Page