Fieseler Fi 156 C Storch
Foreign Air Forces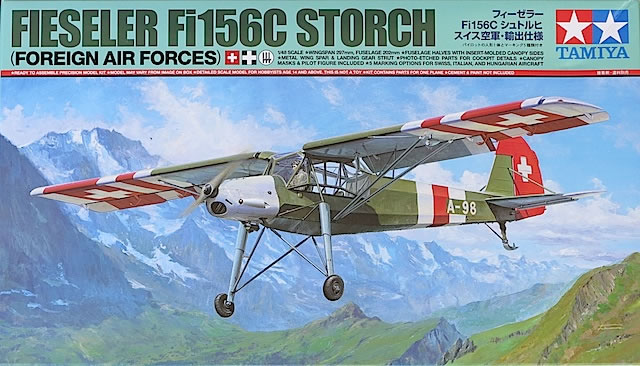 Tamiya, 1/48 scale
S u m m a r y :

Catalogue Number:

Tamiya Kit No.25158 – Fieseler Fi 156 C Storch (Foreign Air Forces)

Scale:

1/48

Contents & Media:

Approximately 143 grey plastic parts; 8 clear plastic parts; 8 poly caps; steel landing gear and wing spar; photo-etched fret; self-adhesive masking sheet; 2 decal sheets containing markings for 5 aircraft; 16 page black and white instruction booklet; black and white fold out leaflet which includes painting and marking guideAvailable on-line from: Squadron – US $66.59 Hannants – £49.99 and specialist hobby retailers worldwide.

Price:

Available on-line from:

and specialist hobby retailers worldwide

Review Type:

First Look

Advantages:

Very high quality plastic mouldings; steel wing spar and undercarriage strut will provide added strength; five interesting marking options.

Disadvantages:

Conclusions:

It is great to see Tamiya's 1/48 Storch released in a non-Luftwaffe boxing – highly recommended..

Reviewed by Brad Fallen


Tamiya's 1/48 scale Storch Foreign Air Forces is available online from Squadron.com

The Fieseler Fi 156 Storch served Germany on all fronts in World War 2, becoming in the process one of the conflict's most celebrated non-fighter aircraft. The Storch's use went well beyond the Luftwaffe: all of Germany's allies and, I think, all of its enemies also flew the type (the latter frequently as unit and personal hacks). The decentralised nature of Germany's aircraft industry saw Storchs manufactured at a number of locations across Europe, principally France but also Czechoslovakia and Romania. Construction continued in all three countries after the war ended, with the last Storch-derivative – a Morane-Saulnier Criquet – rolling of the production line in France in the mid-1960s.
Tamiya's latest boxing of its 1/48 Fieseler Fi 156 C Storch kit focuses on aircraft belonging to three of these foreign users – Switzerland, Italy and Romania.
It's nearly six years since Tamiya announced the Fi 156 would be the unexpected but fitting subject of its one-hundredth 1/48 scale aircraft kit. Tamiya's Storch was a genuine multi-media kit, containing a substantial steel wing spar and landing gear strut in addition to a modest fret of photo-etched details. The kit's most acclaimed feature was its presentation of the fuselage halves with cockpit glazing already attached, eliminating the risks associated with this otherwise fiddly assembly step. Add to this Tamiya's typically high levels of accuracy and production quality, a superb selection of Luftwaffe marking options and the inclusion of bonus figures and diorama accessories, and the Fi 156 was an almost perfect 1/48 aircraft kit.
Brett Green's original Hyperscale review of the kit can be found here.
For this 'Foreign Air Forces' boxing, Tamiya has dispensed with the dramatic portrait-style presentation of the original release and reverted to more traditional packaging, with box art of one of the Swiss marking options overflying the Alps.
The plastic parts in this release are identical to those of the 2007 kit, although the bonus accessories and figures are not included.
Moulded in Tamiya's typical mid-grey colour, the parts are of high quality with no production flaws whatsoever. Surface detail is very fine; highlights for me are the stitching on the lower fuselage insert, and the beautifully subtle control surfaces. Engine and cockpit detail is reasonably good, but if you want to add further detail there are plenty of aftermarket items available.
I haven't tested fit, but based on build reports of this kit that I have read, and my experience with other Tamiya kits, it is likely to be very good.
The clear sprue accurately reproduces the Storch's extensive canopy glazing, and includes options for aircraft with and without armament.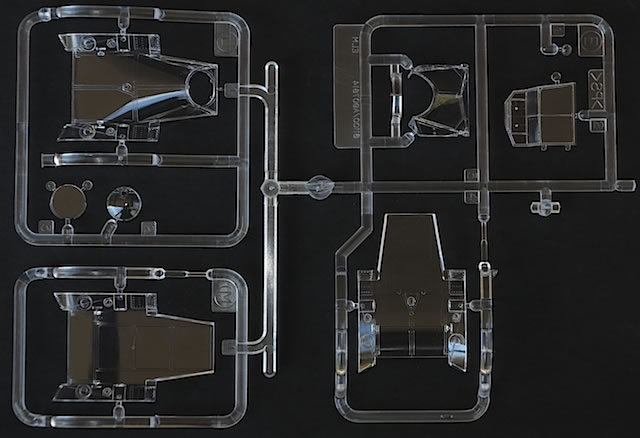 Tamiya's provision of a masking set for the canopy is most welcome, although because the set is not pre-cut modelers will need to cut out each individual section of mask. This will obviously need to be done very carefully, but the result will be worth it!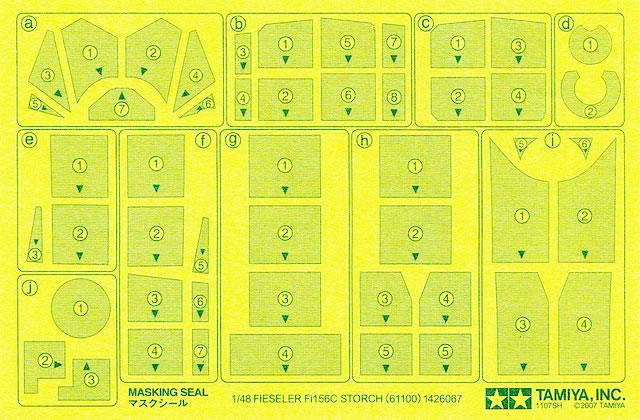 The steel parts are carefully packaged in cardboard and plastic to prevent damage. The wing spar and landing gear strut are substantial pieces of metal that will add significantly to the model's strength. Modelers interested in displaying their finished Storch in flight should note that the kit gear strut will need to be replaced by a separately available Tamiya item, or otherwise modified, to accurately reflect the 'hang' of the undercarriage in the air.
The small photo-etched fret contains four parts, all cockpit details, and given that they also appear to be made of steel – unlike the softer brass used by Eduard and others – the parts will likely require annealing over a flame before they can be successfully bent to shape.
The 16-page, black and white, slightly-smaller-than-A4 instruction booklet calls out assembly over 31 clearly illustrated steps. Each step includes colour call outs in Tamiya paint numbers, and the specific parts required for different marking options are clearly identified.
---

Markings
The real difference between this boxing and its predecessor are the marking options –there isn't a Luftwaffe Storch in sight. The Fi 156 was used by so many different air forces that Tamiya faced a real challenge in selecting which aircraft to feature. The markings that made the cut are as follows:
A-98, Swiss Air Force, Emmen Air Base, 1945. A-98 was finished in Dark Green over Light Blue, overpainted with the red and white wing and fuselage bands that were applied after September 1944. Engine cowlings were white, and the rudder was red. Tamiya provides a wrap-around decal for the fuselage stripes and codes, but expects modelers to paint the wing bands themselves. This is reasonable in my view – including these large markings as decals would make the kit more expensive, and applying them would be potentially fraught – but matching the paint colours to those of the decals could be slightly tricky. Care will also need to be taken when applying the fuselage stripes decal.

A-99, Swiss Air Force, Meiringen Air Base, November 1944 – May 1945. Even more colourful than the previous option, A-99 sported the same red-and-white bands but with the red on the wings extended to cover the flaps. The overall airframe was painted aluminium, while the engine cowlings were white. The fuselage stripes and codes are again supplied as a single large decal.

A-97, flown by Hauptmann Viktor Hug, Swiss Air Force, Meiringen Air Base/Gauli Glacier Rescue, November 1946. A-97's more subdued postwar scheme of Dark Green over Light Blue is more than made up for by the celebrity of the aircraft itself – A-97 was one of several Swiss Storchs involved in rescuing passengers from a crashed USAF C-53 Skytrooper in the Swiss Alps in November 1946.

'Red 2', Italian Air Force, Albania 1942. This aircraft was finished in RLM 70 Black Green and RLM 71 Dark Green over RLM 65 Light Blue; the white fuselage band is provided as a decal.

R.1+09, Hungarian Air Force, Southern Russia, 1942-43. This ski-equipped Storch was also finished in 70/71 over 65, although the camouflage benefits of this scheme were arguably undermined by the colourful red, white and green stripes applied to the vertical and horizontal tail surfaces, and large areas of RLM 04 Yellow under each wing tip. This yellow will need to be carefully matched with the colour of the fuselage stripe, which is provided as a decal, but Tamiya sensibly expects modelers to paint the tail stripes themselves.
The painting and marking guide is supplied as a separate fold out leaflet, and contains four-view black and white drawings of each marking scheme. Decal placement locations and paint colours are clearly identified, although the latter are only listed in Tamiya numbers.
The decals come in two sheets – a larger one containing national insignia and codes, and a smaller one containing airframe stencils, cockpit instruments, two Italian fasces for option D, and three seat belts (which I would replace with photo-etched items).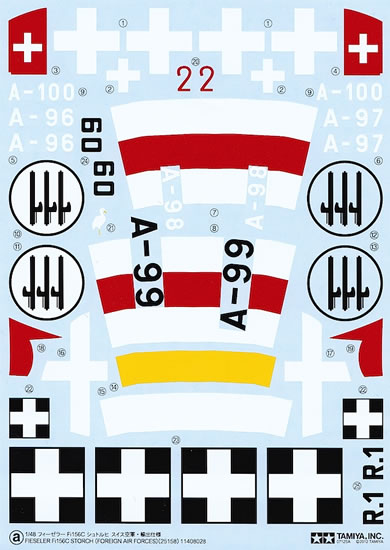 All of the decals look good, with crisp printing, minimal carrier film and what appears to be solid colour density.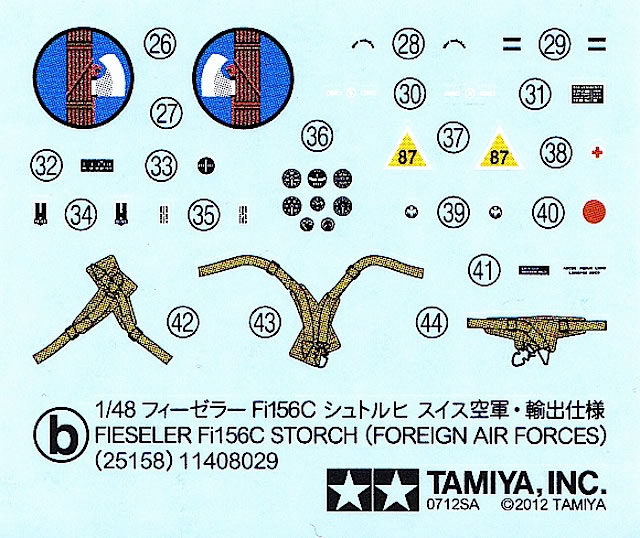 Tamiya decals often get a bad rap for their thickness – and while these do look thicker than many aftermarket decals, my own experience with Tamiya decals has been wholly positive. For example, on a recent build where I used decals from a range of sources, Tamiya's where the only ones that didn't display a tendency to silver; they were also very strong, and settled down admirably. Of course if you don't want to use the kit decals, or don't fancy any of the marking options provided, there is an enormous range of 1/48 Storch decals available that cover most if not all users of the aircraft.
It's good to see Tamiya's 1/48 Storch again, particularly with such an attractive set of marking options. Tamiya's engineers have done a fine job in making this potentially tricky modeling subject a straightforward build, and this kit is very close to the top of my 'to do' list. The greatest difficulty, I think, will be selecting a scheme in which to finish it – at the moment it's a toss-up between the red, white and aluminium Swiss aircraft, the ski-equipped Romanian version, or a very colourful blue and yellow Norwegian Storch that is featured in a Vingtor sheet that I've just dug out of the stash.
Highly recommended.
---
References
Dariusz Karnas, Fieseler Fi 156 Storch 1938-1945 (MMP, 2012).
Thanks to The Hobby Company Limited for the sample
---
Review Text Copyright © 2013 by Brad Fallen
Page Created 5 June, 2013
Last updated 5 June, 2013
Back to HyperScale Main Page
Back to Reviews Page