Yak-3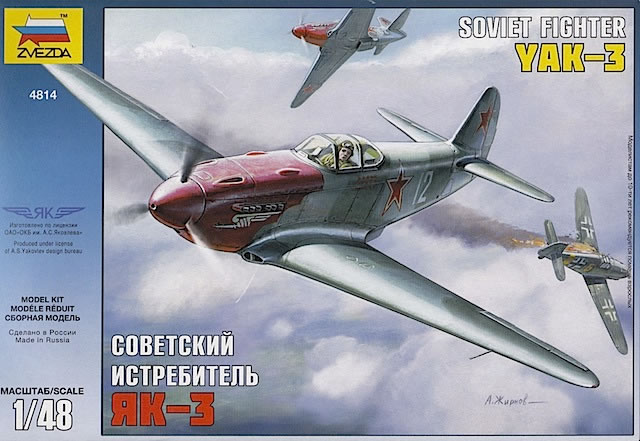 Zvezda, 1/48 scale
S u m m a r y :

Catalogue Number:

Zvezda Kit No.4814 – Yak-3

Scale:

1/48

Contents & Media:

Approximately 121 grey plastic parts; 6 clear plastic parts; 1 decal sheet containing markings for 3 aircraft; 8 page black and white A4 instruction booklet.

Price:

Available on-line from hobby retailers worldwide including:

Review Type:

First Look

Advantages:

Welcome subject; high quality plastic mouldings; appears to be accurate; strong cardboard box won't crush in transit

Disadvantages:

Sprues are packed loose inside box .

Conclusions:

A very welcome addition to the limited range of 1/48 World War 2 Soviet aircraft kits – highly recommended.

Reviewed by Brad Fallen


Zvezda's 1/48 Yak-3 is available online from Squadron.com

By the time the Yak-3 entered operational service in mid-1944, Yakovlev fighters had already made a major contribution to defending the Soviet Union.
The Yak-1, in particular, was one of the better early war Soviet fighters, but was outclassed by its Luftwaffe adversaries and suffered accordingly.
The Yak-3 prototype was developed from a Yak-1M airframe, and bore a strong family resemblance to its predecessor. Late Yak-1s and early Yak-3s were both powered by similar Klimov VK-105PF engines. However the Yak-3 was an altogether superior aircraft: lighter than the Yak-1 and with a smaller wing, it was commensurately faster and more agile. It was also better than most of its German opponents – especially at low altitudes where most aerial combat in the east occurred – and during the last ten months of the war played a key role in defeating the Luftwaffe. Slightly fewer than 5,000 Yak-3s were produced between late 1943 and early 1946.
Until now, Eduard's Yak-3 kit has been the only real option for modeling this aircraft in 1/48 scale. (While other 1/48 Yak-3 kits may exist, I haven't been able to identify any.) The Eduard kit is available in a wide variety of boxings, and is generally highly regarded – for example, see Peter Mitchell's review of a 2008 Weekend Edition release. Nonetheless the kit is one of Eduard's older efforts, dating from late 1990s, and lacks the finesse of the company's more recent kits.
Russian kit manufacturer Zvezda's announcement that it would be releasing a new tool 1/48 Yak-3 kit was therefore a pleasant surprise. Zvezda's first 1/48 aircraft release was its excellent Lavochkin LA-5FN back in 2007, which was followed two years later by an equally good LA-5. More recent and better still – arguably best in scale – is Zvezda's Messerschmitt Bf 109 F family. Now with the Yak-3 kit, Zvezda has returned its focus to the comparatively neglected field of 1/48 World War 2 Soviet aircraft.
Zvezda's 1/48 Yak-3 kit comes in a 30 x 20 cm (12 x 8 inch) box, with an illustration of Lieutenant Savely Nosov's "White 12" (kit marking option 1) and wingman flying past a burning Bf 109. The box art is actually a false lid – it lifts off to reveal a corrugated cardboard box with a hinged lid that closes tightly to create a strong little container. It looks a bit industrial, but this is a box that's unlikely to get crushed in the mail.
Less impressive is the packaging of the kit within the box. Apart from the clear sprue, none of the parts are separately bagged: along with the decals and instructions they are loose in the box, with associated potential for damage.
I have no complaints, however, about the quality of the kit itself. Reflecting the uncomplicated design of the real aircraft, the parts count is relatively low. The airframe components are provided on two box-length grey sprues, while a smaller grey sprue contains engine details and a pilot figure with optional heads (goggles on or goggles off). All of the grey plastic parts are finely moulded, with precise but restrained panel line and (where appropriate) rivet detail. Control surfaces are nicely done, with sharp trailing edges and separate ailerons. There is no flash, and the only moulding imperfection I could find was a small sink mark on the forward starboard fuselage, the result of some raised cockpit detail on the other side of the part.
As with the LA-5 and LA-5FN kits, the cockpit is assembled as a unit on top of the single-piece upper wing. The upper wing half is an impressive piece of engineering, and includes some major cockpit structures as well as fully detailed wheel wells. The only downside to the latter are some tricky-looking ejector pin marks that will be difficult to remove, but should be easier to disguise with appropriately sized styrene plugs. There are also a couple of ejector pins on the cockpit sidewalls that will need to be filled. Overall the cockpit looks well detailed and complete, although you will need to find some seatbelts. It also looks reasonably accurate, based on the limited number of original (rather than contemporary restoration) Yak-3 cockpit photos I could find on the internet. The cockpit instruments are represented by decals: these are sharply printed and if applied with care will considerably enhance the finished model.
Also in common with Zvezda's previous 1/48 kits is the inclusion of a complete and highly detailed engine. With careful assembly, painting and weathering, and perhaps the addition of a little extra plumbing, you'll end up with a lovely VK-105 engine that will really enhance your finished model. However Zvezda hasn't made the engine an obligatory part of the construction process; if you want to preserve the Yak-3's clean lines, simply omit the engine and install the three-piece forward cowling assembly instead. I like the way that Zvezda has made no compromises here: you either install the engine or you don't, and if you use the engine you don't have the option of removable cowlings. This eliminates the need to mould the engine too small – in order to fit beneath the cowlings – and the likelihood of ill-fitting parts that are designed for one option but not the other.
Equally thoughtful is the inclusion of two different rear canopy sections. One is for use with a closed canopy, and another, slightly smaller section is for use with an open canopy, allowing the sliding centre section to sit on top of the rear section without requiring either to be modified. The clear parts themselves are very thin and very clear.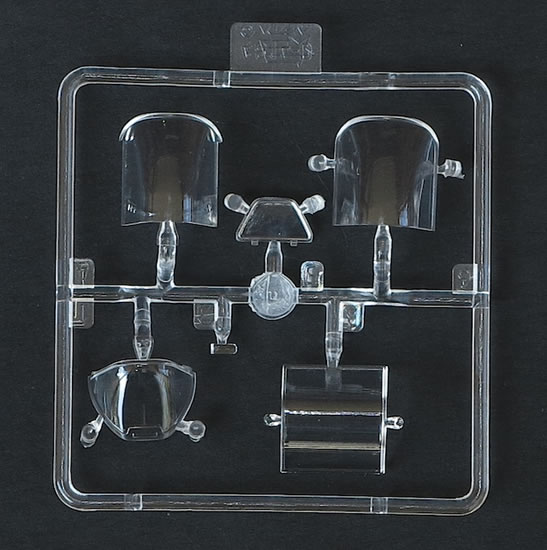 The eight-page black-and-white A4 instruction booklet includes a sprue and parts map and a well-illustrated 24-step assembly call-out. The kit can be built in three different configurations – wheels down, cowls off; wheels down, cowls on; and wheels up, cowls on – and the instructions clearly identify the parts required for each of these versions, and when they need to be used. Colour call-outs are provided at each step, although given the contention that can surround Soviet World War 2 aircraft colours you may wish to check Zvezda's suggestions against your references.
---

Markings
Zvezda provides markings for three Soviet Yak-3s from late 1944 and early 1945, all camouflaged in AMT-11 blue grey and AMT-12 dark grey over AMT-7 greyish-blue:
"White 12", flown by Lieutenant Savely Nosov, 150th FAR, 13th FAD, 3rd FAC, Austria, Spring 1945. The spinner and engine cowlings of this well-known aircraft were painted bright red.

"White 6", flown by Lieutenant Marcel Albert, 1st FAR "Normandie Niemen", 303rd FAD, Spring 1945. Operated by the best-known unit (at least in the West) to use the Yak-3, "White 6" carried a white arrow/lightning bolt on either side of the fuselage and a tricolor spinner. The latter's red, white and blue stripes are provided as separate decals, complete with cut outs for the propeller hubs. While this eliminates the need for some tricky masking and painting, for the decals to look convincing they will need to be applied with precision. I would recommend starting at the base of the spinner, and allowing each decal to dry before tackling the next colour.

"White 15", flown by Captain Semion Rogovoy, 1st Aerial Squadron, 64th Guardian Fighter Regiment, 4th Guardian Fighter Aviation Division, Second Baltic Front, Autumn 1944.
The black and white painting and marking guide is on the last page of the instruction booklet. Port profiles are provided of options 1 and 2, and a starboard profile is supplied of option 3. Generic upper and lower plan views are provided to cover all three options.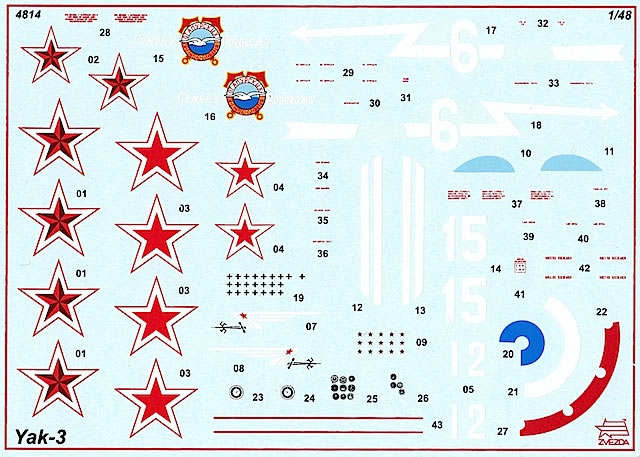 The decals look satisfactory on their backing sheet. Printing is crisp and colour registration is good, including on the complex multi-coloured insignia for option 3. However the white decals, which include the individual aircraft numbers for all three options, appear to have a slight yellowish tinge. This, and the overall very flat finish of the sheet, means I would likely test some of the decals I wasn't using before applying any of them to my model. Fortunately – thanks to the Eduard kit – there are already a number of 1/48 decal options available for the Yak-3.
Zvezda's new Yak-3 is a welcome addition to the limited ranks of 1/48 World War 2 Soviet aircraft kits. In my view it's better than Zvezda's earlier LA-5 and Bf 109 F kits – which are excellent in their own right – particularly in the quality of the plastic mouldings. It's also superior to Eduard's Yak-3, which is by no means a bad kit and has for so long been the only game in town for modelers interested in the subject. While some elements of Zvezda's Yak-3 – such as the unbagged sprues – could be improved, my overall impression is that this is a very good kit that will build into an impressive model of this iconic Soviet fighter.
Highly recommended.
Thanks to The Hobby Company Limited for the sample
---
Review Text Copyright © 2013 by Brad Fallen
Page Created 19 June, 2013
Last updated 19 June, 2013
Back to HyperScale Main Page
Back to Reviews Page