S u m m a r y :

Catalogue Number, Description and ISBN:

Kagero Publishing
Mini Top Colours 37
Last Hope of the Luftwaffe: Me 163, He 162, Me 262
by Jacek Pasieczny, Simon Schatz, and Arkadiusz Wrobel
ISBN: 978-83-62878-71-0

Contents & Media:

Soft cover, 18 pages, A4 format; 1 x waterslide decal sheets; English and Polish text

Price:

Review Type:

First Look

Advantages:

High quality illustrations and detailed explanatory captions; 1/32, 1/48 and 1/72 decals by Cartograf have been perfectly printed

Disadvantages:

The blue and white checkered fuselage band of Me 262 'Yellow 2' is not supplied as a decal

Conclusion:

Another comprehensive book and decal package from Kagero that can be highly recommended to all Luftwaffe modellers

Reviewed by Brad Fallen


HyperScale is proudly supported by Squadron

This Mini Topcolors release is devoted to the Messerschmitt Me 163, Heinkel He 162 and Messerschmitt Me 262, which as the title suggests were rushed into service in the final months of World War 2.
The variety of Luftwaffe camouflage in this period makes for inherently interesting modelling subjects, and the ten machines featured here are no exception:
Messerschmitt Me 163 B V53, W.Nr.16310062/'White 9', flown by Uffz. Kurt Schiebeler of 1./JG 400, Brandis, Germany, early August 1944. The fuselage and vertical tail surfaces of 'White 9' were RLM 76 Light Blue with a dense mottle of RLM 74 Grey Green and RLM 75 Gray Violet. Upper wing surfaces were in a splinter camouflage of either 74/75 or RLM 81 Brown Violet and RLM 82 Light Green, with RLM 76 undersurfaces. The front of the nose was probably RLM 04 Yellow.
Messerschmitt Me 163 B, 'White 10', flown by Lt. Hans-Ludwig Löscher of 1./JG 400, Brandis, Germany, late February 1945. This aircraft was camouflaged in 81/82 over 76, with a wavy mid-fuselage demarcation between the upper and lower surface colours and no mottling. It was also fitted with a DF loop antenna on the fuselage spine.
Messerschmitt Me 163 B V52, W.Nr.16310061/'Yellow 1', flown by Lt. Reinhard Opitz, Kapitän of 7./JG 400, Nordholz, Germany, April 1945. 'Yellow 1' was camouflaged in similar colours to 'White 10', but with a higher fuselage demarcation, RLM 76 tail surfaces, and significant 81/82 mottling on the fuselage sides and tail. The RLM 04 nose was divided from the fuselage colours by a black ring.
Heinkel He 162 A-1, W.Nr.310003/'Yellow 5' of 3./JG 1, Leck, Germany, May 1945. This and the following aircraft were finished in variations of 81/82 over 76.
Heinkel He 162 A-2, W.Nr. 120067/'White 4' of 1./JG 1, Leck, Germany, May 1945.
Heinkel He 162 A-2, W.Nr. 120028/'White 3' of 1./JG 1, Leck, Germany, May 1945. The fuselage undersurface and sides of 'White 3' appear to have been a 'green' shade of RLM 76, with wing undersurfaces in RLM 65 Light Blue and upper surfaces in a combination of 81/82 and RLM 70 Black Green.
Heinkel He 162 A-2, W.Nr. 120231/'White 6' of 1./JG 1, Leck, Germany, May 1945. This machine was partially unpainted, "with putty clearly visible over panel joints"; those sections that were painted were done so in a combination of 65, 76 and RLM 02 Grey.
Messerschmitt Me 262 A-2a, W.Nr.110613/'9K+DK', flown by Ofw. Hermann Wieczorek of 2./KG 51, Rheine-Hopsten, Germany, 25 February 1945. The 81/82 over 76 camouflage of '9K+DK' was overpainted with a "snaky mottle in a dark green colour, possibly RLM 83 [Dark Green]". According to the profiles supplied this overpainting has been done around and partially over the fuselage Balkenkreuz and code letter 'D', although I haven't been able to find photographs of the aircraft to confirm this.
Messerschmitt Me 262 A-1a, 'Yellow 2' of 3./KG(J) 54, Prague-Ruzyne, Czechoslovakia, May 1945. This distinctively camouflaged Me 262 was originally finished in 81/82 over 76, with the upper surfaces overpainted with bands of possibly 'green' RLM 76 and, within these, narrower possibly dark green stripes. A replacement nose section had been fitted, which was probably primed in RLM 02 (or light grey) and then overpainted with 81 and 82. A previous tactical marking had been painted out on the fuselage sides with what appears to a dark green colour, and replaced with a 'Yellow 2' on both sides.
Messerschmitt Me 262 A-1a, 'White 34' of III./EJG 2, Brunnthal, Germany, May 1945. Another Me 262 with a hodge-podge late war finish, 'White 34' appears to have been built as an A-1a/U3 reconnaissance machine, and as such finished in overall 76 with dark green squiggles and mottling on the upper surfaces. At some stage, however, the machine was retrofitted with the nose section of a fighter variant, finished as per the equivalent section of 'Yellow 2'. The A-1a/U3 camera fairings were removed, exposing areas of bare metal and puttied panel lines. Replacement wings were fitted that were a combination of bare metal with puttied panel lines and some RLM 02 panels and control surfaces. Engine panels were a mixture of colours including natural metal, 02, 76, 81 and an unidentified dark green.
Kagero's Mini Topcolors format gives these schemes plenty of opportunity to shine. Two full A4 pages are devoted to the three Me 163s and three Me 262s, with full colour port and starboard profiles and upper- and undersurface views of each aircraft. The four He 162s receive slightly less coverage, with each aircraft allocated only one page and a port and starboard profile each. I can see why Kagero has done this – the He 162 topside camouflage seems to have been mostly blocks of one or two colours – but in the interests of accuracy it would still have been preferable if upper- and undersurface views were provided.
The illustrations are excellent, combining crisp outlines and clear colour demarcations with more subtle shading and weathering. I wasn't able to find photographs of all of the subjects, but the ones I did were a good match for the drawings in the book. The illustrations are accompanied by detailed captions, in both English and Polish, which explain the key features of each aircraft.
The decals are by Cartograf and have been printed on a single sheet. They are provided in 1/72, 1/48 and 1/32 scales. Production appears to be flawless, and given the reputation of the manufacturer I expect the decals will perform well in application and look great on finished models.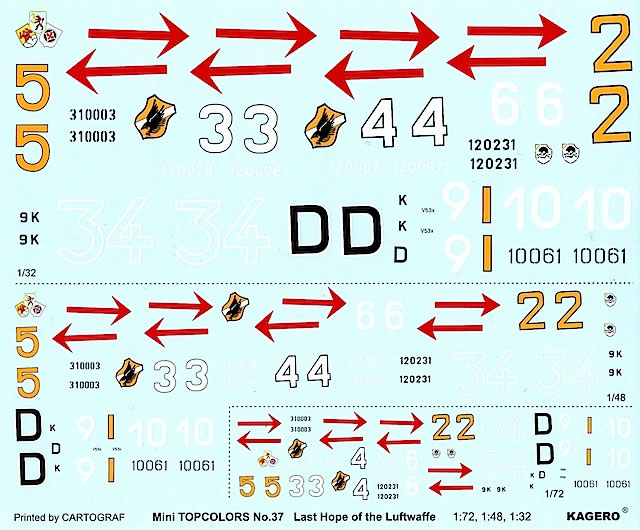 There are however a couple of points to be aware of. The first is that there are some large areas of carrier film present, particularly on the code letters and numbers, which means you will need to take care to avoid silvering. The second is that only markings specific to individual aircraft, such as codes and unit insignia, are supplied; you will need to source national markings from elsewhere. The blue and white checkered band on the rear fuselage of the Me 262 'Yellow 2' is also not present on the decal sheet, which is a shame because this will be tricky to accurately mask, especially in the smaller scales. More positively, three different styles of red arrow are provided for the noses of the He 162s.
This is another comprehensive book and decal package from Kagero that can be highly recommended to all Luftwaffe modellers. The subject choices are all interesting, particularly (to me at least) the Me 262s with their complex, hybrid paint schemes. Any of the schemes presented would look excellent reproduced in model form, and of course the high quality decals provided by Kagero make this very achievable.
Highly recommended.
Thanks to Casemate UK for the sample.
---
Review Copyright © 2014 by Brad Fallen
This Page Created on 30 July, 2014
Last updated 30 July, 2014
Back to HyperScale Main Page
Back to Reviews Page