Spitfire Mk.IXe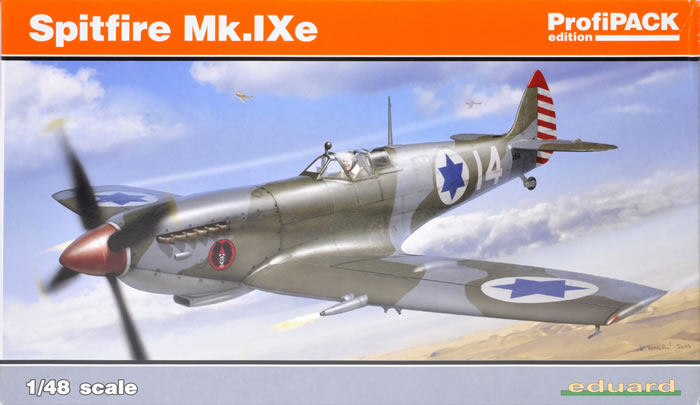 Eduard ProfiPACK, 1/48 scale
S u m m a r y

Catalogue Number:
Eduard Kit No. 8283 - Spitfire Mk.IXe
Scale:
1/48
Contents and Media:
193 parts in grey coloured plastic; 14 parts in clear; colour photo-etched fret; self-adhesive die-cut masking sheet; markings for five aircraft
Price:
Review Type:
FirstLook
Advantages:
Accurate fuselage and wing dimensions; very high level of detail; outstanding surface features including crisply recessed panels and subtle rivet lines where appropriate; includes colour photo-etched parts; useful options for alternative armament and rudders; separate parts for closed and open canopy.
Disadvantages:
Conclusion:
Eduard releases the early version Spitfire Mk.IXe as a standalone kit, and it delivers all the fantastic attributes of its late and earlyMk. IXc predecessors - accurate dimensions, impressive detail, and useful options. Highly Recommended.

Reviewed by Brett Green

Eduard's 1/48 scale Spitfire Mk.IXe is available online from Squadron.com for only UD$39.96
The Focke-Wulf Fw 190 asserted its authority as soon as it appeared over the Channel Front in September 1941. It was so clearly superior to the Spitfire Mk.V that RAF Fighter Command curtailed operations twice - from November 1941 to March 1942, and again from 13 June 1942 - due to unacceptably high losses against the Luftwaffe's "Butcher Bird".
The Rolls-Royce Merlin 60 series engines would offer the Spitfire the essential edge it needed to balance the scales against this new foe, but the high altitude Spitfire Mk.VII and the unpressurised Mk.VIII were still many months away from production.
An interim proposal was therefore made to provide a suitable solution in a more timely fashion. The Merlin 61 engine would be fitted to the existing Spitfire Mk.V airframe, matching the Fw 190s performance at medium and high altitudes. This aircraft was known as the Spitfire F.Mk.IX, Type No.361.

The resulting Spitfire retained the clean lines of the earlier Mks. I, II and V, but featured a longer and modified fuselage to accommodate the bigger engine, revised intakes, radiators and oil coolers, and a four-bladed propeller to absorb the greater power.
Although initially conceived as a stop-gap measure, the Spitfire Mk.IX and the essentially similar Mk.XVI (powered by a Packard Merlin engine) eventually became the most numerous of all Spitfire variants with more than 7,000 delivered to the RAF, the VVS and other Allied air forces.
The initial production version of the Spitfire Mk.IXc could be distinguished by a small carburettor intake below and behind the nose, elevators with diagonal mass balances and wide blisters on top of the wings covering both cannon bays.
Typical external characteristics of the later Spitfire Mk.IXc included narrow wing blisters over the inboard cannon bay only, new kinked mass balances on the elevators and a wider, longer carburettor intake. Some Mk.IXcs were also fitted with the tall pointed rudder from the Mks.VII and VIII.
The Mk.IXe featured a strengthened wing and revised armament. The four .303 machine guns were replaced with two .50 cal heavy machine guns and the two 20mm cannon were standardised in the outboard bays. The Spitfire Mk.IXe enetered service in late 1944 and continued well into the post-war period with the RAF and foreign air forces.
---
The Spitfire Mk.IX in 1/48 scale
The search for the ideal 1/48 scale Spitfire Mk.VIII / IX / XVI has been something akin to the quest for the Holy Grail. Every time modellers get a whiff, that potentially perfect Spitfire rapidly recedes into the mist.
Back in the 1990s, hopes were high for the Ocidental offering, but that kit had some serious dimensional and cross-section problems. The ICM 1/48 scale Spitfire IX was more accurate, but early pressings were plagued with moulding flaws and the fuselage was skinny. Over-engineering also made this kit a challenge to build.
Released in 2001, Hasegawa's 1/48 scale Spitfires were well detailed, but the whole family was blighted with a noticeably short fuselage and related detail issues.
It was Airfix's turn in 2007, but their Mk.IXc suffered from a long list of shortcomings. The wing, rudder and horizontal tailplanes were very thick, and the dropped flaps were an unnecessary gimmick. The shape of the propeller blades was poor, as were the blobby exhausts and the slab-like cannon bulges on top of the wings. Canopy parts were far too thick for this day and age as well.
It seemed that this great aviation icon was cursed.
Eduard, however, came to the rescue in April 2013 with a magnificent kit of the late version Spitfire Mk.IX. This kit had it all - a high level of detail, excellent fit, lots of useful options and it was very accurate.
Eduard followed up with a Royal Edition boxing that included parts for early version Mk.IXc, late version Mk.IXc and Mk.IXe as well as additional resin detail parts, extra photo-etched frets and bonus items.
Eduard has now released the Mk.IXe Early Version as a standalone kit in its ProfiPACK series.
The ProfiPACK series offers an affordable price for one complete kti, and will be welcomed by Spitfire fans everywhere.
Eduard's 1/48 scale Spitfire Mk.IXe comprises 193 parts in grey coloured plastic, 14 parts in clear, colour photo-etched fret, self-adhesive die-cut masking sheet and markings for five aircraft
The primary difference between this kit and the Late Version release from last year is the inclusion of an insert-free "e" wing.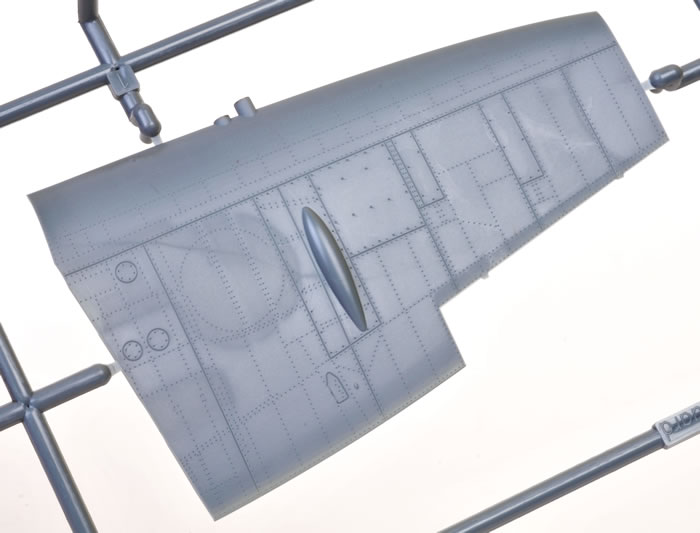 The outboard narrow gun bulges are moulded direct to the top wing halves, and the appropriate shell ejector ports are similarly moulded in place on the bottom of the wings.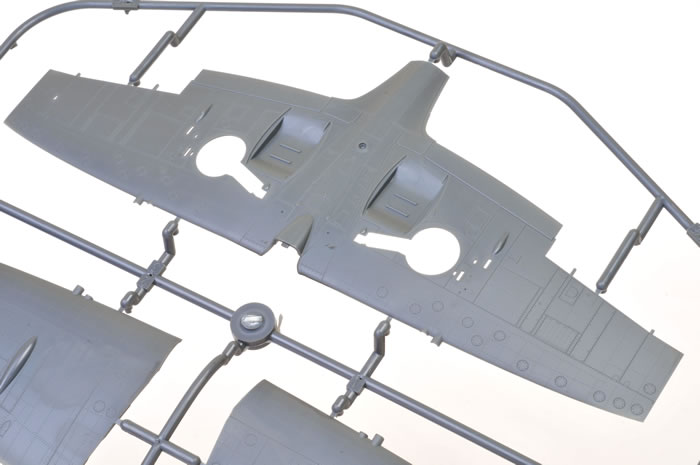 A slightly revised colour photo-etched fret is included too.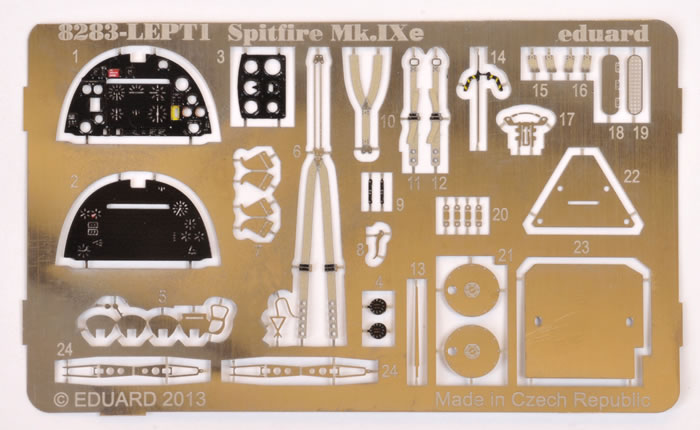 Options applicable to this version are bombs and either pointed or rounded rudder. A blank for the cannon fairing is also supplied for the Danish marking option.
The kit is otherwise the same as the Spitfire Mk.IXc Late Version. For a detailed review of this kit and images of all the parts, just follow this link.
---
Markings
New markings are supplied for five aircraft:
Spitfire LF Mk.IXe, 101st Tayeset, Hatzor Air Base, January, 1949

Spitfire LF Mk.IXe, RK856, Flown by Maj. Cecil Golding, CO of No. 3 Squadron SAAF, Italy, 1945

Spitfire Mk.IXe, 107th Tayeset, Ramat David Air Bases, 1954

Spitfire LF Mk.IXe, SM147, No. 73 Squadron RAF, Prkos Air Field, Yugoslavia, April / May, 1945

Spitfire HF Mk.IXe, RK889, 5. Eskadrille, Danish Royal Air Force, Karup Air Base, Late 40's, Early 50's
Everything is in register on the Cartograf-printed sheet and colours look good.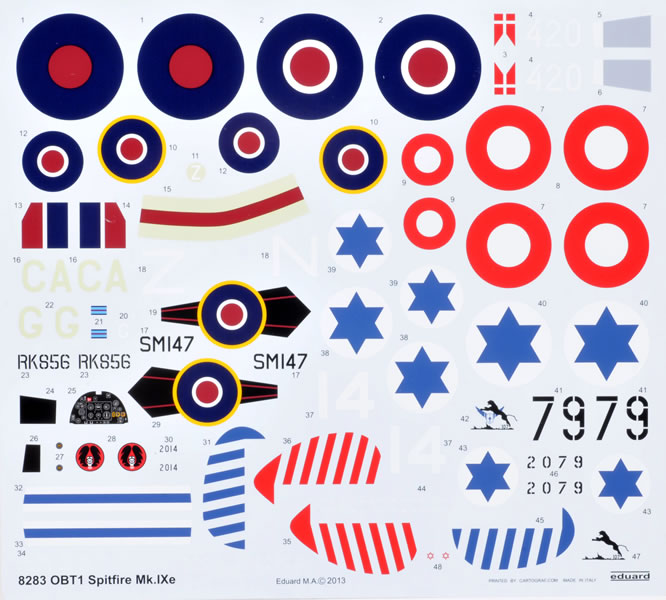 A second decal sheet supplies stencil markings.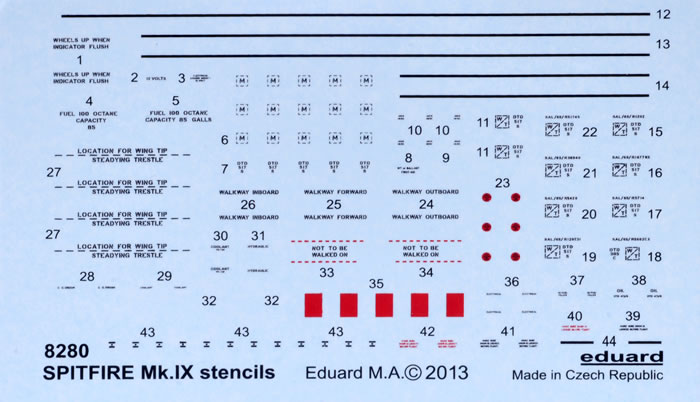 Eduard has now released the Spitfire Mk.IXe as a standalone kit, and it delivers all the fantastic attributes of its Mk.IXc predecessors - accurate dimension, impressive detail, and useful options.
Will we see bubbletop versions of the Mk.IX and Mk.XVI from Eduard?
I do hope so!
Highly Recommended.
Thanks to Eduard for the sample
---
Review Text Copyright © 2014 by Brett Green
Page Created 19 March, 2014
Last updated 19 March, 2014
Back to HyperScale Main Page
Back to Reviews Page