Revell's 1/144 scale
Tupolev Tu-95 Bear D
and an Alclad experiment
by Roger Hardy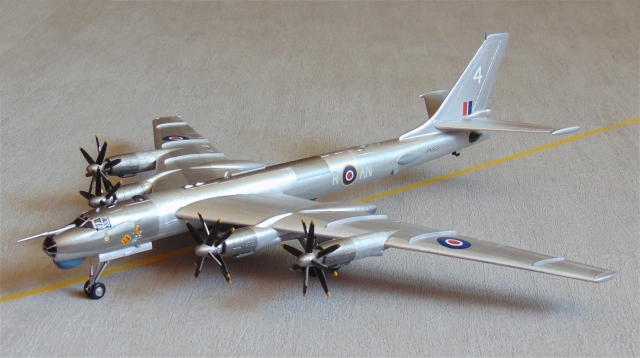 Tupolev Tu-95 Bear D

Eduard's 1/48 scale Nieuport Ni-17 Weekend Edition
is available online from Squadron for only $17.96
S u m m a r y

Catalogue Number:
Revell Kit No. 04673 - Tupolev Tu-95 Bear D
Scale:
1/144
Contents and Media:
75 pale grey and clear plastic parts; markings for two aircraft
Price:

16.99€ from my local model shop in Cologne in 2011 .

Review Type:
Build Review
Advantages:
Crisply engraved surface features; easy assembly, good fit. Low price compared to Trumpeter.
Disadvantages:
None really apart from a little flash.
Conclusion:
An impressive model.
Brief Background
The Tupolev Tu-95 first flew in 1952 and entered service in 1956 as a strategic bomber and now carries out maritime and surveillance roles. For full details, see http://en.wikipedia.org/wiki/Tupolev_Tu-95. It is unique in being a swept-wing propeller-powered aircraft and was the fastest propeller-powered aircraft in the world at 510 knots, 575 mph. It is powered by 4 Kuznetsov 12,000 HP (yes, 12,000 HP…each…!) turboprops driving counter-rotating propellers to get the power out. These propellers have sonic tips and the Tu-95 has the distinction of being the noisiest aircraft ever built. It is expected to remain in service until 2040.
---
An Alternative History
During development, one of the Tupolev test pilots flew one of the development aircraft westwards at high altitude. He left Soviet airspace and headed for the UK, evading the Russian interceptors by virtue of its high speed. He was eventually intercepted by two US Sabres based in the UK and forced to land at RAF Waddington in Lincolnshire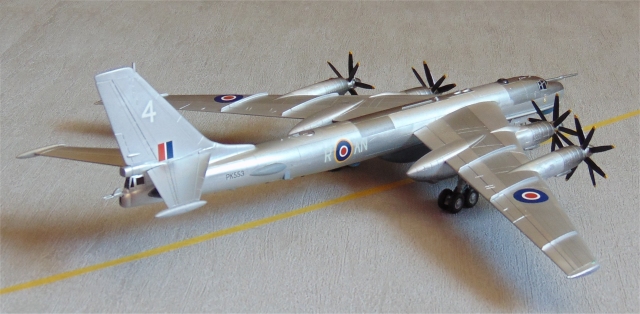 The RAF was very happy to evaluate the Russian aircraft and engineers from the Royal Aircraft Establishment were sent to Waddington for the assessmentt. They considered moving it to Farnborough but decided that, from the security point of view, it was better operated from the relatively unpopulated rural area surrounding the Lincolnshire base. It was repainted in RAF markings and polished up nicely for maximum performance. However, soon people from a radius of 10 miles started complaining about the demonic noise emanating from the air base whenever the aircraft was operated. Matters came to a head when seven local residents were diagnosed with severe high tone deafness and a flock of sheep had panicked, 64 being found dead the next morning. The local MP began asking questions in Parliament. The evaluation was almost complete and it was decided to offer the aircraft to the Americans who accepted with enthusiasm; it was flown there in a special air corridor, non-stop, overnight. It was based at Edwards AFB for two years and eventually scrapped.
I was going through my father's old photo collection and came across a grainy photo of this aircraft, the only one ever to have survived the subsequent security clampdown.
Okay, now for the more serious stuff!
This kit is stamped under the wing 'Revell MM 1992' but the example I had was issued in 2011 by Revell of Germany. However, it is clearly a product of the people at Monogram (bought by Revell around 1990) as the whole kit design follows Monogram practice. I don't think that Monogram ever issued this kit, however.
It has engraved detail and some will think it's a bit too heavy but it's fine for me. The assembly was completely straight-forward with no problems.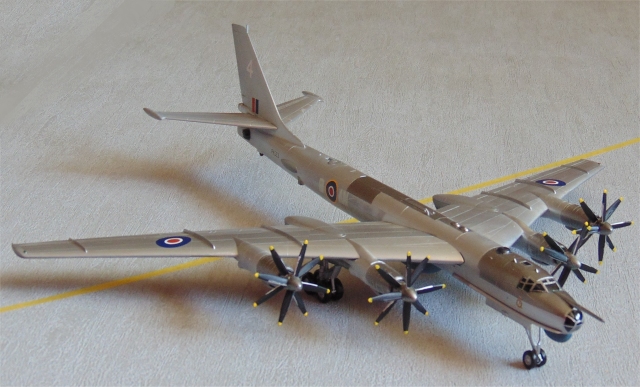 The Tu-95 is not an aircraft that I am particularly interested in and not to a scale that I build but it was in my stash so I treated it as a simple canvas for experimenting with Alclad metallic finishes. It has clear transparencies but no internal detail; I painted the transparencies black on the inside so that they are nice and shiny on the outside; this looked good.
I didn't take this one too seriously and didn't like the Soviet stars so decided to put RAF markings on it; they came from an Airfix Spitfire 22, I think, with some nose art from the Revell Halifax.
Paint was applied with my Testor Aztek A470 airbrush.
I wanted to experiment with how the surface finish of the primer affects the final finish using the Alclad highly polished paints, 'polished aluminium' and 'chrome'. Alclad advise painting the primer gloss black so my experiment was to prime the whole aircraft, then paint certain panels gloss black, then spray the entire model the same colour Alclad to see what the effect was on the different panels without having to do additional masking on the metallic finish. I wanted to do this as a precursor to making the Alley cat 1/32 Hawker Fury with a polished nose. Well, did it work? In a word, no.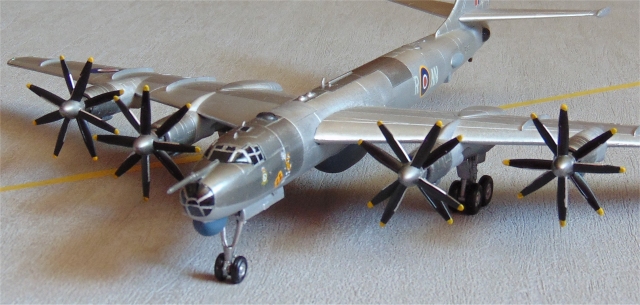 Why? I'm not sure, really, but the black-painted panels remained too dark and didn't look like 'polished aluminium' at all…ie, not polished but rather matt. Over the remainder of the airframe I sprayed the same colour but could never bring the paint over the black parts up to a reasonable tone; it always looked too dark, regardless of the number of coats. Incidentally, one of the problems with the highly polished colours is the difficulty of masking but this only applies over the parts that have gloss black underneath; I managed to mask the rest successfully to add some Coroguard panels to the upper wings.
I was troubled to see some wrinkling under the silver and can only assume that the primer hadn't fully dried before the silver was applied, so maybe it was my fault. I then decided to carry out another experiment as follows:
Take a piece of .02 plastic card and spray gloss grey primer.

When dry, spray gloss black over half.

Spray one strip (across gloss black to gloss primer) Alclad 'polished aluminium'.

Spray another strip Alclad 'chrome'.
NB spraying must be numerous light coats, giving a few minutes drying time for each one.
The results were interesting:
The black was still too dark and prominent under each colour.

The 'polished aluminium' remained matt and looks nothing like polished aluminium, even though I've had good results with it before.

The 'chrome' looks wonderful, just like polished aluminium, even if the coats are a little too heavy.

There is a distinct difference in final metallic colour depending on the primer colour, regardless of the number of coats.
So, chrome over gloss grey primer was the effect I wanted to achieve for the Fury and I can tackle that with more confidence.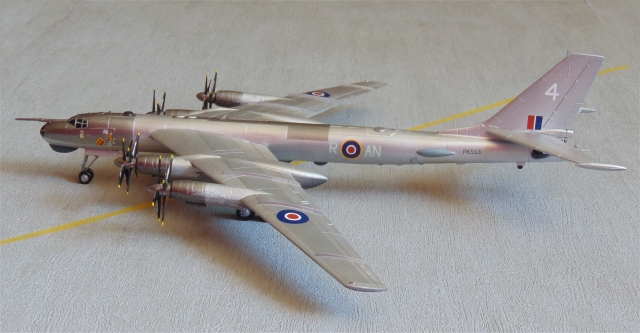 As for the Tupolev, it remains a conversation piece!
---
Model, Images and Text Copyright © 2015 by Roger Hardy
Page Created 16 February, 2015
Last Updated 16 February, 2015
Back to HyperScale Main Page