F-104 Starfighter
Improvement & Completion Set
DACO Products, 1/48 scale
S u m m a r y :

Catalogue Number, Description and Price:

DACO ProductsItem No. DCC4802 - F-104 Starfighter Improvement and Completion Set

Scale:

1/48

Contents & Media

289 parts in injection moulded grey plastic; 45 parts in clear; 45 parts in clear orange; 45 parts in clear red; 45 parts in clear blue; decal sheet (stencil markings for ordnance.

Review Type:

FirstLook

Price / Package Options:

F-104 Full Set DCC4802 - 49,75 Euro

Special offer for HyperScale visitors for one week only 45,00 Euro - please follow this link

or

Sprue A complete DCC4802sprA - 12,50 Euro

Sprue B complete DCC4802sprB - 15,00 Euro

Sprue C complete DCC4802sprC - 10,00 Euro

Sprue D complete DCC4802sprD - 12,50 Euro

Sprue E complete DCC4802sprE 15,00 Euro

Sprue E top part DCC4802sprE (Sparrow, Aspide & three Nuclear bombs) - 10,00 Euro

Sprue F complete DCC4802sprF - 12,50 Euro

Set decals DCC4802 decals - 7,50 Euro

Advantages:

High quality injection moulded parts; improvement over Hasegawa kit parts; many options not available in base kit including virtually every combination of pylons and stores used by Germany and other operators of the F-104G; handy accessories and detailing parts included; mix-and-match packages available; a goldmine for the spares box!

Disadvantages:

Painting guide would have been helpful.

Conclusions:

A fantastic upgrade for the ultimate F-104G or S in 1/48 scale. Highly Recommended to Starfighter fans.
Reviewed by Brett Green

HyperScale is proudly supported by
Squadron.com
DACO Products has released an ambitious improvement and completion set for Hasegawa's 1/48 scale F-104 Starfighter kits.
The Hasegawa Starfighter has overdone rivet detail on the wings and tailplanes. On the real aircraft, these areas are carefully filled and sanded for a smooth surface, The wings are also 2mm too short chordwise, while the stabilisers are 2mm too short in span. Furthermore, Hasegawa is typically stingy with the supply of ordnance.
DACO Products has addressed all of these issues and much more to deliver a remarkable super-detailing, accessory and conversion set.
The stout cardboard box is jam-packed with all the parts to accurise and update the equipment for any F-104 variant, plus conversion parts for an Italian F-104S.
The full set comprises 289 parts in injection moulded grey plastic; 45 parts in clear; 45 parts in clear orange; 45 parts in clear red; 45 parts in clear blue; and two decal sheet for cockpit details and ordnance.
The plastic is injection moulded and very high quality - at least the equal to Hasegawa. Surface details are wrought with very fine, crisply recessed lines, vents, moulded mesh and raised features where appropriate.
The sprues are packed in pairs. Each pair of sprues is locked together with locating pins at the corners to prevent scuffing, then sealed in a plastic bag.
The most obvious replacement parts are the new smooth and resized wings and stabilisers. The wings also feature separate ailerons, flaps and leading edge slats. The lower wing halves are moulded with indentations to be drilled our for addiditional pylons.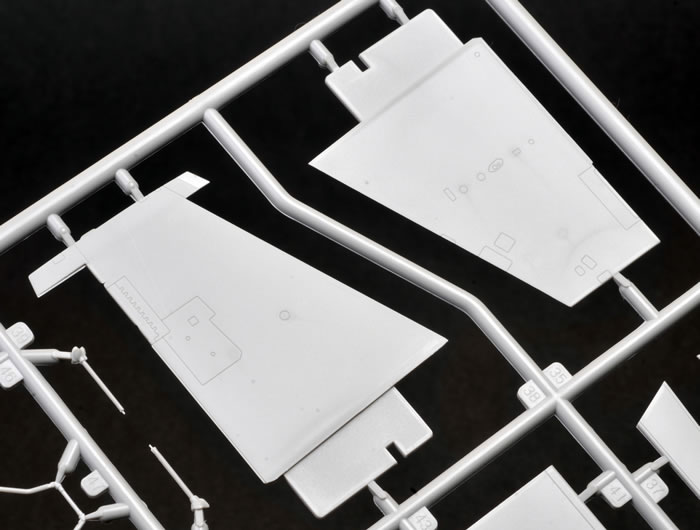 In addition to the wings themselves, DACO supplies a jig to ensure perfect anhedral and alignment of the pylons. Very handy!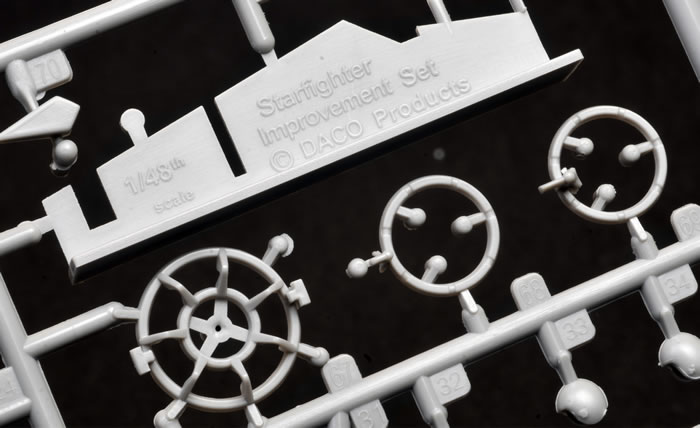 Two well-detailed backs, rails and pull handles for Martin Baker GQ-7A and 1Q-7A seats are designed to be used with the kit's lower seat parts. Only one of each type is included though, so you'll have to source an additional sprue if you want to build a two-seater variant.
Internal canopy framing / de-fogging tubing is also supplied in both early and later styles.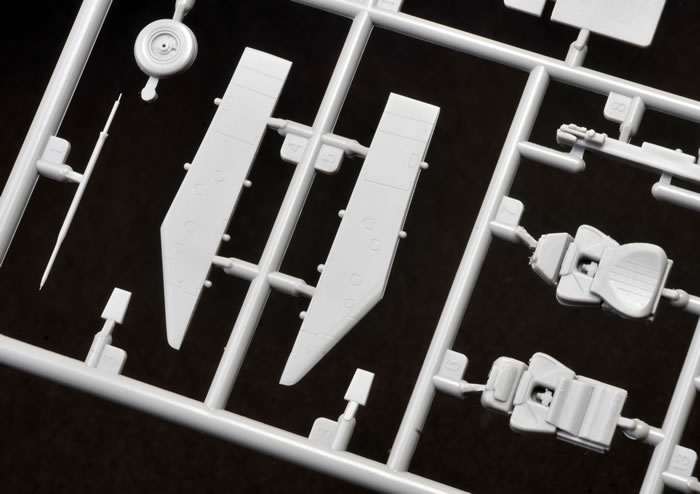 Afterburner flameholders and ignitors plus a new J79-MTU-J1K exhaust (including plastic nozzle petals) provide a lot more detail than the kit parts.
New main undercarriage doors have smoother bulges than the kit parts.
An all-new fuselage equipment bay is offered with two upper fuselage hatches (including nice interior structural detail), once again with alternative parts for either the F-104G and F-104S. Decals are supplied for this area too.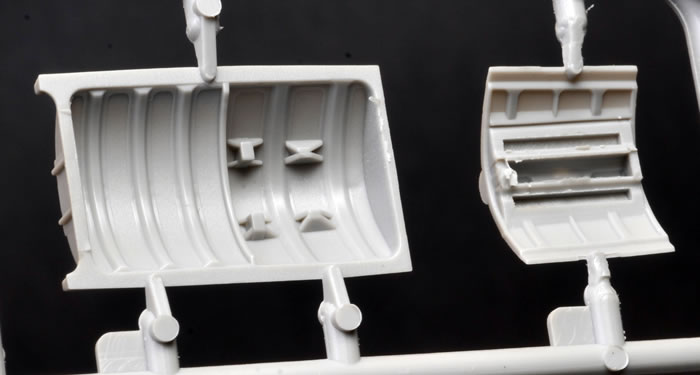 A freestanding boarding ladder is included, as are five different helmets for Canada (early), Germany (early), Italy (late) and HGU-2 (four different variations). Each helmet comes with an oxygen mask and hose, and alternate parts are supplied for "up" or "down" visors.
A nosewheel tow bar is another thoughtful inclusion (and potential diorama accessory).
A number of parts are destined for the F-104S airframe conversion.
However, the largest number of pieces are for the various stores and their mounts. A very wide selection is offered. These include:
Vicon recce pods for Canada/Spain;

Orpheous recce pods for The Netherlands and Italy;

Different practice bomb dispensers for Germany, Canada, Netherlands and Belgium;

Secapem CTB-25 Cable Reeling Container;

LAU-32/-59 and 3/A Rocket Pods;

AIM-9B, AIM-9J/N, AIM-9L Sidewinder Missiles;

AIM-7E Sparrow, Aspide Mk.1, AS.30 and Kormoran missiles;

B43, B57 and B61 Nuclear Bombs;

Twin Store Carrier;

Travel Pod (former Napalm bomb container);

Chaff and Flare Dispensers;

Wing tip tank fins and new wing pylon tanks.
The four clear sprues are identical except for the tinting - one is completely clear while the others are clear blue, clear red and clear yellow.
The two decal sheets are perfectly printed.


Instructions are supplied on a well illustrated 16 page black and white booklet. In addition to being as assembly guide, this booklet includes a number of really helpful side view images that identify the unique attributes of the F-104G in different countries' service.
If you don't think you need the entire set, DACO offers individual sprues for sale via their website too.
The notes in the instructions suggest that developing this set got a little out of hand, but the result is very impressive and most certainly comprehensive.
With all the parts supplied in injection moulded plastic, preparation and assembly will be much easier than an equivalent resin update.
If you are a Starfighter diehard, you'll just love this set. There are plenty of parts for multiple projects, and many of the leftover elements will be welcome additions to the NATO spares box.
Congratulations to DACO Products for their vision and commitment to brings this set to the market.
Highly Recommended.
Thanks to DACO Products for the review samples.
---
Review Text and Images Copyright © 2015 by Brett Green
Page Created 21 April, 2015
Last updated 23 April, 2015
Back to HyperScale Main Page
Back to Reviews Page