Focke-Wulf Fw 190 F-8 "Schlachter"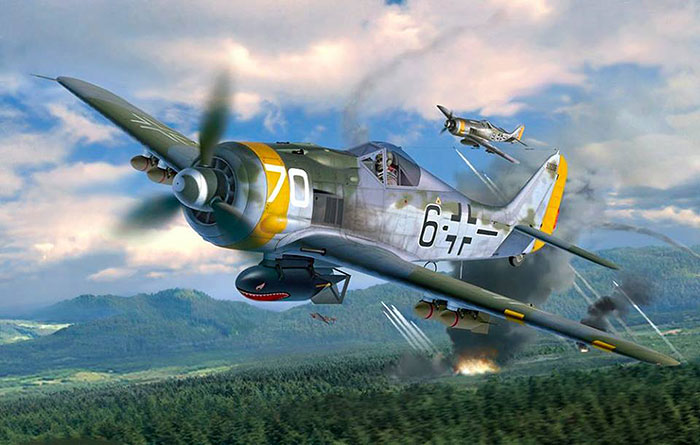 Revell, 1/32 scale
S u m m a r y

Item No.
Revell Kit No. 04869 - Focke-Wulf Fw 190 F-8 "Schlachter"
Contents and Media:
201 parts in grey plastic; 12 clear styrene parts; markings for two aircraft
Scale
1/32
Price:
Available for Pre-Order from Hannants for GBP 36.99 GBP 30.83 Export)
Review Type:
Test Shot Preview
Advantages:
Brand-new kit; good level of detail including full engine; crisply recessed panel line detail; subtle fabric surfaces; separate control surfaces; useful options (although some not mentioned in instructions) including flat/blown, open/closed canopies.
Disadvantages:
A few sink marks.
Recommendation:

Revell has delivered another bargain large-scale classic with their 1:32 scale Focke-Wulf Fw 190 F-8. This looks like a very well-detailed kit of an extremely popular subject.
Reviewed by Brett Green

HyperScale is proudly supported by Squadron.com
The Focke-Wulf Fw 190 F series was the dedicated ground attack version of the versatile Wurger family.
The Focke-Wulf Fw 190 F-8 was based on the A-8 fighter, but with additional armour built into the airframe and provision for a wide range of additional stores on the wings and fuselage centreline. The extra armour was not externally visible, so the best visual cue to distinguish an F-8 from an A-8 is the absence of wing guns. Note, however, that the bulge above the wing gun position was sometimes still installed on the F-8.
The cockpit was also similar to the fighter, but the F-8 was fitted with a rectangular panel below the instrument panel with bomb arming switches and associated equipment.
---
The Focke-Wulf Fw 190 F-8 in 1:32 scale
Hasegawa released their first 1:32 scale Focke-Wulf Fw 190 kit in the 1970s. The original boxing claimed that it could be built as an A-5/U3, A-7/R3, A-8/R3 or a G-3. It probably best represented an A-8. The kit was good for its time, featuring petite raised panel lines and none of the gimmicky working parts sometimes seen on other large-scale kits of the same era.
This kit was also re-boxed by Frog in the 1970s and by Revell in the early 2000s.
Detail was basic, as you would expect, but this was the best 1:32 scale Wurger until Hasegawa trumped its own hand in 2003 with a brand new 1:32 scale Focke-Wulf Fw 190 A-8.
This was an excellent kit, with crisply recessed panel lines and a high degree of accuracy. Hasegawa followed up in 2004 with an equally good Focke-Wulf Fw 190 A-5 and in 2005 with an F-8.
The biggest shortcomings of these kits are that they are hard to find and expensive when they do surface from time to time.
After more than a decade since the last 1:32 scale Wurger tooling, Revell has now delivered an all-new Focke-Wulf Fw 190 F-8.
I recently received a full set of test shot sprues.
The kit comprises 201 parts in medium grey plastic and 12 parts in clear. Markings will be supplied for two aircraft, Black 2 and Black 6, both attached to St.SG.10 based in Czechoslovakia during 1945.
Although labelled as an F-8, you could also build this as a G-8 long-distance ground attack version pretty much straight from the box.
The kit features crisply engraved panel lines with some limited recessed rivet detail. Texture on control surfaces comprises very fine raised lines. I like this low-key approach.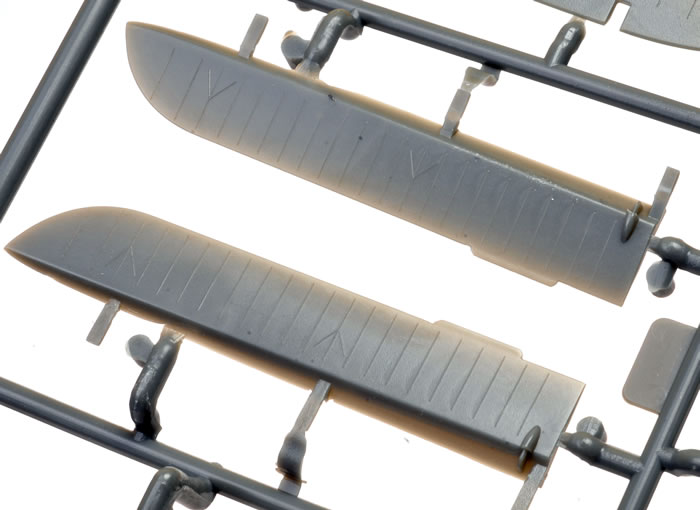 The cooling vents on the fuselage sides are moulded open.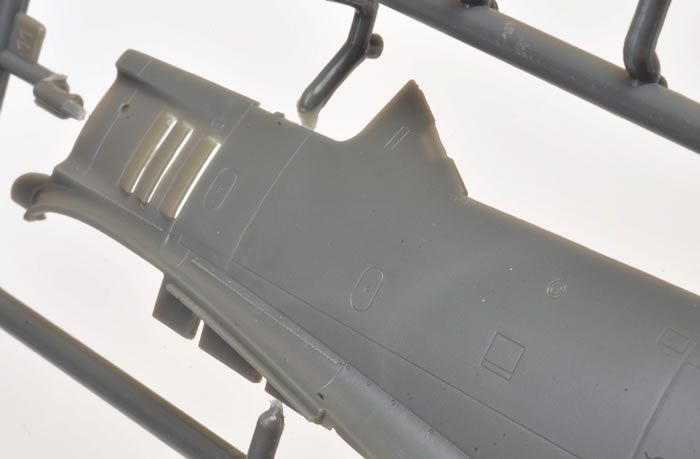 Cockpit detail looks adequate for this scale, with simple raised bezels and blank dials on the instrument panel. A separate seat cushion is supplied, as are decal harness straps. However, some modellers will undoubtedly want to enhance the front office.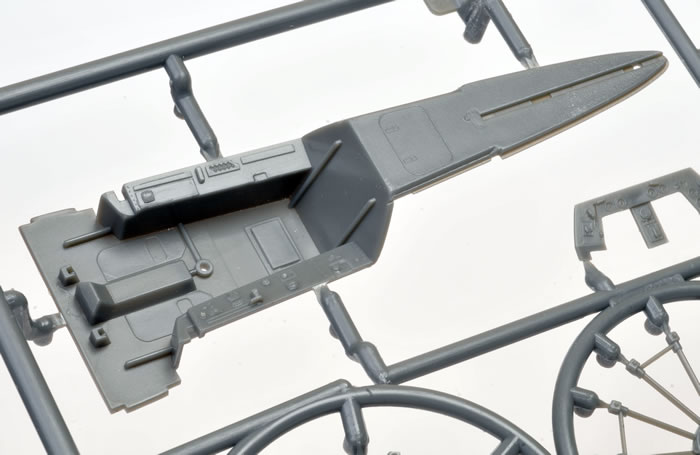 Full engine detail is supplied including push rods, manifolds, cooling fan and exhausts. Despite its completeness, the engine is broken down relatively simply with around 16 parts in total.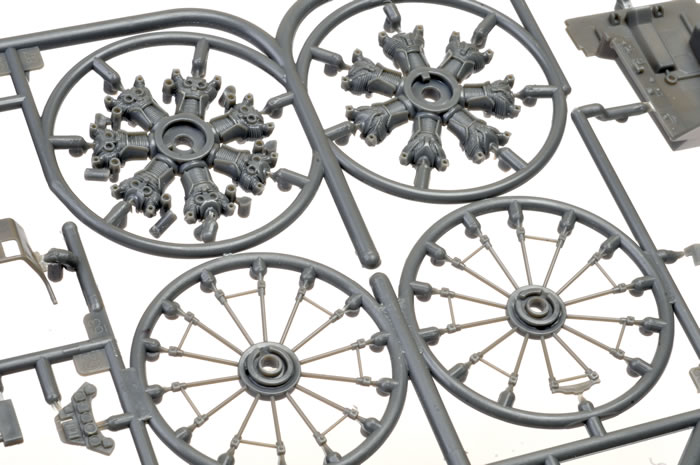 Cowl guns with ammo feeds and chutes are provided too. The engine cowls and the cowl deck cover are all separate parts.
There have been some comments about the carburettor bulges on the sides of the nose. To my eye, the shape looks okay. After a quick browse through reference photos, it would seem that there is quite some variation between individual aircraft, with some showing a sharp demarcation between the bulge and the panel, while others show a softer, blended pressing. If your subject is blended, a swipe of putty at the base of the bulge should do the trick.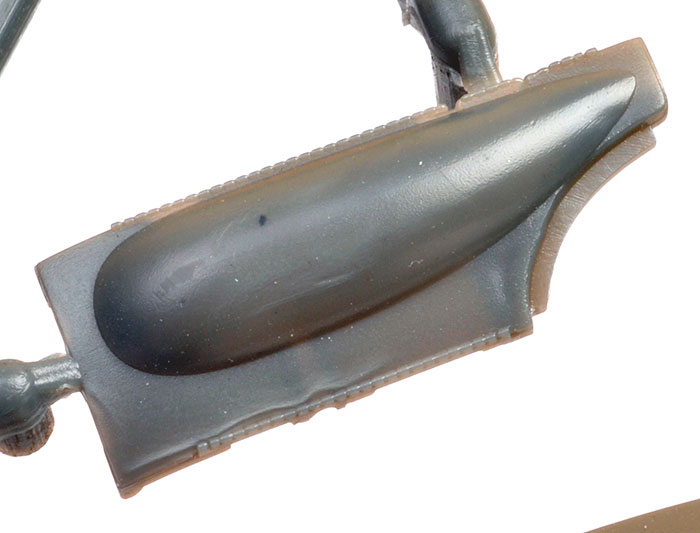 Mercifully, the wing root cannon bay is moulded closed.
The propeller represents the metal VDM 9-12067 A, which was commonly fitted to F-8s.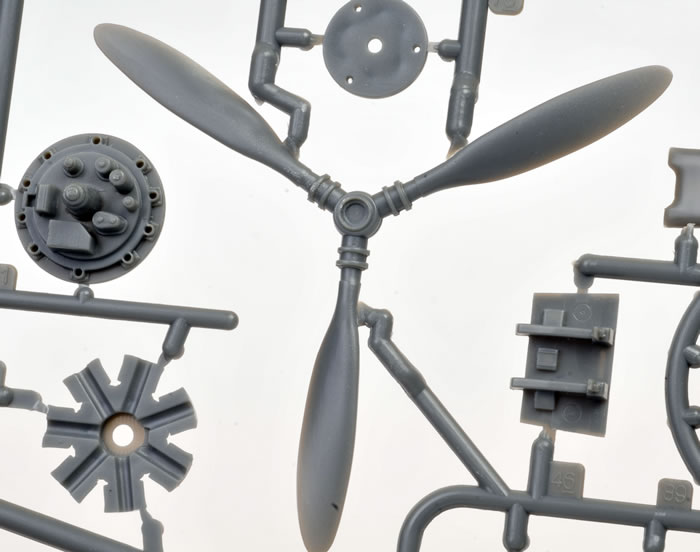 The backs of my propeller blades suffer from a shallow sink mark, but this may not be the case on the production kit.
The kit wheel bays will be glued to a stout wing spar incorporating the engine bay firewall, ensuring the correct dihedral. The characteristic dimples in the top of the wheel wells look good.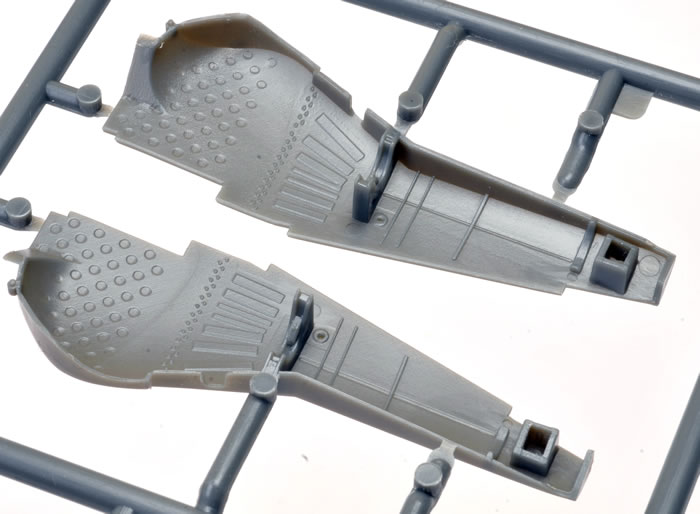 The wing is moulded specifically as an F-8 without the outer gun positions and ejection chutes. However, there is a faintly raised rectangle around the lower wing gun panel, suggesting that there might be tooling provision for an alternative wing in the future. Maybe an A-8 on the way?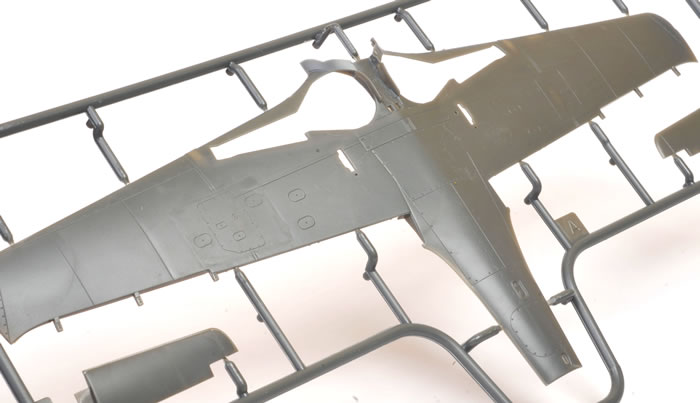 All control surfaces, including flaps, are supplied as separate parts and may be posed to taste.
Four versions of the clear sliding canopy are included. These are the early flat canopy (open and closed), and the final blown version (open and closed). The open version of each canopy is slightly pinched in at the lower front corners to accurately represent the inward flexing of the real canopy when it slid back along its rails.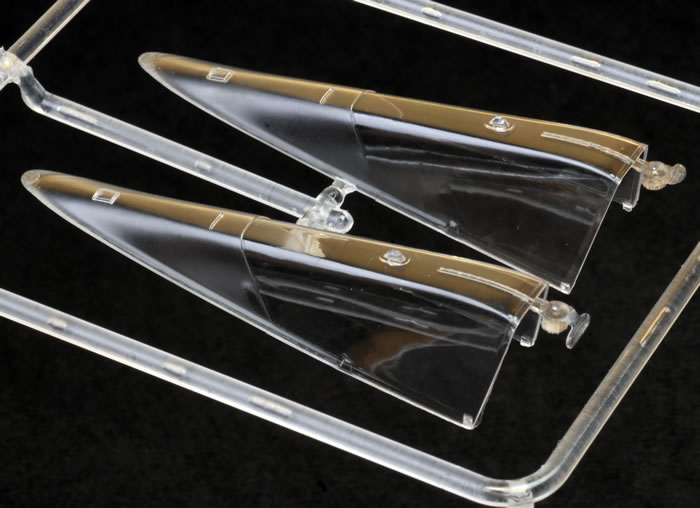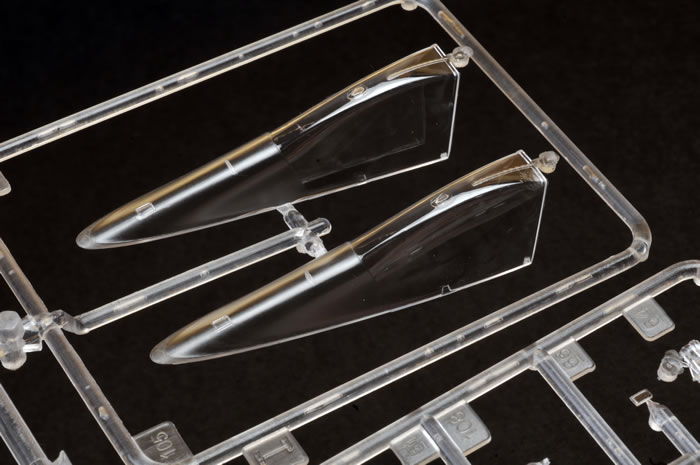 Other options include different parts for raised or lowered undercarriage, pilot's step, upper wing gun covers (not mentioned in the instructions but check your references as some F-8s were actually fitted with these fairings), ribbed or smooth tyres, blanked-off cowl gun cover (handy if you want to build a G-8), and a number of alternative gun barrels that are not applicable to this version.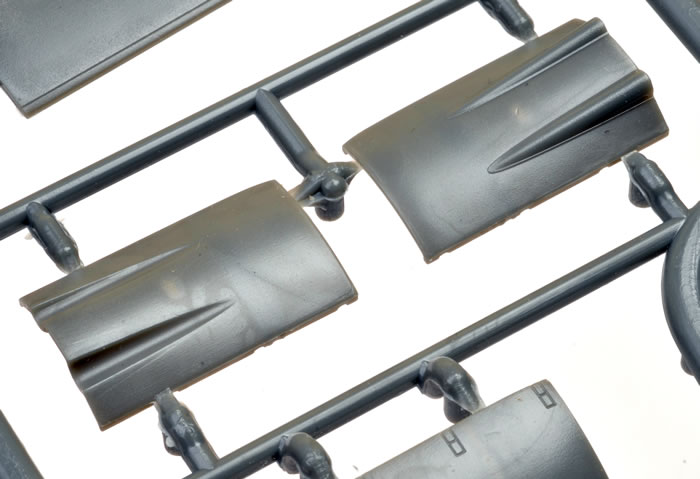 A wide selection of ordnance is included - one SC500 bomb, two SC250 bombs, four SC100 bombs, and three 300 litre drop tanks.
The package is rounded out - literally - with a large stand and circular base. This may be built to allow the model to swivel and tilt - just what you need for those desktop dogfights!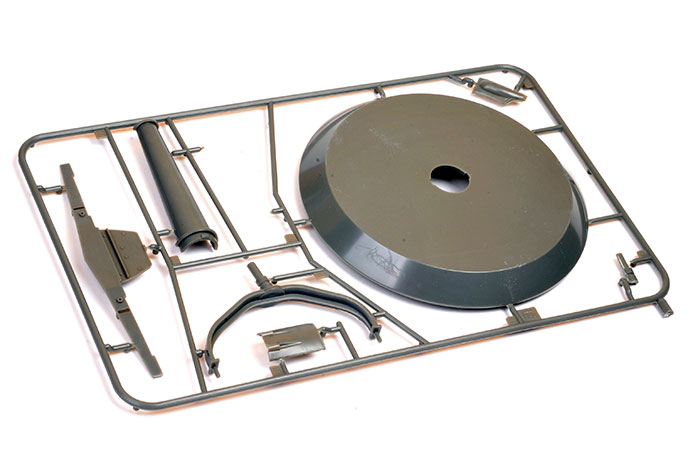 The shape of the overall airframe looks very good. I am sure that we will see a discussion about the profiles and contours of specific details over the coming months.
Revell has delivered another bargain large-scale classic with their 1:32 scale Focke-Wulf Fw 190 F-8.
The final proof will be in the building, but this looks like a very well-detailed kit of an extremely popular subject.
I can't wait to start snipping parts off the sprues!
Revell model kits are available from all good toy and model retailers. For details visit www.revell.de/en, @RevellGermany or facebook.com/Revell
---
Review Text and Images Copyright © 2015 by Brett Green
Page Created 24 February, 2015
Last updated 25 February, 2015
Back to HyperScale Main Page
Back to Reviews Page