HK Models' 1/32 scale
Gloster Meteor F.4
by Leo Stevenson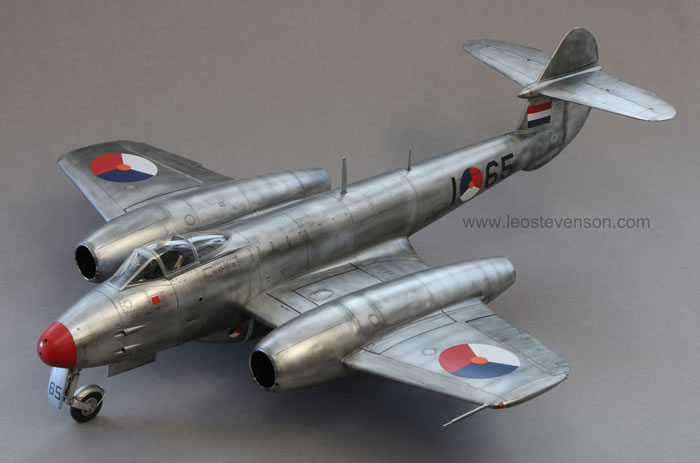 Gloster Meteor F.4

Eduard's 1/48 Spitfire XVI Weekend Edition
is available online from Squadron for only $22.99!
This is a depiction of one of the F.4 Meteors that took part in 'Exercise Cupola' in August 1950. Exercise Cupola was a very large scale operation involving many aircraft from the Dutch Air Force (not Royal yet), the British RAF and the American USAF. It was effectively the first major test of the operational capabilities of Western air defences against a large attack by the Soviet Union and its allies. This was near the start of the 'cold war' – a phrase invented by Winston Churchill only four years before, and as such it was the first serious message to the Russians to think again if they wanted to expand their territorial ambitions.
This is the 1/32 HK Models kit of the Gloster Meteor F.4. It's a good kit but I was really annoyed with the decals that came with it because they were of atrocious quality - they fell to pieces as soon as they became wet. The quality and fit of most of its components are good but there are a few problems with undercarriage and wheel wells which are a little too simplified, and the width and length of the front of the engine cowlings, which are plain wrong. Both of these problems can be rectified with the Eduard Brassin Meteor F.4 wheel set (but the wheel wells and hydraulics will need some scratch-building to improve this area as well) and the Fisher Models Long-Chord corrected intakes. The Fisher intakes necessitated some cutting, carving and filling, but this is quite easy if you're careful, and the results really do make a nice and satisfying difference. I also added a brass pitot tube from Profimodeller, but this was a luxury I could have avoided because in this case it could have been simply made from pieces of appropriate brass tubing.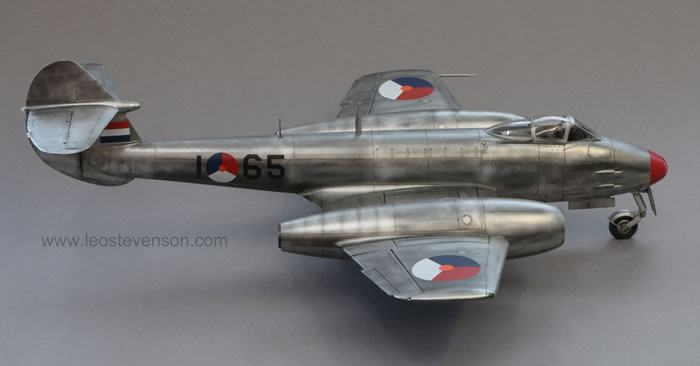 The 'high speed silver' paint was simulated using the new Alclad II colour of that name. I am generally pleased with this paint, but I think it looks a little bit too dark and warm in colour. The next time I do a British jet of this period I might experiment a bit by adding a small amount of other Alclad II paints to this 'high speed silver' colour in order to fine-tune the colour towards how I think it should appear. Perhaps a drop of the lighter and cooler coloured Alclad II 'stainless steel' might improve it, but I haven't tried this yet.
Before I applied the 'high speed silver' I sprayed key areas with Alclad's 'steel' colour and then irregularly dabbed on small areas with masking fluid on to it in key areas, for example at the front of the engine intakes, so that this could be rubbed off later the reveal the darker metal colour underneath in places where, on the real aircraft, the paint had worn off. I know that the real aircraft were skinned in aluminium, but the steel colour looked more realistic as a contrast with the final top coat.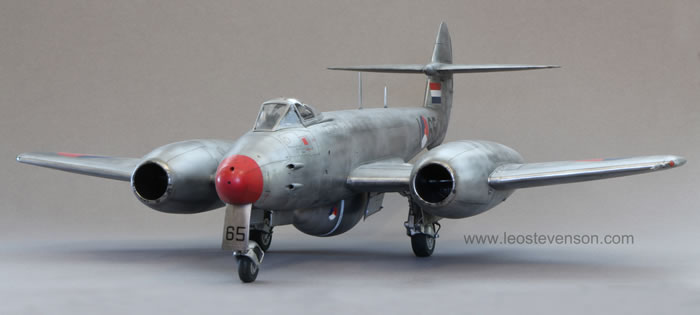 Anyway, whatever mix is used the whole thing needs to have the shiny glitz taken off it with a good spray-down with your favourite satin/matt varnish to look more like the real aircraft. Seeing a real Gloster Meteor since I finished this model I realised that, on reflection (no pun intended for English readers!), I should have used a more matt varnish than I did.
If you're interested in Exercise Cupola then I'd highly recommend the little book on it written by Luuk Boerman (a Dutch Profile publication), and yes, he's one of the key people who is involved in Dutch Decals. I should add that although Dutch Decals do not make decals for the Meteor (yet?), the decals I used were made by them, but they were made for the F-84 E/G Thunderjet. These happened to fit the Meteor beautifully, and even the aircraft codes on the fuselage came from this Thunderjet set. I also had to add some of the stencilling which came from the 'Kits at war' range for the Meteor (KW132068), as well as using some decals from my spares box.
The Gloster Meteor is a very handsome jet with beautiful proportions and elegant contours. Like cars of the period it was a time of great experimentation and quirkiness producing some very memorable shapes that seem to define this era. Coming out of the war and yet reaching for the future, its design seemed to define a kind of cautious optimism in the same way that the Festival of Britain in London did only a year after Exercise Cupola. It is in this window of time between World War 2 and the Korean war that some people dared to hope for a lasting peace…just as the previous generation did after World War one, but as the Latin adage goes "Si vis pacem, para bellum" ('if you want peace, prepare for war').
---
Model and Text Copyright © 2016 by Leo Stevenson
Page Created 19 June, 2016
Last Updated 19 June, 2016
Back to HyperScale Main Page