How to Build
Tamiya's 1:32 Spitfire Mk.IXc, Mk.VIII and Mk.XVIe
Third Revised Edition
by Brett Green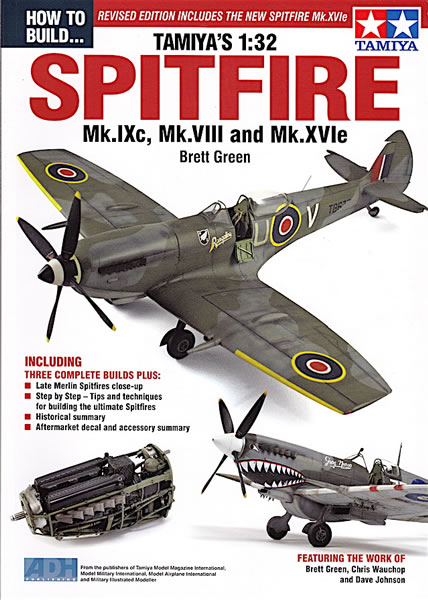 ADH Publishing
S u m m a r y

Title and Publisher

How to Build Tamiya's 1:32 Spitfire Mk.IXc, Mk.VIII and Mk.XVIe
Third Edition

by Brett Green

Featuring the models of Brett Green, Chris Wauchop, Dave Johnson and Roy Sutherland

ADH Publishing

ISBN:

978-0692504338

Contents and Media:

oft-cover A4 format; 82 pages; full colour photographs and profiles.

Price:

£11.95 plus shipping available online from ADH Publishing

Digital Edition $17.95 downloadable online from Pocketmags website

Review Type:

FirstLook

Advantages:

Updated and expanded version of an already good book; easy to read text; high-quality photos and model builds.

Disadvantages:

Conclusion:

Almost essential for anyone starting to build one of Tamiya's 1/32 Spitfires.
Reviewed by Brad Fallen


HyperScale is proudly supported by Squadron.com
The first edition of Brett Green's How to Build Tamiya's 1:32 Spitfire Mk.IXc was published in 2010, only six months or so after Tamiya released its groundbreaking Mk.IX kit. I bought the kit and the book in quick succession; while I haven't built the kit yet, Brett's book will be one of my key guides when I do.
When the first print run sold out, a second, longer edition was prepared, incorporating builds of Tamiya's 1:32 Mk.VIII that showed this follow-up kit was every bit as good as the Mk.IX.
With the second edition now also sold out, ADH Publishing has released a third edition that includes a detailed build of the final kit in Tamiya's 1:32 Spitfire trilogy, the low-backed Mk.XVIe. At 82 pages it is 16 pages longer than the first edition, and I was interested to see where – apart from the obvious – it differed from the original.
The book is broken down as follows:
Foreword and Acknowledgements. This one-page section inside the front cover includes some brief comments by Brett, and biographic information on the four contributors: Brett, Chris Wauchop, Roy Sutherland and Dave Johnson. Marcus Nicholls, who contributed to the first edition with his desert-camouflaged Mk.IX, is not present here.
Introduction. This short section provides useful context for the chapters that follow, and is almost the same in both editions. Brett describes the Mk.IX's birth and evolution before summarising the options available to modellers interested in building this variant before the Tamiya kit was released – in short, not many apart from the limited run 2008 Pacific Coast kit.
Chapter 1 – Late Merlin Spitfires Close-Up. This chapter, identical in both volumes, is a min-walk around of the two airworthy Spitfires operated by the Temora Aviation Museum in NSW, Australia – a Mk.VIII and a high-backed Mk.XVIe. Temora is only a couple of hours' drive from my home in Canberra – I've been there and ogled over the Spitfires a couple of times but wish I could've gotten as close as Brett does here! If you're building any of the Tamiya Spitfires you'll probably want a few more detail photos than are included here, but this chapter is a good start to your reference collection.
Chapter 2 - Spitfire Mk.IXc in Profile. Richard J. Caruana's nine port profiles, three overhead views and one undersurface view from the first edition have been reduced here to four port profiles, presumably to make room for the Mk.VIII and Mk.XVI builds. This is understandable, although it's a shame there are no Mk.VIII or Mk.XVI profiles included to give an indication of the range of markings these aircraft were finished in.
Chapter 3 – Tamiya's 1:32 scale Spitfire Mk.IXc in the Box. This chapter is the same in both editions and is essentially a refined version of Brett's original Mk.IX review from Hyperscale in October 2009. Its balanced analysis and high-quality photos are an excellent introduction to the kit.
Chapter 4 – Building Tamiya's 1:32 scale Spitfire Mk.IXc Step by Step. It's hard to go past this chapter as an out-of-the-box build guide to Tamiya's Mk.IX. It begins with a 'tweak list' of 16 minor corrections and adjustments to the kit that modellers may wish to take account of, before moving on to the build proper. Anyone familiar with Brett's build articles will know what to expect here: well-written, common sense advice backed up by more great photos. This chapter was the core of the original book, and it's presented here unchanged.
Chapter 5 – RAAF Spitfire over the Continent. Brett concludes his Mk.IX build with a detailed explanation of how he painted and finished the model. Again, this chapter is unchanged from the first edition.
Chapter 6 – Supermarine Shangri-La. Here's where the major changes between editions begin. Hyperscale visitors will be familiar with Chris Wauchop's fabulous models, and this Tamiya Mk.IXc is not exception. The only problem with this chapter is that I would've liked it to be longer – at one page it only provides a glimpse into the detail and paintwork of Chris's model. Fortunately there is more from Chris coming up….
Chapter 7 – Tamiya's 1:32 scale Spitfire Mk.VIII in the Box. Another one-page chapter that briefly examines the contents of Tamiya's Mk.VIII kit, particularly its differences from the original Mk.IX kit.
Chapter 8 – Shark Attack! Brett Green and Chris Wauchop collaborate to finish the Mk.VIII kit in this Spitfire variant's most famous guise, the shark-mouth markings of No.457 Squadron RAAF. Brett builds while Chris weaves his magic with the airbrush on this challenging scheme – a weather-beaten hodgepodge of touched-up camouflage and overpainted roundels. Progress photos are as thorough as always, and make this chapter a must for anyone considering a Tamiya Mk.VIII build.
Chapter 9 – High Altitude Fighter. Roy Sutherland's superb HF Mk.VII conversion of the Mk.IXc kit has been carried over unchanged from the first edition. It's fascinating re-reading this chapter after several years, because it's clear that some of the painstaking detail work Roy did on this model has helped to develop his excellent range of Barracudacals 1/32 Spitfire details. The Mk.VII conversion is deceptively simple and, in Roy's hands, results in a stunning model.
Chapter 10 – Low Back Spitfire in the Box. This chapter is a reprint of Brett's Mk.XVI review on Hyperscale from March 2011, and describes the key differences between this and Tamiya's two earlier 1/32 Spitfires.
Chapter 11 – Sweet Kiwi Sixteen. Dave Johnson's build review of the Mk.XVI kit also hails from 2011, when it was published in issue 5 of Military Illustrated Modeller. This issue is becoming hard to track down, so the inclusion of Dave's article here is great – it's a comprehensive and informative build story that concludes with a gorgeous model.
Appendix – References, Accessories and Decals. Given the plethora of aftermarket items now available for Tamiya's 1/32 Spitfires, this section is not surprisingly larger than its 2010 equivalent. The reference list is short but well chosen, and a page each is devoted to accessory and decal sets that have been produced for Tamiya's kits.
Production values are high.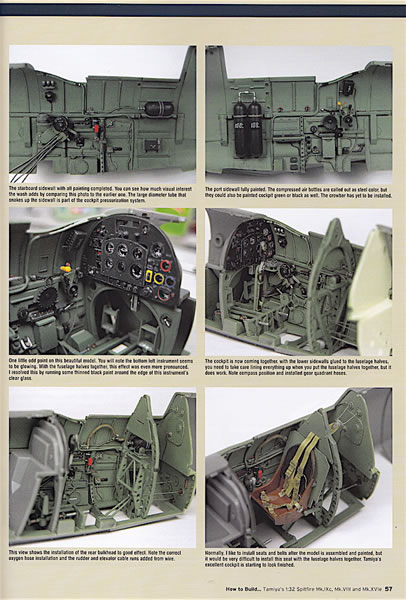 The book is well bound and seems unlikely to come apart when propped up on your workbench, which is a good thing as my copy will be spending quite a lot of time doing just this.
This new edition of How to Build Tamiya's 1:32 Spitfire is a welcome update of an already good book. It's also likely to remain the definitive version, with no further Tamiya kits from these sprues seemingly in train. (Although you can never tell with Tamiya – and a Mk.XI would be nice!)
The combination of informative text and high-quality photos makes this book a must for anyone thinking of building one of Tamiya's great 1/32 Spitfires.
Highly Recommended
Thanks to ADH Publishing for the sample.
---

Review Text and Images Copyright © 2016 by Brad Fallen
This Page Created on 18 March, 2016
Last updated 18 March, 2016
Back to HyperScale Main Page