S u m m a r y :

Catalogue Number, Description and ISBN:

Canfora Graphic Design and Publishing Wingspan 1

ISBN: 978-91-982325-0-9

Contents & Media:

Soft cover, 128 pages, A4 landscape format; English text and colour photographs .

Price:

€27.00 available online from Canfora Graphic Design and Publishing

Review Type:

First Look

Advantages:

Great models and photos; landscape format is excellent for showcasing models.

Disadvantages:

Conclusion:

Nine impressive builds finished with restraint and finesse – highly recommended to not only 1/32 aircraft builders, but all modellers interested in refining old and learning new techniques.

Reviewed by Brad Fallen


HyperScale is proudly supported by Squadron


Canfora Graphic Design and Publishing is a Swedish company that, according to its website, "was founded in 2007 and specialises in books on modelling and armour history". These include over a dozen titles published under Canfora's own label, which focus mainly on diorama and vehicle modelling. An exception to this is last year's Wingspan 1, which as the name suggests is dedicated to aircraft modelling.
And not just any aircraft modelling. Wingspan 1 showcases the construction of nine 1/32 kits by master modellers. A combination of A4 landscape format and beautiful full-colour photography gives the book a luxurious feel. Approximately 14 pages are dedicated to each model, and divided between smaller (six-to-a-page), well-captioned progress photos and larger photos of the finished models. The latter are very well taken, to the extent that in some cases they look like images of real aircraft. Obviously, the quality of the models themselves has a lot to do with creating this impression.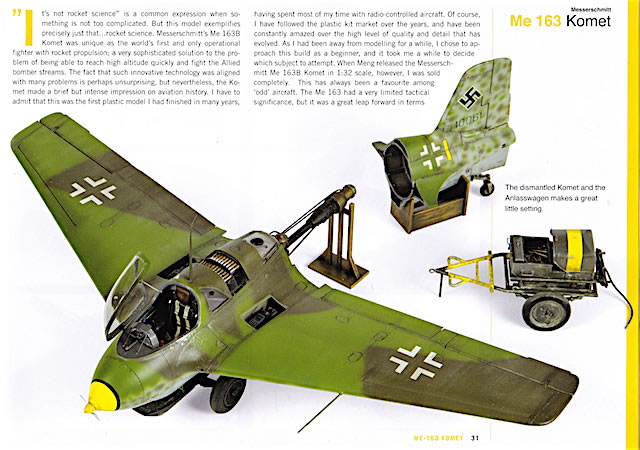 The kits and modellers featured are as follows. You'll note that all of the kits are relatively modern and from well-regarded manufacturers – there's no grappling with older, poorly moulded products here.
Hasegawa Ki-84 Hayate by Jan Kopecky. The show-stopping element of this build is its weathered camouflage, which strikes just the right balance between excess and restraint. Jan shows in detail how he achieved this, along with adding convincing detail to the cockpit and engine.
Toni Canfora's award-winning Tamiya 1/32 F4U-1 Corsair. Toni shows just how good Tamiya's Corsair can look when built more-or-less out of the box. Perhaps unsurprisingly for anyone who's finished one of these Corsairs, Toni concludes "I can easily say this is the most impressive kit I've built".
Meng Messerschmitt Me 163 Komet by Mats Johansson. Mats shows the versatility of Meng's Komet by finishing it with a removal tail section to show the detailed Walther rocket engine within. Mats' rendition of the late war RLM 82/83 over 76 Luftwaffe camouflage is also convincingly done.
Tamiya Spitfire Mk.VIII by Anders Isaksson. Anders goes to town on Tamiya's Mk.VIII with a suite of Barracuda Studios accessories, and complements these details with a carefully masked, painted and weathered finish to recreate an impressive Aussie shark-mouth.
Eduard Messerschmitt Bf 109 E-4 by Jan Abrahamsson. Jan takes a slightly different tack from his fellow contributors by finishing Eduard's Emil as a war-weary JG 26 machine during the Battle of Britain. Like the Spitfire, this model features a host of aftermarket details including products from Aires, CMK, Eduard, and HGW. As with the Hayate, the depiction of the weathered airframe is finely judged. The finished model is displayed in a maintenance situation with some panels and the hinged canopy removed.
HK Models B-25J Mitchell by Jan Kopecky. Jan's second model is in many ways the book's centrepiece. Jan notes in his conclusion that the kit is not without its frustrations, principally inconsistent detail and fit. However, he still delivers one of the most impressive builds in terms of added detail (both aftermarket and scratch built) and particularly finishing that I have seen in a long time. In my view this build alone is worth getting hold of the book for.
Wingnut Wings Fokker D.VII dual build by Mikael Tefors. Wingnuts' four D.VII boxings are like gold for 1/32 World War I modellers, having long sold out on the company website and commanding high prices on the secondhand market. With one in my stash and interested to see what Mikael had done here, I turned to this section of the book first. Mikael's models don't disappoint: he builds two slightly different variants (Fokker and Albatros-produced) and finishes them in contrasting but equally colourful schemes. I was particularly like Mikael's treatment of Wingnuts' sometimes maligned lozenge and streaky camouflage decals to achieve a restrained impression of grime and weathering.
HK Models Gloster Meteor F.4 by Toni Canfora. In stark contrast to the D.VIIs are the clean metallic lines of Toni's second build, which is also the second HK Models kit featured. Toni said this build took longer than expected, mainly because of the amount of aftermarket accessories used. The result is an impressive model of this important early jet, backed by helpful progress shots showing how Toni tackled the kit's minor frustrations.
Dragon Messerschmitt Bf 110 C-1 by Stepan Lasek. The book's final model includes an impressive amount of scratch-built detail that Stepan incorporates seamlessly into Dragon's big Zerstorer. I'm not sure I have room on my shelf for a model this big, but Stepan's specific construction techniques – including salt-paint chipping and re-positioning of control surfaces – have wide applicability.
I'm sometimes left a bit cold by new, large-format books of kit construction, many of which feature aircraft models with exaggerated and (to my eye at least) not particularly realistic finishes. This is not the case here, with each of the nine builds finished with restraint and finesse. Highly recommended to not only 1/32 aircraft builders, but all modellers interested in refining old and learning new techniques. Volume 2 is already in the works, and I'm very much looking forward to it.
Thanks to Toni Canfora for the review sample.
---
Review Copyright © 2016 by Brad Fallen
This Page Created on 25 July, 2016
Last updated 25 July, 2016
Back to HyperScale Main Page
Back to Reviews Page