Legion Condor
Limited Edition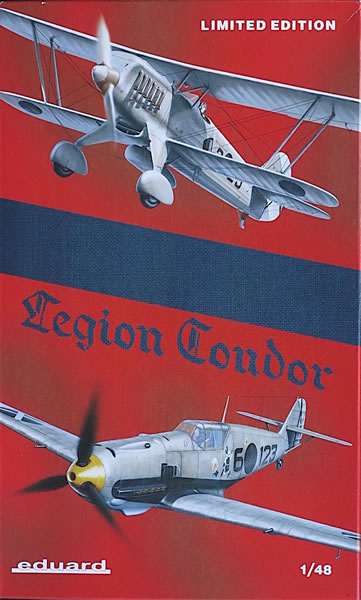 Eduard, 1/48 scale
S u m m a r y :

Catalogue Number:

Eduard Kit No.1140 – Legion Condor Limited Edition

Scale:

1/48

Contents & Media:

Roden He 51 kit: approx. 100 light grey plastic parts (6 unused); 2 clear plastic parts (1 unused); and one fret of pre-painted photo-etched brass.

Eduard Bf 109 E-1/3 kit: approx. 153 medium grey plastic parts (25 unused); six clear plastic parts (two unused); two frets of photo-etched brass (one pre-painted and one unpainted); and one sheet of stencil decals.

Shared: one sheet of pre-cut canopy masks; one decal sheet with national and individual aircraft markings for four He 51, one Bf 109 E-1 and three Bf 109 E-3; 24 page A4 assembly instruction booklet with full-colour painting and marking guide with four view drawings of each aircraft and greyscale Bf 109 E stencil placement guide.

Price:

USD $34.95 online from Eduard but currently listed as discontinued.

GBP £31.70 plus shipping available online from Hannants

Also available from specialist hobby retailers worldwide.

Review Type:

First Look

Advantages:

Sound base kits enhanced by Eduard's photo-etched details; comprehensive instructions; good variety of marking choices.

Disadvantages:

None noted.

Conclusion:

I highly recommend this boxing for anyone interested in modelling 1/48 Spanish Civil War aircraft. Eduard has taken two good kits and combined them in a comprehensive package with an interesting selection of markings. The kit is listed as 'discontinued' on Eduard's website but is still easy to find elsewhere – although if you want one I wouldn't wait too long to order it.

Reviewed by Brad Fallen


Eduard's 1/48 scale Bf 108 is available online from Squadron.com for only USD$23.07!

Hitler sent Luftwaffe aircraft and personnel to support Franco's Nationalists within a week of the Spanish Civil War beginning in July 1936. Junkers Ju 52s moved Nationalist troops from Africa to Spain, escorted by Heinkel He 51s. These aircraft were the beginning of a Luftwaffe contribution that by November 1936 was significant enough to be consolidated into a single unit – the Legion Condor – that over the next 28 months played a key role in delivering victory to the Nationalists.
The air war was a seesawing contest in which each side gained and lost ascendency. The He 51s' first adversaries were obsolescent French designs – such as Breguet XIXs, Nieuport 52s and Potez 540s – that the German pilots easily bested. However the Heinkel's own vulnerabilities became clear in November 1936 when the Republicans began using Soviet-supplied Polikarpov I-15s and I-16s. So outclassed were the He 51s that, in an effort to redress the balance, the Luftwaffe rushed a number of prototype and early production Messerschmitt Bf 109s to Spain before the end of the year.
These Jumo-engined Bf 109s wrested and then maintained control of Spanish airspace for the next two years. The first production Daimler-Benz-powered Bf 109s – E-1s and E-3s – continued this domination from late 1938 until the end of the war. In the meantime the He 51s were reconfigured for ground attack duties, for which they were used with some success.
Both of these aircraft types are included in Eduard's 1/48 'Condor Legion' Limited Edition release. The Bf 109 E-1/3 kit is Eduard's acclaimed 2012 moulding, while the He 51 is Roden's more recent but also praised kit. Let's see what's in the large (37 x 23 cm, or 15 x 9 in) and typically colourful box.
Roden's 1/48 Heinkel He 51
I had read about, but not previously seen, Roden's He 51 so of the two kits this was the first I looked at in detail. For a 1/48 biplane it is not a complex kit, made up from less than 100 parts on five light grey sprues.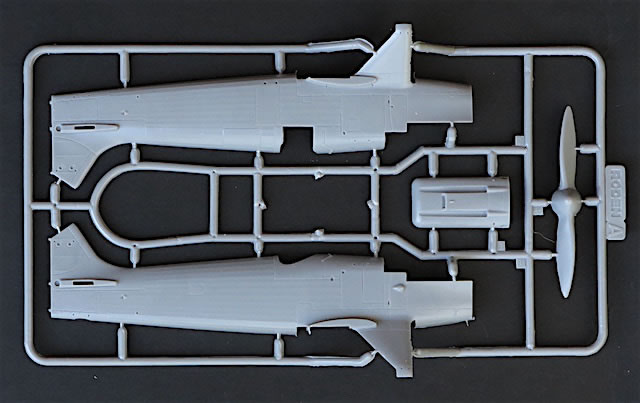 Moulding quality is several steps up from limited run, but several below what we now expect from Airfix or Eduard. Sprue gates are small and sensibly located, and as far as I can see there are no inconveniently located ejector pin marks. There is a reasonable amount of flash on the edges of parts, but this should be quick and easy to clean up. Sink marks are present on some of the smaller parts, which will require filling if they will be visible on the finished model.
Disconcerting to look at on the bare plastic, but almost certainly invisible under a coat of paint, are injection flow lines on the surface of some of the larger parts, especially the upper wing.
Engineering is conventional, with the cockpit sandwiched between two fuselage halves that are then trapped between single-piece upper and lower wings. A major plus – compared to the second-generation Classic Airframes He 51 kit I have in my stash – is that Roden has moulded the undercarriage legs integrally with the fuselage halves, which virtually removes the potential for alignment problems.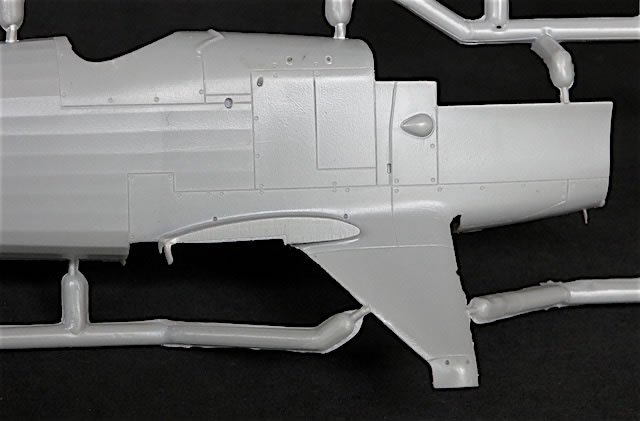 Another positive is that all of the control surfaces are separate parts, and therefore positionable.
Surface detail on the larger parts, particularly the fuselage halves, is nicely done. Metal and fabric textures are subtly rendered, and panel lines are delicate. The ribbing effect on the wings looks effective, but on some of the other control surfaces is less so and will benefit from sanding back and possibly masking during painting.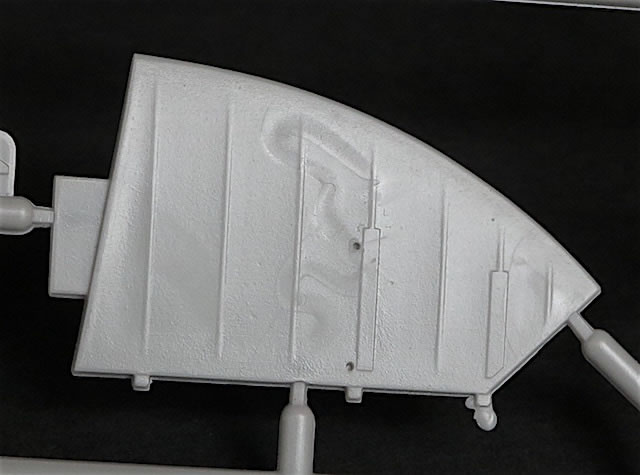 Quality of the smaller parts is mixed. Some, like the tubular cockpit framing, are convincing. Others, such as the wheels and distinctive exhausts, are would benefit from replacement with aftermarket products such as those produced by Vector.
Of course Eduard also helps out here by including a well-targeted set of photo-etched parts. These are pre-painted, and mostly intended for the open and therefore highly visible cockpit. Highlights are the instrument panel and seat harness, but the spinner cap, radiator grills and two-part entry door will also add impressive touches.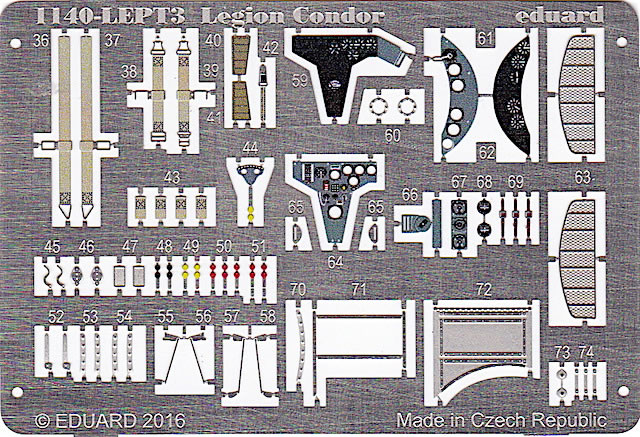 More important than how a kit looks in the box is how it builds. I haven't cut parts from the sprues yet, but Haris Ali built the Roden He 51 for Model Airplane International in March 2016. Haris needed to use a reasonable amount of filler on some of the undersurface joins, and said the fit of the interplane struts wasn't great. However, his overall conclusion was "there is nothing particularly complicated here and [building it] should certainly be within the ability of experienced modellers".
Haris also thought that Roden's effort would be easier to build than Classic Airframes' 1996 and 2008 kits of the same aircraft.
I agree with both of these assessments. I've built a few biplane models recently, and while the Roden He 51 isn't Wingnut Wings quality, it's still good. I also have the 2008 Legion Condor boxing of the Classic Airframes He 51, and a quick comparison of the two kits reveals that Roden's should be much easier to build. For example – as already mentioned – the undercarriage struts on the CA kit are provided as separate parts, and have to be carefully attached at the right angle and then blended in to the fuselage.
A distinctive – and for some modellers, discouraging – feature of biplanes is their rigging. Manufacturers usually include a rigging diagram or two with the kit, but a look through the instructions revealed instead a link to Eduard's website where the diagrams are tucked away in a PDF document. Presumably this was done to save space in the instruction booklet, but there is always the chance that when you go to build your He 51 – possibly years in the future – you find the link has been taken down. To avoid this risk, I'd recommend printing out a copy of the rigging instructions now and storing them with your kit.
On the plus side Eduard's rigging diagrams are very clear, and Roden's engineers have also made your job easier by moulding tiny guide holes where the rigging points should be attached. You'll probably need to drill these holes out a little to ensure a solid attachment point for your rigging, but with patience, a steady hand and some extra thin superglue and accelerator the overall exercise should be fairly straightforward.
---
Plastic parts for Eduard's 1/48 Bf 109 E-1/3
I'm more familiar with this family of kits, having previously examined the E-3 and E-7 Profipack and E-1 and E-3 Weekend Edition releases. Eduard's mouldings don't get any less impressive with time, particularly when (inevitably) compared to the Roden plastic in the same box. Eduard's parts are considerably more refined, with crisp mouldings and no flash whatsoever. Rivet detail on the main airframe components is impressive, and will look even better after painting.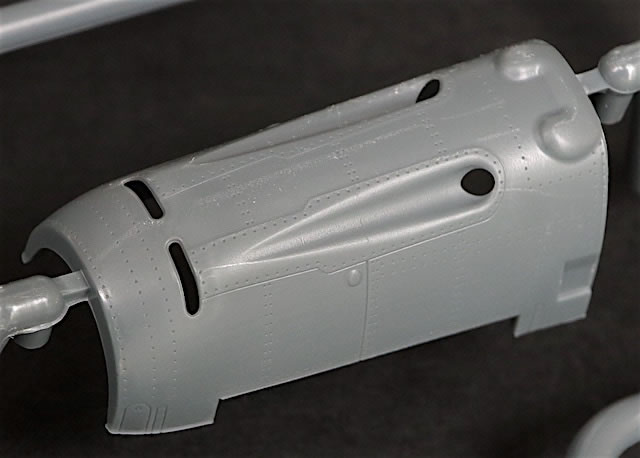 Two different lower wing sprues are included to allow modellers to build either a Bf 109 E-1 (marking option E) or a Bf 109 E-3 (options F, G and H) with the MG FF cannon bulges.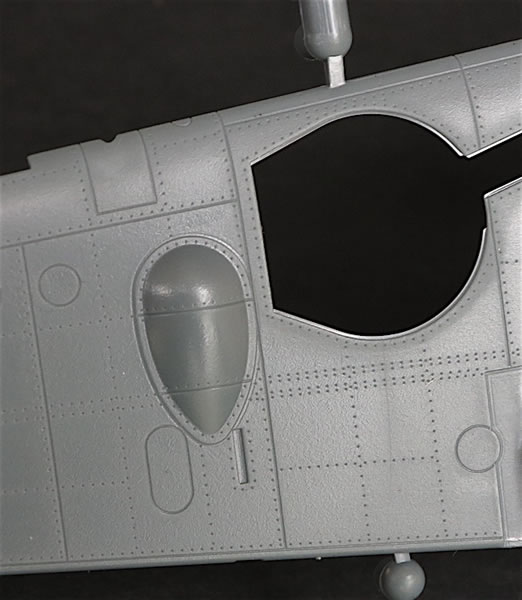 As with the He 51, a fret of pre-painted photo-etched parts provides additional, welcome internal detail. I'm not sure about the shade of RLM 02 Grey Eduard has used on the instrument panel – it's a bit too dark and blue-ish – but the difference shouldn't be obvious once it's installed.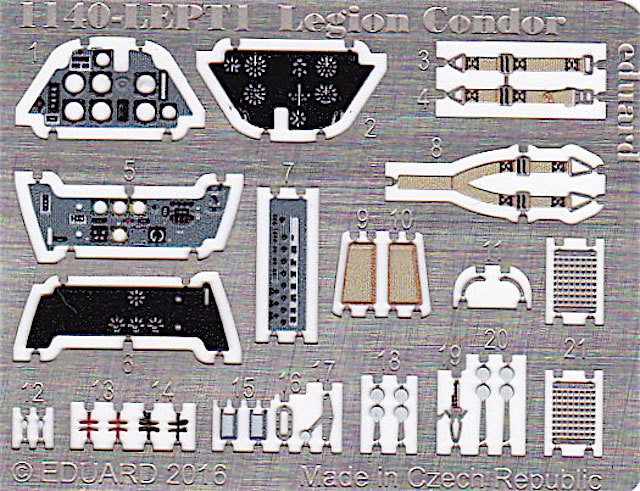 An additional fret of unpainted photo-etch supplies some more cockpit details, such as rudder pedals, as well as mesh grills for the radiators and oil cooler.
---
Yellow Kabuki Tape Canopy and Wheel Hub Masks
These pre-cut masks (windshield and wheel hubs for the He 51 and canopy for the Bf 109) will make your painting considerably easier. In my experience Eduard masks almost always fit, and turn a job I hate into one that I'm confident will deliver great results.
---
Instructions
Eduard's 24-page booklet includes comprehensive assembly guides for both models, first the He 51 and then the Bf 109. Gunze paints numbers are used for colour call outs throughout the build process.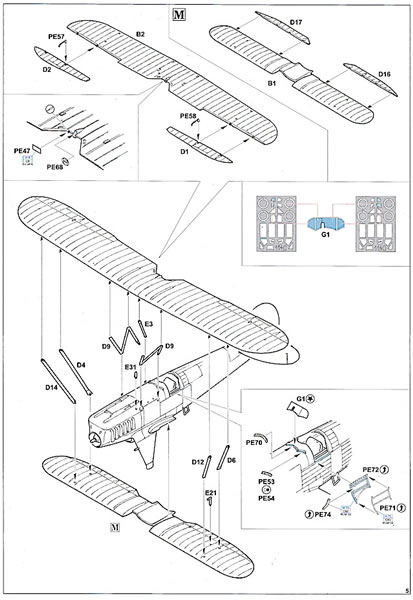 Full colour four view drawings are provided for each marking choice, with additional scrap drawings of the propeller and lower wings for the He 51 options. A stencil placement guide is also included for the Bf 109.
---
Decals
Two decal sheets are provided – a large sheet of Nationalist insignia and individual aircraft markings that has been printed by Cartograf, and a smaller Eduard-produced sheet of Bf 109 stencil data. The latter is fine, with legible text and crisp registration on even the smallest stencils, but the Cartograf sheet is even better. Nationalist civil war markings aren't colourful – there's a lot of black on the decal sheet – but the printing and definition is gorgeous.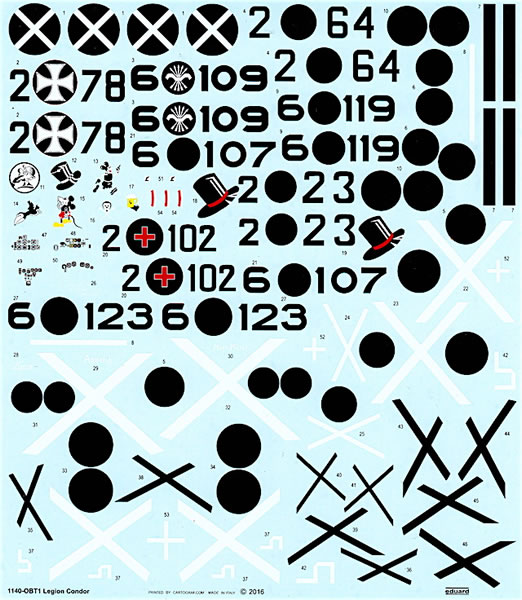 There's a lot of carrier film on some of the larger decals (for example the upper He 51 wing crosses and circles), and you might want to cut these into smaller parts to make application easier and reduce the risk of silvering.
---

Markings
Eduard has included markings for four He 51s and four Bf 109s:
He 51 B-1 '2-23', flown by Oberleutnant Hannes Trautloft of 2. J/88, Avila, Spain, autumn 1936. Overall RLM 63 Light Grey.

He 51 C-1 '2-78', flown by Adolf Galland of 3. J/88, Calamocha, Spain, spring 1938. This and the following aircraft were RLM 62 Green and RLM 63 over RLM 65 Light Blue.

He 51 B-1 '2-64', flown by Hauptmann Harry Harder of 1. J/88, Battle of Brunete, Spain, July 1937.

He 51 B-1 '2-102', flown by Stabsartz Dr Heinrich Neumann, Medical Battalion San/88, Spain, 1938. This aircraft is portrayed in the instructions as being camouflaged in 62/63 over 65, with a mottle of RLM 61 Dark Brown over the two upper surface colours; other sources suggest a more solid application of 61.

Bf 109 E-1 '6-119', flown by Oberleutnant Siebelt Reents of 1. J/88, Leon, Spain, spring 1939. As the instructions acknowledge, there has been some conjecture over the exact shade of upper surface camouflage applied to Emils in Spain – most likely RLM 63 but possibly RLM 62. For a more detailed discussion of the issue, see the chapter entitled 'what colour were the later Spanish 109s?' in Lynn Ritger's first Bf 109 SAM Datafile.

Bf 109 E-3 '6-123', flown by Oberleutnant Hans Schmoller-Haldy of 3. J/88, Spain, 1938.

Bf 109 E-3 '6-107' of 3. J/88 (pilot unknown), Catalunyan Front, Spain, early 1939.

Bf 109 E-3 '6-109', flown by Leutnant Kurt Sochatzy of 3. J/88, Spain, Spring 1939.
This is a great boxing for anyone interested in modelling 1/48 Spanish Civil War aircraft. Eduard has taken two good kits and combined them in a comprehensive package with an interesting selection of markings. The release has obviously been a good seller for Eduard, as it's currently listed as 'discontinued' on the company website. The kit is still easy to find elsewhere, although if you are interested I wouldn't wait too long to pick one up!
Highly recommended.
---
References
Haris Ali, "Rugged and Elegant", Model Airplane International, p.56, Issue 128, March 2016

Lynn Ritger, The Messerschmitt Bf 109: A Comprehensive Guide for the Modeller. Part 1: Prototype to 'E' Variants (SAM Publications, 2005

Eric Mombeek, Jagdwaffe – Luftwaffe Colours: Collectors Compendium Volume One (Classic Publications, 2001).
Thanks to Eduard for the sample.
---
Review Text Copyright © 2016 by Brad Fallen
Page Created 7 July, 2016
Last updated 8 July, 2016
Back to HyperScale Main Page
Back to Reviews Page