Lavochkin La-7
Profipack Edition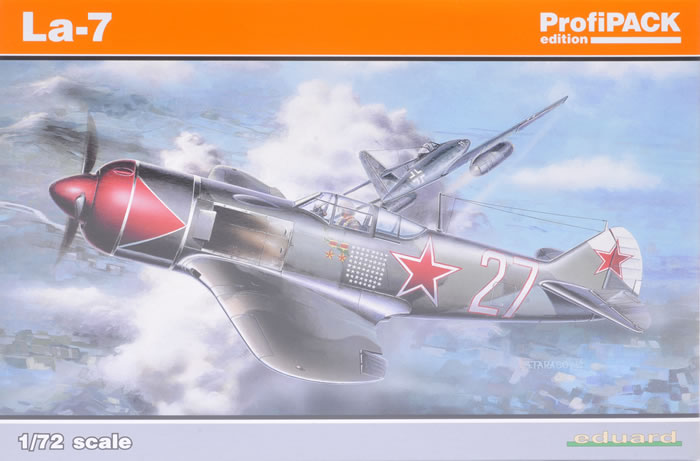 Eduard, 1/72 scale
S u m m a r y :

Catalogue Number:

Eduard Kit No. 7066 – Lavochkin La-7 Profipack Edition

Scale:

1/72

Contents & Media

Fifty-seven and six clear styrene parts, one coloured PE fret with about 45 parts, a pre-cut Kabuki tape canopy mask, and decals for eight markings options.

Price:

Available on-line from these stockists:

Click for currency conversion.

Review Type:

First Look.

Advantages:

Simple assembly, nice detail, good range of decal options.

Disadvantages:

No radio installation behind pilot's seat (a minor issue).

Conclusions:

I think that Eduard's La-7 is still the best injected kit of this subject in 1/72 scale.

Regardless of future challengers, this is a straightforward kit that builds well and quickly. The Profipack Edition is enhanced by its coloured and plain PE details, a useful paint mask, and eight appealing colour scheme options.

Although simpler in execution that some recent Eduard releases, it is nonetheless a very good kit that has aged well since its release 12 years ago. I happily recommend it.

Reviewed by Mark Davies

Eduard's 1/72 Fw 190A-8/R-2 Weekend Edition is available online from Squadron.com
Lavochkin's rather overweight and indifferent in-line engined LaGG 3 gave way to a much improved radial engined La-5, which in turn became a simple but very effective fighter in its final La-5FN from. The lack of a reliable radial engine offering more power than the Ahs-82 FN engine used by the La-5FN meant that any improvement in performance would have to be obtained through weight saving and aerodynamic refinements. These improvements were prototyped with the La-5 '206', and most flowed through to production La-7's. In this respect the La-7 can be viewed as a refined La-5FN, rather than a new design.

The La-7 was one of the superlative fighters of late WW2. It exceeded the performance of its Bf 109 & Fw 190 adversaries by useful margins at the low to medium altitudes where the Russian front air-war was fought. In addition it offered rugged reliability during its almost constant use from forward airfields. Various versions were developed late in the war and shortly after, including armament variations, high altitude developments and even a version fitted with a rocket motor in the tail. Lavochkin's last piston-engined fighters, the La-9 and La-11, were in many respects metal-winged developments of the La-5 & La-7 line, seeing service early in the cold war with several nations.
---

Previous 1/72-scale La-7 Kits
There seem to have been comparatively few La-7 kits in 'The One True Scale'.
I am aware of two early examples. One is from Frog that has been re-boxed by Ark, Donetsk Toy Factory, Eastern Express, Novo and no doubt others; and the other from Kovozavody Prostejov (the Communist era-brand), re-boxed by KP/Kopro, and Mastercraft/Mistercraft. Both are have their weak points and are products of their time, although a reasonable La-7 could be achieved by cross-kitting some Kovozavody Prostejov's La-7 parts with the same company's much better kit of the La-5.
Omega Models released a resin kit in various boxings covering different versions. I have seen images of the parts, which look quite reasonable, but cannot advise any more than this.
Hobby Boss released a modern simplified assembly kit; but sadly, this is not a class leader like their MiG-3 kit. From what I can gather, it is OK but fractionally over scale and suffers from some clunky detail on the fabric control surfaces, and has a very a very basic cockpit and other simplified details.
The best La-7 kit for some time has been Eduard's, which was first released around 2004 before the company adopted its Profipack & Weekend Edition boxing strategy. It has been released in at least seven boxings covering different versions, and was also available as 'Overtrees' for a limited time.
The "new" Kovozavody Prostejov (that is part of the AZ Model/Admiral/Legato brand-stable) has announced a new-tool La-7 that cannot be far from its release date. If this is anything like their recent La-5 it will be extremely good indeed. But for now the leader remains Eduard.
The Contents
The first thing that struck me was the relative simplicity and modest number of parts this kit has compared to some more recent Eduard releases. This is largely due to the small number of options engineered into the kit and the original plane's simple clean lines.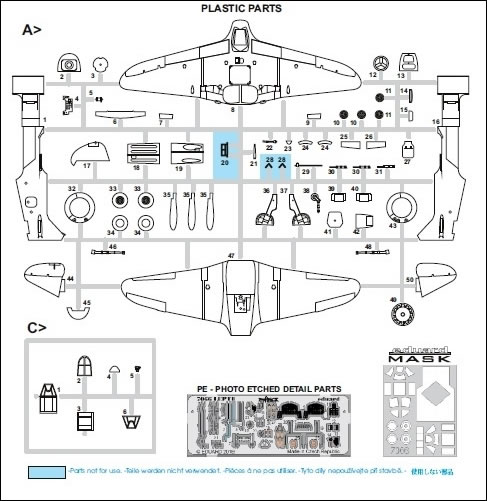 Airframe surfaces are smooth on the whole, like the original's; with some raised strengthening strips and panels, plus a handful of recessed circular access flaps and cowl panel lines. Fabric surfaces are represented with a hint of their underlying structure apparent. This is possibly a fraction over-stated in strict scale terms but nicely done; giving a pleasing effect once painted.
Despite being a small fighter, the La-7's cockpit is more visible than many in 1/72 scale because of its comparatively wide canopy and clear rear section. The cockpit is quite well catered for.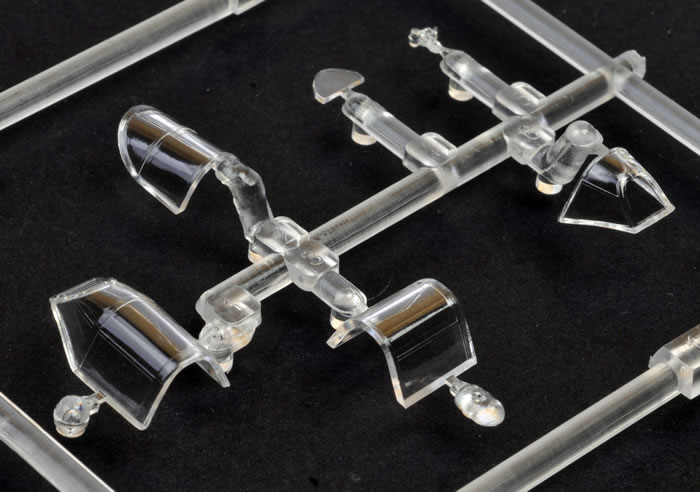 The cockpit floor is formed with the upper wing surfaces, to which some PE rudder pedals and a styrene control stick are added.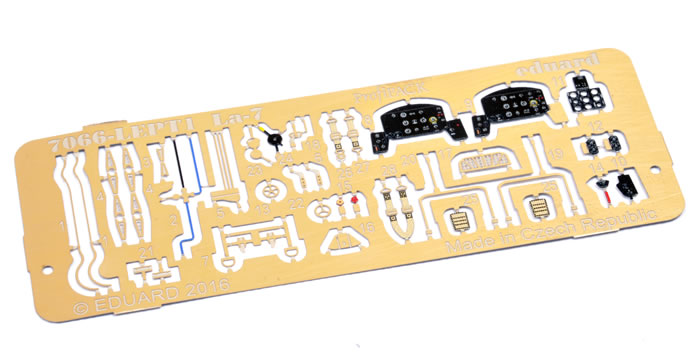 The seat and its armour mount to a bulkhead, and a cylindrical object fits on the rear side of the same. The seat is garnished with a pre-coloured PE harness and small PE adjustment lever. I feel it is worth thinning the edges of the seat for a more realistic appearance, and consider removing the late-production seat-back padding depending on your instrument panel choice (discussed below).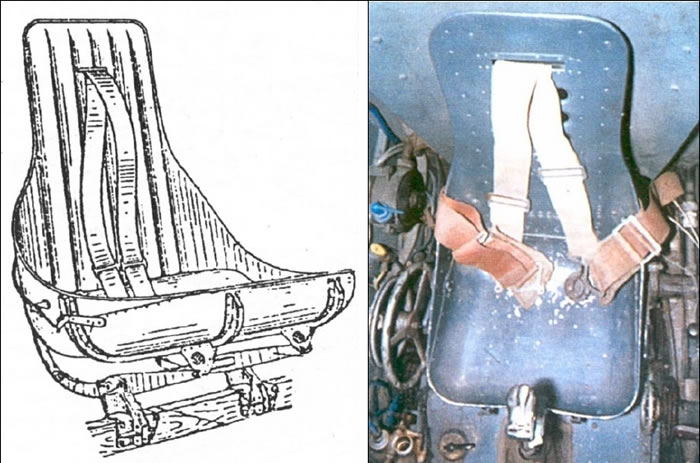 There are three choices of finish for the instrument panel; raised styrene detail with or without decal, and a choice of early or late style panels using pre-coloured PE. I think most will favour the PE option, although the instructions do not relate the choice to the markings options provided. The control panel fits to a spacer panel that in turn mounts on a forward bulkhead
The cockpit sidewalls have structural detail moulded integrally, and this is enhanced with PE details that include a throttle quadrant, trim wheels, various levers, brackets, wiring and plumbing.
A PBP-1 gun-sight moulded in clear plastic mounts on the forward cockpit coaming, and a choice of open or closed canopies is provided, along with an amoured glass panel that locates immediately behind the seat.
The open canopy option will appear too thick due to unavoidable moulding limitations, although I have read that Falcon's La-5 vac-form canopy is an adaptable solution. It will need some fettling around the windscreen, and the rearmost fixed portion is too narrow, meaning the Eduard part needs to be retained or serve as a master for a home-made plunge-mould replacement.
The area behind the seat bulkhead is empty aside from the cylinder mentioned earlier. This is the area that the radio was located, so it surprising Eduard chose to leave it bare.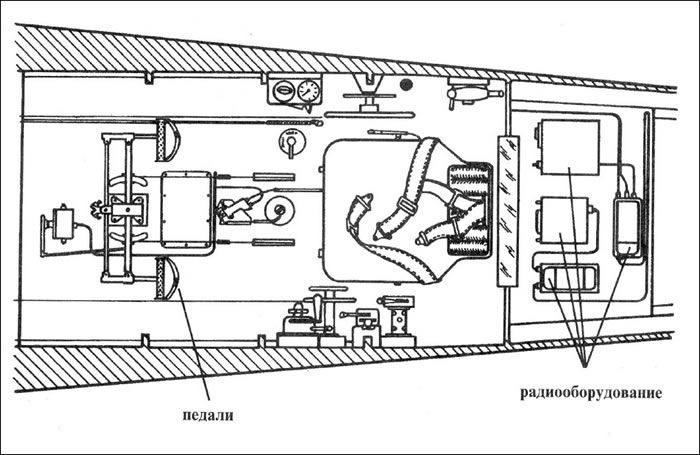 The la-7's engine installation was a neat one, no doubt influenced by the Fw 190's. Like the German aircraft, the exhaust stacks are clustered to vent either side of the fuselage through cooling gills. Eduard provides a simple and effective enough representation of the open exhaust stubs by moulding their outlines on an arc that inserts behind the separate cooling gill on either side. Careful painting with a wash and dry-brush highlighting should ensure a convincing enough facsimile.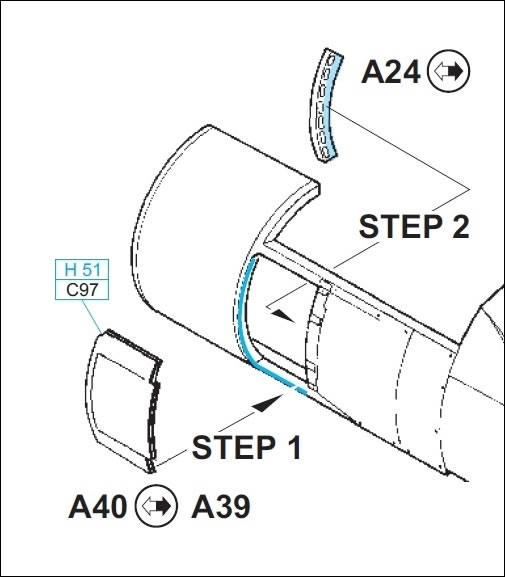 There is a choice of two or three gun armament linked to the kit's decal options, meaning a choice of cowl ring and upper decking must be decided in accordance with the instructions. The real engine was set some distance back from a cooling fan mounted just behind the propeller, which obscured a view of the engine. The kit simply provides the fan to mount within the cowl ring, as no engine detail is required. A nicely executed propeller made from three separate blades and a two-part spinner finishes things off.
All that is needed to finish the fuselage are underbelly oil-cooler with PE matrix detail, tail-plane, antenna mast, separate rudder, and retractable tail-wheel with PE torque-link (an unusual feature) and its doors.
The two-piece wings include some moulded internal detail within the main wheel wells. There is choice of main wheel style, although the instructions do not guide which goes with which decal option. The main legs have their plastic torque-links replaced with PE items, and this material also provides brake-lines; although some may prefer to use these as patterns for wire replacements. PE also provides the hinged retraction mechanism used to close the small inner wheel doors.
I have built an earlier issue of this kit that would broadly correspond to a Weekend Edition these days, although my kit had a vinyl canopy and wheel mask. The kit built with no problems at all, although I confess that the paint finish was not my best work following some clear coat problems, as can be seen from my 2007 build article.
---
Colours & Markings
The decals provide for eight markings options, along with some stenciling and the metal bands that wrap around the engine cowling.
Seven schemes are printed in colour with a single page of four-view drawings, whilst one, Scheme-H, is only included as a printed colour profile with a note in small print to refer to www.eduard.com/s/7066. The link is just to Eduard's online catalogue listing featuring the same profile image, only larger. However, Scheme-H is illustrated in full four-view glory once the online PDF instructions are accessed, where they appear on the last page that is missing from the printed instructions.
The machines covered are:
Scheme A – Maj I.N. Kozhdub, 176th IAP, Germany Spring 1945;

Scheme B – Maj A.V. Aleyukhin, 9th GIAP, Berlin Operation, 1945;

Scheme C – Maj Amet Khan Sultan, 9th GIAP, Germany 1945;

Scheme D – Lt Col S.F Dolgushin, the CO of 156th IAP, Kluzov Airfield, April 1945;

Scheme E – Flt Sgt Stefan Ocvirl, 2nd Fighter Air Regiment, 1945;

Scheme F – Unknown unit, Soviet union, Late 1945;

Scheme G – 2nd Sqn, 2nd GIAP, "Mongolsky Arat", spring 1945; and

Scheme H – Lt Col Vasily F. Golubyev, the CO of 4th GIAP, spring 1945.
The decals are printed by Eduard and appear to be of excellent quality.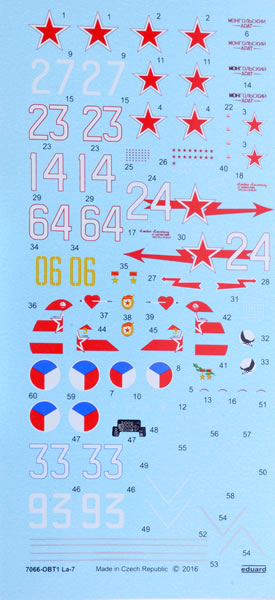 Like other Profipack Editions, the kit also includes a paint mask. This provides for both open and close canopy options, the main wheels, gun-sight reflector, and red nose marking

I think that Eduard's La-7 is still the best injected kit of this subject in 1/72 scale.

Regardless of future challengers, this is a straightforward kit that builds well and quickly. The Profipack Edition is enhanced by its coloured and plain PE details, a useful paint mask, and eight appealing colour scheme options.
Although simpler in execution that some recent Eduard releases, it is nonetheless a very good kit that has aged well since its release 12 years ago.

I happily recommend it.

Thanks to Eduard for the sample
---
Review Text Copyright © 2016 by Mark Davies
Page Created 18 July, 2016
Last updated 18 July, 2016
Back to HyperScale Main Page
Back to Reviews Page