Spitfire Mk.XVI Bubbletop
ProfiPACK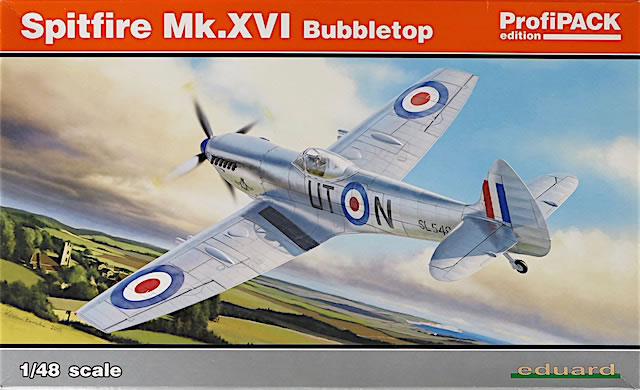 Eduard, 1/48 scale
S u m m a r y :

Catalogue Number:

Eduard Kit No. 8285 - Spitfire Mk.XVI Bubbletop

Scale:

1/48

Contents & Media:

Approximately 215 grey plastic parts (48 unused); 11 clear plastic parts (2 unused); one fret of pre-painted photo-etched brass; one sheet of pre-cut canopy masks; one decal sheet of national insignia and individual markings for five aircraft; one sheet of airframe stencil decals; 16 page A4 assembly instruction booklet with full-colour painting and marking guide with four view drawings of four aircraft and a port profile of the fifth.

Price:

USD $49.95 available online from Eduard's website; also available from specialist hobby retailers worldwide.

Review Type:

First Look

Advantages:

Beautifully moulded plastic parts; clear and comprehensive instructions; interesting marking choices.

Disadvantages:

Colour misregistration on some of the British and French roundel decals.

Conclusion:

The Mk.XVI is a beautiful Spitfire type, and Eduard's kit does it full justice.

Reviewed by Brad Fallen


Eduard's 1/48 scale Spitfire Mk.XVI Bubbletop
is available online from Squadron.com for only USD$32.97!

As Brett Green notes in his review of Eduard's 2015 Dual Combo Limited Edition 1/48 Spitfire Mk.XVI kit, the Mk.XVI "was the same as the Mk.IX in most respects except for the engine, a Merlin 266". This Packard-built Merlin was optimised for performance at low altitudes, and responsible for the subtle but distinctive upper cowling bulge that characterised Mk.XVIs and late production Mk.IXs. Others will disagree, but for me this is one of the features – along with a low-backed fuselage, clipped wings and pointed rudder – that make bubbletop Mk.XVIs among the most attractive of all Merlin-powered Spitfires.
As with Tamiya in 1/32, Eduard's 1/48 coverage of the Mk. IX and Mk.VIII made a Mk.XVI in this scale nearly inevitable. After kicking things off with the Dual Combo in July 2015, Eduard followed up four months later with the Mk.XVI Bubbletop Profipack I am reviewing here. In February 2016 a Weekend Edition Bubbletop was released, and a high-backed Mk.XVI seems likely in the future.
The Mk.XVI saw more peacetime than war service, and Katerina Borecka's box art shows a 17 Squadron Mk.XVI (marking option A) flying over the English countryside in 1950.
Inside the box are five sprues of medium grey plastic parts. Two – sprues F and G – are generic to all Eduard Spitfire kits and provide the smaller airframe components, while sprue D holds parts for the 'E' type wing seen previously in late Mk.IX kits.
The remaining two sprues – K and L – are Mk.XVI-specific and were introduced in the Dual Combo kit mentioned earlier. Sprue K holds the low-back fuselage halves, three-spoke wheels, bulged upper cowls, lower cowl with long carburetor intake, late style 'kinked' elevators and two styles of rear bulkhead (armoured and un-armoured). L is a new wing sprue that at first glance appears identical to the old sprue D, but a closer examination reveals blisters moulded above and inside the wheel well. According to the Spitfire Site's article on differences between Mk.IX family variants, the blisters
"...correlate to a modified wheel axle geometry adapted to tarmac/concrete runway operation. The original "grassfield" undercarriage had a substantial toe-in. As tarmac, concrete and PSP runways became usual during the course of the war, the toe-in resulted in severe wear on the port main wheel due to the engine torque during take-off. With the modification, the toe-in was decreased, but the wheels could no longer lie flat in the wheel wells and therefore needed more space to fit."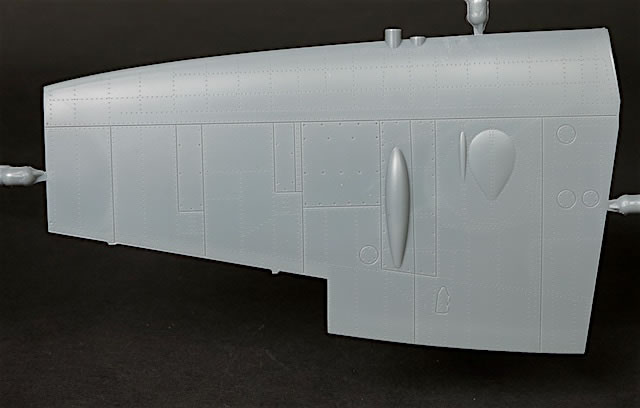 It seems these blisters were introduced part way through the Mk.XVI production run, which "may explain why the blisters are frequently seen on surviving warbirds and other post-war Spitfires while being rather rare on pictures taken during the war."
The new parts are of the same high quality as Eduard's older Spitfire sprues. Moulding is near perfect, with no visible imperfections, fine surface detail and petite sprue gates. Overall fit is superb, as I know from my experience building a Mk.IXc Weekend Edition kit.

Clear parts are also excellent. The new sliding bubbletop canopy is supplied loose inside the ziplock bag that holds the clear parts sprue, which arguably risks damage although my example was fine. The sliding canopy is thin, very clear and has no trace of a centreline mould line of the type found on, say, Academy's 1/48 Mk.XIV bubbletop canopy. Pre-cut tape masks are supplied to help with the fiddly job of painting these parts.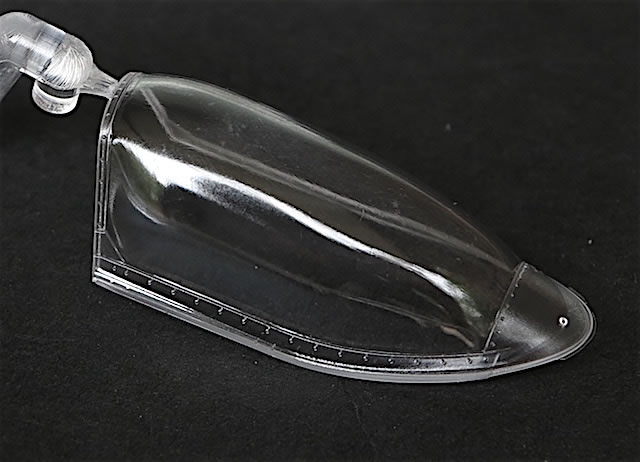 A modest fret of mostly pre-painted photo-etched parts complements the plastic parts.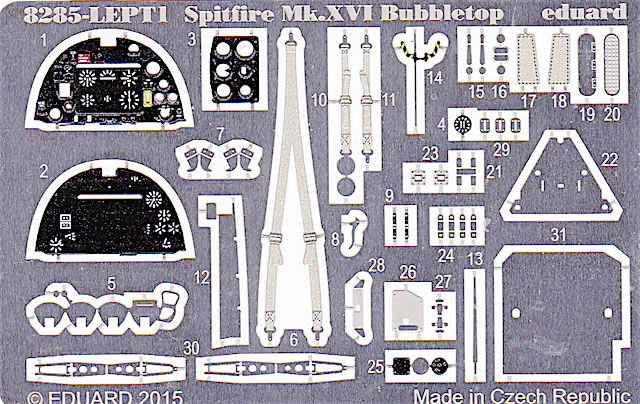 These are mostly destined for the cockpit and include seat harnesses and a beautiful multi-layer instrument panel. Several unpainted parts are also included, such as the seat armour and oleo scissor links, which prevents the modeller from having to fiddle around with colour matching.
The 16-page instruction booklet is comprehensive and includes an easy-to-follow construction guide, four-view grey scale stencil placement guide, and four-view full colour illustrations of four of the five marking choices. The fifth choice is represented in port profile only on the front of the booklet, with a link to an online version of the instructions that includes similar four-view illustrations.
---

Markings
Eduard's marking choices are a mixture of camouflaged wartime Mk.XVIs and more colourful postwar machines.
SL549/UT-N of No.17 Squadron RAF, Farnborough, 1950. Overall Aluminium with black codes and serials and a white/blue/white spinner and backplate, and large Type D roundels on the upper wings. While Eduard's illustrations show the same type (though not size) of roundels on the lower wings, the accompanying text notes "close examination of photos reveals that the roundels and serial number were not painted on the lower surface of the wings." At least one photo of SL549 I've found supports this; I haven't seen any that confirm the presence of underwing roundels, so the choice is up to you.

TD138/JH-L of No.317 (Polish) Squadron RAF, Ahlhorn, Germany, Spring-Summer 1946. Dark Green and Ocean Grey over Medium Sea Grey, with Sky codes and black spinner and serials. TD138 is one of several Mk.XVIs British pilots attempted to fly to Warsaw in late 1945 to participate in an exhibition of RAF wartime achievements. Soviet authorities didn't want this happening, and – abetted by inclement weather – made it difficult for the Spitfires to get through. Two eventually made it, but TD138 wasn't one of them. The 'kill' tally markings on the port fuselage beneath the windscreen are impressive but spurious, applied for the benefit of spectators in Poland. For a detailed account of the Mk.XVI mission to Warsaw, see Wojtek Matusiak's 'Supermarine Spitfire XVI' in Stratus' Polish Wings series.

TB702/GW-Y, flown by Captain P.G.J. Albertin of No.340 Squadron RAF, B105 Airfield, Lingen/Drope, Germany, May 1945. Also in Dark Green/Ocean Grey/Medium Sea Grey with Sky codes, black serial and spinner, and French national markings. According to the instructions, the French insignia were only applied in mid-May 1945; before this TB702 had worn standard British markings.

RW393/HT-A of No.601 Squadron, Royal Auxiliary Air Force, 1949. Overall Aluminium with black codes and serials, red fuselage band superimposed with a large white '5' on both sides, and a red and white spinner.

TE199, flown by Air Officer Commanding, No.21 Group RAF, Swinderby (not 'Swindersby' as printed in the instructions), 1948. Overall gloss black with gold spinner, wingtips and serials.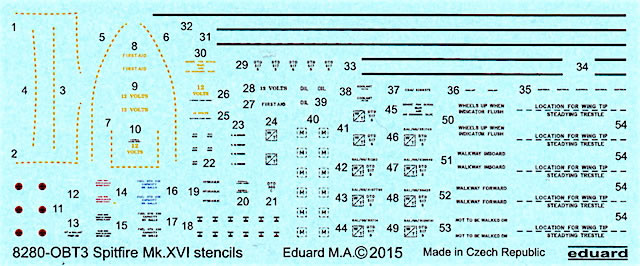 Eduard has printed both decal sheets. The larger sheet with national insignia, codes and unit markings is colourful and at first glance very impressive. However, a closer look reveals colour misregistration on some of the roundels.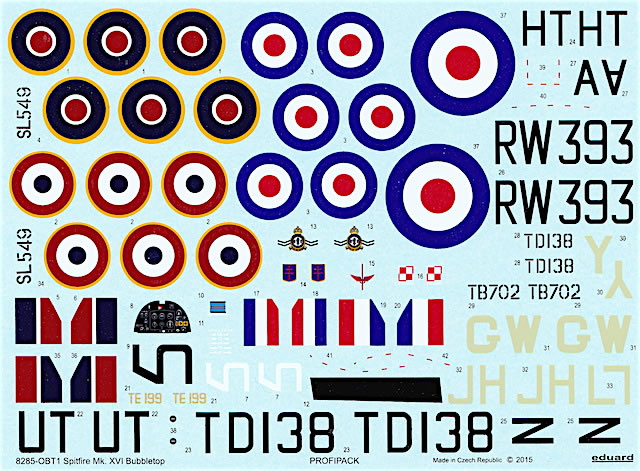 The red centres of the RAF C1 roundels are slightly off kilter, as are the outer yellow circles of the French insignia. Fortunately this problem doesn't extend to the other decals on this sheet, or the stencils on the second sheet, all of which look okay.
The Mk.XVI is a beautiful Spitfire type, and Eduard's kit does it full justice. The only downside is the decal misregistration, which is frustrating and one I haven't encountered before with Eduard; hopefully the problem is limited to the review sample. This issue aside, I recommend the kit very highly. If you've already built one of Eduard's Spitfire kits you will know what I mean; if you haven't, this would be a great one to start with.
---
References
"Spitfire Mk.IX, XI and XVI: Variants Much Varied", www.spitfiresite.com

Brett Green, How to Build Tamiya's 1:32 Spitfire Mk.IXc, Mk.VIII and Mk.XVIe (ADH Publishing, 2015)

Robert Humphreys, The Supermarine Spitfire – A Comprehensive Guide for the Modeller, Part 1: Merlin Powered (SAM Publications, 2000)

Wojtek Matusiak, Polish Wings 16: Supermarine Spitfire XVI (Stratus, 2012)
Thanks to Eduard for the sample.
---
Review Text Copyright © 2016 by Brad Fallen
Page Created 7 March, 2016
Last updated 7 March, 2016
Back to HyperScale Main Page
Back to Reviews Page