T-33A
Shooting Star Early Version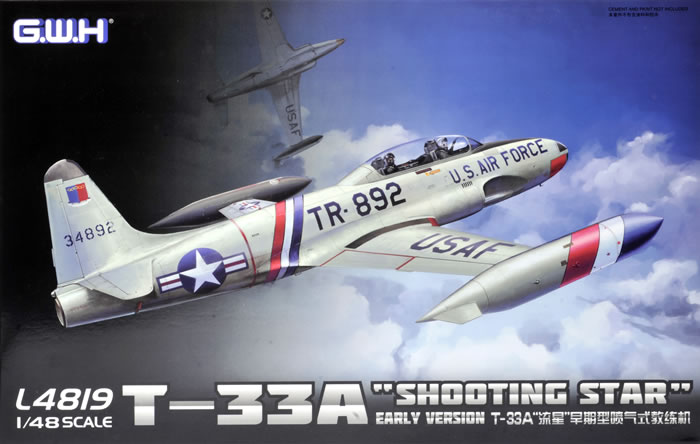 G.W.H., 1/48 scale
S u m m a r y :

Description and Item No.:

G.W.H. Kit No. L4819 - T-33A Shooting Star Early Version

Contents and Media:

112 parts in medium grey plastic; seven parts in clear plastic; one decal sheet covering three subjects

Price:

TBA

Scale:

1/48

Review Type:

First Look

Advantages:

Fine crisp surface textures including recessed panel lines; nicely detailed; poseable flaps, elevators and rudder; should be a straightforward build.

Disadvantages:

Instrument bezels a bit thick and dials recessed deep into panel.

Recommendation:

With its high level of detail, state-of-the-art surface textures and refreshingly modest parts count, this looks like an eminently buildable model. Considering the large number of colourful schemes, you might even want to build more than one! Highly Recommended.
Reviewed by Brett Green


G.W.H.s 1/48 scale T-33A Shooting Star will be available online from Squadron.com
The T-33 was developed from the Lockheed P-80/F-80 by lengthening the fuselage by slightly over three feet and adding a second seat, instrumentation and flight controls. It was initially designated as a variant of the P-80/F-80, the TP-80C/TF-80C.
Design work for the Lockheed P-80 began in 1943 with the first flight on 8 January 1944. Following on the Bell P-59, the P-80 became the first jet fighter to enter full squadron service in the United States Army Air Forces. As more advanced jets entered service, the F-80 took on another role—training jet pilots. The two-place T-33 jet was designed for training pilots already qualified to fly propeller-driven aircraft.
Originally designated the TF-80C, the T-33 made its first flight on 22 March 1948 with U.S. production taking place from 1948 to 1959.

The US Navy used the T-33 as a land-based trainer starting in 1949. It was designated the TV-2, but was redesignated the T-33B in 1962. The Navy operated some ex-USAF P-80Cs as the TO-1, changed to the TV-1 about a year later. A carrier-capable version of the P-80/T-33 family was subsequently developed by Lockheed, eventually leading to the late 1950s to 1970s T2V-1/T-1A SeaStar.
The two prototype TF-80Cs were modified as prototypes for an all-weather two-seater fighter variant which became the F-94 Starfire.
A total of 6,557 Shooting Stars were produced, 5,691 by Lockheed, 210 by Kawasaki and 656 by Canadair. *
---
Previous 1/48 scale T-33 Kits
Hawk released a 1/48 scale T-33 Shooting Star back in 1958. The model was subsequently reboxed by Testor.
Reports indicate that this was an excellent kit in its day but that it suffers from a number of accuracy issues.
Hobbycraft released their 1/48 scale T-33A Shooting Star in the 1990s. This was typical of Hobbycraft kits from that time, with crisply recessed panel lines but very basic cockpit and wheel well detail, and thick transparencies. I have read conflicting reports about the accuracy of the kit, with some stating that it is reasonably good and others suggesting that the fuselage falls away at the rear, that the intakes are too short and the canopy and cockpit sill have shape issues.
This kit was later released in different versions and reboxed by Academy.
G.W.H. has proven that they can produce a petite and well detailed kit using a small number of parts with their 1/144 scale Vulcan and Victor kits. They seem to have transferred some of this experience to their latest 1/48 scale kit, the T-33A Shooting Star Early Version.
Recently it seems that there has been a competition between kit manufacturers to cram as many parts as possible into a model box. To their credit, despite some complex subjects, G.W.H. has kept their 1/48 scale parts totals down to a manageable number resulting in quite buildable kits.
With this simpler subject, there are only 112 parts in medium grey plastic and a further seven parts in clear.
Surface textures are truly state-of-the-art. The panel lines are very crisp and very fine. These are supplemented by rows of rivets and other relevant surface features.
Detail is very good too. The cockpit is made up from two ejector seats (seven parts each) in a cockpit tub. Side console detail is raised, and a decal is also supplied as an option if you are not confident about your painting skills. The instrument panels are a sandwich - flat panel at the rear, instrument dial decal in the middle and a grey plastic front panel with raised bezel detail and holes through which the decal dials may be viewed.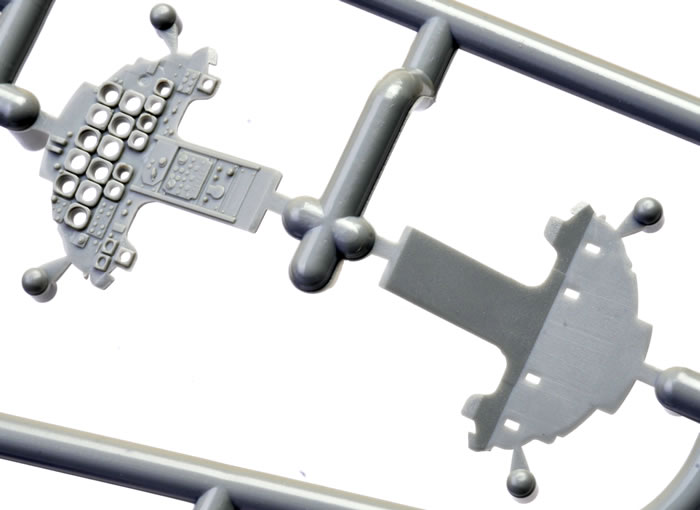 The only problem with this approach is that the dial decals are quite deep behind the front of the panel, and the holes look a little small to me (or maybe the bezels are too thick). If you don't like the effect, I am sure that Edaurd will have a colour photo-etched replacement available in no time at all.
The instructions suggest that the nose gear and front gear doors should be fitted to the model before the fuselage haves are joined, but I would recommend that you leave the dangly bits off until after painting is complete. The undercarriage legs and wheels look great, by the way. Wheels are flattened and bulged.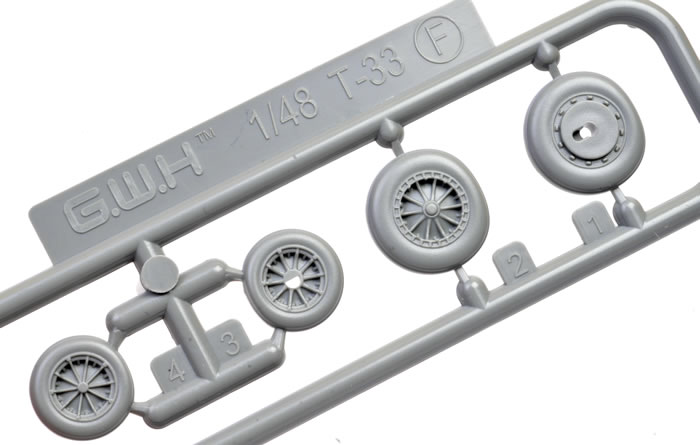 While we're talking about the instructions, it would seem that one of the drawings appears out of sequence. The illustration at the bottom right hand corner of Step 3 should actually appear at the end of Step 4.
The intakes and plates are separate parts. There is no engine or fan detail, but nothing would really be visible at the end of the intakes anyway. The jet pipe is made up from two parts and is trapped between the fuselage halves when they are joined.
The main landing gear bay is a superbly detailed moulding.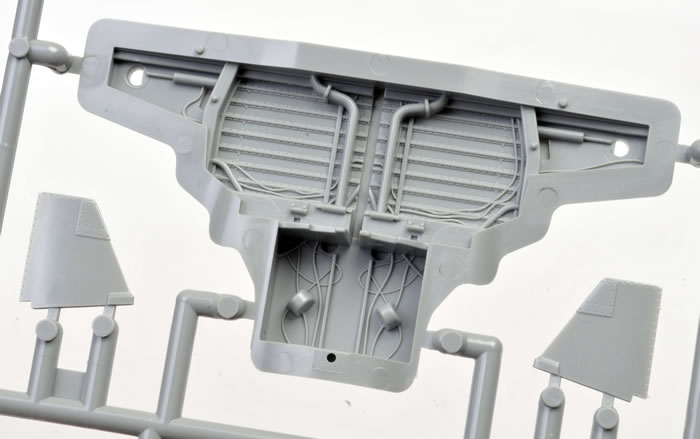 The main landing gear doors are equally good. They are moulded in the closed position, so you'll have to slice them open if your landing gear is down.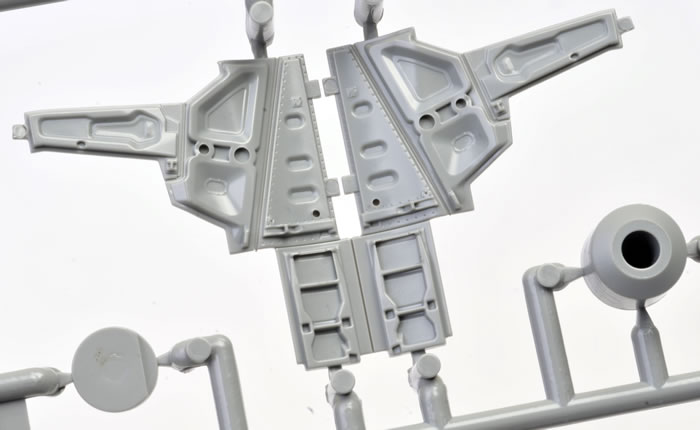 The elevators and rudder are separate so may be posed to taste. Ailerons are fixed in the neutral position.
The flaps are designed to be posed down. Eight separate hinge parts hold the flaps in place. Flap bay rib detail is moulded to the trailing edge of the upper wing halves.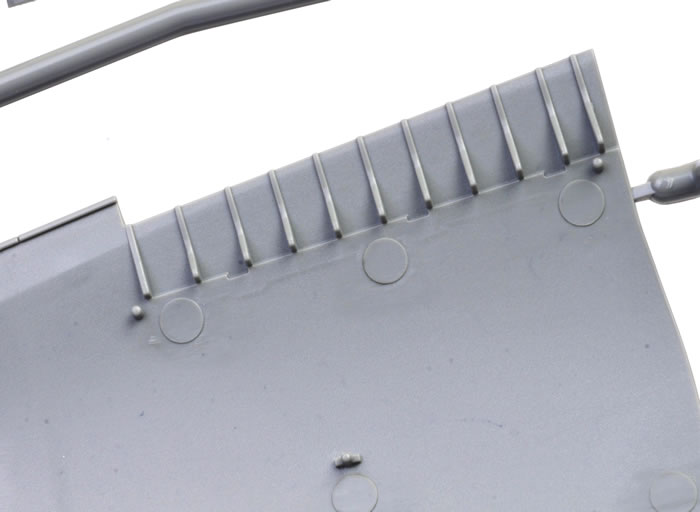 The one-piece nose cone is well moulded, although there is a little flash to clean up. A very nice one-piece boarding ladder is on the same sprue as the nose.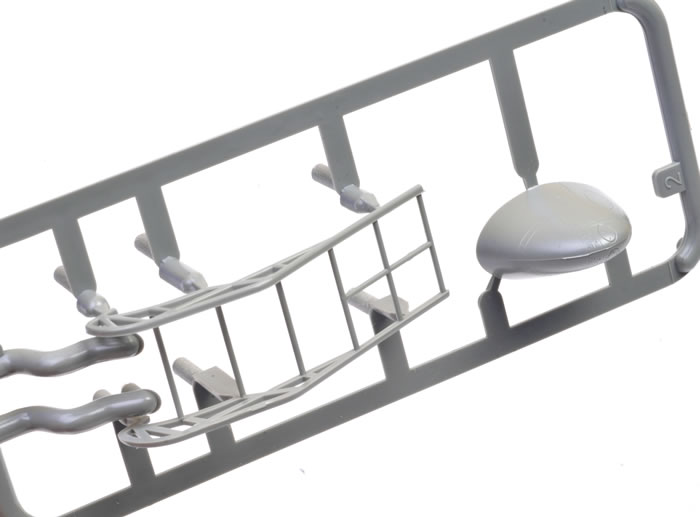 The clear parts are beautifully presented. The long opening section is protected from scuffing with an adhesive length of cling wrap. I can't tell if there is a centre seam on the top of this part. If it is there, it is almost invisible - very impressive moulding.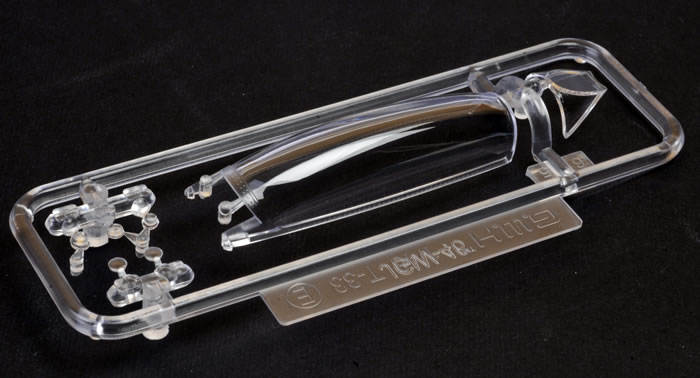 ---
Markings
Markings are supplied for one US aircraft, one from Italy and one German.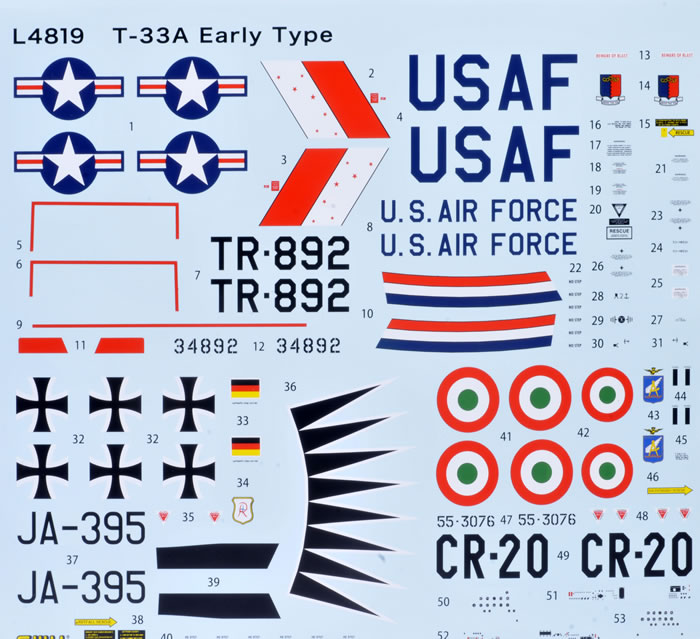 The decals are well printed and in register. The finish is quite flat.
With its high level of detail, state-of-the-art surface textures and refreshingly modest parts count, this looks like an eminently buildable model. Considering the large number of colourful schemes, you might even want to build more than one!
Highly Recommended.
* background information courtesy of Wikipedia.
Thanks to G.W.H. for the sample
---
Review Text and Images Copyright © 2016 by Brett Green
Page Created 18 May, 2016
Last updated 19 May, 2016
Back to HyperScale Main Page
Back to Reviews Page