Republic RF-84F Thunderflash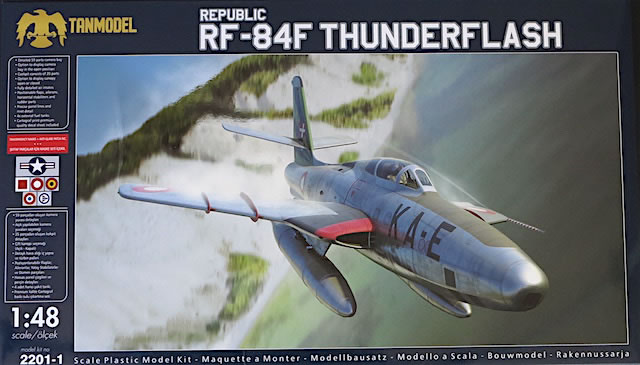 Tanmodel, 1/48 scale
S u m m a r y :

Description and Item No.:

Tanmodel Kit No. 2201-1 – Republic RF-84F Thunderflash

Contents and Media:

Approx. 160 grey plastic parts; 20 clear plastic parts; one sheet of vinyl pre-cut canopy masks with full placement instructions; one decal sheet with markings and stencils for seven RF-84Fs; 12 page A4 CAD-illustrated instruction booklet; 10 page painting and marking guide with full-colour four view drawings of each aircraft and greyscale four view stencil placement guide.

Price:

GBP £42.40 online from Hannants

USD $67.99 online from Sprue Brothers

And from specialist hobby retailers worldwide.

Scale:

1/48

Review Type:

First Look

Advantages:

Well-moulded; appears to be accurate in shape and outline; interesting range of marking choices with high-quality decals and painting and marking guide.

Disadvantages:

Nothing really worth complaining about.

Recommendation:

Tanmodel's 1/48 RF-84F is an accurate, well-produced kit of an important but neglected aircraft type, and therefore highly recommend
Reviewed by Brad Fallen


G.W.H.s 1/48 scale T-33A Shooting Star will be available online from Squadron.com
The Republic RF-84F Thunderflash was a photoreconnaissance version of the F-84 Thunderstreak – itself a swept-wing derivative of the F-84 Thunderjet (although with less commonality than originally conceived). The RF-84F was distinguished from the Thunderstreak by its solid camera nose and wing root engine intakes. Just over 700 Thunderflashes were built from 1954 (compared to nearly 3,000 F-84s), and served both the USAF and a number of European air forces until the last were retired by Greece in 1991.
As with the real aircraft, there have been many more Thunderstreak than Thunderflash kits produced. Hawk released the first 1/48 Thunderstreak in the mid-1950s, followed by Heller (1970s), Monogram (1980s), Kinetic (2000s), and HobbyBoss (2013) with the last of these kits the best by some margin.
In comparison and unless I'm mistaken (which is always possible), there seem to have been only three 1/48 RF-84F kits released: by Heller (1980s), Fonderie Miniatures (2000s), and the relatively new Turkish company, Tanmodel, in 2015.
According to its website, Tanmodel is "currently the only company in Turkey manufacturing plastic scale model kits….We design our model kits using technologies such as 3D laser scanning as a result of our close collaboration with Turkish Armed Forces." This cooperation almost certainly occurred in the development of RF-84F kit, given the type's extensive Turkish service and the presence of several preserved examples in the Istanbul Aviation Museum.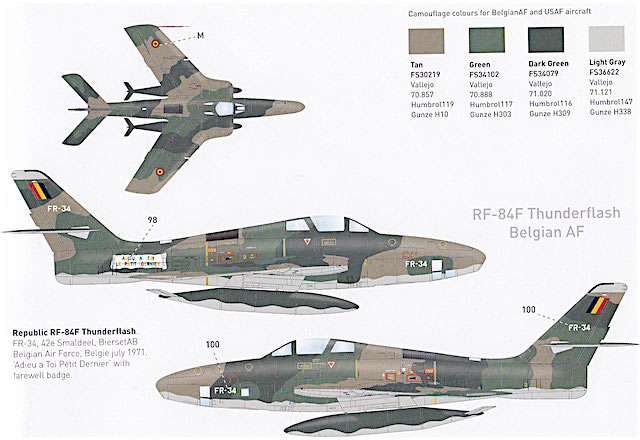 This advantage notwithstanding, Tanmodel wasn't 100 per cent satisfied with its initial RF-84F release from last year. Reviews were positive, but there were some problems with the decal sheet in terms of colour registration and accuracy. While some manufacturers would've been happy to let things stand (the decal issues don't seem to have been showstoppers), Tanmodel decided to release a second edition of the kit with reworked decals and a couple of other adjustments. The company says on its website that
we changed and improved the box content of our RF-84F kit. Therefore, content of our decal set is changed and printed by Cartograf….[The new] box will include a detailed and high quality transparency mask set.
Apart from the new decals these are fairly minor changes – and the addition of a masking set is very welcome.
Also changed is the box art, which originally showed a pair of Turkish RF-84Fs flying in company. The new – and in my view much more dramatic – art features a Danish Thunderflash crossing a coastline at low level. It's a promising start to an interesting release.
The 40 x 23 cm (15 ¾ x 9 in) top-opening box is satisfyingly heavy and – when the lid is removed – full. Most of the space is taken up by five sprues of light grey plastic parts that (using photos as a basis for comparison) appear to be unchanged from the original release.
Production quality is high. The parts are cleanly moulded with no obvious flash and mostly (but not universally) thin sprue gates. Surface detail on the larger airframe parts is good – comparable to current Airfix releases but not as fine as Eduard or Tamiya mouldings. Rivets have been depicted with reasonable success in that they look good on the bare plastic (and will look even better under paint), but I haven't cross-checked their locations with reference photos for 100 per cent accuracy.
Detail on the smaller parts is reasonably good, although a little soft in some areas – for example the instrument panel, which will require careful painting and aftermarket decal dials to look convincing. The cockpit tub is a pleasingly busy assembly that looks reasonable compared to images of the real thing. However I didn't find these references particularly easy to find (there are plenty of online photos of Thunderstreak cockpits, but less for Thunderflashes), so will leave the final call on cockpit accuracy to the experts. The same applies to the five-part pilot's seat; this doesn't match the one or two photos I could find on the subject, but it could be that (given the number of different RF-84F operators) several different seat types were employed. Whatever the reason, I strongly recommend you check your references closely during construction. At the same time, you'll need to find some seat harnesses as the kit doesn't supply any.
The internal details that impress me the most about this model are the cameras and associated equipment. Two years ago I reviewed HobbyBoss' 1/48 RF-80 A Shooting Star kit, which frustratingly omitted key details of the type's photoreconnaissance equipment. Not so here – Tanmodel has gone to considerable effort to depict the numerous cameras carried by the RF-84F. All of the cameras are multi-part assemblies and, while they won't be highly visible on the finished model unless you open up the nose to reveal them, they will nonetheless add a welcome touch of authenticity.
Kit engineering is conventional with internal details sandwiched between two fuselage halves. The wings are also moulded in halves, with wheel wells sandwiched in between. Test fitting of the fuselage and wing halves, and wing to fuselage joins, is promising but indicative only – the real test will come later, when the halves need to be joined around the numerous interior structures and ducting.
The comparatively high clear parts count (20 by my reckoning) is in part due to the Thunderflash's photoreconnaissance role; a number of the parts are camera windows.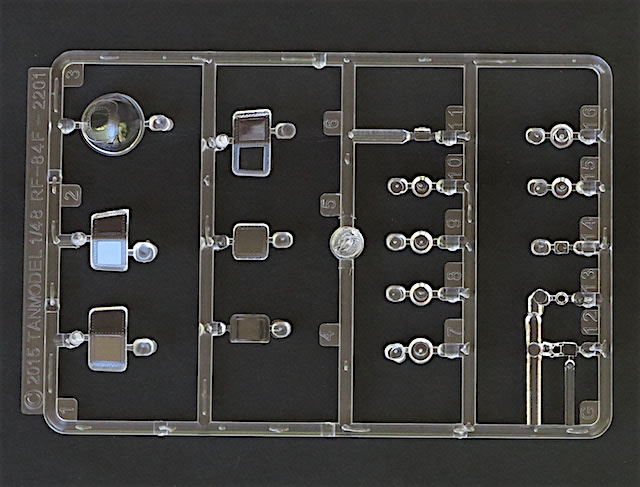 All of the transparencies are thin and very clear. Most impressive are the canopy parts, which can be posed open or closed. The single-part closed canopy option fits well, is impressively large and without the slightest hint of the centreline moulding seam that bedevilled bubble canopies in years gone by.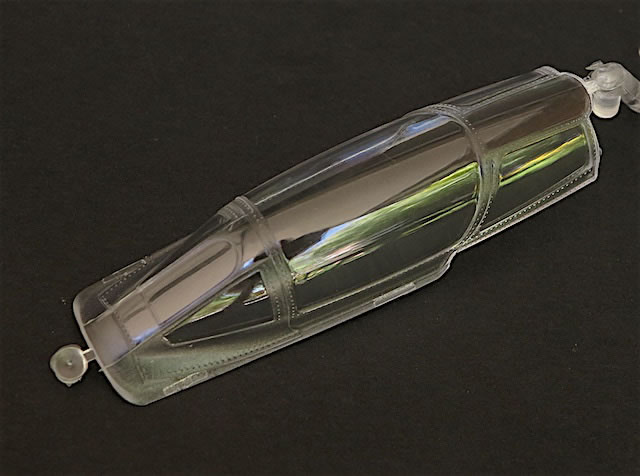 Tanmodel supplies pre-cut vinyl masks to assist with painting the clear parts; I haven't used vinyl masks in ten years, but recall them being reasonably straightforward to apply.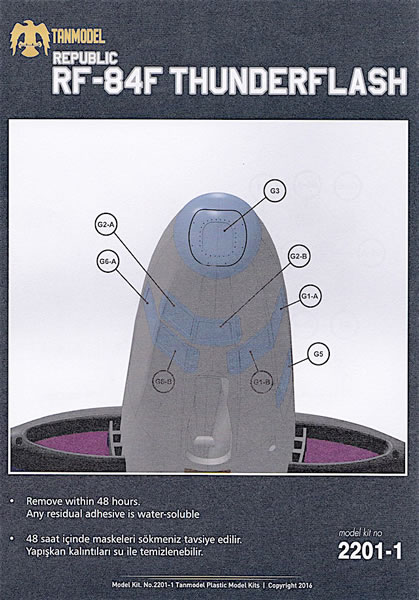 The 13-page A4 instruction booklet is well produced with clear CAD illustrations. The 64 construction steps follow a logical sequence, with optional steps clearly indicated and paint colours called out in Humbrol and Gunze numbers. The style of the instructions is more akin to that of modern Airfix than Tamiya or Wingnut Wings, with an emphasis on illustrations and little accompanying explanatory text. No sprue map is included.

The painting and marking guide comes as a separate, smaller booklet. All illustrations (apart from the stencil placement guide) are full colour, with well-presented four view drawings of each subject and clearly marked decal locations. Enough information is provided on each aircraft to allow the modeller to conduct follow-up research if they want to find more information.
---
Markings
The original release included markings for nine aircraft (two French and US, and one each from Turkey, Italy, Germany, Greece, the Netherlands). Only two of these subjects – the Turkish and one US machine – have been carried over into the new kit, which contains markings for seven RF-84Fs flown by six different operators as follows:
52-7450 of 114 Filo (Squadron), 1st AB, Turkish Air Force between 1956 and 1972. An ex-USAAF machine, 52-7450 was one of between 68 and 83 RF-84s (depending on your source) operated by Turkey between 1956 and 1980. The aircraft was overall natural metal, which the single reference photo I could find suggests was quite dull.
53-7566/33-TJ of ER 3/33 'Moselle', French Air Force, Cognac, France 1956; also overall natural metal although I haven't been able to find a reference photo to show the exact state of the finish.
53-7571/KA-E of No.729 Squadron, Royal Danish Air Force, Kastrup (Copenhagen), Denmark, 1958. The overall natural metal finish was enlivened by a dramatic black-and-green sunburst pattern on the vertical tail surfaces.
FR-27 of 42e Smaldeel, based at Bierset (Liege), Belgium, 1970. This and the remaining two subjects were camouflaged in the USAF's South-East Asia scheme of Tan, Green and Dark Green over Light Grey.
Finally we have a USAF RF-84F, 52-7367 operated by the 171st Tactical Reconnaissance Squadron, Michigan National Guard, Detroit 1968.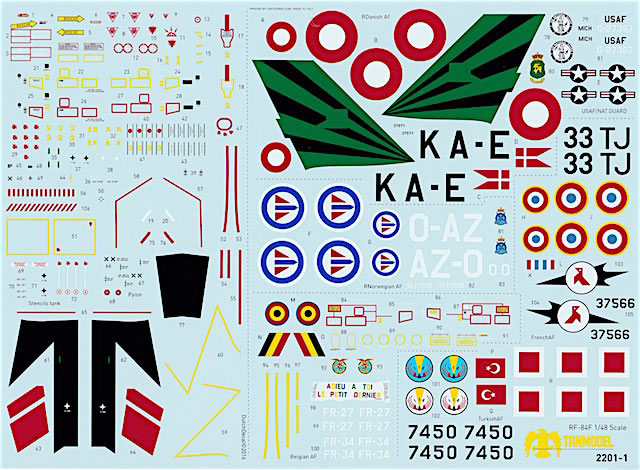 One of the key reasons behind Tanmodel releasing a second edition of this kit – with the above revised marking options – was to improve the quality of the decals. I haven't got a set of first edition decals to use as a point of comparison, but the revised decal sheet in the review sample looks very good. Cartograf is credited as the printer, and the decals have all the hallmarks of this producer: crisp registration, good colour density and no printing flaws. I've used Cartograf decals on several recent projects and they have been excellent, settling down well with Micro Set and Micro Sol and resistant to most clear coats except Tamiya lacquer thinner. If applied on a glossy surface, the carrier film all but disappears – which will be good news with these decals as there are a number (particularly for the Norwegian Air Force Machine) that out of necessity have large amounts of carrier film.
There is also an acknowledgement on the decal sheet of the contribution made by Dutch Decals, who printed the first edition decals. Comparing the new decals with photos of the original sheet, it appears that Dutch Decals' design and layout of the airframe stencil decals remains largely unchanged. These are also well printed, and will reward careful application. This will be time-consuming as there are a large number of stencils to apply, but fortunately Tanmodel provides a comprehensive four-view black-and-white application guide. The instructions also point out that variations in stencil application were commonplace, and recommend modellers consult their own references rather than simply relying on the application guide.
Tanmodel's 1/48 RF-84F is an accurate, well-produced kit of an important but neglected aircraft type – an impressive release for a new model company. However a glance at Tanmodel's website suggests the company won't be resting on its laurels, with planned releases to include a Blenheim Mk.IV and SR-71A in 1/48 scale, and an F-111 series in 1/32. If these kits maintain and build on the standard that has been set with the Thunderflash, then Tanmodel will deserve every accolade. In the meantime, if you have any interest in postwar jets then you should take a look at the RF-84F kit, which I can very highly recommend.
Thanks to Tanmodel for the sample.
---
Review Text and Images Copyright © 2016 by Brad Fallen
Page Created 27 December, 2016
Last updated 28 December, 2016
Back to HyperScale Main Page
Back to Reviews Page