Monogram 1/72 scale conversion
B-52F Stratofortress
by Jim Rotramel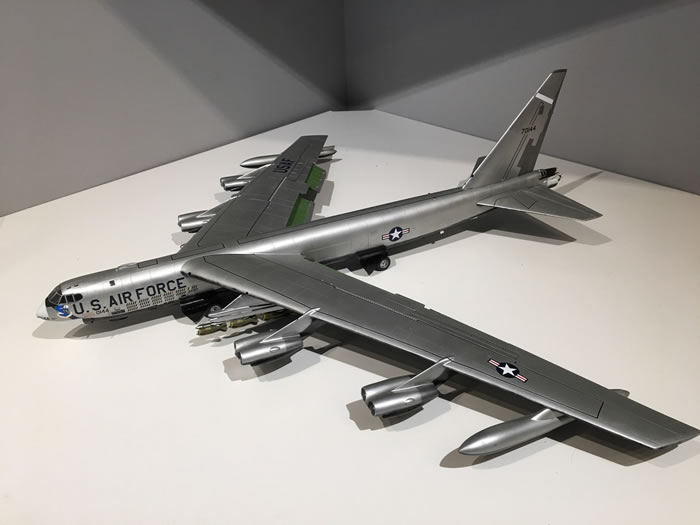 B-52F Stratofortress

Tamiya's 1/48 P-51B Mustang is available online from Squadron.com for only $26.99!
I have finally finished the ancient Monogram 1/72 scale B-52D kit, modified to an F. As these things tend to do, it took quite a bit longer than I thought it would when I started!
I rescribed the raised panel lines (if you've never done this before, this is an excellent kit to learn on—lots of nice straight lines). I highly recommend doing this if you attempt this kit.
It's not the best fitting kit you'll ever do, especially at the wing roots and having described it will make it much easier to overcome the fit issues. I've elected not to glue the tail in place—this will allow it to be transported on its back, thus taking stress off the landing gear. If you decide to glue your tail on, wait until the very last as you'll probably need to put the thing on its back during construction and not having the tail in the way is a really nice feature!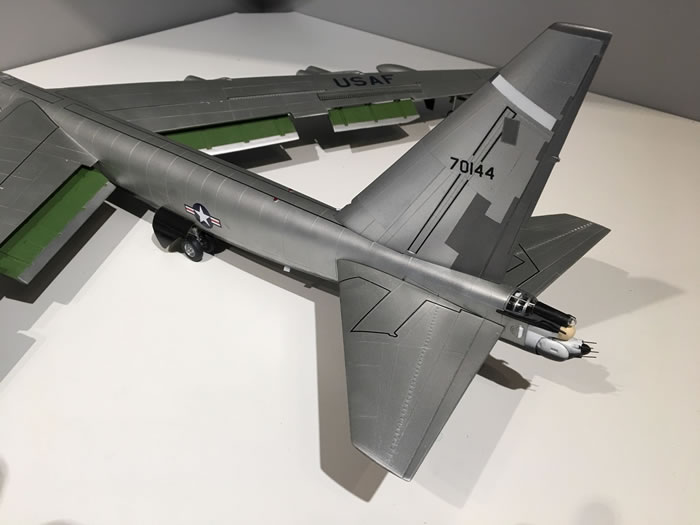 Canopy doesn't fit worth beans…
Replaced kit 'MERs' and bombs with aftermarket MERs and bombs (Eduard).
Added extra window just below 'A' with blast curtain behind it. Also cut out windows above pilot & co-pilot seats. All fuselage windows are Kristal Klear.
If you decide to do a black belly F, don't be suckered (like me) by the nice horizontal panel line that runs the length of the fuselage. The demarcation line is actually about 1/8" below that panel line. Also note the soft, rough edge on the leading edge of the wing—that's intentional, not my bad painting (honest!).
TO-1-1-4 calls for 50" stars on fuselage. From photos, they actually applied 35" ones.
Engines & pylons are Cutting edge B-52G engines wing homemade blister on upper left side of pod.
F pylons & attachment to wing were like D, so had to modify G pylons. Using Monogram pylons wasn't practical.
Star on wing was applied at odd angle, not along panel lines. Walkways are homemade decals. Fuselage & wings were Corogard, vertical tail was unpainted.
Decals from Cutting Edge sheet 72209 (aside from walkways and Furball fuselage stars).
Replace kit 0.50-cal. guns with correctly sized hypodermic tubing. The horizontal tail walkways are scribed on the top and bottom of the pieces (they're actually two tops reproduced twice). Don't rescribe the walkways on the bottom (B-52s are not cleared for orbital operations).
Note EWO's ejection seat hatch. Similar hatches on belly for navigators.
---
Model and Text Copyright © 2017 by Jim Rotramel
Page Created 22 May, 2017
Last Updated 22 May, 2017
Back to HyperScale Main Page