High Planes Models' 1/72 scale
English Electric Canberra T.4
Suez Crisis Scheme
by John Miller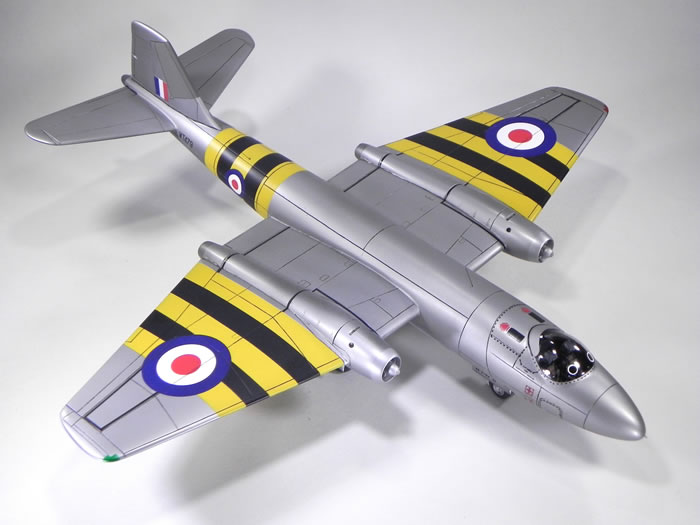 English Electric Canberra T.4

Hobby Boss' 1/72 Macchi C.200 Saetta is available online from Squadron for only $10.99!
This is the High Planes Models Canberra T.4 in 1/72 scale wearing the yellow and black stripes of the Suez Canal Crisis. This model is part of a group build coordinated by the NorthWest Scale Modelers (NWSM) club based out of Seattle's Museum of Flight.
The club maintains a themed display within the museum and the current subject is aircraft that participated in the Suez Crisis of October 29 to November 7th, 1956. This short conflict entailed the use of a broad range of aircraft on all sides.
Use of the Canberra was most notable during Operation Musketeer: an attack on several Egyptian airfields conducted on the night of October 31st.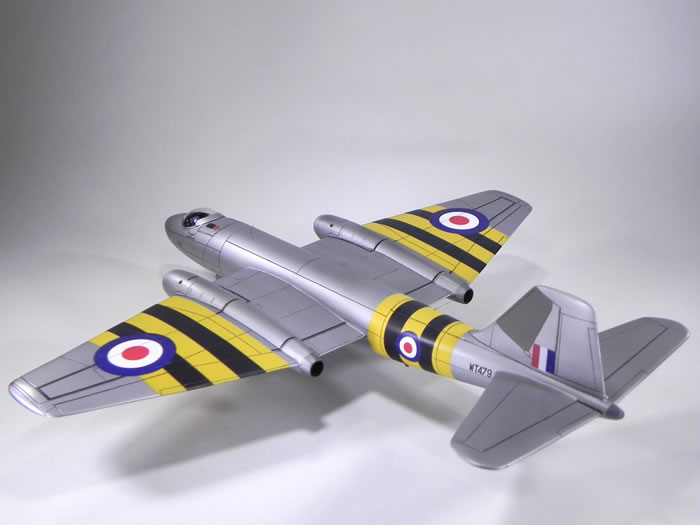 To assemble a sufficient show of force for Operation Musketeer, front-line Canberra squadrons, equipped with mostly B Mk 2 and 6s were augmented with T.4s from training squadrons. Since the T.4 has a solid nose, easy options in 1/72 scale are to modify the Airfix kit or build the High Planes Canberra. I opted for the High Planes kit as boxing #KO72090 provides markings for Canberra WT479, a T.4 that participated in Musketeer.
If you're not accustomed to High Planes models what greets you upon opening on of their kits can be a bit surprising. I'm referring, to the very blue colored plastic High Planes models are composed of. Cockpit and landing gear details are provided in resin. The decal sheet provides markings for three aircraft and two vacuum form canopies are supplied so you get one to learn on.
This is a limited production kit and as such a lot of time was spent prepping the individual parts prior to assembly. The fuselage halves had to be thinned appreciably using the canopy as a guide. In order to make the T.4 trainer variant, the nose section was removed and replaced with a solid resin piece. The horizontals had no tabs so plastic dowels were installed to strengthen the structure.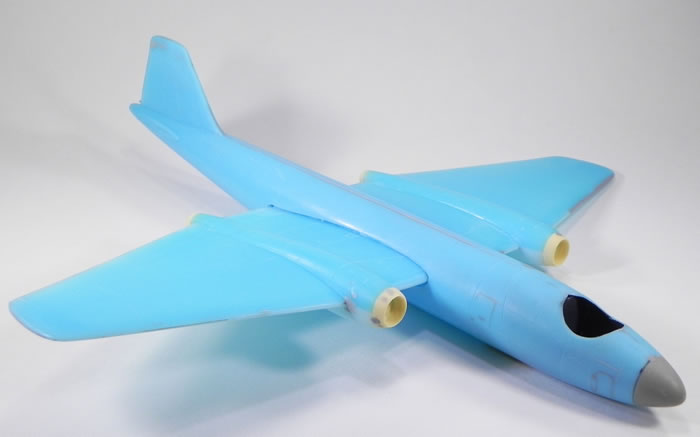 The resin intakes and exhausts for each nacelle were misshapen and had to be re-worked before use. The wing halves were thinned to reduce the trailing edges from a scaled ~8ft thick to just ~2ft thick J After wrestling the wings into place, the sizeable gap around each root was filled with a mixture of CA glue and talcum powder.
For painting, the model first shot with Alclad Black Primer/Filler (ALC-309).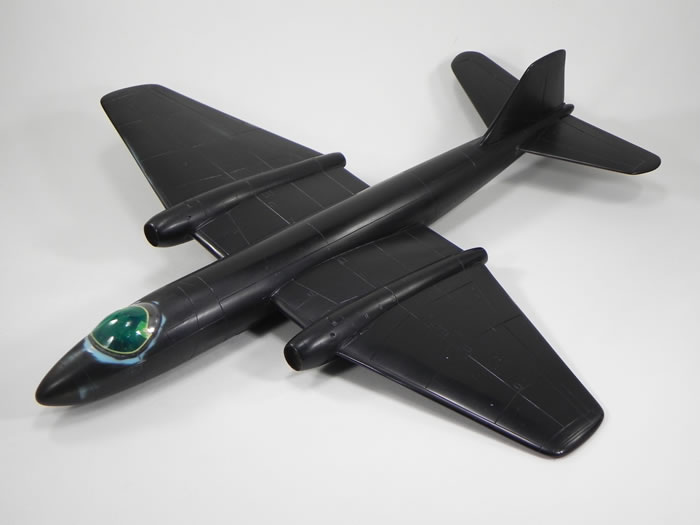 After a good wet buffing this was followed with Alclad RAF High Speed Silver (ALC-125).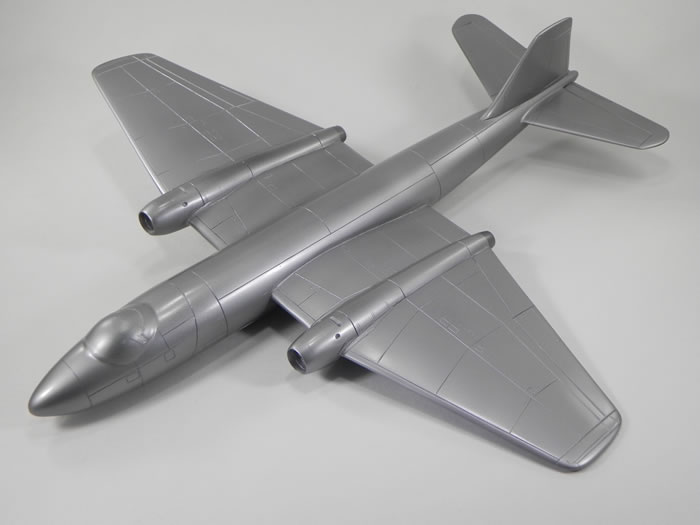 The yellow and black stripes, gray panel on vertical stabilizer, and landing gear/doors were painted with the new Mission Modes acrylics: awesome paint.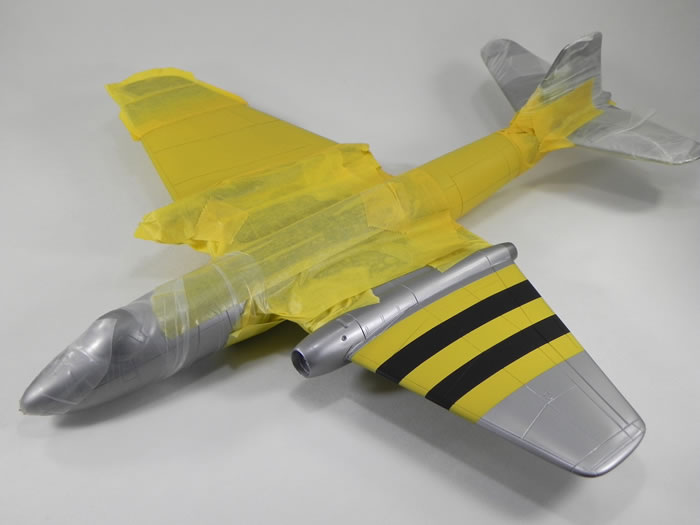 After a coat of Alclad Aqua Gloss Clear (ALC-600), kit decals were applied using conventional methods and responded well to Micro-Set and –Sol. A few obstinate decals were put in their place with a little AK Decal Adaptor Solution (AK582) and another coat of Alclad Gloss Clear was used to blend the decals to the models surface. A light dusting with Vallejo Satin Varnish (70.522) sealed the deal.
What a kit! That really was a lot of fun. It wasn't a walk in the park by any stretch but it forced me to dust off some old tricks and come up with a few new ones and, for me, that's what it's all about.
Between the high-speed silver finish and the red/black stripes, the result is an eye-catching model to say the least.
Most importantly, this kit, along with the other models built by members of the NothWest Scale Modelers club will serve to educate the public as to aircraft that participated in the Suez Canal Crisis of 1956.
Thanks for reading along.
You can find a more detailed account of painting this model on Model Paint Solutions' website by following this link.
---
Model and Text Copyright © 2017 by Model Paint Solutions Inc.
Page Created 16 June, 2017
Last Updated 16 June, 2017
Back to HyperScale Main Page