Revell's 1/720 scale
Luffschiffbau-Zeppelin LZ 129 Hindenburg
by Tadeu Pinto Mendes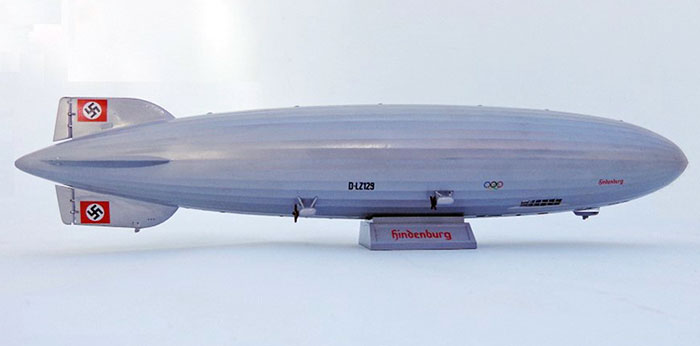 HyperScale is proudly supported by Squadron
His first passenger trip was to Brazil, which began on 03/31/1936 and lasted four days arriving in Rio. That same year he made a total of 10 trips to the US and 7 trips to Brazil. In 1937 the flights to America would only begin again in May, having been marked for the United States in its then 11th trip to this country.
Upon arrival at the Lakehurst naval base that was in 06/05, it arrived 12 hours late due to bad weather, when it had a violent explosion followed by a large fire that completely destroyed the mega aerostat. There were 97 people on board of crew and passengers and 62 survived.
Even with this tragic end, however, its "twin brother", the LZ 130 Graf Zeppelin II, was launched in September of 1938.
Its operations were very limited due to War in Europe that arrived, having then been dismantled in 40 along with the LZ 127 Graf Zeppelin.
And so ended tragically the Hindenburg, of which it was the largest operational airship in the world and entered the history of aviation.
---

Assembly:
This is a curious model of the German Revell, since it is an aerostat, quite different then from the airplanes that are aerodinos and that we are so accustomed to mount. It is a well-shaped model with a total of only 33 pieces, including pedestal and mooring tower.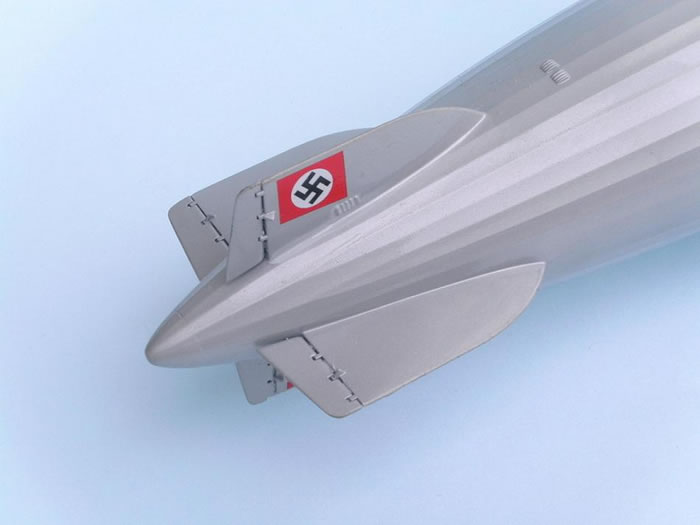 The airship comes in two halves, the back and the belly, not two halves, as usual in airplanes. Because it was on a very small scale, it was difficult to mount the motors near their supports, as well as their beakers.
---

Painting:
The whole airship was painted aluminum, so I made a mix of aluminum and white to give this idea a better idea. The pedestal, tower and propellers of the four engines, I made in different tones.
In the small decal comes then to apply the name Hindenburg in the airship as well as in the pedestal. The registration and the symbol of the Olympics, which at the time was 1936.
---

Model, Images and Text Copyright © 2017 by Tadeu Pinto Mendes
Page Created 23 August, 2017
Last Updated 23 August, 2017
Back to HyperScale Main Page