Tamiya and Wings Cockpit 1/32 scale
US Navy WWII Pilots
by Brett Green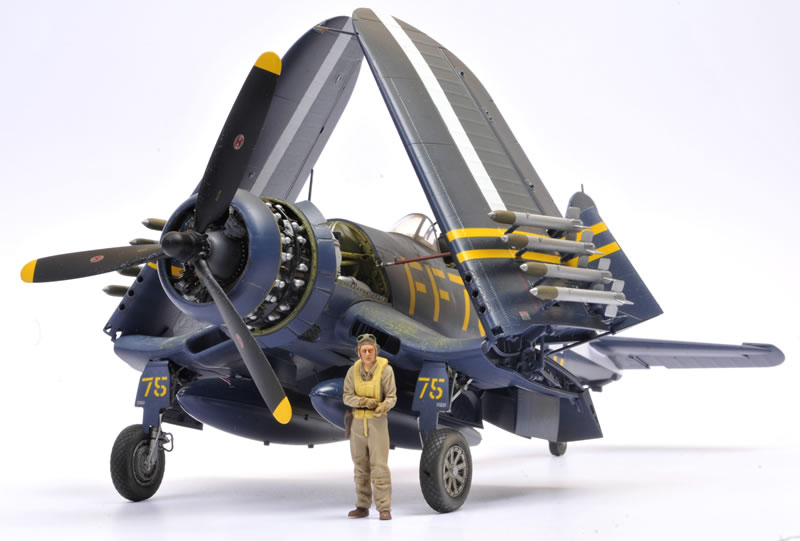 Chance-Vought F4U-1D Corsair with Tamiya US Navy WWII Pilots

Meng's 1/48 scale F-35A Lightning II is available online from Squadron for USD$59.99
I painted up a couple of pilot figures to accompany my recently completed Tamiya 1/32 scale F4U-1D Corsair. I painted two as I thought that there would be a better percentage chance that one of them would be okay.
They are the Tamiya standing pilot figure as supplied with the kit, and the character-filled resin Wings Cockpit US Navy Pilot (the guy with one hand in the air).
The Tamiya figure is actually more appropriate for this late WWII Corsair. The Wings Cockpit figure is labelled Early War 1941-43. He is also noticeably bigger and bulkier than the Tamiya figure.
Both figures have been painted with Tamiya and Vallejo acrylics, helped along with dry-brushing and oil washes for the uniforms and faces.
Tamiya supplies both a seated and standing pilot figure. The standing pilot figure is made up from five injection moulded plastic parts (the pistol holster is not shown in the photo below). Detail looks a little soft here, but as you will see, things look better after painting.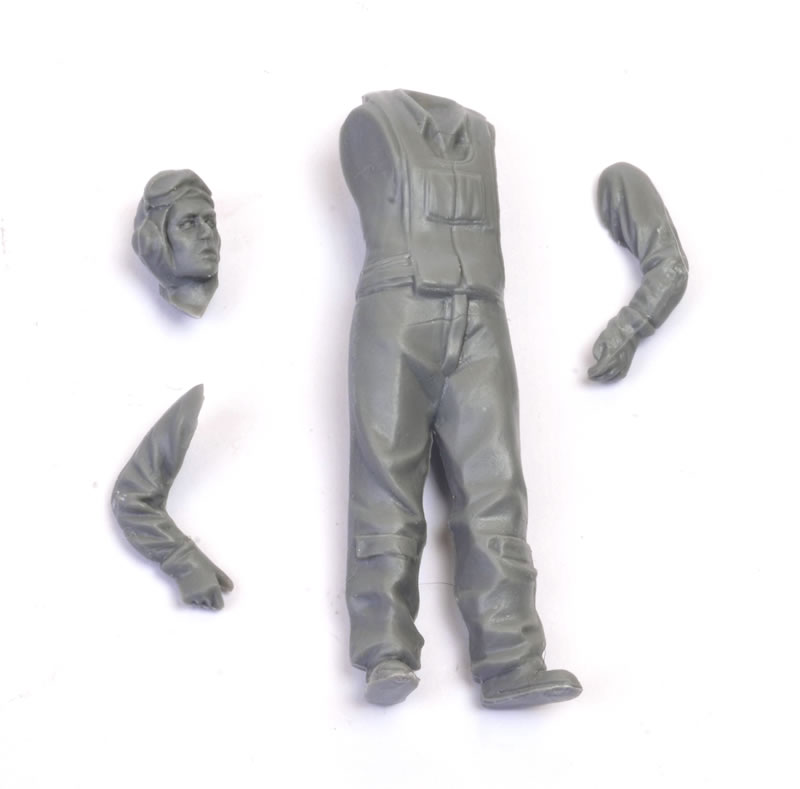 The body was assembled, filled and coated with Tamiya Grey Primer straight from the spray can. The head received two coats of Tamiya's Fine White Primer to help with the coverage of the flesh colour. The primer also identifies any remaining raised seam lines, of which there are quite a few!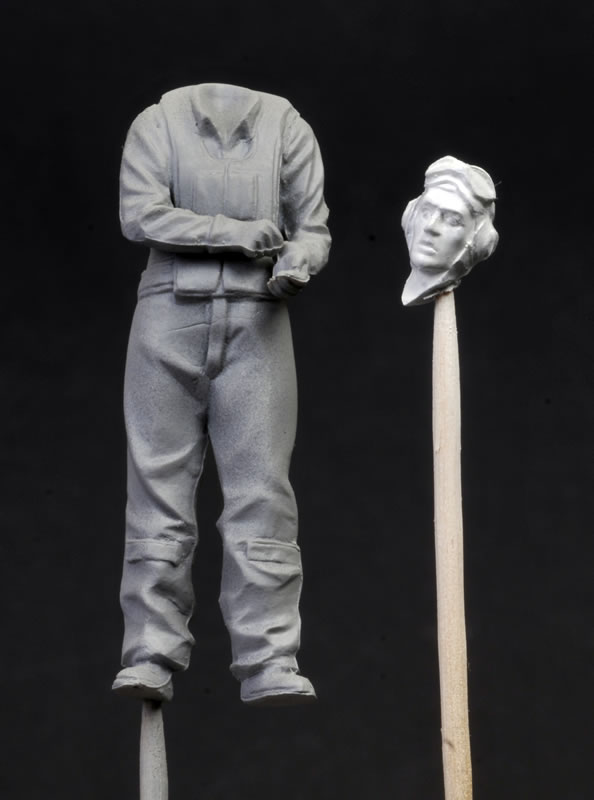 Base colours are on. I sprayed the entire body Tamiya XF-57 Buff. The head was sprayed with Tamiya XF-15 Flat Flesh.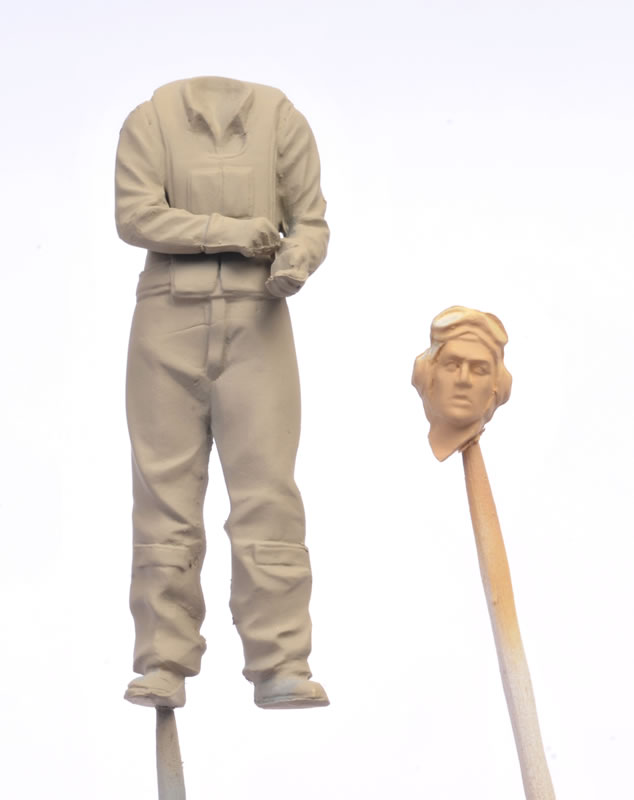 The Buff base coat was dry-brushed with a lighter shade mixed from Vallejo acrylic Model Color 70.951 White and 847 Dark Sand.
The life vest was then brush painted with a mix of Vallejo Model Color acrylic 70.953 Flat Yellow, 70.951 White and 847 Dark Sand. The holster and shoes have been painted with a lightened shade of Tamiya XF-64 Red Brown. The leather gloves have received a coat of Tamiya XF-60 Dark Yellow.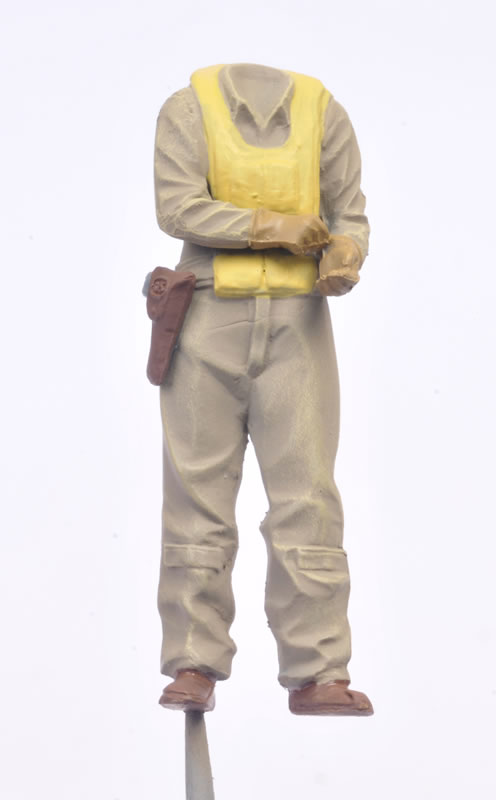 The body received a wash of Raw Umber oil paint heavily thinned with Pure Gum Turpentine.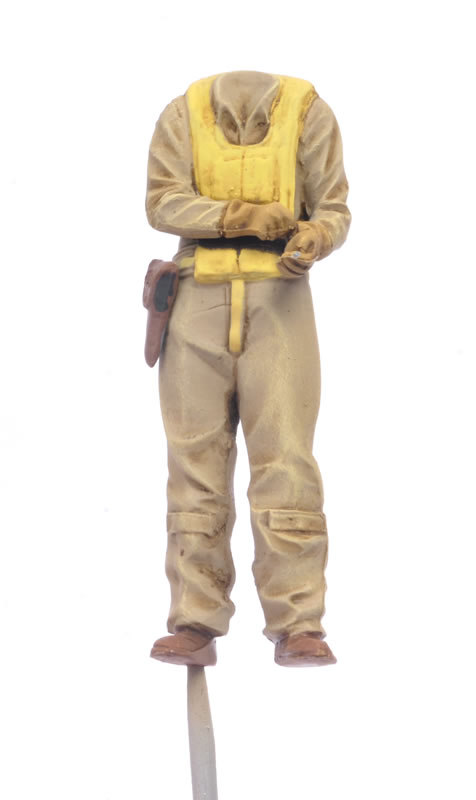 The face received a wash of a Burnt Sienna and Raw Umber mix. This settles in the facial features and takes care of some of the detail painting for you. Eyes and mouth were picked out with Vallejo acrylic Panzer Aces 337 Highlight Ger. (Black), which is actually a dark brown shade. The forehead, bridge of the nose and chin were highlighted with a mix of Vallejo flesh shades.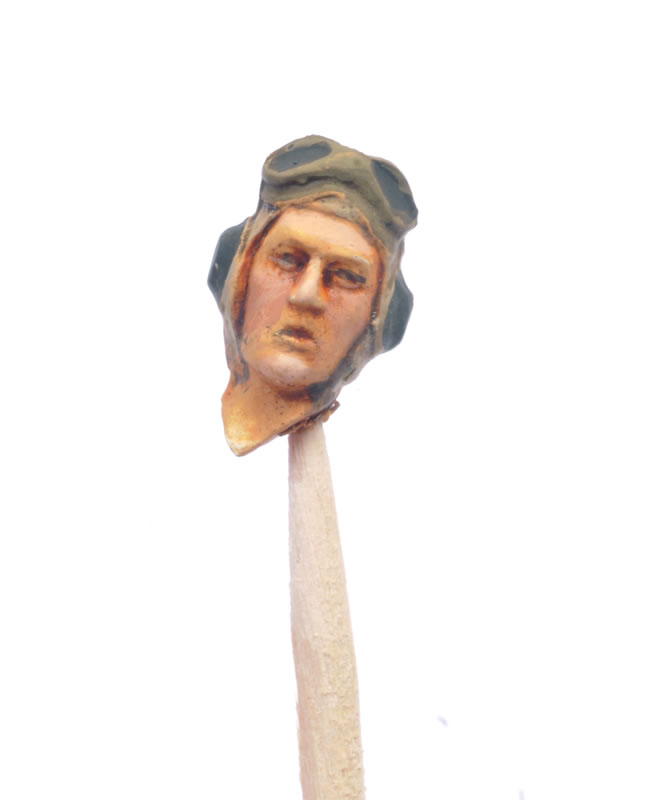 The completed Tamiya pilot figure. The lenses of the goggles have now received a brushed application of X-25 Clear Green. A few outlines have also been picked out with thinned Panzer Aces 337 Highlight Ger. (Black) applied with a 10/0 brush.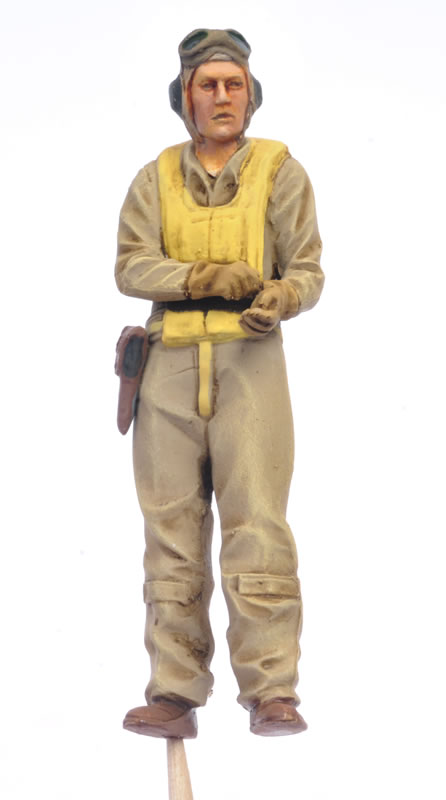 Wings Cockpit Item No. USN01 "US Navy Pilot Early War 1941-43" was painted at the same time using exactly the same colours and techniques.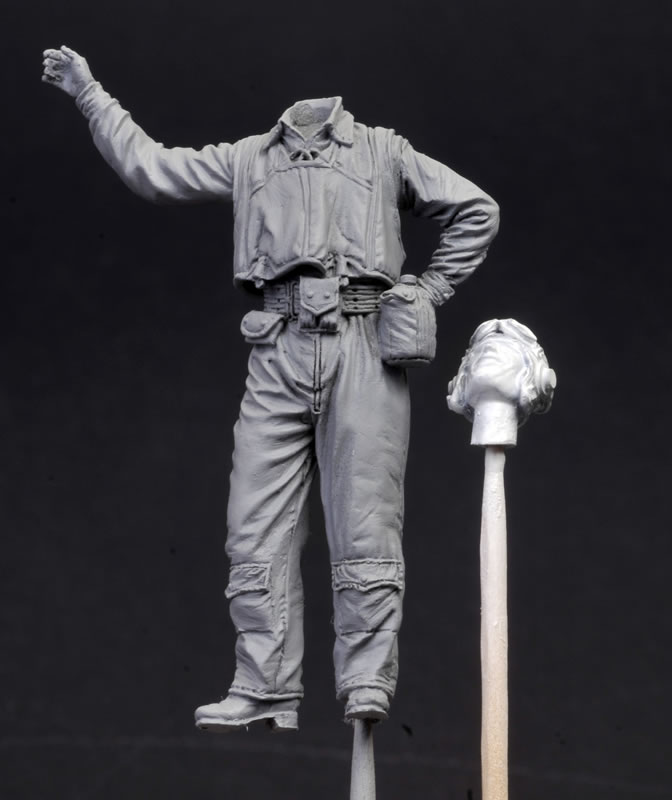 The detail of the resin Wings Cockpit figure is very nice indeed. The figure was mastered by Nino Pizzichemi.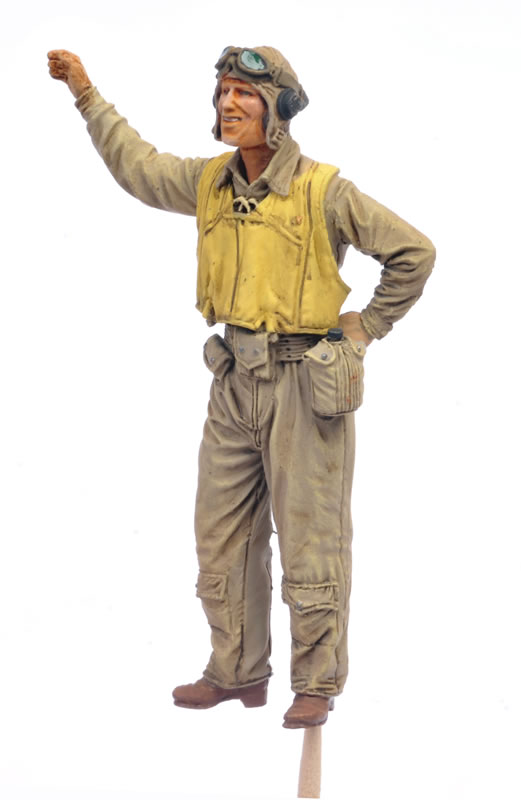 The Wings Pilot figure is very tall, as may be seen in this comparison photo. The figure is 61mm, which scales out at taller than 195 cm or nearly 6' 5". At 54 mm, Tamiya's figure is a more typical 5' 8".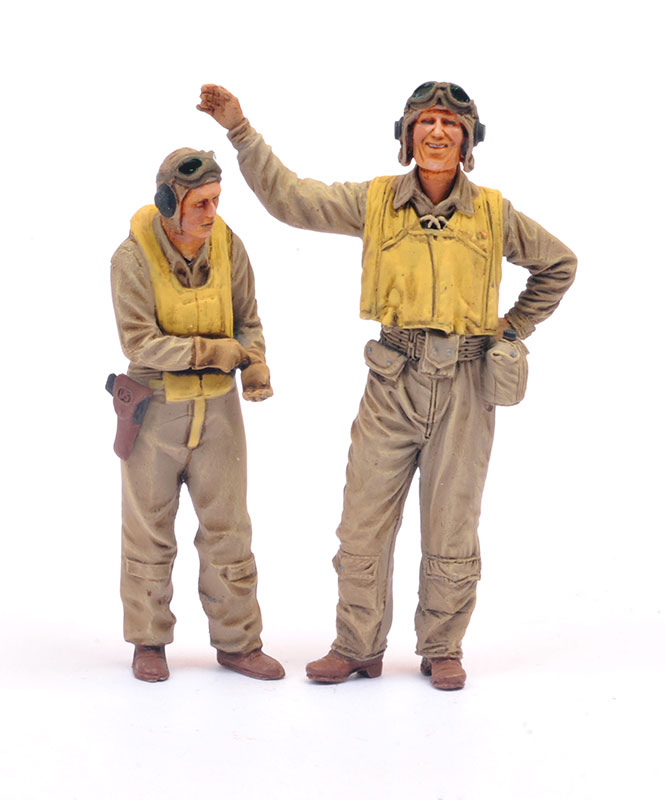 These figures will be included in the forthcoming book, "How To Build Tamiya's 1:32 F4U-1A and F4U-1D Corsair", which should be available at IPMS UK's ScaleModelworld in November.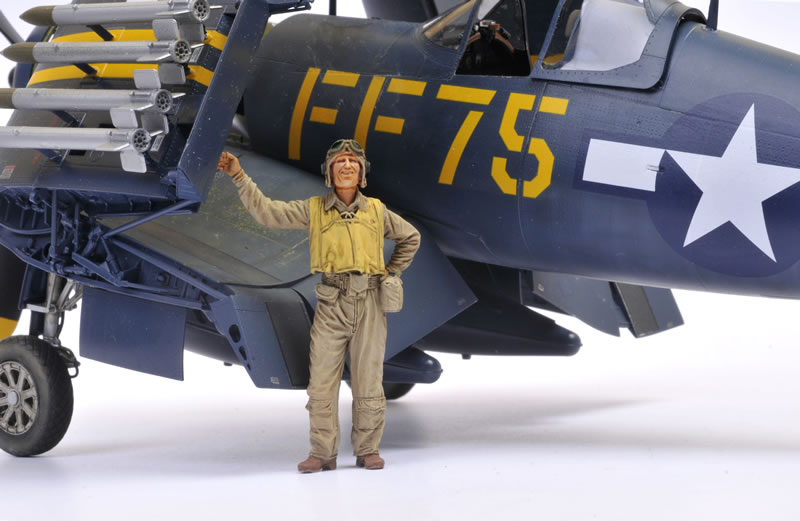 ---
Model, Images and Text Copyright © 2017 by Brett Green
Page Created 7 September, 2017
Last Updated 7 September, 2017
Back to HyperScale Main Page