Anigrand's 1/72 scale
Boeing YC-14
by Jason Cameron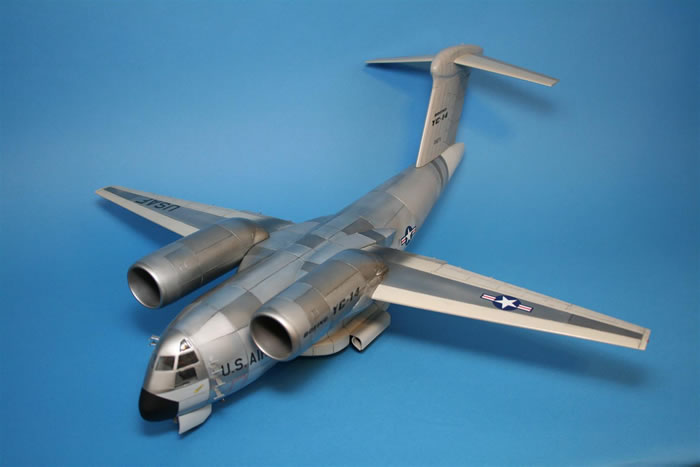 Boeing YC-14

Tamiya's 1/48 Mosquito FB.VI is available online from Squadron.com for only $35.99!
The Boeing YC-14 was a twin-engine short take-off and landing (STOL) tactical military transport aircraft. It was Boeing's entrant into the United States Air Force's Advanced Medium STOL Transport (AMST) competition, which aimed to replace the Lockheed C-130 Hercules as the USAF's standard STOL tactical transport.
Although both the YC-14 and the competing McDonnell Douglas YC-15 were successful, neither aircraft entered production.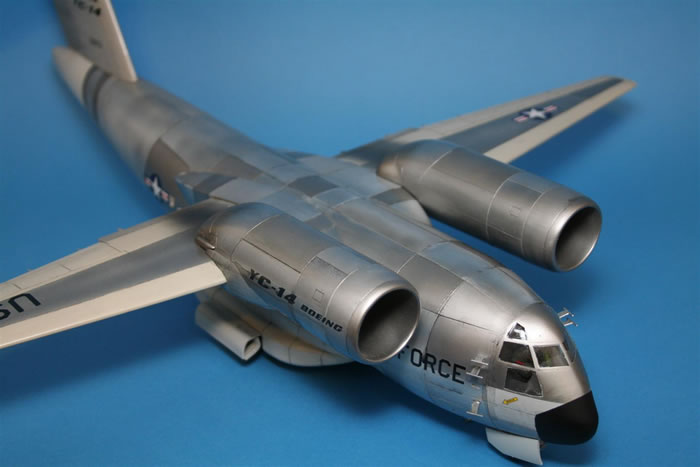 The AMST project was ended in 1979 and replaced by the C-X program.*
* Background information courtesy of Wikipedia
This is my just-completed Anigrand 1/72 scale Boeing YC-14 kit.
I bought this kit in 2007 and started it immediately. Over time, I set it aside and worked on other things. Recently, I went back to the kit to finish it.
All told, I spent about 40 hours on this model.
The Anigrand resin is amazing in how fine the surface is and how nice the components went together. Despite the size, this kit had very few parts (under 100). I used both epoxy and super glue to finish it.
The finished model weighs 6 pounds and is very fragile...I cannot imagine how heavy their 1/72 C-5 or 747/Air Force One kits weigh! To compensate for the heavy weight, I added three metal outriggers underneath the fuselage. This allows the landing gear to dangle in free space 0.030 above the surface.
The only problem I had with the kit was the single large windscreen made out of resin. It didn't fit very well, and it is cloudy to boot. I tried my best to get it installed. As I progressed with the model, I started doing more damage every time I touched it, so I called it "finished" and moved on!
Paint includes Wal-Mart flat grey as a primer, Krylon gloss grey out of a spray can, Alclad for the metallic finish, and some 15 year-old Model Master metallics for touch-up work.
I started to use gloss black paint as an undercoat for the metallics, but the Alclad didn't seem to mind using Pledge (Future) as a base coat, so I went with that.
I recommend Anigrand kits for their excellence in engineering, their very close fit, and their fantastic subjects.
---
Model and Text Copyright © 2017 by Jason Cameron
Page Created 6 July, 2017
Last Updated 6 July, 2017
Back to HyperScale Main Page