Me 262 Detail Sets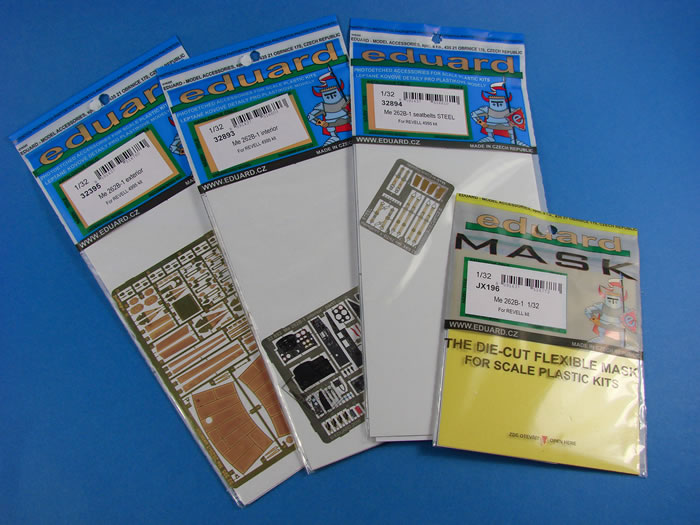 Eduard, 1/32 scale
S u m m a r y :

Catalogue Number and Price:

Eduard Item Nos.:

plus shipping. All available online from Eduard.

Also available online from Squadron

Scale:

1/32

Review Type:

First Look.

Advantages:

Excellent detail; genuine enhancement in all cases.

Disadvantages:

Some care needed for installation of some smaller or folded parts.

Conclusions:

Highly Recommended.

Reviewed by James Hatch


Eduard 1/32 scale Me 262 B-1 Accessories are available online from Squadron.com
Hot on the heels of the new 1:32 Revell Me 262B-1/U-1 Nightfighter release, comes this suit of PE sets from Eduard. Whilst these were sent to me as individually packaged products, these should be available as in Eduard's BIG ED packet before too long, saving you a little money if you wish to utilise all items on your build. Let's take a look at what Eduard has released for this new kit, and what it covers.
---
Item No. 32395, Me 262B-1 Exterior
This set comprises of a single fret of bare brass PE, packaged into Eduard's usual slim, re-sealable wallet. Two A5 sheets are included for instructions, printed double-sided. When Eduard state that something is 'exterior', what they are actually mean is that it is exterior to the cockpit, so unless there are specific sets for things like engines and weapon bays etc. then you will find it on their exterior set. This particular one covers the landing gear and bays, weapons bay, engine areas and several other details that are scattered around the airframe.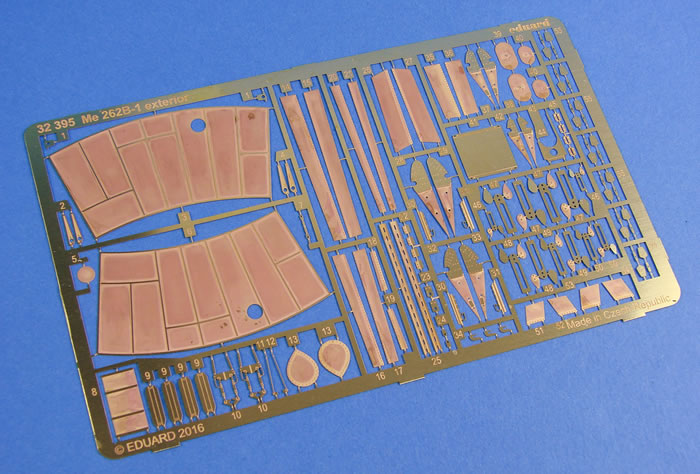 There is nothing in this release that is designed to majorly overhaul the Revell kit, as it simply doesn't need it. Instead, this set helps to refine what is offered, and with generally very little surgery needed. For the engine areas, the upper removable cowls are to be fitted with interior constructional detail, and there is a pull handle for the Reidel starter in each nose cone. These housed a rudimentary petrol engine, so it was a little like pulling the starting cord on a lawn mower! For the engines, that really is it.
The undercarriage and bays get a nice touch of PE, with a little port and plating detail, plus some extra detailing for the interior of some gear doors. Eduard will also release a set of resin wheels, and despite the kit parts being passable, they aren't weighted.
Some nice touches are added within the weapons bay. These include fastening plates for the gun bay doors, ejection chute and door internal detail, plus some very welcome latches to use if you position the doors in the open position. These are often forgotten about on many finished Me 262 models. A little fiddly, but well worth investing time in adding.
One area that will need a little thought are the replacement of the slat actuation brackets. I'm not absolutely sure I would be totally comfortable in removing the moulded detail and fitting the PE parts. These are quite thin in relation to the plastic. Eduard has also supplied the metal plate detail that will be seen if the slat is drooped forward. A very nice touch.
Other external details include end plates for the landing flaps, providing more detail here, and also for fuel filler caps that sit atop the fuselage, just forward of the canopy. Then it comes to sanding the seams, this detail is easily lost, so there's no need to worry with these in your arsenal. Aileron, elevator and rudder trim tab actuators are also included.
---
Item No. 32893, Me 262B-1 Interior
Packaged as per the exterior upgrade, this set contains two PE frets; one in bare brass, and the other is nickel-plated and colour-printed. Again, instructions are printed double-sided across two sheets of A5 paper. Here we see the usual and obvious candidates in these particular sets, with a colour, mult-layer/part instrument panel and side consoles, both with extraneous lever detail etc. Some surgery will be required on the rudder pedal bar, and new pedals themselves are included. A rather nifty PE gunsight is also provided. This will be a little fiddly to execute, but it is an improvement over the kit part. A piece of clear acetate is included for the glass reflection plates.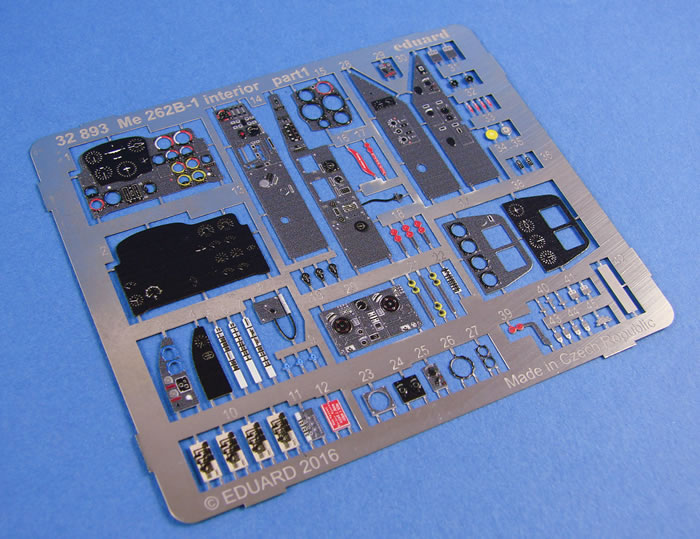 Instrumentation changes also apply to the radio transmitter and receiver units within the rear cockpit, with the main radio unit being composed entirely of PE, replacing the kit part. The pilot's switch/fuse panel also benefits from a number of placards, as do other cockpit areas. A small number of seat modifications are also included, such as side plates that require the plastic parts to be thinned, and seat fixing brackets.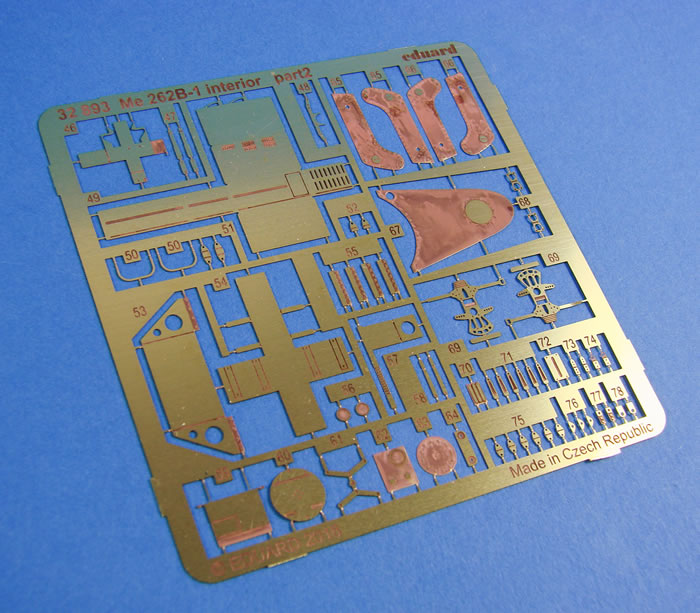 Other areas addressed and corrected in this set are canopy actuation levers and fastening lugs, rear upper panel replacement, fuel filler cap detail (yes, in the rear cockpit!), and internal canopy details. Here you will find a real bonus; the night vision radar unit that is missing from the kit itself! This sits in the forward cockpit, and must surely have been a hindrance to the pilot during routine flying.
One anomaly in this set is the inclusion of the data placards that fit to the electrical boxes in the weapon bay. As it wouldn't have been economical for Eduard to have added these colour parts to the exterior set, they are included here.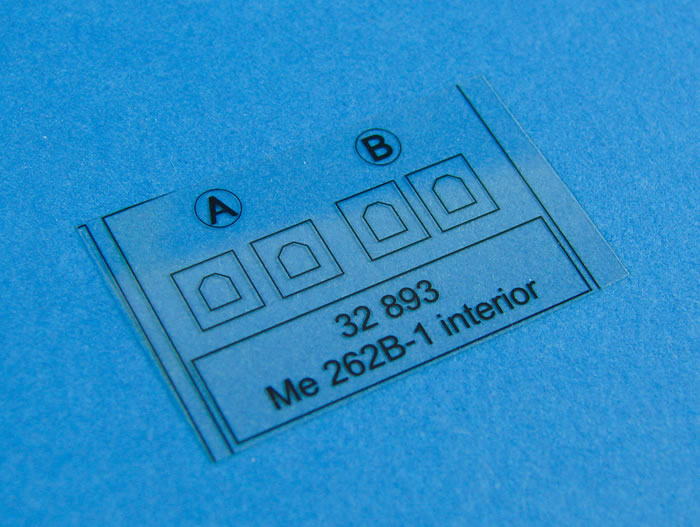 If you don't want to go for the full fat interior detail, then consider the Zoom set which concentrates on the colour-printed parts only, and of course, costs a little less. That can be found HERE
---
Item No. 32894 Me 262B-1 Seatbelts STEEL
Eduard has now extended its steel belts range to cover this kit specifically. If you weren't a fan of their original colour PE belts (and you either love or loathe them), then these might impress you more. Thankfully, these are now extremely thin and much easy to manipulate, and my limited experience of the range shows proved to me that the ink didn't flake off.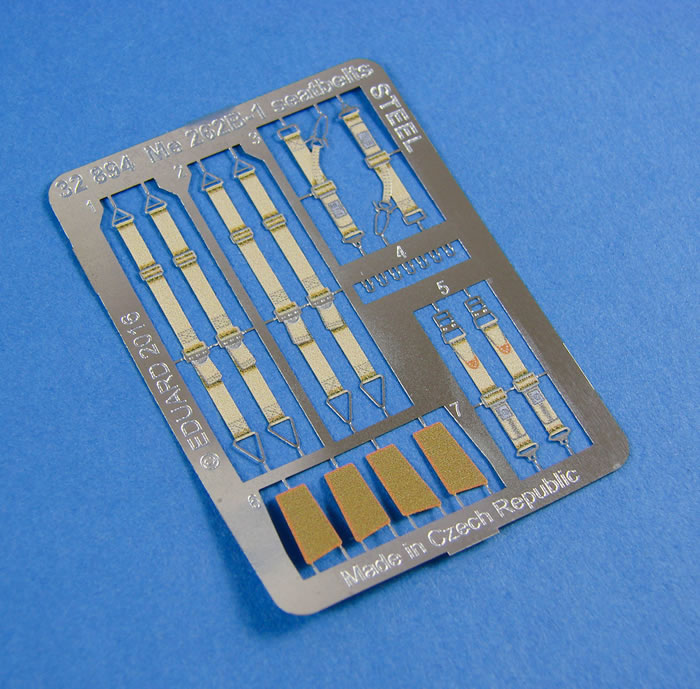 The appearance of them is also much better, with a little shading included. There is no need to construct a myriad of small parts here including belts and buckles, except for adding the padded section to the lap belts. It's all done for you. This set also includes the attachment lugs for the Me 262 seats themselves.
Supplied in a narrow sleeve, a single sheet of instructions clearly shows how these are installed to the model kit.
---
Item No. JX196 Me 262B-1 Masks
I hate trying to mask something by hand, so these are always a godsend.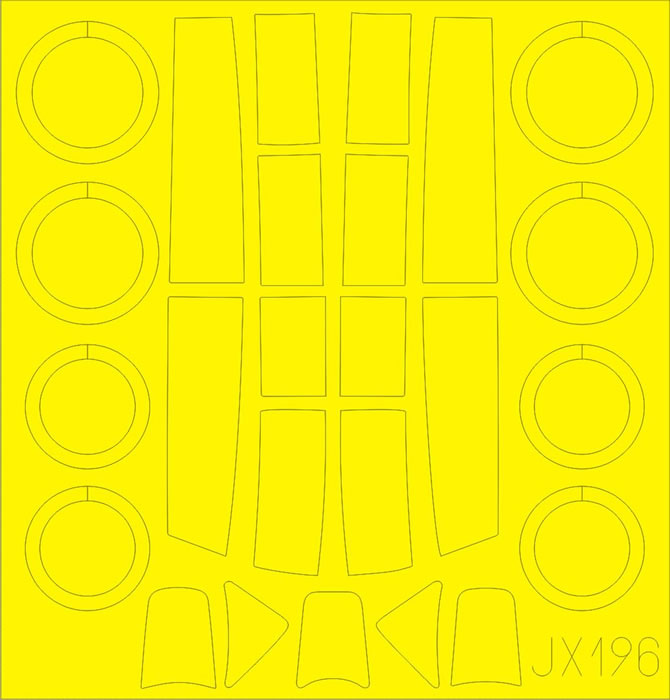 A single sheet of kabuki paper masks includes parts for all of the canopy panels and also the wheel hubs. Due to the raised details on the hubs, these are supplied as outer circumferential parts only, which I actually prefer. Instructions are nice and clear, and you should have no problem in fitting these.
When the time comes to build this, I'll certainly try to fit in as much of this as I can. I'm particularly impressed by the enhancements in the interior set, such as the radio equipment and the night vision unit. Some of the upgrades will require some extra care, and the one that comes to mind is the slat actuators. In all though, I think these upgrades are worth checking out.
Highly recommended
Thanks to Eduard for the samples and images.
---
Review Text & Black Background Images Copyright © 2017 by James Hatch
Page Created 1 February, 2017
Last updated 1 February, 2017
Back to HyperScale Main Page
Back to Reviews Page