Air Combat From World War I to the Present Day
by Thomas Newdick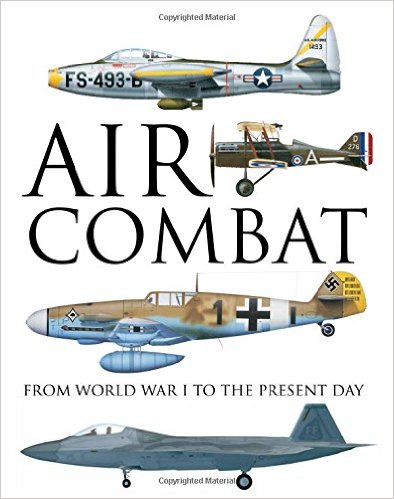 Casemate Publishing
S u m m a r y

Publisher and Title:

Air Combat From World War I to the Present Day
Casemate Publishing

ISBN:

978-1782743330

Media:

Hard cover; mm paperback, 320 pages, 8.9 x 1 x 11.5 inches.

Price:
Review Type:
First Read
Advantages:

A great overview of the history of Aerial combat reaching back before manned flight to present day.

Disadvantages:
Conclusion:

Recommended.

Reviewed by Mick Evans


HyperScale is proudly supported by Squadron.com

This new book from Casement Publications in the United Kingdom is a hard cover publication in A4 size format. The book contains 320 pages of information, photographs and color plate details. The quality of paper, photographs and printing is excellent.
The publication describes the history of air combat from World War 1 to the present day. The author has managed to collect important overview detail on all major conflicts where military aircraft have played a major part in the operations.
The headings for the key conflicts are as follows:
Early Air Wars 1794-1939

World War II: War in the West 1939-1945

World War II: Africa and the Mediterranean 1940-1945

World War II: The Eastern Front 1940-1945

World War II: Strategic Bombing 1939-1945

Air Wars in the Insurgency Era: 1948-1988

Air War in Vietnam: 1964-1973

Middle East Wars: 1945-1973

The Falklands and Lebanon: 1982

Desert Storm and the Balkans: 1990-1999

The Global War on Terror: 2001 to present
It is interesting that the book starts in 1749 with a paragraph describing tethered kites balloons. It then skips through to 1910 post the Wright Brothers first in 1903. The important thing to remember with this book is that it is a broad overview of almost every major conflict contained in one book. While this may not attract modelers who are looking for intricate detail on particular aircraft or conflicts it will be an important asset as an overall reference. The first documented use of a tethered balloon for battlefield observation was in 1749 and since then the weapons techniques and outcome of warfighting in the air has changed beyond all recognition. Air Warfare is a comprehensive history of airborne combat, first pre-WW1 skirmishes in converted reconnaissance aircraft to present day operations in the Middle East and Asia.
The very first fighters and bombers were simple flying machines in which the pilot or navigator would aim a gun or dumb bomb visually, leaning out into the slipstream with in most cases involved the use of a pistol. In contrast modern warplanes are capable of destroying a target without ever seeing what they are aiming or firing at using laser guidance or GPS to pinpoint the target. The book ends with an analysis of the use of U.S. and allied air power to fight insurgents in Iraq and Afghanistan.
Thomas Newdick is an aviation and defence writer and editor and has researched and written numerous articles for various specialist magazines and journals.
This is a great overview of the history of Aerial combat reaching back before manned flight to present day, The book gives great insight into all the major conflicts and then backs this up with excellent photographs and colour plates.
Highly recommended
Thanks to Casemate Publishing for the sample.
---
Review Copyright © 2017 by Mick Evans
This Page Created on 2 March, 2017
Last updated 2 March, 2017
Back to HyperScale Main Page
Back to Reviews Page