German Fighters 1939-45
Volume II - Focke-Wulf Fw 190, Messerschmitt Bf 110, Me 210, Me 410, Me 262, Me 163, Heinkel He 162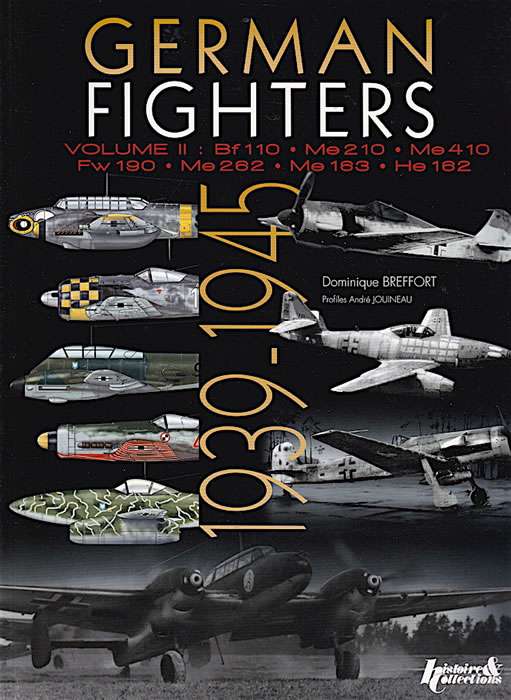 Histoire and Collections
S u m m a r y :

Title and ISBN:

Histoire and Collections
by Dominique Breffort and Andrew Jouineau
German Fighters 1936-45 Volume II – Focke-Wulf Fw 190, Messerschmitt Bf 110, Me 210, Me 410, Me 262, Me 163, Heinkel He 162

ISBN: 978-2-35250-334-7

Contents & Media:

Soft-cover A4 format; 192 pages; colour and grey scale profiles; black and white colour photographs.

Price:

£29.95 plus postage available online from Casemate Publishing
and from specialist book and hobby shops.

Review Type:

First Read.

Advantages:

Comprehensive coverage of subjects, with huge range of colour profiles and other information.

Disadvantages:

Organisation of this information could have been better.

Conclusion:

German Fighters Volume II is a useful reference for anyone interested in World War II Luftwaffe fighters. The hundreds of profiles offer a wide range of colour schemes and modelling subjects, and the information presented is a great starting point for further research. Highly recommended.

Reviewed by Brad Fallen


HyperScale is proudly supported by Squadron

Like its predecessor on the Bf 109, German Fighters 1939-1945 Volume II is a compilation of earlier releases from Histoire and Collections' Planes and Pilots series. The information is drawn from three books: Focke Wulf Fw 190 from 1939 to 1945; Messerschmitt Me 110 from 1939 to 1945: Messerschmitt's twin-engined fighters Bf 110, Me 210 and 410; and German jets of World War II (featuring the Me 262, He 162, Arado Ar 234, and Me 163).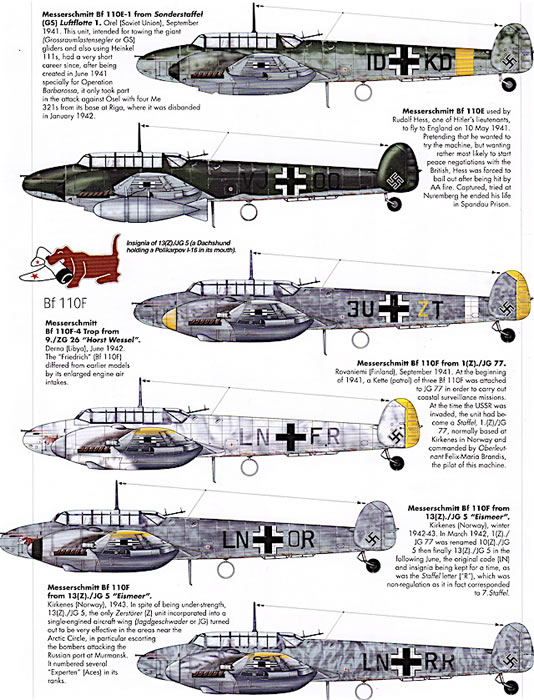 As with the Bf 109 book, the publishers promise that Volume II is "an expanded and improved re-edition" of the earlier texts, which focused almost exclusively on colour profiles. The profiles have been updated with new information and more detailed captions. There is now an explanatory text at the beginning of each chapter, along with a good selection of black and white and colour photographs. I've seen most of them before, but they're usefully sized and high quality reproductions.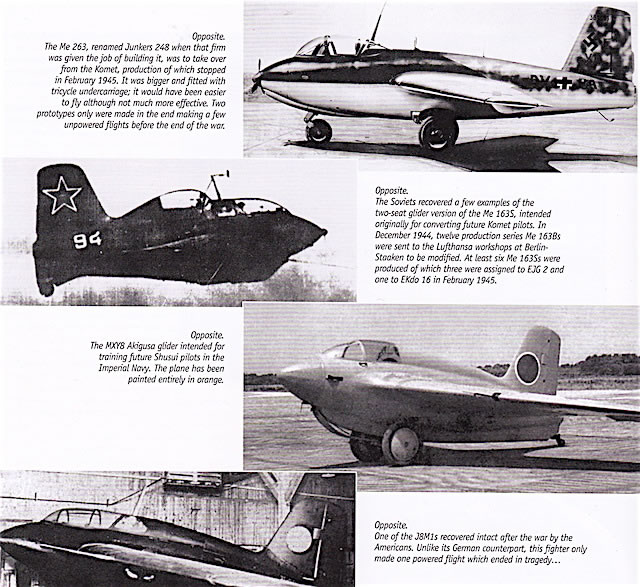 The chapters are arranged by aircraft type as follows:
Fw 190
Le Focke Wulf 190 – a difficult beginning
The first 'Antons': A-1 to A-4
The mature versions: the A-5 to A-9 (this section also includes illustrations of the standard maintenance stencils and camouflage applied to the Fw 190 A-3, Fw 190 D-9 and Ta 152)
'Friedrich' and 'Gustav'
From 'Anton' to 'Dora'
The Ta 152
Versions and variants (four pages of greyscale profiles pointing out the differences between Fw 190 variants)
Bf 110
The Messerschmitt Bf 110
The Battle of Britain and the end of the illusions
Other skies, other versions (also covers Bf 110 camouflage, with two pages devoted to profile and overhead views)
The Me 110 G and the Night-fighters
Messerschmitt Me 210
Messerschmitt Me 410 (slightly out of place but still useful, a breakdown of Bf 110 variants has been inserted at the end of this section)
Me 262 – in addition to colour profiles, this chapter includes two pages of greyscale profiles that show the differences between Me 262 prototypes and variants. There's also an illustrated description of the principles behind, and realities of, Me 262 camouflage.
Me 163 – an understandably short chapter, given the type's limited service, with profiles of a number of captured and Japanese-operated machines included.
He 162 – this chapter includes a brief section on camouflage applied to the Me 163, He 162 and Ar 234; the latter's inclusion is unexpected, with the section seemingly lifted directly from the source book which also featured the Ar 234.
This point highlights my only real criticism of German Fighters Volume II: that it would have benefited from closer editing. As with Volume I, some of the material is out of order, context, or both. These problems aren't huge, however, and it's pretty easy to get yourself back on track.
Presentation and layout are good, with decent-sized font, understandable if sometimes quirky language (presumably because of its translation from the original French), and decent colours in the profiles and other illustrations. I'm not sure how long the binding on the review sample will last, however, with some of the glue on the spine seemingly already becoming unstuck.
This book and its companion volume are useful basic references for anyone interested in World War II German fighters. The hundreds of profiles offer a very wide range of colour schemes and modelling subjects – although as with any profiles I'd also look for photographic confirmation of the scheme you're interested in, rather than relying on the profile alone. The information presented here is also a great starting point for further research.
Highly Recommended.
Thanks to Casemate Publishing for the sample.
---
Review Copyright © 2017 by Brad Fallen
This Page Created on 25 May, 2017
Last updated 25 May, 2017
Back to HyperScale Main Page
Back to Reviews Page