Luftwaffe in Colour
The Victory Years 1939-1942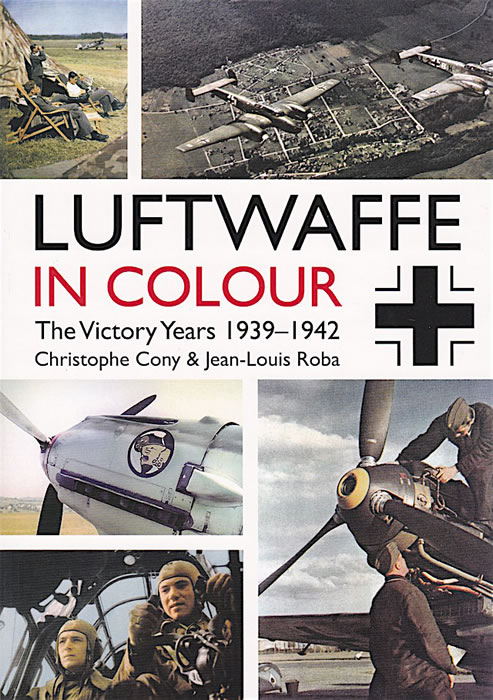 Casemate Publishers
S u m m a r y :

Title and ISBN:

Casemate Publishers

Luftwaffe in Colour: The Victory Years 1939-1942

by Christopher Coney and Jean-Louis Roba

ISBN: 978-1-61200-408-2 (paperback edition);

ISBN: 978-1-61200-410-5 (digital edition)

Contents & Media:

Soft-cover A4 format; 160 pages; colour photographs.

Price:

£19.99 (paperback) and £9.99 (digital) available online from Casemate Publishers and from specialist book and hobby shops.

Review Type:

First Read.

Advantages:

Interesting subject, good photos and high production values.

Disadvantages:

Conclusion:

Highly recommended to anyone with an interest in the World War II German aircraft. The second volume in the series is due out this June, and promises to be equally fascinating.

Reviewed by Brad Fallen


HyperScale is proudly supported by Squadron

Colour photos of Luftwaffe aircraft are not uncommon, but it's rare to see a single volume dedicated to them. In doing so Christophe Cony and Jean-Louis Roba have compiled a useful reference that should prove popular with modellers.
Luftwaffe in Colour: The Victory Years is the first of a planned two part series. It begins with a short introduction explaining how technological advances in the 1930s improved and simplified colour photography. This made the medium more accessible in countries like the USA, but in Nazi Germany colour film was reserved almost exclusively for official use. Luftwaffe aircraft and aircrew were popular propaganda subjects. As the war advanced some personnel were able to scrounge colour film for their own use and take some remarkable off-the-cuff photos, many of which are reproduced here.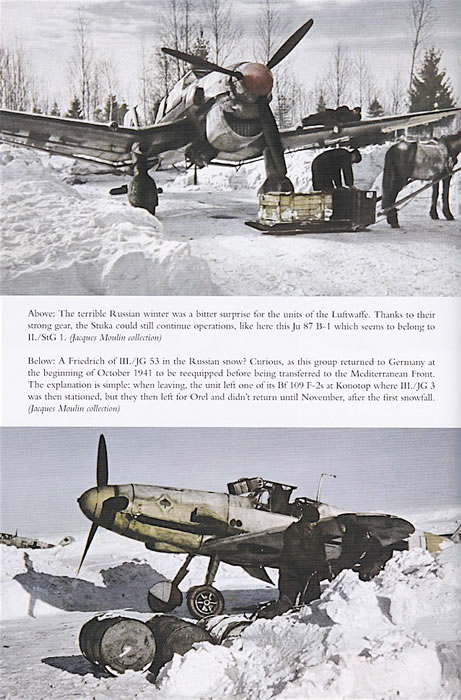 From here on the book is structured more or less chronologically and, as its title suggests, focuses on the early to mid period of World War 2 as follows.
The Pre-War Period

From Poland to Sitzkrieg

Blitzkrieg in the West

The Battle of Britain and the Blitz

Marita and Merkur. Blitz in the Balkans

Operation Barbarossa

African Adventure and the Mediterranean Front

In the West

The Second Line: Schools, Factories and Training
The quality of the photos is variable, as you would expect from reproductions of 70-80 year old images created by an infant technology. This is an observation not a complaint: as a modeller who's spent the past few years trying to interpret grainy photos of World War I aircraft, I found the overall clarity and detail of the pictures wonderful. Many subtle characteristics of mottling, colour gradation and weathering are revealed that would be indistinguishable in black and white photos.
The authors have included a good mix of close up, maintenance, ground running, and flying shots, which maintains interest and provides insight into the human side of Luftwaffe operations. For example, there is useful perspective in a series of photos of Heinkel He 111s that show aircraft being readied for a mission, aircrew sitting in their cockpit, aircraft en route to the target and a shot-up Heinkel that crash-landed on the way home.
After the introduction, text is limited to captions for each photo. These are short, engaging and informative, with the photo date and type, unit and identity of each aircraft provided where known. The inclusion of this information makes it easier to conduct further research on a subject should you wish to do so.
Production quality is high. The cover is flexible but robust, binding appears to be strong, and the A4 format makes the book easy to handle on the modelling bench. Photo reproduction is good within the limits mentioned above, and I didn't find any typographic errors in the text.
I highly recommend Luftwaffe in Colour: The Victory Years to anyone with an interest in the World War II German aircraft. The colour photos are a valuable modelling resource that will also help with the interpretation of black and white images of similar subjects. I'm looking forward to the second volume in this series, From Glory to Defeat 1942-1945, which is due for release.
Highly Recommended.
Thanks to Casemate Publishing for the sample.
---
Review Copyright © 2017 by Brad Fallen
This Page Created on 30 June, 2017
Last updated 30 June, 2017
Back to HyperScale Main Page
Back to Reviews Page