Messerschmitt Bf 109 D-1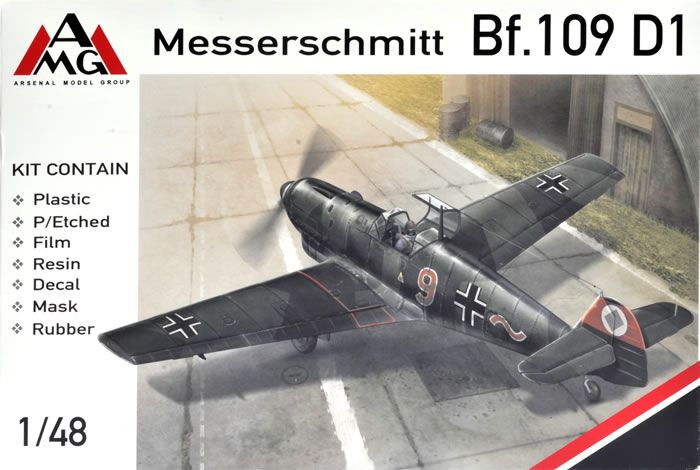 Arsenal Model Group, 1/48 scale
S u m m a r y :

Catalogue Number:

AMG Kit No. 48719 – Messerschmitt Bf 109 D-1

Scale:

1/48

Contents & Media

Around 90 parts in grey plastic; five clear parts; seven resin parts; two photo-etched frets; clear acetate instrument dials; self-adhesive canopy masks; markings for five options.

Price:

TBA - will be available online from Hannants

and worldwide distributors listed on AMG's website

Click here for currency conversion

Review Type:

First Look.

Advantages:

Cleanly moulded; simple parts breakdown; subtle surface textures; effective use of multimedia (resin and photo-etch); canopy may be posed open or closed.

Disadvantages:

A few sink marks and a bit of flash here and there; should have control stick not spade grip.

Conclusion:

This is a good looking kit of an important but neglected subject.

AMG's 1/48 scale Bf 109 family is cleanly moulded, features crisply recessed surface textures, useful resin and photo-etched parts and the inclusion of canopy masks is a nice bonus.

If you have a few kits under your belt you won't have any trouble with the absence of locating pins. Just take your time aligning parts, test-fit frequently, and you'll have an attractive result.

Highly Recommended.

Reviewed by Brett Green

Special Hobby's Mirage F.1B/BE is available online from Squadron.com
Early Bf 109 Prototypes and Production Variants
The earliest Messerschmitt Bf 109 variants were fitted with the Jumo 210 engine. Compared to the the later and more familiar Daimler-Benz equipped versions, the Jumo powerplant rendered a very different profile to the nose of these early 109s.
The first Bf 109 to be fitted with the Jumo engine was the second prototype, the V2, which differed from the first production models in a number of respects. The V2 was unarmed, featured a streamlined upper cowl, different spinner design, large main wheels requiring a long "bump" on the top of the wings (similar to the later model Bf 109s such as the G-10 and K-4), small tail wheel with no oleo scissor and other detail variations.
The next prototype, the V3, was fitted with cowl armament and a revised windscreen, but was otherwise similar to the V2. It is generally acknowledged that the V3 was the prototype for the Bf 109A series.
The V4 introduced the production-style engine cowling and tail wheel, narrower main wheels (with the upper wing bump deleted), and a separately-framed quarter panel on the bottom of each side of the windscreen. Other changes included the provision for a centre mounted machine gun firing through the propeller hub, relocation of the pitot tube from the side of the fuselage to under the wing, and a new style of oil cooler mounted close to the port-side wheel well. The Bf 109 V4 was the prototype for the Bf 109B production series. A variable pitch metal two-bladed VDM propeller assembly was planned for the Bf 109B, but delays in supply meant that the first production machines were fitted with the wooden Schwarz propeller.

It should be pointed out that there are discrepancies between reference sources regarding identification of some of these prototypes and early production models. One recent case in point relates to the first production machines. Conventional wisdom has been that the Bf 109 B was the first variant to reach production status but recent sources, including Lynn Ritger's Bf 109 "Modellers' Datafile", suggest that there might have been a small Bf 109A series production run. Regardless of the label, however, these early production machines varied little. For example, the main feature suggested as distinguishing the Bf 109 A from early Bf 109 B production machines is the location of the underwing oil cooler.
In service, these "Jumoschmitts" were relatively underpowered, and the initial armament of two cowl-mounted machine guns quickly proved inadequate compared to the emerging generation of European fighter aircraft.
Despite these limitations, however, the Messerschmitt Bf 109B, C and D dominated contemporary fighters in combat over the skies of Spain. The Messerschmitt airframe also proved adaptable, with continual development ensuring that the Bf 109 remained the Luftwaffe's first-line fighter weapon (although it was undeniably surpassed by other German designs) for the entire duration of the Second World War.
---
Jumoschmitts in Plastic
Although modellers have a great selection of Messerschmitt Bf 109E, F, G and K kits to choose from, the situation has been fairly grim for fans of the early Jumo powered prototypes and early production models.
Hobbycraft's 1/48 scale kits are widely available and inexpensive, but they are seriously flawed in terms of accuracy, especially their Bf 109B model. Problems include too shallow and misplaced gun slots, incorrectly positioned carburettor intake scoop, inaccurate panel lines and cooling slots on the cowling, poorly shaped and poorly detailed radiator intake, very poor Schwartz propeller, short wing slats, undersized canopy (and one-piece too), cockpit configuration more typical of a later model and some 109E attributes on the fuselage.
Classic Airframes released a series of of 1/48 scale Jumo-powered Bf 109 kits from 2006. The first offering is labeled Bf 109 A, but it could also be built as a Bf 109 V4, V5 or any early production machine with long leading edge slats.
For a detailed look at the contents of the box, click here to view my review of Classic Airframes' 1/48 scale Bf 109 A kit posted last week on HyperScale.
Classic Airframes also released B, C and D variants. These were all great kits - well detailed, accurate and a relatively painless build. They were easily the best Jumo-powered Bf 109s released to that time in any scale, but they have sadly been out of production and unavailable for a long time now.
AMG now comes to the rescue with a good looking 1/48 scale injection moulded Jumo-powered Messerschmitt Bf 109 family.
Last week I reviewed the AMG Bf 109 A-1, and tonight I take a look at the Bf 109 D-1.
AMG's 1/48 scale Messerschmitt Bf 109 A kit comprises around 90 parts in grey styrene; seven parts in grey colored resin; two photo-etched frets; five clear injection molded parts; printed clear acetate sheet (instruments); instructions; decal sheet and painting guide for five aircraft plus self-adhesive canopy masks.
The plastic parts are well moulded. Panel lines are crisply recessed, and stretched fabric and stitching on the control surfaces are subtly done.
There is a bit of fine flash here and there and a few minor sink marks on the flaps, but generally the presentation is very good.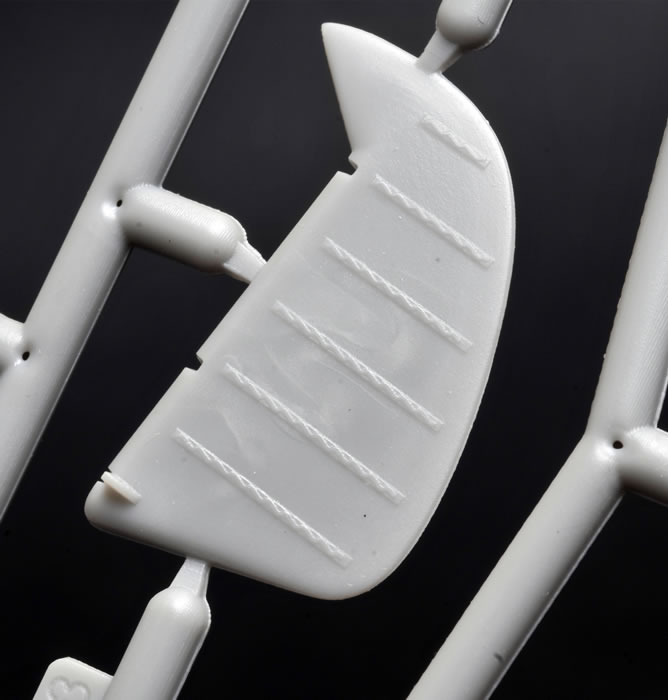 The shape of the model looks good.
Specific attributes of the Bf 109 D are well represented, including the wing root fairing without the reinforcement strip and the narrow span leading edge slats. The VDM variable pitch propeller assembly includes a plain cap and one with a hole for the planned co-axial gun.
The contents are almost the same as the Bf 109 A with the biggest difference being a small specific sprue with the later style exhaust stacks, the narrow slats and inserts to shorten the space in the leading edges, machine gum bulges for the lower wings and more.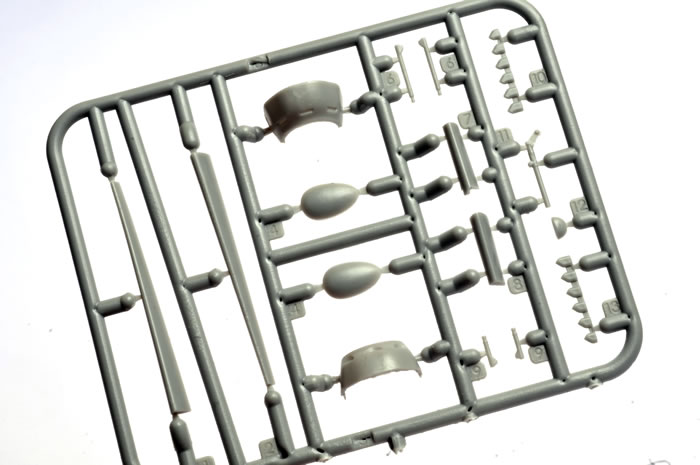 The upper cowl is split into front and rear sections. Two different versions are offered - one with cooling slots and one without. The smooth cowl is for use with prototypes and early production machines, while the cooling slots were mainly seen in the warmer climes of sunny Spain. Check your references to see what your chosen subject used.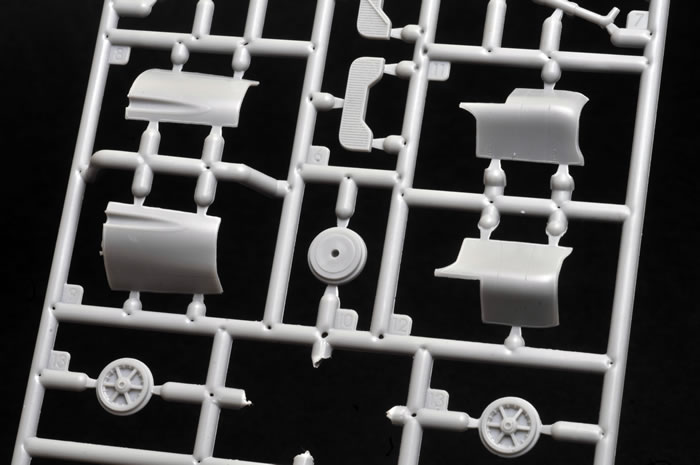 A decently detailed engine is included but the main block is moulded as part of each fuselage half, and no attempt is made to depict the full cowl machine guns, mounts or ammo feeds. I don't think it was really intended to display but you might still catch a glimpse of the Jumo engine through some of the cooling slots and holes.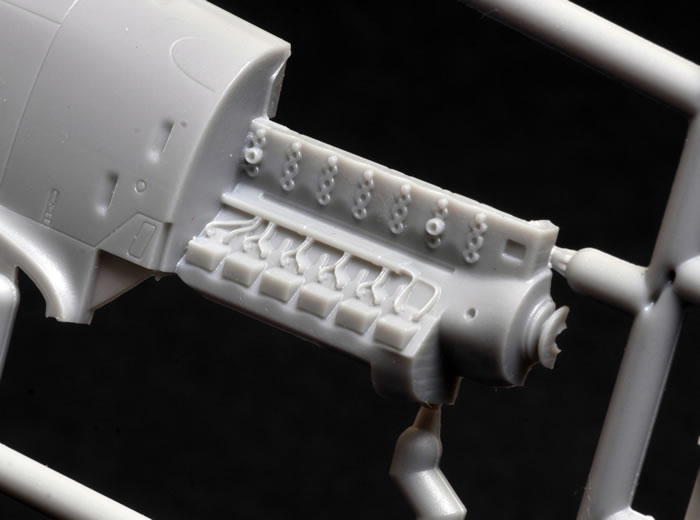 Unique attributes of these early Jumo 109s are well represented, including a separate radiator intake fairing with fine radiator face detail moulded inside, small oil cooler housing (a resin part), early-style cockpit floor and sidewalls, photo-etched instrument panel, and the control column with spade grip. The only problem here is that I believe the spade grip was only fitted to the prototypes and the A series Bf 109, so you'll need to find a spare stick or scratch build one for the Bf 109 D cockpit.
The remaining resin parts are the undercarriage leg covers, cowl gun barrels, gunsight and starter crank.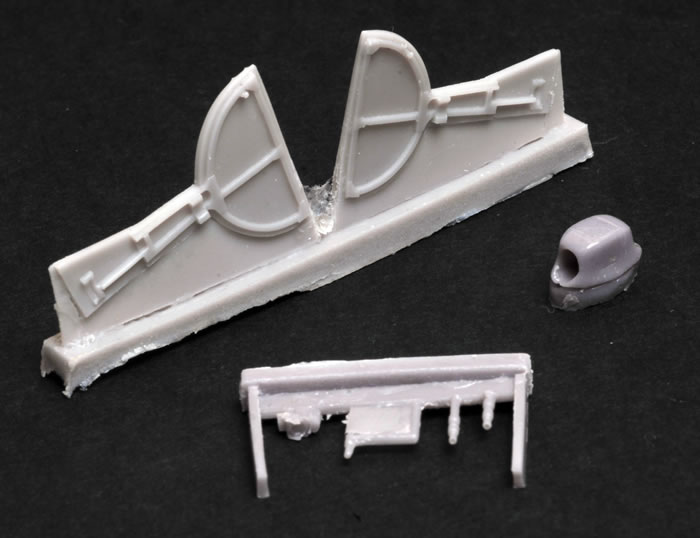 The photo-etched parts supplements all this nice detail with an instrument panel, harness, a fuselage face with cooling holes, oleo scissors, harness straps and additional cockpit details.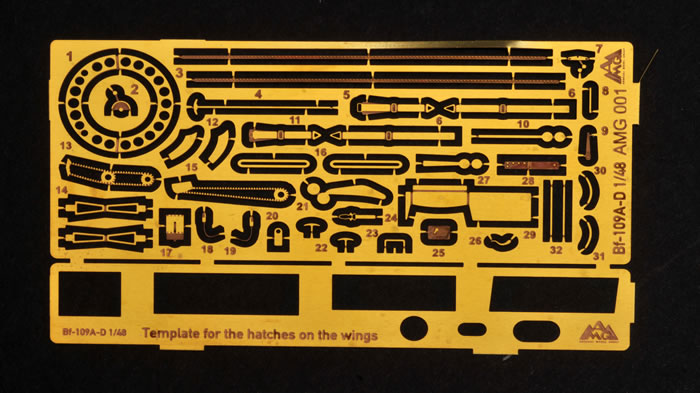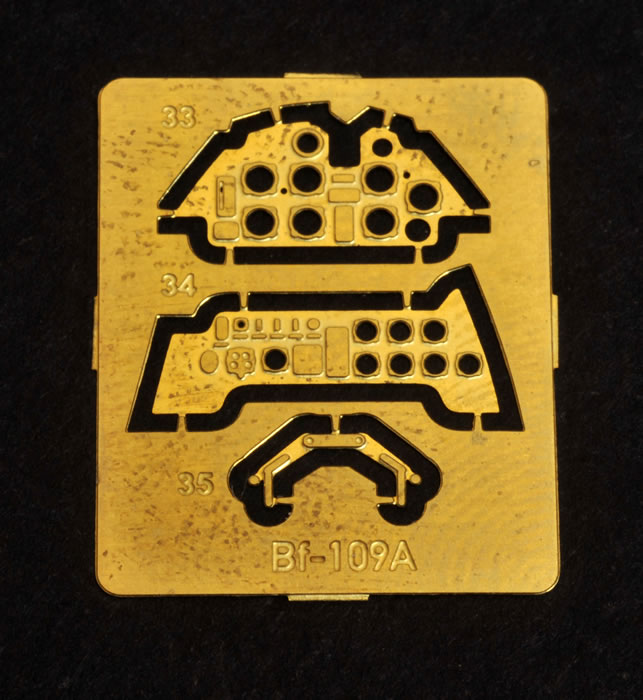 Although there are no locating pins on the main parts, the bottom of the wing is moulded in one piece, which should assist alignment. The wheel wells are separate parts too.
The landing gear legs and wheel hubs are plastic but the tyres are vinyl. I'll probably replace these with resin after market parts.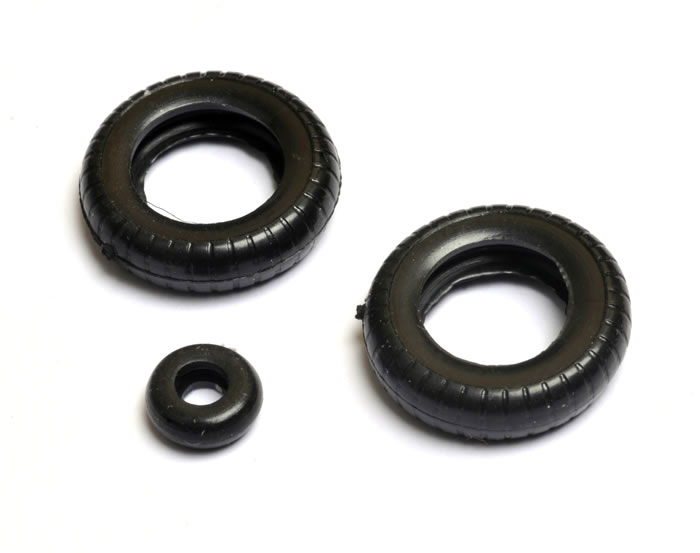 The clear sprue provides a three-piece canopy and wingtip navigation lights. The parts are quite thin and sparkling.
The gunsight reflector is moulded as a recessed rectangle on the inside of the windscreen. This is quite effective.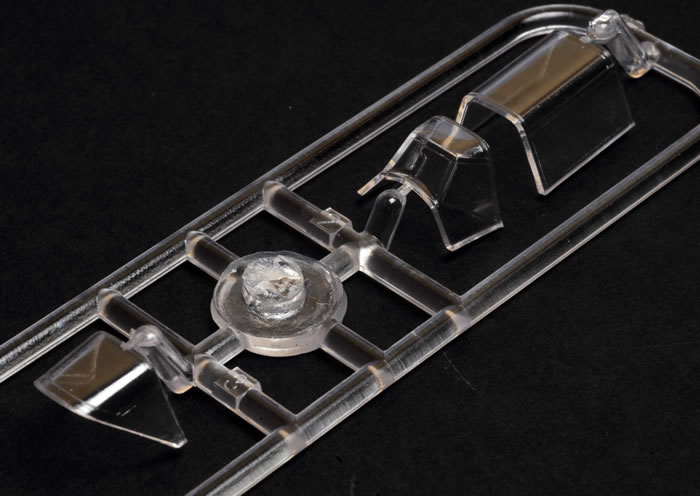 Instructions are supplied on a simple eight-page document made from two folded A4 sheets. There are 19 clearly illustrated construction steps.
---
Markings
The decal sheets are printed by Begemot. Registration and printing look good, but the yellow appears to be a bit translucent on the blue backing sheet.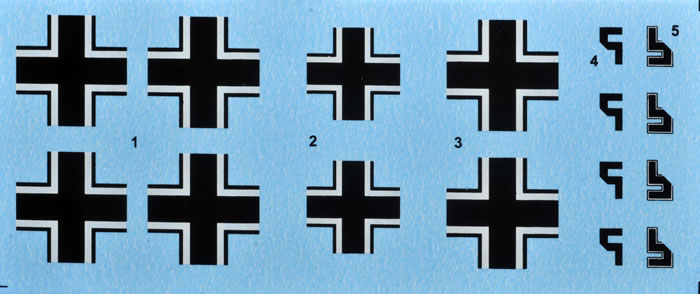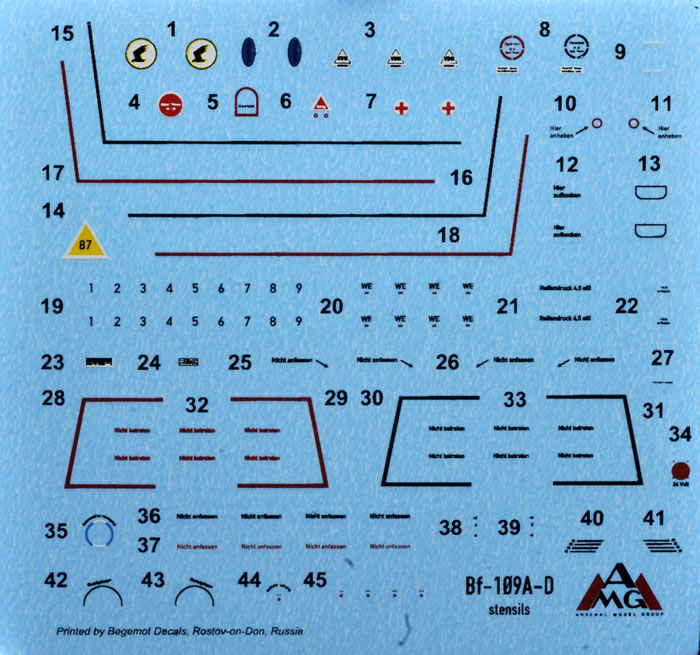 Markings are supplied for five Luftwaffe machines wearing RLM 70 Black Green and RLM 71 Dark Green splinter camouflage on the upper surfaces with RLM 65 Light Blue below.
This is a good looking kit of an important but neglected subject.
AMG's 1/48 scale early Bf 109 family is cleanly moulded, feature crisply recessed surface textures, useful resin and photo-etched parts and the inclusion of canopy masks is a nice bonus.
If you have a few kits under your belt you won't have any trouble with the absence of locating pins. Just take your time aligning parts, test-fit frequently, and you'll have an attractive result.
Highly Recommended.
Thanks to AMG for the review sample.
---
Review Text and Images Copyright © 2017 by Brett Green
Page Created 17 May, 2017
Last updated 18 May, 2017
Back to HyperScale Main Page
Back to Reviews Page