Fouga CM.170 Magister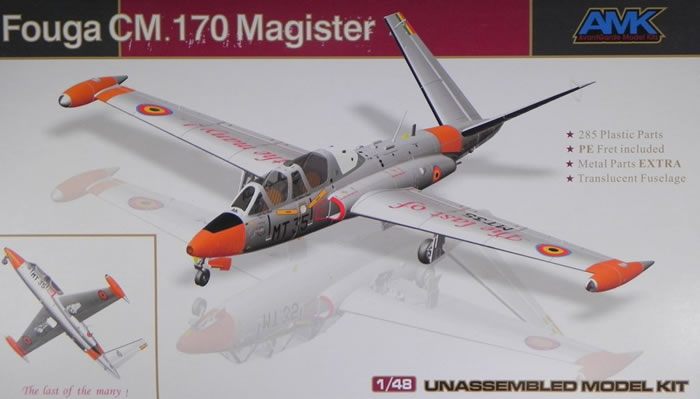 AMK, 1/48 scale
S u m m a r y

Description and Catalogue Number:

AMK Kit No. 88004 - Fouga CM.170 Magister

Scale:
1/48
Contents and Media:

285 parts in gray plastic, 14 parts in clear plastic, one photo-etch fret with seat harnesses, and one decal sheet covering five aircraft.

Price:

USD $59.99 plus shipping online from Sprue Brothers

Review Type:
FirstLook
Advantages:

New mold Magister with beautifully inscribed surface detail, metal parts, super detailed internal assemblies, and the option of a "see-through" fuselage.

Disadvantages:

None, other than tempting me away from other builds.

Conclusion:

This is one of the most beautifully engineered models I've seen. The detail is superb and abundant with multiple building options that are well thought out. With over 300 parts this will be an extended but rewarding building experience. Highly Recommended!
Reviewed by John Miller
The Fouga CM.170 Magister was the brainchild of French aviation designers Pierre Mauboussin and Robert Castello (formerly with Dewoitine). The "CM" designation in CM.170 derived from Castello and Mauboussin. The Magister was developed and initially manufactured by Air Fouga in France but due to multiple mergers, the aircraft has been variously known as the Fouga CM.170 Magister, Potez (Fouga) CM.170 Magister, Sud Aviation (Fouga) CM.170 Magister and Aérospatiale (Fouga) CM.170 Magister, depending on where, when, and by whom they were built.
Development of the Magister commenced in 1948 as a primary trainer designed to utilize newly developed turbojet engines. The results of an evaluation by the French Air Force (Armée de l'Air, AdA) indicated that the aircraft lacked sufficient power for their requirements. In response the design was enlarged and modified to accommodate a pair of Turbomeca Marboré turbojet engines. The upgraded version first flew on 23 July 1952 and a production order for the type was received on 13 January 1954. A navalized version, the CM-175 Zephyr with strengthened landing gear and a tail hook, was developed for the Aéronavale (French Navy) with 32 being produced. Export orders for the Magister included arrangements to produce the type under license in Germany, Finland, and Israel.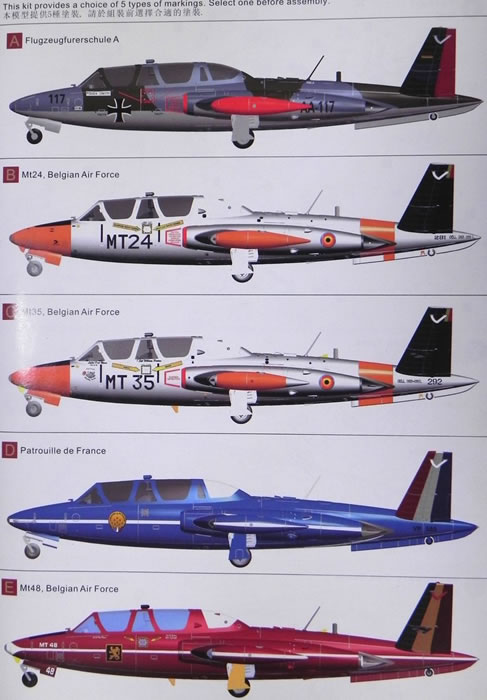 While primarily operated as a training aircraft, the Magister saw limited use as a close air support platform. In the latter capacity, it saw action during the Six-Day War, the Salvadoran Civil War, the Western Sahara War, and the Congo Crisis.
In French service, the Magister was replaced by the Dassault/Dornier Alpha Jet. After its retirement a number of Magisters were purchased by private-owner pilots in Britain, New Zealand, and the USA where they are occasionally seen on the airshow circuit.
1) Fouga Magister
Tine Soetaert, Mushroom Model Publications
ISBN: 978-83-63678-38-8
2) Wikipedia
Upon opening the box initial impressions are very positive indeed. Readily obvious is the quality packaging of this kit as practically every sprue comes in it's own re-sealable plastic bag. In addition, you are presented with a small box that's held in a cardboard jig that contains beautifully rendered metal detail parts each in it's own specially shaped recess: amazing.
In addition, two identical sprues of fuselage parts are provided: one in gray the other in crystal clear plastic enabling a "see-through" version to be built: more on the building options below.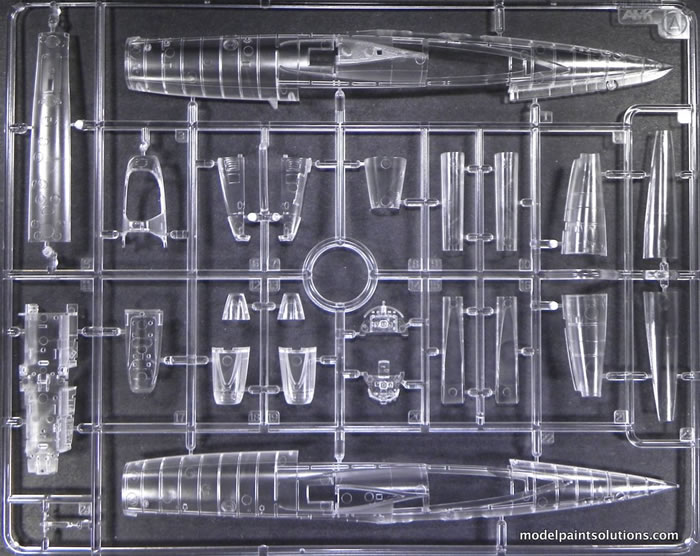 The sprue gates are very small and thin on all six sprues facilitating easy damage-free removal of parts. Flash is exceedingly minimal so very little time will be spent on clean up. Good thing too as there are more than enough parts to keep the average builder busy.
The surface details on this kit are nothing short of amazing. Details are provided as inscribed overall and raised where appropriate. A good example is the tail cone where multiple lines of raised rivet heads (nicely restrained and scale-appropriate) appear adjacent to crisply inscribed panel lines.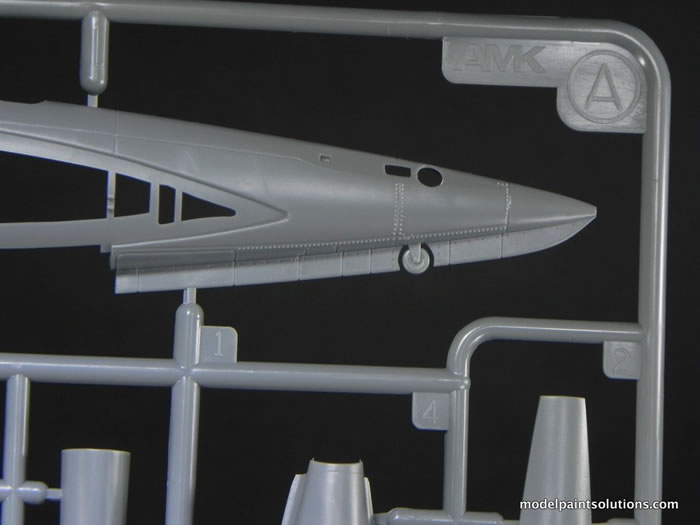 Likewise, the fidelity of detail on the smaller parts is just beautiful.
---
Building Options:
Parts are supplied to build the kit in a conventional manner with everything closed up, painted and decaled. Alternatively, the model can be built with a "see through" fuselage allowing the immense amount of detail therein to be viewed. Another option is to build the kit so that only one half of the fuselage is see through.
Moreover, the kit is engineered so that whatever fuselage (gray or clear) you choose, many of the airframe panels and fairings can be posed opened or left off as though the aircraft were undergoing maintenance. This is a beautifully engineered and well thought-out model that provides the builder with as many options as I've seen for a 1/48 scale kit.
As with most aircraft builds, assembly starts with the pilot's office and here this kit really shines. The cockpit tub features nicely detailed side panels and consoles that will look very convincing under some carefully applied paint. The instrument panels are beautifully rendered and just begging for some instrument faces by Airscale.
Following the cockpit, the builder is presented with separate multi-part assemblies for the primary gas tank (21 parts), the secondary gas tank (7 parts), the electronics bay (18 parts), and the pressure bay (6 parts). Each of these assemblies is beautifully detailed and will look awesome when viewed through either a see-through fuselage or an open panel.
Of note, the large main gas tank assembly incorporates a wing spar on which both wings are subsequently mounted. For those that don't want the added work of building this assembly a single piece replacement made of metal is provided: very nice.
Once the fuselage is buttoned up (or not, depending), the build continues with two beautifully detailed Marboré turbojet engines each comprised of 11 parts. The engine parts have well done surface details that will look very convincing if viewed with the fairings removed.
The remainder of the build is conventional but makes liberal use of nicely detailed metal and PE parts for such things as gear door and control surface hinges and balances.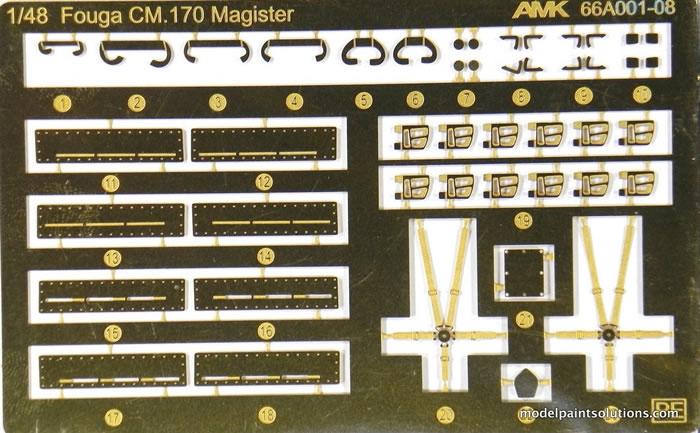 The nose and main gear legs are cast in metal with nice surface detail. The level of detail in the nose gear bay is particularly amazing and will look stunning when assembled.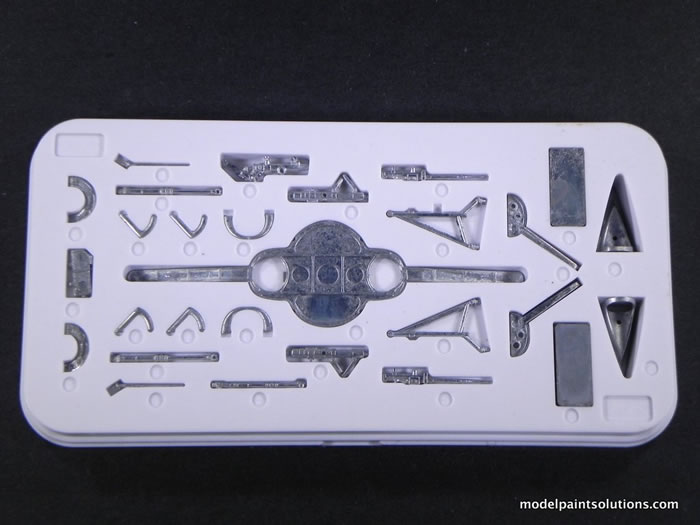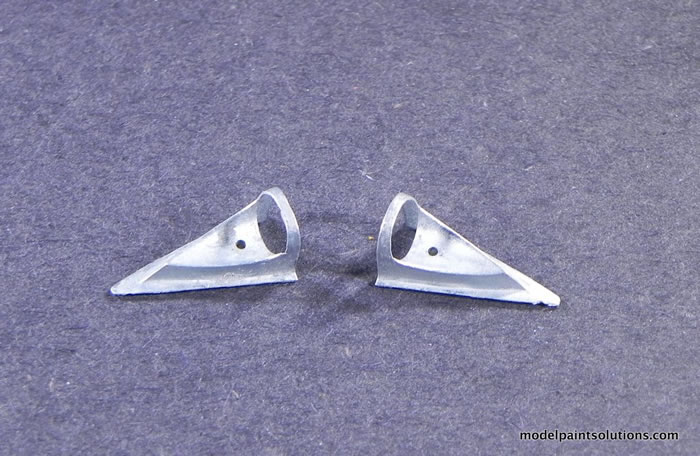 Consistent with the rest of the kit, the panel in front of the cockpit can be posed open revealing details behind the front instrument panel and two very detailed machine guns (7.5 or 7.62mm depending) complete with ammo chutes. Neat.
The 14 clear parts have crystal-like clarity with sprue gates that have attachment points on the bottom of each clear part facilitating damage-free removal and clean up. This arrangement is preferable to having attachment points in the middle of a canopy frame as (unfortunately) we so often see.
The photo-etch fret provides complete harnesses for both seats as we'll as a nice assortment of airframe details that will dress up the completed model nicely.
---
Markings
The decal sheet is printed by AMK and features excellent registration and appropriate color hues.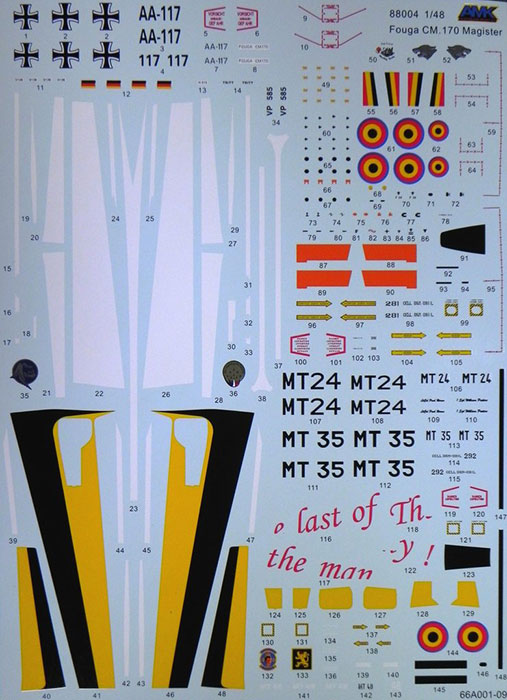 Markings are provided for 5 airframes:
1) A Luftwaffe camouflaged Fouga from Flugzeugfurerschule A, code AA-117.
2) A Belgian Air Force Fouga in natural metal finish, code Mt24.
3) A Belgian Air Force Fouga in natural metal finish, code Mt35. This aircraft received special markings in observation of the final flight of the Magister by the Belgian Air Force. Of note is the nose art on the aircraft, which reads "The Last Whistling Turtle": a reference to the nickname applied to the aircraft by Belgian pilots.
4) An aircraft of the Patrouille de France (French aerobatic team) in red, white, and blue airshow scheme.
5) A Belgian Air Force aircraft with in an over-all red scheme with yellow and black wing panels, code Mt48.
---
Dueling Fouga's: Kinetic Versus the AMK:
I have the recently released 1/48 Fouga by Kinetic Models (kit# K48051) in ye olde stash and did a quick comparison between it and the AMK offering. Parts layout and overall design is similar between the two with the exception that the Kinetic kit has no metal parts and none of the amazing internal details found in the AMK kit. Similarly, the fidelity of detail is very nice on the Kinetic Fouga but is simply outclassed by AMK. Where the inscribed details on the Kinetic Fouga are a bit soft, they're sharp and crisp on the AMK version. Although you don't get two complete airframes as you do with the Kinetic boxing, the AMK Fouga has better detail and engineering.
This is an awesome model and I don't say that very often. I was impressed with the detail and engineering of the previous AMK kit I have seen: the L-29 Delphin but the engineering on this kit is better still. With excellent surface detail, multiple build options, metal and PE parts, and five marking options there's a lot to like in this box. That said with over 300 parts, this is not going to be a quick build. Moreover, I suspect that some of the smaller assemblies will be a bit fiddly but the completed model will be beautiful whether you can see through the fuselage or not. Highly recommended to anyone with a little experience and a love of Fouga's.
For more on this review visit Modelpaintsolutions.com
Cheers!
Purchased by Reviewer
---
Text and Images Copyright © 2017 by John Miller / Model Paint Solutions
Page Created 25 July, 2017
Last updated 4 August, 2017
Back to HyperScale Main Page