Messerschmitt Me 109 G-0
"V-Tail"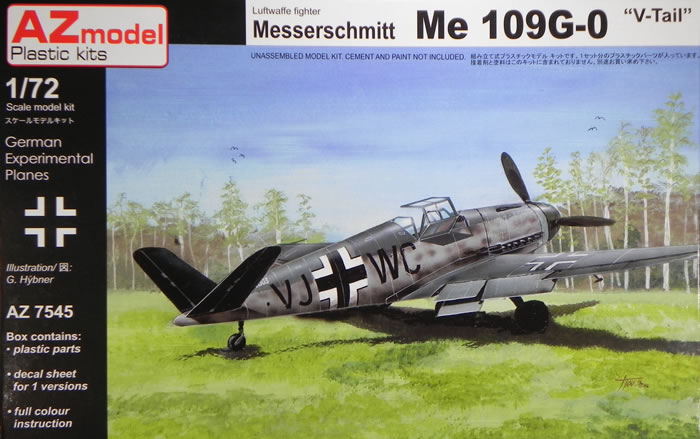 AZ Models, 1/72 scale
S u m m a r y

Description and Catalogue Number:

AZ Models Kit No. AZ 7545 - Messerschmitt Me 109 G-0 "V-Tail"

Scale:
1/72
Contents and Media:

86 parts in grey plastic (including 29 not used), 2 parts in clear plastic, one decal sheet covering one subject.

Price:

£11.20 (EU Price) or £9.33 (Export Price) plus shipping available online from Hannants

$17.00 CAN plus shipping available online from West Coast Hobbys

Review Type:
FirstLook
Advantages:

One of the most detailed -109's in this scale right out of the box with excellent clear parts and decals. The V-tail modification is supplied as injected plastic and will result in a truly unique model.

Disadvantages:

The surface texture is a bit rough requiring some surface preparation prior to painting. The conventional tail cone must be removed from the fuselage prior to addition of the modified V-tail unit.

Conclusion:

Great kit! This is an awesome combination of an excellent base kit, the AZmodels Bf-109 G, and a nice set of injected parts permitting the assembly of a unique and lesser-known variant of the venerable Me 109. Highly recommended to anyone with a little experience.
Reviewed by John Miller
Looking like the result of a romantic tryst between a Messerschmitt-109 and a Beechcraft Bonanza: the V-tailed Bf-109 G-0. This is an interesting variant of the -109 that I suspect many will want in their 1/72 Messerschmitt stable.
Messerschmitt Bf-109 G-0 Werknummer 14003 was the third G-0 airframe produced at the Regensburg plant in October 1941. It received the V-tail modification and was evaluated by Messerschmitt's flight test department in early January 1943. The results of those evaluations are reproduced in their entirety in Luftfahrt-Band 5 (reference below).
AZmodels provide a very nice summary of some of the details from this evaluation report in the kit instructions. This is very welcome, as only three photographs of the V-tail 109 reportedly exist so getting information on this rare bird is a challenge. Nicely done AZmodels.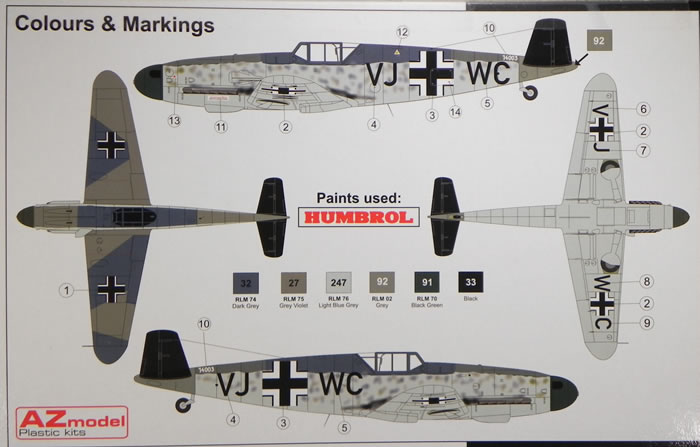 Here's a brief summation of some of the details unique to the Bf-109 G-0 #14003 V-Tail:
Fitted with a DB 605A driving a VDM propeller.

The wings had early (small) G-type bulges suggesting the corresponding wider wheels were fitted.

Had an F-4-type canopy that lacked an armored headrest.

Fitted with an F-type tail wheel.

Airframe had no antenna mast but was fitted with twin aerials strung from the tips of the ruddervator's to an unknown point on the fuselage.

Had F-style fuselage strengthening strips up to the new tail cone.

Actuating rods for the ruddervator's were on the ventral surfaces of the fins.

Airframe had the standard camouflage of 76/74/75 with large mottling characteristic of the period. The modified tail cone was bare aluminum and the ruddervator's were reported to be a dark color such as RLM-66, -70, or even -22.
Thus, in addition to being a sleek looking airplane, #14003 appears to have been rather colorful as far as -109 schemes go. This will be an intriguing model when built.
I have to say up front that I like AZmodel kits. They're not Tamigawa's so some extra effort will be required to assure a good fit is achieved among the major parts: nothing beyond someone with a little experience.
I have previously built the AZmodel 1/72 G-6 and many of that kits parts and general design are similar to the G-0 kit. The engineering of the kit is straightforward and conventional.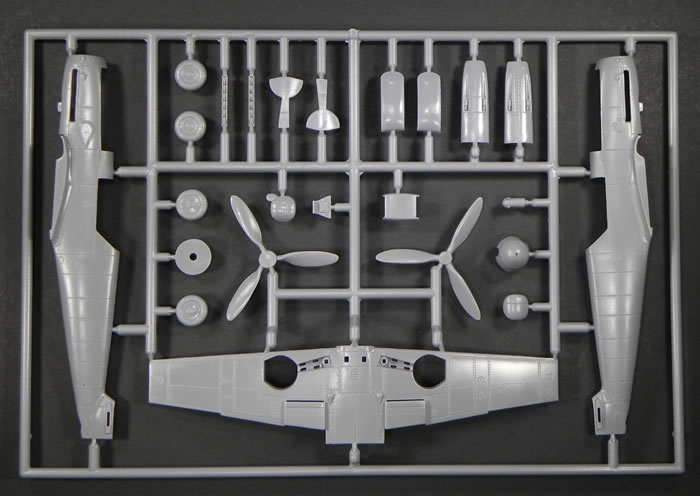 The gray plastic is slightly soft and easy to work with. Most of the inscribed details are as good as a Tamigawa though some are a bit soft and will require re-working with files and a scriber.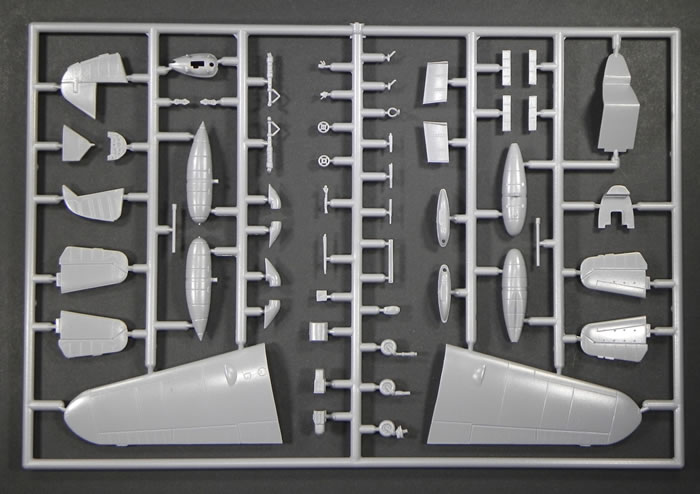 The overall surface texture is slightly rough in some areas but this is easily addressed by a little wet buffing.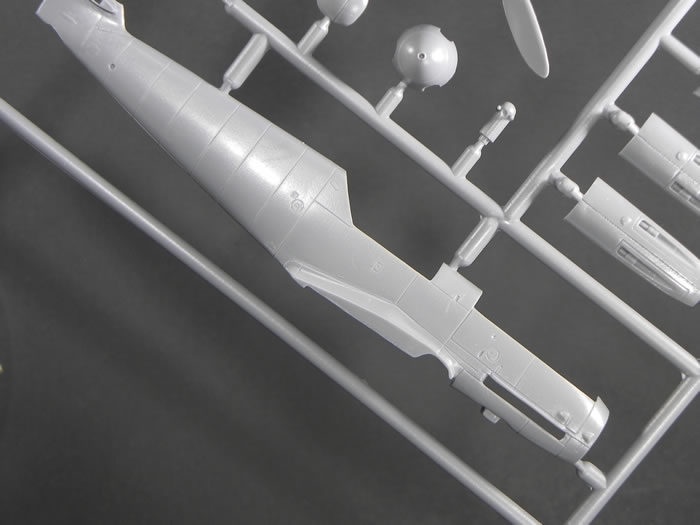 The fidelity of the details on such parts as the cockpit parts, wheels, gear doors, exhausts, and upper nose cowl are beautifully rendered. The cockpit side panels are integral to the fuselage halves and are very nicely detailed. Some careful painting here will produce a great result.
The only challenge to assembly will be removing the conventional tail cone prior to adding the V-tail modification. Luckily, this occurs along a prominent fuselage panel line making this job a little easier. The modified tail cone and ruddervator's are supplied on separate sprues as is a replacement upper cowl piece and two 7.9mm gun barrels.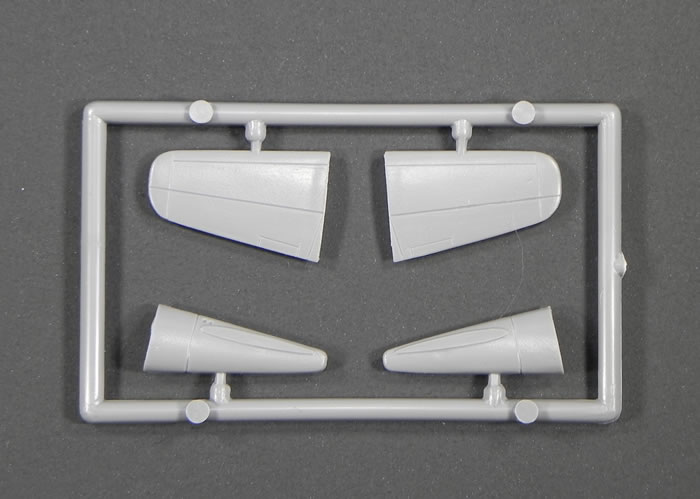 The very clear and nicely detailed canopy is supplied as one piece--closed. Bit of a bummer here: a lot of that nice cockpit detail won't be seen with a closed office.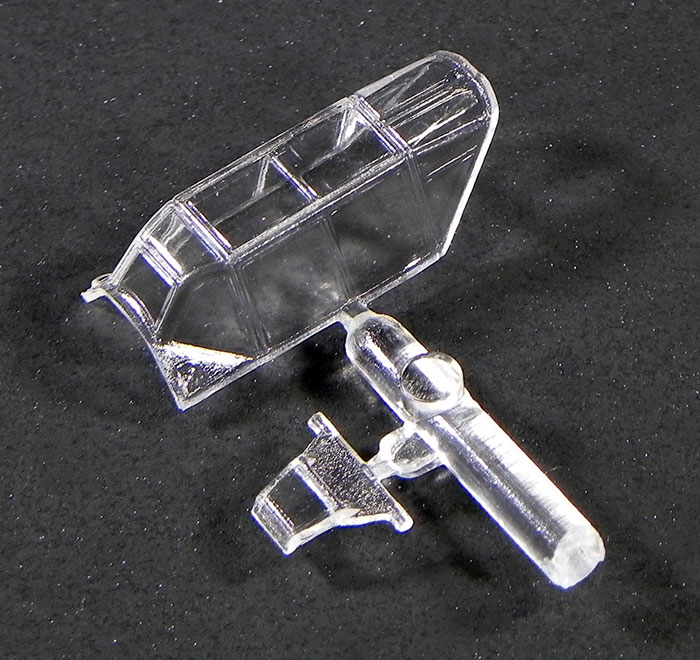 That said the lack of an armor headrest should open "the pit" up more than on most -109's of this scale.
---
Markings
Markings for just aircraft, #14003 are provided. These come on two small sheets, both printed by AZmodels. The decals are in perfect register and have appropriate color intensities. The airframe stencils are particularly nice showing amazing fidelity of detail.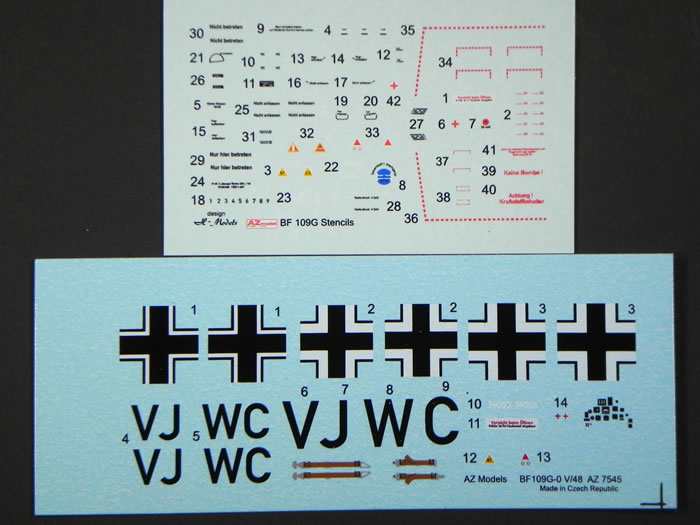 Of note are seat harness decals that look surprisingly good. I may have to skip using my go-to seat belts (Eduard) and give them a try: very nice.
This is simply an awesome kit! As I said I'm biased as I already think the AZmodels -109's are some of the best kits of the aircraft available in this scale. There will be some extra work but it'll be well worth it as the result will be truly unique.
So smitten was I that by the time this review was complete, I'd started the kit. The V-tail is now under construction on my workbench and is proving to be a blast to assemble.
For more on this review and an in-progress build visit Modelpaintsolutions.com
Cheers!
---
References:
Luftfahrt-Band 5, Germany, 1978, ISBN 3 87547 182 2.
Purchased by Reviewer
---
Text and Images Copyright © 2017 by John Miller / Model Paint Solutions
Page Created 20 June, 2017
Last updated 21 June, 2017
Back to HyperScale Main Page